If you are a chemistry professor looking to land a job in your chosen field, you know it can be difficult to stand out among other applicants. A well-crafted resume is essential to showcasing your skills and experience as a chemistry professor. This guide provides you with tips and examples of resumes that will help you create an effective and compelling resume to attract the attention of potential employers.
If you didn't find what you were looking for, be sure to check out our complete library of resume examples.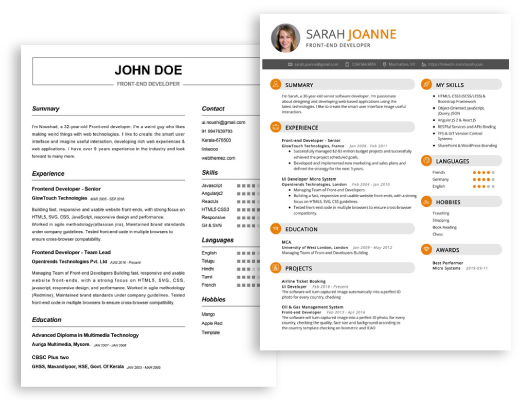 Start building your dream career today!
Create your professional resume in just 5 minutes with our easy-to-use resume builder!
Chemistry Professor Resume Examples
John Doe
Job Title
123 Main Street | Anytown, USA 99999 | Phone: (123) 456-7890 | Email: john.doe@email.com
I am an experienced Chemistry Professor with a passion for teaching. With more than 10 years of experience in academic research, I have been successful in driving students to success and achievement. I believe in hands- on, interactive learning, and am dedicated to engaging students in the material. My enthusiasm for teaching and passion for mathematics have been recognized with multiple awards and recognition from colleagues and students.
Core Skills:
Subject Matter Expertise in Chemistry
Excellent Presentation Skills
Research and Analytical Skills
Excellent Leadership Skills
Strong Problem Solving and Critical Thinking
Creative and Innovative Learning Strategies
Professional Experience:
Chemistry Professor, University of Arizona – Tucson, AZ
Taught undergraduate and graduate chemistry courses
Developed course materials and lesson plans
Engaged students in interactive learning and problem solving
Collaborated with faculty and staff to improve curriculum and program
Conducted research within the field of chemistry
Chemistry Instructor, University of Miami – Miami, FL
Taught undergraduate level chemistry courses
Developed and implemented lesson plans
Assessed student learning and provided feedback
Regularly evaluated student progress and achievements
Integrated technology into the classroom
Education:
Ph.D., Chemistry, University of Arizona, Tucson, AZ
M.S., Chemistry, University of Arizona, Tucson, AZ
B.S., Chemistry, University of Miami, Miami, FL
Chemistry Professor Resume with No Experience
Fresh Chemistry Professor with a passion for teaching and research. Possesses a strong knowledge of the theory and practice of chemistry, with an emphasis on analytical and physical chemistry. Experienced in designing and executing experiments and utilizing high- tech lab equipment.
Skills
Excellent knowledge of chemistry and its related fields
Strong understanding of the scientific method
Proficient in the use of laboratory equipment and techniques
Excellent communication and presentation skills
Strong organizational and problem- solving skills
Ability to work both independently and collaboratively
Responsibilities
Develop and teach chemistry courses at the college level
Develop and implement laboratory procedures
Design, conduct and grade experiments
Mentor and advise students on research projects
Evaluate student progress and performance
Maintain an up- to- date knowledge of chemistry
Collaborate with other faculty and departments
Chemistry Professor Resume with 2 Years of Experience
Dedicated and enthusiastic Chemistry Professor with two years of experience teaching advanced analytical and physical chemistry courses within an academic setting. Proven track record of success in creating engaging lesson plans and assessments that improve student understanding and performance. Possesses excellent communication and problem- solving skills and is committed to providing an enriching learning experience for students.
Core Skills:
Effective communication
Strong problem- solving
Organizational
Analytical reasoning
Laboratory safety
Laboratory technique
Effective teaching
Knowledge of physical and analytical chemistry
Responsibilities:
Develop and deliver engaging lesson plans that meet the course standards
Administer and assess student progress through exams and assessments
Provide guidance and support to students while promoting a safe and productive learning environment
Integrate educational technology into classroom instruction to improve student understanding
Collaborate with other professors and professionals to ensure the accuracy of course content and student progress
Ensure laboratory safety during classroom and laboratory experiments
Remain up- to- date on advances in physical and analytical chemistry
Gather and analyze data to evaluate student performance and program effectiveness
Chemistry Professor Resume with 5 Years of Experience
I am a highly experienced Chemistry Professor with 5 years of professional experience in the field. I have a deep understanding of the chemistry field, including both theoretical and practical applications, and I have a passion for teaching and helping students understand complex material. I am highly organized and motivated, and have excellent communication and presentation skills. I have a strong background in lab work and research, and am up to date on the latest technologies in the field. I am adept at managing difficult classes and creating effective lesson plans.
Core Skills:
In- depth understanding of chemistry, including theoretical and practical aspects
Excellent communication and presentation skills
Strong background in lab work and research
Up to date on latest technologies in the field
Organized and motivated
Ability to manage difficult classes and create effective lesson plans
Responsibilities:
Teaching classes in chemistry, including laboratory courses
Developing lesson plans and syllabi for courses
Supervising student lab work and providing feedback
Mentoring students and providing guidance when needed
Evaluating student performance and providing feedback
Conducting research and preparing research papers
Participating in professional development activities and conferences
Staying current with developments in the field and implementing new teaching methods
Chemistry Professor Resume with 7 Years of Experience
Highly experienced and motivated Chemistry Professor with seven years of success in leading lectures in an engaging and informative manner, demonstrating laboratory experiments, and providing guidance to students. Adept at producing and delivering challenging lectures in a variety of topics, preparing lesson plans and assignments, and ensuring that students understand the subject material. A positive and patient instructor with a dedication to promoting student success and growth.
Core Skills:
Thorough knowledge of chemistry principals, concepts and theories
Strong ability to develop and deliver engaging lectures
Excellent organizational, communication, and interpersonal skills
Proficient in the use of computers, software, and other interactive technologies
Ability to provide guidance to students, in and out of the classroom
Outstanding problem- solving and analytical skills
Responsibilities:
Develop lesson plans and assignments for students in accordance with the school curriculum
Lead lectures on a variety of topics in an engaging and informative manner
Give challenging presentations and in- depth reviews of chemistry topics
Demonstrate laboratory experiments and guide students to complete experiments safely
Monitor and assess student progress and provide feedback on their assignments
Assist students with individual learning needs in one- on- one or group settings
Maintain student discipline and a positive learning environment in the classroom
Chemistry Professor Resume with 10 Years of Experience
A knowledgeable and passionate Chemistry Professor with 10 years of experience in teaching and research in the Chemistry field. Well versed in creating engaging curricula and working with students of varying abilities. Experienced in developing and implementing laboratory experiments and projects to help students gain a comprehensive understanding of Chemistry. Able to manage administrative tasks, working with budgets, and managing student records.
Core Skills:
Knowledge of advanced Chemistry principles
Developing curricula and lesson plans
Experienced laboratory instructor
Coaching and mentoring of students
Excellent communication and presentation skills
Ability to stay organized and manage a classroom
Responsibilities:
Teaching advanced Chemistry courses
Creating and revising lesson plans
Designing individual and group projects
Supervising students in the laboratory
Assigning and grading students' work
Advising and mentoring students
Managing student records
Assisting in the development of department budgets
Evaluating and grading student performance
Participating in department meetings and professional development activities.
Chemistry Professor Resume with 15 Years of Experience
A highly experienced and skilled Chemistry Professor with over 15 years of teaching experience. A dedicated professional with strong knowledge of chemistry, who is able to work effectively and productively in a fast- paced environment. Possesses a proven ability to develop and implement effective teaching methods for a variety of chemistry courses as well as the ability to effectively utilize various laboratory equipment and technology. Demonstrated knowledge and experience of a variety of laboratory experiments and techniques, as well as the ability to effectively evaluate student performance.
Core Skills:
Expert knowledge of chemistry
Experienced in teaching and instruction
Effective communication skills
Proven ability to develop teaching methods
Skilled in the utilization of laboratory equipment and technology
Ability to utilize a variety of laboratory experiments and techniques
Ability to evaluate student performance
Responsibilities:
Develop and teach a variety of chemistry courses
Use laboratory equipment and technology to conduct experiments
Create and implement effective teaching methods
Evaluate student performance
Monitor student progress
Provide support and guidance to students
Prepare and administer course materials, lectures and tests
Maintain records and prepare reports
Conduct research and publish articles in scientific journals
In addition to this, be sure to check out our resume templates, resume formats, cover letter examples, job description, and career advice pages for more helpful tips and advice.
What should be included in a Chemistry Professor resume?
There is no one-size-fits-all approach to writing a resume for a Chemistry Professor position. However, certain core elements should be included in order to make yourself stand out in a competitive job market. Here are some key components to consider when crafting your Chemistry Professor resume:
Educational Background: A Chemistry Professor should be highly educated, typically holding a PhD or Doctorate degree in Chemistry. Be sure to include all relevant educational qualifications, such as degrees, certifications, and courses.
Professional Experience: Include any past teaching or research positions related to Chemistry. It is important to highlight any research projects or classes you taught, as well as any successful student outcomes you achieved.
Publications and Patents: List any papers or books you have published related to Chemistry, as well as any patents pending or issued.
Research Interests: Describe any current or ongoing research projects you have been involved in related to Chemistry.
Teaching Ability: Demonstrate your capability to teach Chemistry by describing any classes, seminars, or workshops you have led.
Practical Skills: List any relevant laboratory techniques or equipment you are proficient in using.
Professional Memberships: Include any professional organizations and affiliations you are a member of.
By following the above tips, you can craft a Chemistry Professor resume that best showcases your abilities, education, and experience. With a well-written resume, you will be well on your way to securing a Chemistry Professor position.
What is a good summary for a Chemistry Professor resume?
A Chemistry Professor resume should include a summary that accurately reflects their qualifications, experience, and achievements. The summary should be concise and should focus on the Chemistry Professor's areas of expertise, such as teaching, research, and laboratory work. It should also highlight the professor's accomplishments, such as grants awarded, awards received, and publications authored. Finally, a good summary for a Chemistry Professor resume should also include any special skills or qualifications the professor has, such as certifications or language proficiency. This summary should provide potential employers with an accurate snapshot of the professor's qualifications and help them make an informed decision to decide whether they are a good fit for the job.
What is a good objective for a Chemistry Professor resume?
A chemistry professor resume should contain objectives that demonstrate the candidate's commitment to teaching, research, and community involvement. Here are some good objectives for a chemistry professor resume:
To obtain a position as a Chemistry Professor where I can utilize my strong subject matter expertise and passion for teaching to foster an engaging learning environment
To lead a team of passionate learners to further explore chemistry and its applications
To bring innovative ideas to the classroom and laboratory to enhance learning outcomes
To develop professional relationships with students and colleagues to promote a collaborative learning space
To mentor and encourage students to reach their full potential and support their growth in the field of chemistry
To engage in research activities to advance the understanding and application of chemistry
To actively participate in the chemistry community to promote a culture of innovation and discovery.
How do you list Chemistry Professor skills on a resume?
When creating a resume, it's important to showcase the skills relevant to the position you're applying for. If you are applying for a chemistry professor position, you should focus on how your teaching, research, and writing skills can make you the perfect candidate for the job. Here are some skills you may want to consider listing on your resume for a chemistry professor position:
Teaching: Demonstrated ability to create and deliver engaging lectures; strong knowledge of course content, student assessment tools, and educational technology
Research: Experience conducting laboratory experiments, analyzing results, and publishing findings in peer-reviewed journals
Writing: Proven ability to write grant proposals, white papers, articles, and books related to chemistry
Analytical Thinking: Expertise in using inductive and deductive reasoning to understand complex concepts and solve challenging problems
Knowledge of Safety Procedures: Understanding of lab safety protocols and ability to ensure that students follow proper safety guidelines
Interpersonal Communication: Ability to interact with students in a friendly and informative manner, providing them with the support they need to succeed
By including these skills on your resume, you will be able to demonstrate to potential employers that you have the qualifications needed to be a successful chemistry professor.
What skills should I put on my resume for Chemistry Professor?
Chemistry professors are essential in academia, as they impart knowledge and expand the understanding of this complex yet important field. When applying for a position as a chemistry professor, it is essential to showcase your relevant skills and qualifications on your resume to stand out from the competition. Here are some important skills to consider including on your resume when applying for a chemistry professor job:
In-depth Knowledge of Chemistry: Of course, an applicant for a chemistry professor position must have an extensive base of knowledge within the field. This should include both theoretical and practical knowledge of topics such as organic and physical chemistry, biochemistry, and chemical engineering.
Strong Communication Skills: Professors must be able to effectively communicate complex concepts to their students. This requires strong communication skills, including the ability to explain complex topics in an understandable way, provide constructive feedback, and answer questions.
Teaching Experience: Teaching experience is essential for any professor position, especially in a subject such as chemistry. This could include teaching courses in a university setting or teaching classes at a local high school or college.
Problem-Solving Skills: Chemistry professors need to be able to think critically and solve complex problems. Professors should be able to break down complex topics and explain them in a simple way, as well as provide their students with opportunities to practice problem-solving skills.
Research Skills: Chemistry professors should also have strong research skills, so they can stay up-to-date on current trends in the field and contribute to furthering research.
Collaboration Skills: Finally, collaboration skills are important for chemistry professors, as they may need to work with other professionals to achieve goals. This could include working with other professors, administrators, and even students to develop projects.
By including these important skills on your resume, you can showcase your qualifications and experience when applying for a chemistry professor job.
Key takeaways for an Chemistry Professor resume
Writing a resume can be overwhelming, but it doesn't have to be. Follow these tips to create the perfect Chemistry Professor resume.
Showcase your educational background. Potential employers want to know that you have the skills and qualifications necessary to teach in a chemistry field. Showcase your educational background by listing your degrees and any certifications or specializations you have obtained.
Highlight your research achievements. As a chemistry professor, research is a major part of your job. Showcase your research achievements by listing any publications, grants, awards, or presentations that you have received.
Focus on your teaching experience. Make sure to include any teaching experience you have, such as classes you have taught and how long you have been teaching. Highlight any innovative teaching methods you have developed or implemented.
Demonstrate your knowledge of the subject. Showcase your knowledge of the field by listing any conferences you have attended or speaking engagements you have participated in.
Focus on your ability to lead. As a professor, you must be able to lead and mentor students. Showcase your leadership abilities by listing any student organizations you have founded or activities you have led.
Creating a resume can be a daunting task, but it doesn't have to be. By following these tips, you can create a Chemistry Professor resume that will stand out from the crowd.
Let us help you build
your Resume!
Make your resume more organized and attractive with our Resume Builder