Are you a business teacher looking for a job? If you're stuck on how to craft a resume to capture your professional qualifications and accomplishments to catch the eye of potential employers, this guide is the perfect place to start. It offers a step-by-step approach to resume writing and provides example resumes to get you inspired. With this comprehensive guide, you'll learn how to make your resume stand out and land you your dream job.
If you didn't find what you were looking for, be sure to check out our complete library of resume examples.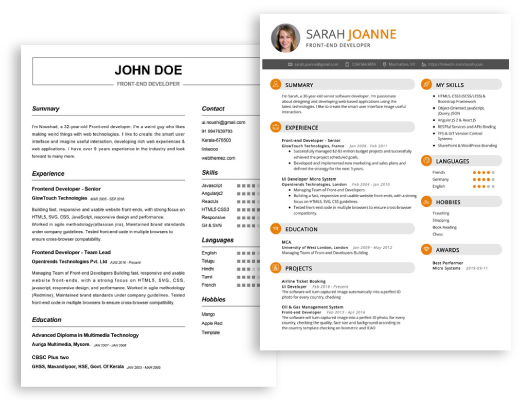 Start building your dream career today!
Create your professional resume in just 5 minutes with our easy-to-use resume builder!
Business Teacher Resume Examples
John Doe
Business Teacher
123 Main Street | Anytown, USA 99999 | Phone: (123) 456-7890 | Email: john.doe@email.com
I am a highly experienced, dedicated and passionate Business Teacher with more than 10 years of experience in teaching and consulting. I am a great communicator and stay current with educational and business trends. I have a wealth of knowledge in business strategies, economics, finance, international business, and accounting. I have a proven ability to develop and deliver innovative lesson plans, motivate students, and assess student progress to promote success.
Core Skills:
Strong knowledge of business strategies, economics, finance, international business, and accounting
Ability to develop innovative lesson plans
Excellent communication and interpersonal skills
Proficient in computer applications and teaching tools
Ability to multi- task and handle multiple responsibilities
Remarkable organizational and time management skills
Professional Experience:
Business Teacher, ABC School 2020- Present
Develop and implement lesson plans in accordance with curricular objectives
Instruct and monitor students in the use of learning resources
Monitor student progress and provide appropriate feedback to ensure their success
Adhere to educational standards and practices and comply with relevant regulations
Maintain records of student progress and attendance
Develop and implement classroom rules and disciplinary procedures
Business Teacher, XYZ School 2015- 2020
Established and enforced rules for behavior and policies and procedures to maintain order among students
Developed and monitored individual behavior management plans for students
Created meaningful lesson plans and activities designed to engage students
Assessed student performance regularly and provided feedback
Collaborated with other teachers and staff to ensure students' success
Education:
Bachelor of Business Administration, XYZ University, 2012- 2015
Master of Business Education, ABC University, 2015- 2017
Business Teacher Resume with No Experience
Recent college graduate with a degree in Business Administration. Strong leadership, organizational, and communication skills. Possess a deep knowledge of business principles and the ability to effectively teach and mentor students.
Skills:
Strong leadership and communication skills
Well- organized and detail- oriented
Proficient in Microsoft Office Suite
Knowledge of Business principles
Ability to teach and mentor students
Patient and understanding of student needs
Responsibilities:
Develop lesson plans that are engaging and effective
Instruct and guide students through various business- related topics
Evaluate student progress and provide constructive feedback
Assist in the development of assessments and exams
Create a positive learning atmosphere
Communicate with students, parents and administrators
Business Teacher Resume with 2 Years of Experience
A highly motivated and experienced Business Teacher with two years of experience in the educational field. Adept at preparing lesson plans and delivering engaging lectures that ensure students stay focused and work hard to achieve their objectives. Skilled at creating an inclusive and supportive environment for the students and providing individualized instruction to meet their needs. Possesses excellent organizational and communication skills.
Core Skills:
Curriculum Development
Classroom Management
Lesson Planning
Student Guidance & Counseling
Lecturing & Instruction
Collaboration & Teamwork
Evaluation & Assessment
Time Management
Problem- Solving
Responsibilities:
Developed and implemented lesson plans and activities to engage students and meet curriculum objectives.
Created a safe learning environment by monitoring and maintaining student conduct.
Provided individualized instruction to meet the needs of all students.
Facilitated the learning process by encouraging student participation.
Assessed student learning outcomes based on observations and assessments.
Collaborated with administrators, teachers and staff to create a positive school culture.
Established positive relationships with students and families to ensure they are receiving the best education.
Mentored and supported student through their academic journey.
Attended professional development and training workshops to stay abreast of industry standards and best practices.
Business Teacher Resume with 5 Years of Experience
Experienced business teacher with 5 years of experience teaching a variety of business classes to a wide range of students. Skilled in developing and teaching curriculum, creating assessment materials, and providing support to students to help them get the most out of their learning experience. Passionate about providing students with an engaging and positive learning environment, allowing them to develop critical thinking skills and become more knowledgeable in their field of study.
Core Skills:
Developing and implementing curricula
Creating and administering assessments
Monitoring student progress
Providing support to students
Creating engaging and challenging lessons
Developing and delivering lectures
Utilizing technology in the classroom
Communicating effectively with all stakeholders
Responsibilities:
Developing and delivering online and in- person business classes
Creating lesson plans and assessment material
Monitoring student progress and providing necessary support
Facilitating group discussions and encouraging collaboration
Responding to student inquiries in a timely manner
Coordinating with other teachers and staff to ensure the best learning experience
Maintaining accurate records of student grades, attendance, and other data
Creating a positive learning environment and fostering student engagement
Utilizing technology to increase student engagement and enhance instruction
Business Teacher Resume with 7 Years of Experience
A seasoned Business Teacher with 7+ years of experience in the education sector, passionate about providing high- quality instruction and inspiring students to reach their potential. Skilled in managing curriculum and course activities, engaging students with interesting and interactive teaching methodologies and providing students with an environment conducive to learning. Possesses expertise in developing lesson plans, assessing student performance and providing guidance and support to aid in successful student outcomes.
Core Skills:
Facilitate student learning and progress
Classroom management
Curriculum development
Student assessment
Proficient in Microsoft Office
Knowledge of teaching and learning theory
Excellent written and verbal communication
Responsibilities:
Develop lesson plans and also assess areas of student improvement
Deliver lectures, seminars and tutorials to students using appropriate methods
Monitor student progress, evaluate and provide feedback
Maintain records of student performance
Provide guidance to students on course related matters
Design and implement assessment procedures such as projects, presentations, exams and quizzes
Keep abreast of current educational trends and developments.
Business Teacher Resume with 10 Years of Experience
Dynamic and knowledgeable Business Teacher with a decade of experience in the education industry. Highly organized and passionate about helping students to develop business knowledge and critical thinking skills. Proven ability to implement engaging, interactive lessons and activities to help students better understand and apply the material. Excellent communicator and collaborator who is able to work well with other faculty and staff.
Core Skills:
Demonstrated ability to teach business and finance concepts to students
Proven success in creating and leading interactive lessons
Skilled in creating and implementing assessments
Ability to motivate and support students
Excellent problem solving and critical thinking skills
Responsibilities:
Develop and implement lesson plans for business and finance courses
Guide and support student learning through interactive and engaging activities
Monitor student progress and performance
Create and deliver assessments to evaluate student understanding of material
Collaborate with faculty to create course materials and support student learning
Facilitate discussions and activities to promote engagement
Maintain and assess student records and grades
Provide guidance and support to students regarding challenges they may encounter
Business Teacher Resume with 15 Years of Experience
Experienced Business Teacher with 15 years of experience creating and delivering educational lectures, assessments and technical guidance to students at the high school and college level. Demonstrated ability to motivate and engage students while providing an educational platform that encourages academic growth and professional development. Proficient in providing individualized student guidance and support to ensure student success.
Core Skills:
Proficient in developing and delivering a curriculum that meets the educational needs of students
Skilled in encouraging and motivating students
Ability to provide individualized guidance and support to students
Adept in creating and managing assessments
Experienced in developing and implementing classroom management techniques
Demonstrated proficiency in using educational technology
Knowledge of student data analysis
Ability to collaborate with other educators and administrators
Responsibilities:
Developed and delivered lectures, assessments and technical guidance
Worked with students to review and discuss challenging concepts
Engaged students in meaningful dialogue to deepen their understanding of the subject material
Assisted students in overcoming obstacles and provided individualized guidance and support
Monitored student progress and provided feedback to ensure student success
Developed and implemented classroom management techniques
Evaluated student performances and provided feedback
Utilized educational technology to enhance the classroom experience
Collaborated with other educators and administrators to develop lesson plans
Prepared and graded student assignments and assessments
In addition to this, be sure to check out our resume templates, resume formats, cover letter examples, job description, and career advice pages for more helpful tips and advice.
What should be included in a Business Teacher resume?
A business teacher resume should include all relevant professional experience, education, and skills that relate to the job. It is important to customize your resume to each employer and position to ensure that it is properly targeted. A few essential items to include in a business teacher resume are:
Professional Experience: Include all teaching and related professional experience such as positions that demonstrate a knowledge of business, economics, finance, or marketing. Also include any tutoring, mentoring, or other related experience.
Education: Include all educational credentials relevant to the position such as degrees, certificates, and licenses.
Skills: Include any applicable skills that relate to teaching, such as curriculum design, classroom management, and assessments. Also include any computer skills or other technical abilities.
Professional References: Include at least two professional references who can speak to your skills as a teacher and your ability to work in a business environment.
Awards and Achievements: Include any awards, honors, or accomplishments that demonstrate your professional success and expertise.
By creating a professional resume that accurately reflects your skills and experiences, you can make sure that you are an attractive candidate for the position. Your resume should be a reflection of your best self and provide an honest and accurate representation of your abilities and experience.
What is a good summary for a Business Teacher resume?
A business teacher resume summary should highlight the individual's expertise in teaching business and related topics. It should also highlight their success in the area and any other relevant qualifications. The summary should also provide a brief overview of the individual's strengths, such as their ability to communicate effectively, their knowledge of business principles, and any experience they have in the industry. A business teacher resume summary should also provide a summary of the individual's educational qualifications and any professional licenses. Finally, the summary should also provide a quick overview of the individual's experience in the field and how that experience can benefit the school or organization they are applying to.
What is a good objective for a Business Teacher resume?
A business teacher is a professional educator who specializes in business-related topics such as economics, accounting, finance, and marketing. When crafting a resume, it's important to have a clear objective that concisely states your goals for the position. Here are some examples of effective objectives for a business teacher resume:
To leverage my expertise in business and education to help students become well-rounded, knowledgeable professionals.
To use my teaching experience and passion for business to foster an engaging, inspiring learning environment.
To apply my knowledge of recent business trends and technological advancements to ensure students are staying up to date with the latest business practices.
To serve as a mentor and role model to students by providing guidance and advice on professional development.
To develop engaging lesson plans and activities that promote critical thinking and problem-solving skills.
To utilize my communication and interpersonal skills to facilitate successful interactions with students, administrators, and community members.
How do you list Business Teacher skills on a resume?
When applying for a Business Teacher position, it is important to make sure your resume showcases the skills and qualifications employers are looking for. Here are a few items you should consider including in your resume when listing your Business Teacher skills:
Ability to develop and deliver course content: Business Teachers must be able to create engaging lesson plans and lectures to help students learn the necessary material.
Knowledge of industry trends and practices: Business Teachers should be familiar with the current trends and practices of the business world and be able to apply these to the classroom.
Proficient in using technology in the classroom: Business Teachers should be comfortable using technology, such as presentations and software, to enhance their teaching.
Excellent communication skills: Business Teachers must be able to effectively communicate with students, colleagues, and employers.
Organizational skills: Business Teachers should be able to develop and follow a lesson plan and manage their time effectively.
Ability to assess and evaluate student progress: Business Teachers should be able to evaluate student progress and provide feedback regarding their progress.
By including these skills on your resume, you will be able to demonstrate to potential employers that you are the ideal candidate for the position.
What skills should I put on my resume for Business Teacher?
When applying for a business teacher position, it's important to showcase your skills and experience on your resume. Employers want to know that you have the necessary background and abilities to teach and manage their business courses.
To effectively showcase your skills on your resume, here are some of the top skills employers are looking for:
Knowledge of Business Principles: As a business teacher, it's essential that you have a comprehensive knowledge of business principles and concepts such as accounting, finance, economics, marketing, and operations.
Teaching Experience: Employers want to see that you have experience in teaching business courses, or have had some type of teaching experience in the past.
Communication Skills: As a business teacher, you need to have excellent communication skills to be able to effectively explain business concepts and ideas to your students.
Leadership Skills: Employers want to see that you have strong leadership abilities in order to manage your classroom and ensure that your students are performing at their best.
Technology Skills: It's important for business teachers to have a good understanding of the various software programs used in the business world, such as Microsoft Office, Adobe Photoshop, and QuickBooks.
Professionalism: Employers also want to make sure that you demonstrate a high level of professionalism in the classroom and when dealing with parents and other faculty members.
By highlighting these skills on your resume, you will be able to effectively showcase your qualifications and demonstrate to employers that you are the right person for the job.
Key takeaways for an Business Teacher resume
A Business Teacher resume is an important document for any professional looking to enter the field of business education. It's important to highlight your experience and qualifications, so that potential employers can quickly assess your credentials and decide if you are a good fit for the job. Here are some key takeaways for creating a successful Business Teacher resume:
Highlight Your Qualifications: As a business teacher, you'll need to demonstrate your experience in the field. Make sure to include your degrees, certifications, and any relevant coursework in the Education section of your resume. Have you earned any awards or recognition? List them here as well.
Demonstrate Your Experience: Include any relevant teaching experience, including teaching positions in a college or university setting, corporate training, or tutoring. If you don't have teaching experience, list any related roles such as leading seminars or workshops, or providing business consulting services.
Showcase Your Skills: Business educators should possess a variety of skills, including strong interpersonal and communication skills, the ability to manage and motivate students, and a deep understanding of business principles. Be sure to highlight any of these skills on your resume.
Utilize Impactful Language: Use language that is clear, concise, and impactful. Avoid using jargon or acronyms that may not be easily understood by potential employers.
By following these key takeaways, you can create a powerful resume that will help you stand out as a business educator. With the right resume, you can secure the job of your dreams and take the next step in your career.
Let us help you build
your Resume!
Make your resume more organized and attractive with our Resume Builder