Writing a resume for an associate teacher position is a daunting task. It requires the applicant to include their experiences and qualifications that prove they are the right fit for the role. That's why it's important to provide a comprehensive and well-written resume that effectively communicates your qualifications and experience to the hiring manager. This guide will provide tips and examples to help you create and optimize your own resume so that you can get the job you want. It will also explain the types of information that should be included in an associate teacher resume and how to best present it.
If you didn't find what you were looking for, be sure to check out our complete library of resume examples.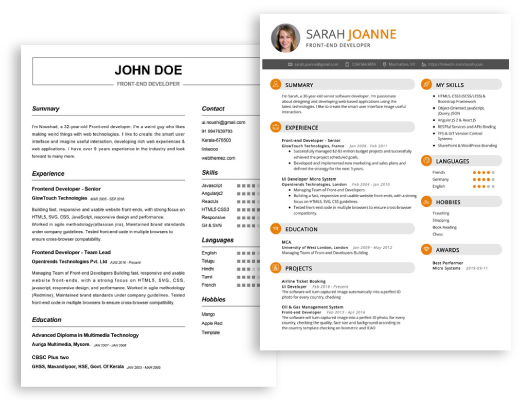 Start building your dream career today!
Create your professional resume in just 5 minutes with our easy-to-use resume builder!
Associate Teacher Resume Examples
John Doe
Associate Teacher
123 Main Street | Anytown, USA 99999 | Phone: (123) 456-7890 | Email: john.doe@email.com
Associate Teacher with 5+ years of experience in classroom instruction and management. Possess a Bachelor's degree in Education from XYZ University and a Master's in Educational Leadership from ABC University. Excellent communicator and problem solver with strong organizational and multitasking abilities.
Core Skills:
Classroom Instruction
Teaching Strategies
Organization & Planning
Communication & Interpersonal
Student & Parent Relations
Differentiated Instruction
Behavior Management
Professional Experience:
ABC High School, Houston, TX
Associate Teacher | August 2013 – Present
Plan, direct and evaluate classroom instruction
Develop and implement school policies and procedures
Integrate technologies in classroom instruction
Incorporate various teaching strategies to promote learning
Provide assistance to students in completing assignments
Facilitate and monitor individual and collaborative learning activities
Motivate and engage students in learning
XYZ Elementary School, Houston, TX
Associate Teacher | September 2010 – August 2013
Implemented innovative and successful instructional strategies
Developed and maintained constructive relationships with students and parents
Evaluated student performance and provided feedback
Maintained an orderly and supportive learning environment
Ensured student safety and enforced school rules
Education:
ABC University, Houston, TX
Master's in Educational Leadership | August 2015
XYZ University, Houston, TX
Bachelor's in Education | May 2010
Associate Teacher Resume with No Experience
Recent college graduate looking to bring enthusiasm, organizational skills, and innovative teaching methods to a high school associate teacher position. Possessing a degree in Secondary Education and a passion for helping students learn and grow.
Skills
Classroom instruction
Innovative lesson plans
Student discipline
Student counseling
Curriculum design
Project- based learning
Time management
Written and oral communication
Responsibilities
Instruct students in the fundamentals of the subject matter
Develop and implement engaging and innovative lesson plans
Assess student progress to ensure learning objectives are being met
Facilitate small group activities to encourage student engagement
Provide individualized instruction to students with special needs
Collaborate with other educators to communicate students' progress
Partner with parents and guardians to provide support and guidance
Associate Teacher Resume with 2 Years of Experience
Diligent and experienced Associate Teacher with two years of experience bringing a passion for education and an ambition to help children reach their full potential. Has a strong understanding of the importance of developing strong relationships with parents and guardians to create an environment that is conducive to learning. Possesses excellent communication and problem- solving skills which help to create a safe and organized learning environment.
Core Skills:
Classroom Management
Lesson Planning
Instructional Strategies
Child Development
Conflict Resolution
Behavior Intervention
Collaboration
Responsibilities:
Develop daily lesson plans and activities that are in line with the curriculum.
Implement instructional methods and strategies to maintain student interest.
Manage a safe and organized learning environment.
Assist with grading and tracking student progress.
Develop positive relationships with parents and guardians.
Maintain appropriate and clear communication with students and staff.
Identify and implement strategies to address student behavioral and academic concerns.
Collaborate with other staff members to create an effective learning environment.
Associate Teacher Resume with 5 Years of Experience
Highly motivated and passionate associate teacher with 5 years of experience providing education and emotional guidance to children. Committed to developing and implementing learning activities that are challenging and entertaining. Possesses strong communication and interpersonal skills to foster a positive learning environment.
Core Skills:
Curriculum Development
Classroom Management
Behavior Modification
Educational Technology
Child Development
Parent Communication
Responsibilities:
Developing and implementing lessons for preschool, elementary, and middle school students.
Supervising students and maintaining a safe, organized classroom environment.
Establishing positive relationships with students and their parents.
Administering assessments to evaluate student learning.
Implementing appropriate interventions to help struggling students.
Collaborating with other teachers to plan field trips and special events.
Encouraging student participation in extra- curricular activities.
Monitoring student behavior and providing positive reinforcement.
Associate Teacher Resume with 7 Years of Experience
I am a highly experienced Associate Teacher with 7 years of experience in providing educational support in both private and public school settings, and I am passionate about developing the skills and knowledge of students from diverse backgrounds. I have a strong commitment to utilizing the most effective teaching methods and assessment strategies available, and I strive to create an engaging learning environment for my students. I also have a track record of success in effectively managing classrooms, as well as developing and delivering curricula that is designed to meet the needs of my students.
Core Skills:
In- depth knowledge of educational principles, teaching strategies, and assessment methods
Ability to develop creative and engaging learning activities
Excellent communication, collaboration, organizational, and time management skills
Ability to use a variety of classroom management techniques
Proficient in using Microsoft Office Suite, Zoom, and other technology tools to enhance instruction
Ability to understand and follow state and local curriculum requirements
Responsibilities:
Develop and deliver instruction to students in both a virtual and in- person setting
Assist in creating engaging and effective learning activities for students
Effectively manage student behavior in the classroom
Provide individualized instruction and support to students based on their needs
Evaluate student progress and provide feedback to parents
Collaborate with other teachers and school staff to create an effective learning environment
Ensure that all educational activities meet local and state curriculum requirements
Associate Teacher Resume with 10 Years of Experience
Dynamic and dedicated Associate Teacher with 10 years of experience in classroom instruction. Proven ability to build strong relationships with students, colleagues, and administrators and develop an effective learning environment. Possess expertise in content area instruction and assessment, classroom management, and technology integration. Committed to providing students with the skills and knowledge to succeed in the 21st century.
Core Skills:
Excellent problem solving and organizational skills
Strong communication and interpersonal skills
Technology integration
Classroom management
Instructional design
Data- driven instruction
Responsibilities:
Provided instruction on curriculum and academic standards
Created and implemented engaging lesson plans
Developed and conducted assessments for student performance
Implemented classroom management systems and behavior plans
Worked collaboratively with colleagues to develop new strategies
Conducted professional development activities for staff
Facilitated small group and individualized instruction
Engaged in continuous professional development
Integrated technology into the classroom environment
Associate Teacher Resume with 15 Years of Experience
Highly organized and results- oriented Associate Teacher with 15 years of experience in teaching and education. Proven record of success in delivering quality education to students of all ages, backgrounds, and abilities. Experienced in developing lesson plans and educational material to meet the diverse needs of students. Adept at leveraging technology to enhance classroom learning experiences. Committed to fostering an environment of collaboration and respect between faculty, students, and administration.
Core Skills:
Classroom Management
Curriculum Design
Student Assessment
Instructional Strategies
Instructional Technology
Lesson Planning
Problem Solving
Student Evaluation
Teacher Collaboration
Professional Development
Responsibilities:
Developed and implemented lesson plans and educational materials to meet the needs of students of all ages and abilities.
Facilitated active learning and cooperative learning activities to ensure student engagement.
Assisted in creating and implementing assessment strategies to evaluate student progress and understanding.
Utilized various technologies to enhance student learning experiences.
Collaborated with colleagues, parents, and administration to ensure the best learning outcomes for students.
Mentored and supported new or student teachers in their classroom and professional development.
Participated in faculty meetings, professional development seminars, and other educational events.
Established and maintained effective relationships with students and their families.
In addition to this, be sure to check out our resume templates, resume formats, cover letter examples, job description, and career advice pages for more helpful tips and advice.
What should be included in a Associate Teacher resume?
When you're writing a resume as an Associate Teacher, there's a lot to consider in order to ensure you're putting your best foot forward. Your resume needs to showcase your education, experience, and enthusiasm for working with students. Here's what to include on your resume:
Professional Summary: Start your resume off with a strong professional summary that outlines your experience, skills, and qualifications for the role.
Education: Be sure to list all of your educational credentials and certifications. Be sure to include the name of the school, dates of attendance, and any degrees or certifications earned.
Work Experience: List any professional experience as an Associate Teacher. Be sure to include details about your responsibilities and accomplishments.
Skills: Include any special skills that are relevant to the role, such as computer skills, communication skills, and any foreign languages that you speak.
Teaching Philosophy: Include a brief statement that outlines your teaching style and philosophy.
References: Include a list of references who can vouch for your professional qualifications.
By including these items on your resume, you'll be sure to create a strong and effective resume that will effectively showcase your qualifications for an Associate Teacher role.
What is a good summary for a Associate Teacher resume?
A good summary for an Associate Teacher resume should highlight the teacher's educational background, teaching experience, and key skills. It should emphasize the teacher's ability to create and implement engaging lesson plans for students, their understanding of educational standards and regulations, and their ability to effectively collaborate with other teachers and school personnel. Additionally, the summary should focus on the teacher's enthusiasm for education and dedication to helping students reach their full potential. By doing so, a teacher can demonstrate their commitment to the field of education and their qualifications for the position.
What is a good objective for a Associate Teacher resume?
A resume is an important tool for job seekers, as it allows them to showcase their qualifications and experiences to potential employers. An Associate Teacher resume should focus on how the applicant can contribute to the school and help students learn. Below are some examples of good objectives for an Associate Teacher resume:
To use my teaching and interpersonal skills to create a learning environment that encourages students to reach their full potential
To support classroom instruction and create engaging learning experiences for students
To integrate technology into the classroom to enhance student learning
To foster positive relationships with students, parents, and colleagues
To collaborate with other teachers to create a positive learning environment
To work with school leaders to create innovative learning solutions
To promote a safe and nurturing learning environment for all students
To utilize my knowledge of principles and practices of effective teaching to guide student learning
To develop meaningful partnerships with parents and community members to supportstudent learning
To motivate students and build their confidence in their ability to learn and grow.
How do you list Associate Teacher skills on a resume?
When creating a resume for an Associate Teacher position, it is important to highlight the skills and qualifications that make you an ideal candidate. This is even more important if you are new to the teaching field and lack a lot of professional experience. Here are some tips to help you showcase your skills and make your resume stand out from the competition:
Include a dedicated section for Associate Teacher Skills: This section should include specific skills that are directly related to the job you are applying for. These skills should include classroom management, ability to establish relationships with students, lesson planning, and any other teaching skills you have.
Demonstrate your commitment to education: Showcase any experience you have in the field that shows your dedication to education. This could include volunteer teaching experience, tutoring experience, educational workshops you have attended, or any other activity that demonstrates your commitment to teaching.
Highlight your ability to work with students: No matter what role you are applying for, you must be able to work effectively with students. Be sure to include any experience you have with working with students, including the ability to motivate and engage them.
Showcase your knowledge of educational practices: Include any knowledge you have of educational practices, such as best practices for teaching, instructional design, or curriculum development. Showing that you are aware of the latest educational trends will demonstrate your readiness for the position.
By including these skills on your resume, you can show potential employers that you are an ideal candidate for an Associate Teacher role. It will also help you stand out from the competition and get noticed by recruiters.
What skills should I put on my resume for Associate Teacher?
When creating a resume for an Associate Teacher position, it is important to include relevant skills that will help you stand out from other candidates. Here are some of the top skills that should be included on your resume:
Knowledge of Early Childhood Education: Having a strong understanding of the principles of early childhood education is an essential skill for an Associate Teacher. You should be familiar with best practices for teaching young children and have experience in planning and organizing age-appropriate activities.
Classroom Management: As an Associate Teacher, you will need to be able to effectively manage a classroom. This includes establishing and enforcing rules and discipline measures, as well as knowing how to deal with difficult students or behavior issues.
Communication: The ability to communicate effectively is essential for any role in education. Associate Teachers must be able to communicate clearly with students, other teachers, and parents. This includes the ability to listen and understand, as well as the ability to clearly explain ideas and concepts.
Patience: Working with children can be challenging, and patience is key. Being patient with students and their individual learning needs is an important skill for an Associate Teacher.
Creativity: Coming up with creative ways to teach and engage students is an important part of the job. Being able to think outside the box and come up with creative solutions to problems is an important skill for any Associate Teacher.
By including these skills on your resume, you will be able to demonstrate that you are the right candidate for the position.
Key takeaways for an Associate Teacher resume
When writing an Associate Teacher resume, there are several key takeaways to keep in mind when crafting your document. It's important to remember that your resume should be tailored to the specific job you're applying for, as no two positions are alike.
The first key takeaway is to highlight your relevant skills and qualifications. As an Associate Teacher, it's vital to demonstrate that you're knowledgeable in the subject matter and can effectively communicate with both students and other members of the school staff. Be sure to showcase your teaching expertise, classroom management strategies and any certifications you might have.
The second takeaway is to emphasize your teaching experience. Include any teaching internships, volunteer roles or other activities that demonstrate your dedication to the field. Remember to include details such as the type of setting, grade level and any teaching strategies you used.
The third takeaway is to emphasize any extra-curricular activities that you're involved with. This can include coaching sports teams or leading after-school programs. Demonstrating an interest in the overall well-being of students can make you an attractive candidate for the job.
Finally, it's essential to make sure your resume is well-crafted and professional. Ensure that all the information is accurate and that it follows a logical order. It also helps to include a few key words related to teaching which can make your resume stand out from the crowd.
By following these key takeaways, you can create an effective Associate Teacher resume that will give you a competitive edge when applying for a job. With a well-written document and the right qualifications, you'll be ready to take on a new teaching role in no time.
Let us help you build
your Resume!
Make your resume more organized and attractive with our Resume Builder