Are you looking to become an assistant teacher? Securing a career in a field related to teaching can be a difficult process, but having the right resume is a great place to start. Writing a resume that is tailored to the job you are applying for and stands out from the competition is essential. This blog post guide provides an outline of how to create a resume for an assistant teacher role, as well as examples to help you get started.
If you didn't find what you were looking for, be sure to check out our complete library of resume examples.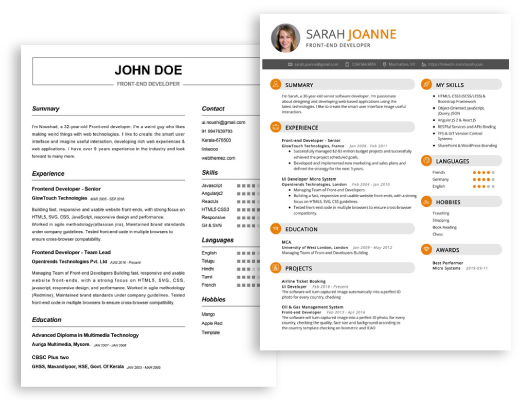 Start building your dream career today!
Create your professional resume in just 5 minutes with our easy-to-use resume builder!
Assistant Teacher Resume Examples
John Doe
Assistant Teacher
123 Main Street | Anytown, USA 99999 | Phone: (123) 456-7890 | Email: john.doe@email.com
Dedicated and knowledgeable Assistant Teacher with 4+ years of experience in working in an academic environment. Possess a Bachelor of Education degree and a strong passion for enabling students to reach their full potential. Possess excellent communication, organizational and collaboration skills. A firm believer in differentiated learning methods and an ability to foster an inclusive environment.
Core Skills:
Teaching & Instruction
Classroom Management
Curriculum Development
Student Assessment
Classroom Technology
Special Education
Differentiated Learning
Inclusive Learning Environments
Lesson Planning
Parental Engagement
Professional Experience:
Assistant Teacher
ABC School, Los Angeles, CA
March 2017 – Present
Assist lead teacher with teaching duties such as lesson planning, classroom management and student assessment
Develop and implement engaging lesson plans tailored to the needs of the students
Facilitate differentiated learning activities in a safe and positive environment
Engage with parents in developing and tracking student progress
Manage and track student data and assist with the preparation of reports
Provide support to special education students in the classroom
Education:
Bachelor of Education
XYZ University, Los Angeles, CA
June 2013 – June 2017
Assistant Teacher Resume with No Experience
Recent college graduate with a passion for teaching, with a major in Early Childhood Education. Seeking a position as an Assistant Teacher to apply gained knowledge and develop my expertise in education.
Skills
Excellent communication and organizational skills
Proficient in Microsoft Office
Ability to work well with children and adults
Flexible and reliable
Able to multitask and prioritize
Adaptable to different teaching styles
Responsibilities
Assist the lead teacher in all classroom activities
Help students with any academic and behavioral issues
Develop and implement educational activities
Monitor student progress and provide feedback
Assist with classroom set up, preparation and clean up
Provide support to teachers in managing student behavior
Communicate effectively with parents and staff
Assistant Teacher Resume with 2 Years of Experience
A motivated and dynamic assistant teacher with two years of experience working in a classroom setting with students of all ages. Possessing strong interpersonal, organizational and communication skills, I am committed to delivering an engaging and positive learning experience to every student. In addition, I am organized, patient and reliable when it comes to helping every student reach their full potential.
Core Skills:
Classroom management
Problem- solving
Student assessment
Collaboration
Adaptability
Communication
Responsibilities:
Assisting with classroom instruction
Assisting with the development of lesson plans
Facilitating student learning in a variety of ways
Assisting with grading and assessment tasks
Monitoring student progress in the classroom
Collaborating with teachers to ensure students are receiving the best instruction
Assisting with special projects, events and activities
Coaching and mentoring students in their studies
Keeping up to date with the latest advancements in education and technology.
Assistant Teacher Resume with 5 Years of Experience
An experienced assistant teacher with 5 years of experience, seeking to provide students with a safe, supportive and stimulating learning environment to grow intellectually and socially. Experienced with the implementation of creative lesson plans and engaging classroom activities to promote understanding. Possessing excellent communication and problem- solving capabilities, enabling effective interaction with students, staff and parents.
Core Skills:
Knowledge of various teaching techniques and methodologies
Ability to develop engaging lesson plans
Proven experience in conflict resolution
Excellent communication and problem- solving skills
Dedicated and hardworking attitude
Ability to create a positive learning environment
Knowledge of behavior management strategies
Responsibilities:
Assisting the lead teacher in designing lesson plans
Supervising small group and individual activities
Preparing instructional materials for the class
Helping to create and implement classroom management strategies
Assisting with evaluating student performance and behavior
Communicating effectively with parents and guardians
Assisting with the enforcement of school rules and regulations
Participating in school improvement plans and initiatives
Assistant Teacher Resume with 7 Years of Experience
A highly experienced and motivated Assistant Teacher with 7+ years of experience in teaching. Possesses an outstanding ability to communicate and engage students in the classroom. Exhibits a passion for teaching and developing students holistically. Is able to develop and implement appropriate and effective lesson plans that are in line with curriculum standards. Has the ability to engage students and encourage them to think critically.
Core Skills:
Excellent communication skills
Organizational skills
Strong ability to engage students
Knowledge of curriculum standards
Critical thinking skills
Ability to develop lesson plans
Ability to monitor student learning
Responsibilities:
Assisted in planning, developing and implementing lesson plans
Provided assistance to students in and outside the classroom
Monitored and evaluated student learning
Encouraged critical thinking among students
Provided appropriate and effective feedback to students
Assisted in maintaining order and discipline in the classroom
Attended and participated in faculty meetings
Assisted in preparing and administering exams and tests
Assisted in developing and organizing curriculum materials
Assisted in maintaining records and filing papers
Assistant Teacher Resume with 10 Years of Experience
I am a highly organized and detail- oriented Assistant Teacher with 10 years of experience in teaching and educational support. My passion to help students excel and reach their potential is demonstrated through my ability to create engaging and dynamic lessons that capture their imagination. I am experienced in developing and implementing educational programs, providing encouragement and support for students, and coaching and mentoring. My strong communication and interpersonal skills allow me to effectively collaborate with teachers and staff to create a supportive learning environment.
Core Skills:
Demonstrated ability to develop and implement engaging and dynamic lesson plans
Excellent communication and interpersonal skills
Strong ability to provide encouragement and support for students
Advanced problem solving and critical thinking skills
Proficient with using various educational technologies
Able to quickly adapt to changing educational requirements
Excellent record- keeping and organizational skills
Responsibilities:
Assisted in designing and delivering instructional materials and lessons plans
Provided individualized support to students in order to help them reach their educational goals
Collaborated with teachers to develop innovative and effective educational programs
Coached and mentored students in achieving their goals
Supervised students in the classroom and during activities
Assisted with grading and recording student progress
Provided individualized assistance to students with special needs
Assisted in creating and maintaining student records and data
Helped plan and manage field trips and other extracurricular activities
Assistant Teacher Resume with 15 Years of Experience
Highly experienced Assistant Teacher with 15 years of experience in educating and guiding students to reach their highest potential. Possessing a strong ability to motivate, engage, and challenge students while building a positive learning environment. Adept at creating engaging lesson plans, utilizing various teaching techniques, and providing individualized instruction. Committed to upholding professional standards and creating a safe learning environment that promotes student achievement.
Core Skills:
Strong academic and classroom management abilities
Excellent verbal and written communication skills
Proficient in Microsoft Office Suite, Google Docs, and other educational software
Excellent interpersonal and organizational skills
Able to work with a diverse student population
Strong problem- solving and decision- making skills
Ability to collaborate with other teachers and staff
Responsibilities:
Provided instruction to students in a variety of subjects
Developed and implemented lesson plans and assessments to ensure student comprehension
Assisted with classroom management to ensure an organized learning environment
Monitored student progress and provided feedback to students and parents
Collaborated with other teachers and staff to develop innovative classroom strategies
Assisted students with special needs, providing individualized instruction
Organized and supervised field trips to enhance student learning
Participated in staff meetings, professional development seminars, and parent- teacher conferences.
In addition to this, be sure to check out our resume templates, resume formats, cover letter examples, job description, and career advice pages for more helpful tips and advice.
What should be included in a Assistant Teacher resume?
An Assistant Teacher resume needs to include a lot of information to ensure you stand out from other applicants. While the exact details of your resume will vary based on your experience, there are a few must-haves that you should include:
Education: Your highest level of education should appear near the top of your resume. Include the name of the institution and the degree you earned.
Relevant Experience: If you have any prior experience working in education, highlight it. Include your job title, the institution you worked for, and any relevant details about the role.
Special Skills: Do you have certifications or special qualifications that are relevant to the role? Be sure to include those here.
Core Competencies: Show off your teaching skills. Include any special methods you use, or any subjects in which you have a specialty.
Professional References: Employers will want to know that you are qualified and trustworthy. Include the contact information of a few people who can vouch for your character and professional skills.
Additional Activities: If you have been involved in any volunteer work or extracurricular activities related to teaching, include them. This will show your commitment to the field.
What is a good summary for a Assistant Teacher resume?
A great summary for an Assistant Teacher resume should emphasize qualifications, experience and special skills. It should also include any special training or certifications that the applicant may have. As an Assistant Teacher, it is essential to display the ability to work effectively with students, staff and families, as well as possess strong organizational, communication and leadership skills. The summary should also showcase the individual's commitment to fostering a positive learning environment and be able to work well in a collaborative environment. A well-crafted summary should be able to convey the individual's enthusiasm for teaching and their dedication to helping students reach their potential. Finally, it should provide a brief overview of the relevant experience and qualifications that the applicant has acquired throughout their career.
What is a good objective for a Assistant Teacher resume?
Writing a resume for a position as an Assistant Teacher can be a challenge. After all, you need to include all of your relevant experience and qualifications without going into too much detail. The objective statement is a great way to introduce yourself to potential employers and show them why you are the perfect candidate for the job. Here are some tips on what makes a good objective for an Assistant Teacher resume:
Demonstrate your passion for teaching: Your objective statement should emphasize your enthusiasm for teaching and your commitment to providing students with a quality education. Show employers that you are passionate about developing a meaningful relationship with students and helping them reach their full potential.
Highlight your strengths: Be sure to include your relevant qualifications, such as a degree in education, teaching certification, or experience working with students. This will show employers that you have the necessary skills and qualifications to be an effective Assistant Teacher.
Showcase your flexibility: As an Assistant Teacher, you need to be able to work in different settings and with a variety of students. Make sure to include any experience you have working with different age groups and learning styles. This will show employers that you are a flexible and adaptable teacher.
Emphasize your communication skills: As an Assistant Teacher, you will be responsible for communicating with both students and parents. Include any experience you have with communication and relationship building in your objective statement. This will show employers that you have the necessary skills to effectively communicate with others.
By following these tips, you can create an effective objective statement for your Assistant Teacher resume that will help you stand out from the competition. Make sure to include all of your relevant experience, qualifications, and skills in a way that highlights your passion for teaching and why you are the perfect candidate for the job.
How do you list Assistant Teacher skills on a resume?
When writing a resume for an assistant teacher position, it is important to showcase your skills and abilities that make you a strong candidate. Here are some skills you should consider listing in your resume:
Classroom Management: This skill involves planning, organizing, and supervising students in a classroom setting. It also includes disciplining students, monitoring behavior, and encouraging student engagement.
Instructional Design: This skill requires the ability to create effective lesson plans and teaching strategies to help students learn. It also includes the ability to assess student progress and adjust instruction accordingly.
Communication: This skill involves being able to effectively communicate with both students and teachers. It includes the ability to listen, provide feedback, and explain concepts in an understandable way.
Technology: Being able to utilize different technologies in a classroom setting can be an important skill for an assistant teacher. This includes understanding how to use digital tools, such as educational software and online platforms, to support student learning.
Collaboration: Working with teachers and other school staff to develop effective lesson plans, projects, and other activities is an important skill for an assistant teacher. It also includes the ability to work with students and parents in a professional manner.
By including these skills on your resume, you can demonstrate to potential employers that you have the necessary skills and abilities to be successful in an assistant teacher role.
What skills should I put on my resume for Assistant Teacher?
When applying for Assistant Teacher positions, it is important to highlight a range of skills within your resume. These skills should demonstrate your ability to effectively teach and manage students, as well as your proficiency in subject-specific areas. Here is a list of skills to consider including on your resume:
Classroom Management: The ability to manage a classroom and maintain order is essential for an Assistant Teacher. Demonstrate experience in keeping classes on-task and responding to challenging behaviors.
Subject Knowledge: Depending on the grade level and subject you are teaching, you should be prepared to discuss your knowledge of the subject matter. Provide examples of your teaching style and any strategies you used to engage students.
Communication: As an Assistant Teacher, you must be able to effectively communicate with students, teachers, and parents. Showcase your strong verbal and written communication skills that enable you to collaborate in a team setting.
Technology: Many classrooms now utilize technology to help students learn. Highlight any relevant experience you have using educational software, apps, etc.
Patience: An Assistant Teacher must have the patience to work with students of all ages and abilities. Demonstrate how you remain calm and composed in difficult situations.
Key takeaways for an Assistant Teacher resume
As an assistant teacher, your responsibilities likely include providing support to the lead teacher in the classroom, creating lesson plans, and helping students learn. Having a well-crafted resume is essential to getting the attention of potential employers. Here are some key takeaways when it comes to crafting a successful assistant teacher resume:
List your relevant qualifications. Be sure to list any qualifications that you have that are relevant to the job you're applying for, such as educational licenses and certifications, teaching experience, and any specialized training you have.
Highlight your classroom experience. Emphasize any classroom experience you have, such as tutoring or leading classroom activities. Detail how your experience has helped you to develop your teaching skills and how you can use those skills to benefit the school.
Showcase your leadership skills. Showcase your leadership skills by highlighting any projects you've led or co-led, as well as any student groups you've been involved in.
Emphasize your commitment to the job. Demonstrate your commitment to the job by highlighting any initiatives you've taken to help students learn or any awards you've received.
Include any volunteer work you've done. Detail any volunteering you've done in a classroom setting, such as mentoring or helping out with extracurricular activities.
Overall, it's important to showcase your experience, qualifications, and leadership skills in your assistant teacher resume. Doing so will help you stand out to potential employers and increase your chances of getting the job.
Let us help you build
your Resume!
Make your resume more organized and attractive with our Resume Builder