Are you looking for a guide to help you write an effective assistant professor resume? Writing a resume for an assistant professor position is a difficult task and requires significant effort to make sure all the relevant information is included. In this blog post, we will discuss how to create a resume that stands out, including advice on formatting, tips on what to include, and examples of successful resumes. With this guide, you will be able to create a resume that highlights your expertise, education, and professional experience in an organized and efficient manner.
If you didn't find what you were looking for, be sure to check out our complete library of resume examples.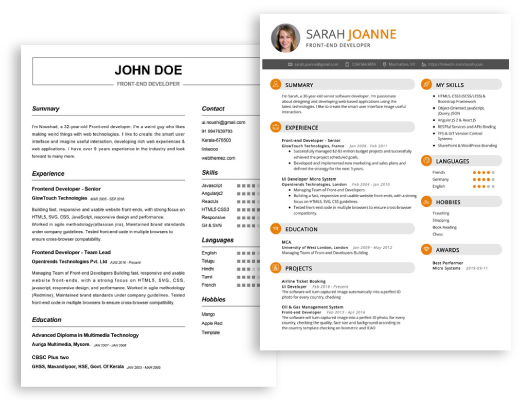 Start building your dream career today!
Create your professional resume in just 5 minutes with our easy-to-use resume builder!
Assistant Professor Resume Examples
John Doe
Assistant Professor
123 Main Street | Anytown, USA 99999 | Phone: (123) 456-7890 | Email: john.doe@email.com
Highly motivated Assistant Professor with over 10 years of experience teaching undergraduate and postgraduate college courses. Proven track record of developing engaging learning experiences, integrating technology into the classroom, and encouraging student collaboration. Possess excellent interpersonal skills, a commitment to student success, and an enthusiasm for the learning process. Experienced in providing comprehensive instruction in a variety of disciplines related to the social sciences and humanities.
Core Skills:
Instruction and Curriculum Design
Student Engagement
Classroom Management
Research and Writing
Academic Advising
Technology Integration
Leadership and Mentorship
Professional Experience:
Assistant Professor, University of XYZ, 2014- Present
Develop and implement courses in the areas of history and political science.
Monitor and assess student performance, provide feedback, and develop individual learning plans.
Promote a collaborative environment while fostering student engagement.
Incorporate a variety of technologies including virtual reality and augmented reality into the curriculum.
Serve as advisor for student organizations and extracurricular activities.
Lecturer, ABC College, 2010- 2014
Led first year seminar courses in the areas of sociology and psychology.
Provided instruction and mentorship to undergraduate and postgraduate students.
Monitored and assessed student performance and provided feedback on assignments.
Developed course syllabi and lesson plans for classes.
Advised student clubs and organizations.
Education:
PhD in Sociology, University of XYZ, 2010
BA in History, ABC College, 2006
Assistant Professor Resume with No Experience
Results- oriented, dynamic and independent Assistant Professor with no experience and a passion for teaching, creating and delivering engaging content to students. Skilled in developing innovative learning activities and fostering meaningful student engagement, with a commitment to meeting the needs of all students.
Skills
Excellent communicator and listener
Knowledge of current and emerging teaching methodologies
Ability to work collaboratively and independently
Highly organized with attention to detail
Ability to develop creative curriculum
Ability to identify and implement best practices in lesson and course planning
Responsibilities
Develop and implement engaging and effective lesson plans
Collaborate with other faculty members to create engaging course materials
Facilitate learning activities, seminars, and discussions
Guide students in their learning journey and provide individualized support
Evaluate student performance, providing constructive feedback
Stay informed of current trends, technologies and resources in the educational field
Monitor student progress and provide progress reports to students and parents
Maintain and update student records
Participate in professional development activities and workshops
Assistant Professor Resume with 2 Years of Experience
A motivated and passionate Assistant Professor with 2 years of experience in teaching and research. Possess great interpersonal and communication skills, which allows me to effectively convey knowledge and ideas to students. Experienced in developing and delivering classroom lectures, leading seminars, grading student work, and providing feedback. Excellent ability to create an effective learning environment and ensure that students are motivated and engaged.
Core Skills:
Excellent communication and interpersonal skills
Strong knowledge of classroom teaching practices
Good organizational skills
Ability to motivate and engage students
Proficiency in educational software
Computer proficiency
Responsibilities:
Develop and deliver classroom lectures
Lead seminars and discussion sessions
Grade student work
Provide feedback to students
Maintain professional relationships with students and faculty
Maintain student records
Design engaging lesson plans
Prepare course materials
Create and administer assessments
Conduct research and publish papers
Attend professional development training
Promote a positive learning environment
Assistant Professor Resume with 5 Years of Experience
Dynamic and experienced Assistant Professor with 5 years of experience teaching at the University level. Proven ability to develop and implement active learning strategies to effectively engage students. Skilled in creating and delivering lectures, managing course materials, and grading assessments. Possesses strong leadership, communication, and organization skills.
Core Skills:
Advanced knowledge of teaching methodology
Excellent written and verbal communication skills
Organizational and time management skills
Proficient in Microsoft Office Suite
Adaptability to new learning environments
Ability to lead and motivate students
Responsibilities:
Developing and delivering lecture materials to a large class of students
Designing and delivering innovative teaching methods to actively engage students
Providing personalized feedback to students on their coursework
Monitoring student progress and providing guidance to ensure successful completion of the course
Organizing, grading, and evaluating student assessments
Facilitating and supervising group projects and activities
Assistant Professor Resume with 7 Years of Experience
A highly motivated, experienced and result- driven Assistant Professor with 7 years of experience in teaching. Possesses an in- depth knowledge of curriculum design, assessment, evaluation and classroom management techniques. Experienced in fostering a positive learning environment to ensure students understand the subject material and develop critical thinking skills. Committed to providing a quality learning experience and to facilitate students' growth and academic success.
Core Skills:
Curriculum Design
Assessment and Evaluation
Classroom Management
Positive Learning Environment
Collaboration
Communication
Critical Thinking
Student Guidance
Responsibilities:
Developing curriculum, lesson plans, assignments and activities to facilitate learning
Assessing students' work and providing feedback
Monitoring and evaluating student performance
Creating a positive and safe learning environment
Collaborating with other teachers, staff and administrators on educational initiatives
Providing guidance and support to students
Keeping up to date with new teaching methods and best practises
Mentoring and motivating students to reach their full potential
Assistant Professor Resume with 10 Years of Experience
A highly skilled and experienced Assistant Professor with ten years of experience teaching in higher education. Proven record of teaching excellence and student satisfaction with a creative and flexible approach to problem solving. Adept at developing innovative course materials and engaging students in collaborative learning activities while promoting an inclusive classroom environment. Possesses a wealth of knowledge in the field of education and a commitment to professional growth through ongoing research and development.
Core Skills:
Instructional Design
Experiential Learning
Classroom Management
Instructional Technology
Evaluation and Assessment
Curriculum Design
Educational Research
Student Advising
Responsibilities:
Developed and taught courses in higher education, including lectures, seminars, laboratories, and independent study.
Developed course materials and assessments, including syllabus, lesson plans, tests, and quizzes.
Collaborated with other faculty members to ensure course content alignment with departmental objectives.
Assisted in the recruitment, admission, and retention of students.
Advised and mentored students in academic and career planning.
Evaluated student performance and provided feedback and guidance.
Attended and participated in faculty meetings, professional development activities, and workshops.
Participated in the development and implementation of departmental policies, procedures, and academic standards.
Researched and published scholarly articles and other written works.
Assistant Professor Resume with 15 Years of Experience
A dedicated and highly experienced assistant professor with fifteen years of experience in higher education teaching. Possessing a comprehensive knowledge of research techniques, curriculum development, and classroom instruction. Adept at building strong relationships with students and colleagues and motivating students to reach their full potential. Proven ability to develop interactive course materials for a variety of learning styles and to create challenging and engaging learning experiences. Skilled at using technology to facilitate learning, communication, and productivity.
Core Skills:
Expertise in research and curriculum development
Excellent instructional and communication skills
In- depth knowledge of educational theory
Proficient with technology and distance learning
Strong ability to build relationships with students and colleagues
Ability to design and develop interactive course and learning materials
Exceptional problem- solving, organizational, and analytical skills
Ability to motivate, mentor, and guide students
Responsibilities:
Develop, implement, and assess course curriculum and student learning outcomes
Provide instruction and facilitate learning in a classroom setting
Create and grade assessments to measure student progress
Mentor, motivate, and guide student progress
Provide feedback to students and follow up as necessary
Research and develop new learning materials and techniques for different learning styles
Collaborate with colleagues to ensure strong student performance
Utilize all available technology and resources to enhance the learning environment
Hold office hours for student consultation and guidance
In addition to this, be sure to check out our resume templates, resume formats, cover letter examples, job description, and career advice pages for more helpful tips and advice.
What should be included in a Assistant Professor resume?
A resume for an Assistant Professor position should include all of the most important information about your educational and professional qualifications. Your resume should be tailored to the job and include the following elements:
Contact Information: Include your full name and contact details.
Education: List all of your relevant educational qualifications, including degrees, diplomas, and certificates.
Teaching Experience: Describe your teaching experience, including the positions you held, the courses you taught, and the accomplishments you made.
Research Experience: Describe your research experience, including the topics you studied and the projects you worked on.
Professional Development: List any professional development activities you have taken part in, such as conferences, seminars, and workshops.
Publications: List any professional publications you have had.
Awards and Honors: List any awards or honors you have received that are related to your teaching or research.
Other Experience: If you have any other relevant experience, such as consulting work or volunteer work, include it here.
Certifications: List any professional certifications you have.
References: Include contact information for three professional references.
What is a good summary for a Assistant Professor resume?
A good summary for an Assistant Professor resume should highlight both your teaching and research skills, as well as the specific subject area(s) you specialize in. Additionally, the summary should include your educational background, certifications, and other relevant experience. Ideally, it should be succinct yet comprehensive and emphasize your qualifications for the position. It should also highlight your accomplishments and be tailored to the job you're applying for. A well-crafted summary can make your resume stand out from the competition and increase your chances of getting an interview.
What is a good objective for a Assistant Professor resume?
A well-written and appropriately tailored resume objective is an invaluable tool for assistant professor applicants who want to stand out amongst the competition. A strong objective statement should focus on the specific skills and qualifications the applicant brings to the table, and how those qualities can contribute to the success of the educational institution.
Below are some examples of good objectives for an assistant professor resume:
A highly motivated and experienced educator seeking a position as an Assistant Professor at a prestigious university, bringing a proven track record of developing engaging lesson plans and providing individualized instruction to foster a stimulating and productive learning environment.
Compassionate and engaging educator seeking a position as an Assistant Professor at a top-tier university, leveraging 10 years of teaching experience and a passion for research in order to promote a positive and stimulating educational environment.
A career educator with a background in both classroom instruction and research seeking a position as an Assistant Professor at a renowned university, bringing a wealth of knowledge in academic pursuits and a commitment to developing innovative curricula to drive student success.
Dedicated and enthusiastic professor looking to secure a position as an Assistant Professor at a respected university, utilizing strong interpersonal skills and a demonstrated ability to cultivate meaningful relationships with faculty, staff, and students.
By crafting a well-written and tailored objective statement, assistant professor applicants can set themselves apart and show why they are the right candidate for the job.
How do you list Assistant Professor skills on a resume?
When it comes to listing your Assistant Professor skills on your resume, it is important to make sure you highlight the skills that make you qualified for the position. Here are some skills to consider including in your resume:
Outstanding teaching and communication skills: Assistant Professors are expected to have excellent teaching and communication skills, being able to effectively explain complex concepts to students.
Knowledgeable about the field: Assistant Professors should also have a thorough understanding of their field, being able to keep up with current trends and issues.
Research experience: Assistant Professors are expected to have experience conducting research and publishing their work.
Knowledge of software programs: Assistant Professors should have some knowledge of the software programs used in their field, such as SPSS or SAS.
Leadership skills: Assistant Professors should be able to lead students and provide guidance in the classroom setting.
Ability to use technology in the classroom: It is important for an Assistant Professor to be able to effectively use technology to communicate with students and enhance the learning experience.
By including these skills on your resume, you can demonstrate to potential employers that you have the qualifications necessary for the position. Additionally, this will help make your resume stand out and can help you land the job.
What skills should I put on my resume for Assistant Professor?
When you apply to be an Assistant Professor, it's important to showcase the skills you have developed in the field. Putting the right skills on your resume is key to making a positive impression on potential employers. Here are some skills you should include on your resume to increase your chances of landing the position:
Subject Matter Expertise: As an Assistant Professor, you should be well-versed in the subject matter you are teaching. You should be able to demonstrate your knowledge with examples from your research and/or teaching experience.
Communication: Being able to effectively communicate your ideas and research findings is critical for success. Make sure you highlight your ability to express yourself verbally and in writing.
Organizational Skills: You will need to be able to manage your time and workload efficiently. Showcase your organizational skills on your resume by providing examples of how you have managed complex tasks and projects.
Interpersonal Skills: As an Assistant Professor, you will be interacting with a variety of people. Showcase your ability to work with colleagues, students, and other professionals.
Leadership: You will also need to demonstrate a strong sense of leadership. This includes your ability to inspire and motivate others, as well as your ability to take initiative and make decisions.
By including these skills on your resume, you can demonstrate your preparedness to take on the role of Assistant Professor. Make sure to include tangible examples of how you have used each skill to help you stand out from the competition.
Key takeaways for an Assistant Professor resume
An assistant professor resume should focus on the qualifications, experience, and achievements that demonstrate the candidate's ability to excel in the role. The goal of an assistant professor resume is to showcase the applicant's knowledge of the subject, their research and teaching experience, and their ability to create an engaging learning environment.
Below are some of the key takeaways you need to keep in mind when crafting an assistant professor resume:
Highlight relevant qualifications: Make sure to emphasize any certifications, advanced degrees, or other qualifications that directly apply to the job.
Showcase teaching experience: Don't forget to include any teaching experience you've had, such as courses you've taught, student evaluations, and other relevant information.
Include research experience: Demonstrate your research prowess by outlining any published papers, research projects, and other scholarly activities.
Describe teaching style: Describe your teaching style in detail, such as the types of courses you teach, the strategies you use, and how you create an engaging learning environment.
Provide awards and recognition: Showcase any awards, recognitions, and other accomplishments you've earned throughout your career.
By utilizing these tips, you can craft an effective and comprehensive assistant professor resume that will help you stand out from the competition.
Let us help you build
your Resume!
Make your resume more organized and attractive with our Resume Builder