Writing a resume as an adjunct lecturer can be overwhelming. Even if you've been teaching for years, you may not know where to begin. Fortunately, there are certain tips and resume writing strategies that can help you craft an effective and compelling adjunct lecturer resume. This blog post will provide a comprehensive guide to creating an adjunct lecturer resume, with examples and practical advice to help you stand out from the competition.
If you didn't find what you were looking for, be sure to check out our complete library of resume examples.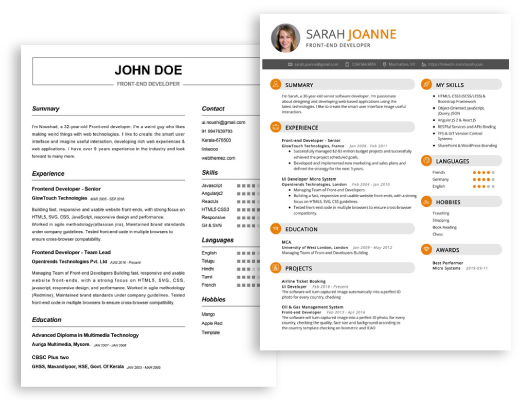 Start building your dream career today!
Create your professional resume in just 5 minutes with our easy-to-use resume builder!
Adjunct Lecturer Resume Examples
John Doe
Adjunct Lecturer
123 Main Street | Anytown, USA 99999 | Phone: (123) 456-7890 | Email: john.doe@email.com
I am an experienced Adjunct Lecturer with a thorough understanding of teaching techniques, curriculum design, and assessment strategies. I have a proven track record of creating engaging course materials and delivering informative lectures on topics related to psychology and sociology. I am comfortable working with diverse student populations and am confident in my ability to help students understand course materials. I am highly organized, patient, and committed to helping students reach their full potential.
Core Skills:
Extensive knowledge of psychology and sociology
Ability to create engaging course materials
Excellent communication and presentation skills
Experience teaching diverse student populations
Proficient in assessment and evaluation
Demonstrated ability to meet deadlines
Knowledge of learning management systems
Professional Experience:
Adjunct Lecturer, ABC University, 2018- Present

Design and teach lectures on a variety of topics related to psychology and sociology
Create course materials and assessments for interactive learning experiences
Facilitate group discussions and provide one- on- one assistance to students
Monitor and assess student performance to ensure understanding of course topics

Teaching Assistant, XYZ Community College, 2016- 2018

Assisted with the teaching of psychology and sociology classes
Developed effective teaching strategies for introductory and advanced courses
Monitored student progress and provided feedback
Assisted with exams and written assignments
Education:
Master of Arts in Psychology, ABC University, 2018
Bachelor of Arts in Sociology, XYZ University, 2016
Adjunct Lecturer Resume with No Experience
Recent graduate with a Master's Degree in Education and prior experience as a Teaching Assistant looking for an Adjunct Lecturer role. Highly organized and capable of working independently or as part of a team. Dedicated to creating a successful learning environment for students.
Skills
Knowledge of curriculum and instructional design
Excellent classroom management skills
Strong communication and interpersonal skills
Proficiency in Microsoft Office Suite
Ability to work with diverse students
Multi- tasking and problem- solving skills
Responsibilities
Develop and plan lectures and course materials
Deliver lectures and facilitate discussions
Grade student assignments and provide feedback
Mentor students and provide guidance
Ensure student understanding of lecture material
Manage student behavior and class participation
Create a positive learning environment
Communicate with students, faculty and department staff
Keep up with the latest developments in the field
Administer and grade exams
Adjunct Lecturer Resume with 2 Years of Experience
Dynamic and highly motivated educator seeking an Adjunct Lecturer position to share my knowledge and experience with students. Proven record of success in educating students, designing curriculum, and providing students with a meaningful learning experience. Possess excellent communication and interpersonal skills, and highly proficient in the use of technology.
Core Skills:
Educational Leadership
Curriculum Design
Classroom Management
Student Assessment
Instructional Strategies
Instructional Technology
Collaboration
Excellent Communication
Responsibilities:
Conducted classroom instruction in accordance with established curriculum
Instructed and presented course material to students utilizing a variety of teaching strategies and modalities
Developed and implemented detailed lesson plans and course assessments
Assessed student performance using various assessment tools and techniques
Encouraged students to participate in class discussions and activities
Provided supportive feedback to students on assignments and projects
Monitored student progress and created individualized learning plans
Attended faculty meetings and professional development activities
Adjunct Lecturer Resume with 5 Years of Experience
Motivated and passionate adjunct lecturer with 5 years of experience providing students with comprehensive instruction in a variety of topics. Skilled in developing and delivering engaging lessons, overseeing student projects, and leading academic discussions. Experienced in the use of both traditional and modern teaching methods to ensure that lecture content is comprehensive and understandable. Committed to fostering a positive learning environment and nurturing students towards academic success.
Core Skills:
Excellent communication and interpersonal skills
In- depth knowledge and understanding of topic material
Strong organizational and problem- solving abilities
Proficient in the use of computer applications
Highly motivated and creative
Responsibilities:
Develop and implement lesson plans that are both engaging and informative
Encourage student participation, discussion, and cooperation
Assess students' understanding of course material and provide feedback
Provide additional assistance and support to those students who are having difficulty grasping course concepts
Maintain accurate records of student progress and attendance
Lead student projects, lectures, and discussions
Motivate students to work in a collaborative environment
Create and administer exams, quizzes, and other assessments to evaluate student progress
Adjunct Lecturer Resume with 7 Years of Experience
A passionate Adjunct Lecturer with seven years of experience in delivering engaging lectures, preparing course materials, and grading student papers. With a belief in student- oriented teaching, I have a successful track record of fostering student learning and helping them develop new skills. I am experienced in developing and delivering lectures, organizing and supervising course activities, and providing guidance to students on their academic and career goals. My strong communication and organizational skills have been beneficial in my teaching career.
Core Skills:
Classroom Management
Technology- Based Learning
Course Material Preparation
Student Engagement
Lecturing
Curriculum Design
Grading
Academic Advising
Problem- Solving
Time Management
Responsibilities:
Developed and delivered lectures to a diverse range of students
Prepared course materials, including syllabi, handouts, and tests
Evaluated student performance by grading assignments and exams
Assisted students in achieving their academic and career goals through guidance and advice
Developed and implemented strategies to engage students in the classroom
Utilized technology- based learning methods to enhance student engagement
Organized and supervised activities to illustrate course concepts
Answered student inquiries and provided feedback to assist in their academic progress
Adjunct Lecturer Resume with 10 Years of Experience
Dedicated and enthusiastic Adjunct Lecturer with 10 years of teaching experience in higher education. Possess extensive knowledge of a variety of disciplines and a proven ability to create stimulating and engaging lesson plans for diverse student populations. Excel at fostering a learning environment where students feel comfortable asking questions and expressing themselves. Possess a strong commitment to staying current with industry trends and pedagogical developments and continually updating curriculum materials.
Core Skills:
Curriculum Development
Student Engagement
Classroom Management
Academic Writing
Assessment Tools
Higher Education Pedagogy
Research and Analysis
Professional Presentations
Effective Communication
Interpersonal Skills
Responsibilities:
Design and develop course curricula and lesson plans for students in multiple disciplines.
Lead lecture and discussion sessions for up to 30 students.
Assign and grade class work, essays, quizzes and exams.
Utilize multimedia presentations, student activities and debates to engage students in the learning process.
Coach and mentor students on academic and professional matters.
Develop, administer and assess academic and research projects.
Cultivate relationships with parents, administrators and fellow faculty members.
Remain current with new pedagogical developments and industry trends.
Coordinate special lectures, workshops and other extracurricular activities.
Adjunct Lecturer Resume with 15 Years of Experience
A highly qualified Adjunct Lecturer with 15 years of experience in teaching, mentoring, and motivating students to excel. Proven track record of creating innovative and engaging lectures, as well as developing course materials in diverse subject areas. Skilled in delivering lectures and course presentations, as well as responding to student inquiries. Dedicated to providing an excellent learning environment.
Core Skills:
Knowledge of best teaching practices
Exceptional communication and interpersonal skills
Ability to develop and deliver engaging lectures
Organizational and time management skills
Proficiency in using MS Office and educational software
Ability to monitor and assess student performance
Responsibilities:
Develop course materials, such as lecture notes and assessments
Deliver lectures and course presentations
Respond to student inquiries and provide guidance
Monitor and assess student performance
Create innovative and engaging learning activities
Develop and maintain effective relationships with students
In addition to this, be sure to check out our resume templates, resume formats, cover letter examples, job description, and career advice pages for more helpful tips and advice.
What should be included in a Adjunct Lecturer resume?
An adjunct lecturer's resume should be specifically tailored to the job you are applying for. However, there are a few key components that should always be included. As an adjunct lecturer, you will be asked to teach courses and provide instruction to students, so it is important to highlight your teaching and subject knowledge.
Below are some key components to include in your adjunct lecturer resume:
Education: Include the highest level of education you have obtained. If you have advanced degrees, such as a masters or doctorate, include them as well.
Teaching experience: Describe any teaching experience you have had, including courses you have taught previously and a summary of your duties.
Professional experience: Include any relevant professional experience that is related to the teaching subject you are applying for.
Subject knowledge: Demonstrate your knowledge of the subject you are applying to teach. Include any papers you have written, research you have conducted, or awards you have received related to the subject.
Teaching skills: Highlight your teaching skills and any special techniques you may have. For example, if you are experienced in teaching online courses, make sure to include that.
Technology/Software skills: Include any software or technology-related skills that you have. Adjunct lecturers may be required to use a specific software or technology to teach their courses, so make sure to highlight any relevant skills in this area.
Professional affiliations: List any memberships you have with professional organizations related to the teaching subject.
By including these components in your resume, you will be able to demonstrate that you have the knowledge and experience needed to be an effective adjunct lecturer.
What is a good summary for a Adjunct Lecturer resume?
A qualified Adjunct Lecturer should have a resume that highlights their industry-specific qualifications and educational experience. A good summary for an Adjunct Lecturer resume should emphasize the candidate's education, knowledge, teaching abilities, and professional experience. It should also include any relevant skills or specialties the candidate has.
An Adjunct Lecturer resume should demonstrate that the candidate has the ability to provide instruction in a variety of topics and to lead discussions in the classroom. It should be clear that the candidate is passionate about teaching and has the skills necessary to help students learn. The summary should also emphasize any awards or accolades the candidate has received.
In addition, the summary should highlight any research experience the candidate has, as well as any special projects they have undertaken. It should be clear from the resume that the candidate is well-versed in their respective field, has a thorough understanding of their subject matter, and is confident in their teaching abilities.
Overall, a good summary for an Adjunct Lecturer resume should be a clear and concise overview of the candidate's qualifications, educational experience, teaching ability, and professional background. It should be written in a way that captures the reader's attention and highlights the candidate's most impressive credentials.
What is a good objective for a Adjunct Lecturer resume?
A well-crafted objective statement is an important part of any Adjunct Lecturer resume. An objective statement should clearly communicate your professional goals and set yourself apart from other applicants. Here are some examples of good objectives for Adjunct Lecturer resumes:
Seek to join a respected academic institution as an Adjunct Lecturer, bringing knowledge and experience in the field of [subject] to contribute to the success of the students and the university.
To use experience in [subject] and teaching to motivate students to reach their highest potential while contributing to the university's overall educational mission.
Looking to utilize my expertise in [subject] combined with a passion for teaching to advance the learning of students and their academic excellence.
Passionate educator and [subject] expert seeking a position as an Adjunct Lecturer to help students reach their academic and career goals.
Aim to use my strong communication and pedagogical skills, in combination with a commitment to lifelong learning, to advance the goals of the university as an Adjunct Lecturer.
Motivated educator with recent [subject] teaching experience looking to join a respected university as an Adjunct Lecturer to advance the learning of students.
To join a prestigious university as an Adjunct Lecturer and support the academic success of students through the application of knowledge and experience in the field of [subject].
How do you list Adjunct Lecturer skills on a resume?
When applying for an Adjunct Lecturer position, your resume should demonstrate your qualifications and expertise. A comprehensive list of skills to showcase on your resume includes:
Teaching: Highlighting any teaching experience you have, such as tutoring or teaching classes or workshops, is key to demonstrate that you are capable of lecturing.
Communication: Adjunct Lecturers must be able to effectively present course material, answer questions, and provide feedback to students.
Time Management: Adjunct Lecturers must be able to manage their time effectively in order to stay on top of their course material and ensure their classes run smoothly.
Organization: Adjunct Lecturers must be organized in order to plan their class lessons and make sure all their materials are in order.
Leadership: Adjunct Lecturers should have strong leadership skills in order to manage the class and ensure their students are engaged in the material.
Adaptability: Adjunct Lecturers must be able to adapt to different learning styles and student needs in order to ensure their classes are effective.
Technology: Adjunct Lecturers need to be familiar with the technology used in the classroom, such as PowerPoint and virtual learning platforms.
By highlighting the skills listed above on your resume, you can demonstrate to potential employers that you have the knowledge and expertise to be an effective Adjunct Lecturer.
What skills should I put on my resume for Adjunct Lecturer?
When applying for a position as an adjunct lecturer, you want your resume to showcase the skills and experience that make you an ideal candidate for the role. You should focus on qualifications such as teaching, communication, and technology skills that indicate you can effectively lead lectures and manage a classroom. To help you craft the perfect resume for an adjunct lecturer role, here are some essential skills to include:
Teaching: Adjunct lecturers must have strong teaching skills, including the ability to articulate concepts, develop course plans, use active learning strategies, and evaluate student progress.
Communication: As an adjunct lecturer, you must be able to communicate effectively with students, colleagues, and other stakeholders. This includes the ability to listen, give and receive feedback, and maintain relationships.
Technology: Adjunct lecturers should be adept at using technology to enhance their lectures, including presentation software, online learning platforms, and other educational aids.
Research: Adjunct lecturers should have the ability to conduct research, both independently and with assistance from other faculty members.
Adaptability: Adjunct lecturers must be able to adjust to different learning environments, such as online classes or hybrid courses. The ability to handle rapid changes and stay organized is essential.
By highlighting the above skills on your resume, you can demonstrate to employers that you have the qualifications to be an effective adjunct lecturer.
Key takeaways for an Adjunct Lecturer resume
Adjunct lecturers are in demand as colleges, universities, and other educational institutions look for skilled professionals to fill temporary positions. An Adjunct Lecturer resume should showcase an individual's experience, skills, and qualifications in order to impress potential employers. Here are some key takeaways to keep in mind when creating a resume for an Adjunct Lecturer position:
Highlight Your Academic Qualifications: An Adjunct Lecturer resume should emphasize your academic qualifications. This includes listing your educational degrees, teaching experience, and any relevant certifications or credentials. Be sure to include any advanced studies or professional development courses that you have completed, as this will demonstrate your commitment to staying abreast of the latest teaching methods and trends.
Include Your Teaching Portfolio: A teaching portfolio is an important component of an Adjunct Lecturer resume. This should include examples of your teaching methods, such as lesson plans, student evaluations, and other documents that showcase your teaching skills. The portfolio should demonstrate your ability to engage students and encourage them to learn.
Demonstrate Your Ability to Work with Students: As an Adjunct Lecturer, employers will be looking for someone who is skilled at working with students. To showcase your ability to do this, include examples of how you have worked with students on projects, mentored them, or provided guidance. This will demonstrate to potential employers that you have the ability to help students learn in an effective manner.
Showcase Your Communication Skills: Communication skills are essential for any lecturer, and an Adjunct Lecturer resume should emphasize this. Include examples of how you have used communication skills to engage students and help them understand the material. This will demonstrate to employers that you are able to effectively communicate with them and their students.
By following these tips, you can create an impressive Adjunct Lecturer resume that will stand out and help you land the
Let us help you build
your Resume!
Make your resume more organized and attractive with our Resume Builder