Writing a resume as a SQL Data Analyst can be a challenging task, especially when you are competing against other professionals with similar experience and qualifications. Crafting a resume that stands out from the competition and highlights the skills and experiences that make you unique is essential for success in the job search. This guide will provide you with the necessary tips and examples to help you create an effective and comprehensive resume as a SQL Data Analyst. With these resume writing and formatting tips, you can ensure that your resume adequately reflects your qualifications and stands out from the competition.
If you didn't find what you were looking for, be sure to check out our complete library of resume examples.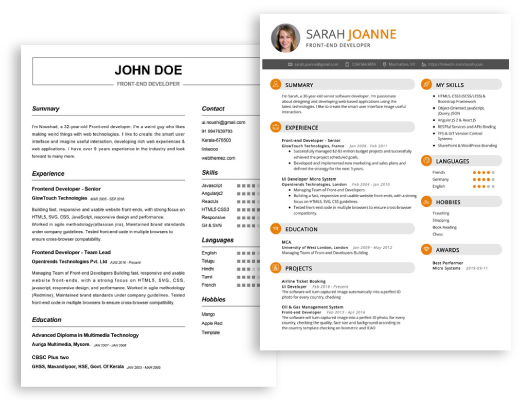 Start building your dream career today!
Create your professional resume in just 5 minutes with our easy-to-use resume builder!
Sql Data Analyst Resume Examples
John Doe
Sql Data Analyst
123 Main Street | Anytown, USA 99999 | Phone: (123) 456-7890 | Email: john.doe@email.com
I am a highly skilled SQL Data Analyst with 4+ years of experience in database management, maintenance, and development. I have a solid understanding of database systems, database languages, and database development tools. I am highly proficient in SQL, T- SQL, and Oracle database development and maintenance. I am detail- oriented and can perform complex data analysis and develop data- driven solutions. I am well- versed in data mining, data cleansing, and data warehousing. I have excellent communication and problem- solving skills and a passion for finding and presenting data- driven solutions.
Core Skills:
SQL
T- SQL
Oracle Database Development and Maintenance
Data Mining
Data Cleansing
Data Warehousing
Data Analysis
Communication
Problem- Solving
Professional Experience:
SQL Data Analyst, ABC Company, 2018 – Present
Developed and implemented database systems for customer service and support.
Created SQL scripts to facilitate customer data analysis, reporting, and maintenance.
Developed and maintained T- SQL queries for data extraction and data manipulation.
Provided customer support by developing complex reports from the database system.
Developed data models and maintained Oracle databases.
Monitored customer service operations and identified areas of improvement.
Education:
Bachelor of Science in Computer Science, University of XYZ, 2014 – 2018
Sql Data Analyst Resume with No Experience
Recent college graduate with an undergraduate degree in Computer Science and quantitative skills. Seeking an entry- level position as an Sql Data Analyst to utilize my analytical and problem- solving abilities.
Skills:
Strong knowledge of SQL programming language
Excellent written and verbal communication
Strong analytical and problem- solving skills
Experience in data modeling and data manipulation
Knowledge of database management systems and data warehousing
Proficient in Microsoft Office Suite, including Access, Excel, and Word
Ability to work independently or in a team environment
Responsibilities:
Design, develop, and maintain SQL databases
Develop and enhance databases for data analysis and reporting
Analyze data to identify trends and patterns
Develop and implement new processes for data analysis
Develop and maintain ETL processes
Create and execute SQL queries for data analysis
Generate reports from data to monitor and analyze trends
Provide data support to stakeholders and end users
Assist in the development of data- driven solutions for business problems
Sql Data Analyst Resume with 2 Years of Experience
Dynamic data analyst with two years of experience in creating and executing comprehensive data management plans. Adept in data mining, cleansing, and analysis, leveraging SQL and Excel to create meaningful visualizations and insights from raw data. Experienced in developing Python scripts for automation. Proven track record of working with cross- functional teams to achieve project goals.
Core Skills:
Advanced knowledge of SQL for data mining and analysis
Proficient in Excel, including pivot tables and macros
Experience developing Python scripts for data automation
Knowledge of data visualization techniques
Strong analytical and problem solving skills
Ability to work well with cross- functional teams
Responsibilities:
Performed data mining, cleansing, and analysis of large- scale datasets
Created meaningful visualizations and insights from raw data using SQL and Excel
Developed Python scripts to automate data management processes
Provided detailed documentation of data management plans, processes, and reports
Developed data dashboards to visualize trends and metrics
Collaborated with cross- functional teams to ensure data accuracy and project completion
Identified and implemented strategies to improve data accuracy and processes
Sql Data Analyst Resume with 5 Years of Experience
Highly experienced and motivated data analyst with 5 years of professional experience in data analytics, data management and data visualization. Proven track record of successful data- driven decisions that have improved operational efficiency, business strategies and generated more revenue. Excellent skills in Excel, SQL, Python and Tableau. Adept at working with complex datasets, uncovering trends and creating insightful reports.
Core Skills:
Data Analysis
Data Modeling
Data Visualization
Database Design
SQL Programming
Excel
Python
Tableau
Responsibilities:
Developing data mining models to identify patterns, trends and relationships in large data sets.
Designing and creating databases to optimize data storage and retrieval.
Developing complex SQL queries to extract data from large databases.
Creating data visualizations using Tableau to help business decision- makers understand data trends.
Analyzing data to uncover potential opportunities to increase revenue or reduce costs.
Conducting research to gain insights from market and customer data.
Developing data- driven strategies to improve operational efficiency.
Sql Data Analyst Resume with 7 Years of Experience
As a highly motivated and accomplished SQL Data Analyst with seven years' experience in data analysis, database design, and data manipulation, I am well- equipped to leverage my highly proficient skills and knowledge to provide solutions to complex data problems. My expertise includes developing and managing data pipelines, data mining and cleansing, query optimization, and data visualization. I am well- versed in the use of various database management software and programming languages, such as MySQL, Oracle DB, and SQL. Furthermore, I have an excellent understanding of RDBMS systems and ETL processes.
Core Skills:
Data Mining & Cleansing
Query Optimization & Performance Tuning
Data Visualization & Analysis
Database Administration & Design
Data Warehouse Design & Development
RDBMS Systems & ETL Processes
Data Pipelines & Scripting
Knowledge of SQL, MySQL & Oracle DB
Responsibilities:
Analyze business requirements and extract data from various sources
Develop and maintain data pipelines to ensure data accuracy
Clean and manipulate data to ensure quality and consistency
Create, update and maintain database schemas
Monitor database performance and optimize queries
Develop SQL scripts, stored procedures and functions
Develop dashboards and visualizations to facilitate data analysis
Perform quality assurance and data validation checks on data
Collaborate with team members to ensure data consistency and accuracy
Sql Data Analyst Resume with 10 Years of Experience
A highly experienced and motivated SQL Data Analyst with 10 years of experience in data analysis, database development, database administration and business intelligence. Possesses a strong organizational and database profiling skills. Experienced in analyzing data and gathering requirements to identify problems and develop solutions. Skilled in creating and managing databases, optimizing queries and tuning data access performance. Excellent in extracting, transforming, loading and validating data to ensure data integrity and accuracy.
Core Skills:
Data Analysis
Database Development
Database Administration
Business Intelligence
Database Profiling
Problem Identification
Solution Development
Query Optimization
Data Access Performance
Data Extraction
Data Transformation
Data Loading
Data Validation
Responsibilities:
Developed complex SQL queries for data extraction, transformation and loading.
Analyzed requirements and generated data models for database development.
Performed database profiling to identify problem areas and solve them.
Administered SQL databases and optimized queries to improve data access performance.
Developed dashboards and reports to provide insights to the business.
Implemented data validation techniques to ensure data accuracy and integrity.
Developed business intelligence solutions to improve data analysis capabilities.
Monitored database performance and troubleshoot issues.
Assisted in developing and implementing data migration strategies.
Sql Data Analyst Resume with 15 Years of Experience
With 15 years of experience as a SQL Data Analyst, I bring a passion for data analysis, problem solving and a proven track record of success in data- related projects. I have experience in data warehousing, ETL process and business intelligence as well as excellent communication and analytical skills. I have a solid understanding of data structures, data modeling, data integration and data warehouse concepts. I am well- versed in SQL and well- experienced with data visualization tools, such as Tableau and Power BI. I am also knowledgeable on how to apply statistical methods and predictive modeling to develop data- driven insights.
Core Skills:
Data Analysis
Data Warehousing
ETL Process
Business Intelligence
Data Modeling
Data Integration
Data Visualization
SQL
Statistical Methods
Predictive Modeling
Responsibilities:
Design, build and maintain data warehouses using dimensional modeling
Implement ETL processes for loading and transforming data
Develop business intelligence dashboards and reports
Create visualizations and reports to help stakeholders make better decisions
Clean up, structure, analyze and interpret large volumes of data
Develop and maintain SQL queries, views and stored procedures
Utilize statistical methods and predictive models to provide insights
Monitor and optimize data processing performance
Create and maintain data documentation and data flow diagrams
In addition to this, be sure to check out our resume templates, resume formats, cover letter examples, job description, and career advice pages for more helpful tips and advice.
What should be included in a Sql Data Analyst resume?
A SQL Data Analyst is a professional who uses SQL (Structured Query Language) to analyze large amounts of data. A successful SQL Data Analyst resume should highlight a candidate's experience with the specific computer language, as well as their ability to interpret data and create meaningful insights.
When crafting a resume for an SQL Data Analyst role, you should consider these elements to make it stand out:
Education: Including your degree and any additional certifications related to data analysis, such as PMP or Six Sigma.
Experience: Any experience in data analysis or working with SQL should be highlighted.
Soft skills: Showcasing your communication and problem-solving abilities is essential.
Technical skills: Being able to write custom queries, work with databases, and create reports are essential.
Projects: Any specific projects you completed, such as a report on customer data or market trends.
By emphasizing these elements in your resume, you can make sure your application stands out from the competition. With the right experience and skills, you can be well on your way to becoming a successful SQL Data Analyst.
What is a good summary for a Sql Data Analyst resume?
A SQL Data Analyst resume should be an effective summation of one's professional qualifications and experience. The resume should demonstrate a candidate's expertise in data gathering, analysis, and manipulation. It should also reflect the individual's ability to work with SQL databases and possess the technical skills necessary to design and implement data models. Additionally, a successful resume should demonstrate the candidate's proficiency in software, scripting, and reporting.
The resume should include relevant work experience and evidence of problem-solving and analytical skills. The individual should showcase examples of their data manipulation, data investigation, and data reconciliation. The summary should also demonstrate the individual's knowledge of various database systems, such as Oracle, MySQL, and MS SQL Server.
Finally, a successful resume should highlight the candidate's ability to troubleshoot and solve complex queries and problems. The individual should be able to use various software packages to develop data models, analyze data, and create reports. The summary should also demonstrate the individual's experience in ETL process management and data warehouse design.
By effectively summarizing their professional qualifications and experience, a candidate can give potential employers a clear and concise picture of their background and skills, making them an attractive candidate for the job.
What is a good objective for a Sql Data Analyst resume?
A SQL Data Analyst resume should show the candidate's ability to utilize database management principles to analyze data and provide valuable insights. A good objective should clearly state the job position and the skills the candidate has. Here are some objectives that could be used for a SQL Data Analyst resume:
To obtain a position as a SQL Data Analyst where I can utilize my knowledge of database management, data analysis, and reporting to provide valuable insights
To secure a position as a SQL Data Analyst where I can use my technical skills and experience to provide in-depth analysis of data
To utilize my experience with data visualization and data mining techniques to help improve business operations and provide valuable insights
To become a proficient SQL Data Analyst in order to gain a better understanding of data and provide actionable insights
To leverage my experience in database management and data analysis to drive meaningful business decisions.
How do you list Sql Data Analyst skills on a resume?
When applying for a position as a SQL Data Analyst, having the right skills on your resume can make a big difference in how successful your application is. Depending on the job you're applying for, the skills required may vary. However, there are some core skills that will likely be requested of you, and it's important to make sure that you include all of them on your resume.
Here are some SQL Data Analyst skills you should list on your resume:
T-SQL: Experience with T-SQL scripting, writing SELECT queries, stored procedures, triggers, and views.
Database Design: Expertise in designing, creating, and managing SQL databases including normalization and de-normalization.
Data Mining: Knowledge of data mining techniques, including data profiling, creating data models, and implementing solutions for data mining and analysis.
ETL: Comprehensive knowledge of Extract, Transform, and Load (ETL) processes and data warehousing solutions.
Data Modeling: Ability to model, architect, and design databases using CASE tools and data modeling techniques.
Reporting: Proficiency in developing reports and dashboards using Business Intelligence tools and techniques.
Problem-solving: Adept at problem-solving and troubleshooting to identify the root cause of different data issues.
Documentation: Ability to document SQL development processes, changes, and procedures comprehensively.
Communication: Excellent verbal and written communication skills to work with team members, stakeholders, and business owners.
By including these skills on your resume, you'll demonstrate to potential employers that you have the knowledge and experience to be a successful SQL Data Analyst.
What skills should I put on my resume for Sql Data Analyst?
As an SQL Data Analyst, it is important to include the right skills and experiences on your resume so employers know that you are able to perform in this position. Here are some recommended skills to include on your resume when applying for an SQL Data Analyst position:
Strong working knowledge of SQL programming language and database systems
Experience with designing and creating complex data models
Ability to communicate and collaborate effectively with other members of the IT team
Ability to analyze data and draw conclusions to support business initiatives
Experience creating and maintaining reports, dashboards, and data visualizations
Proficiency in using various data mining and analysis tools, such as Python
Knowledge of statistical analysis concepts such as correlation and regression analysis
Ability to identify data quality issues and take corrective action
Strong problem-solving skills and aptitude for data analysis
Excellent organizational and time management skills
Aptitude for learning new technologies
Ability to adhere to data protection and security policies
Detail-oriented and highly organized
By including these skills and experiences on your resume, you will demonstrate to potential employers that you are knowledgeable, capable, and well-prepared to take on the position of SQL Data Analyst.
Key takeaways for an Sql Data Analyst resume
If you're a data analyst interested in getting an SQL job, having an up-to-date and well-crafted resume is essential. As an SQL data analyst, you'll be responsible for collecting and analyzing data from databases, so it's important to showcase your skills and experience in a way that will catch a potential employer's eye. Here are a few key takeaways to keep in mind as you create your resume.
First, make sure you emphasize your knowledge of SQL, as this is a major component of the job. Highlight any certificates you have that demonstrate your mastery of the language, as well as any classes you've taken or certifications you've earned. List the databases you're most familiar with, such as Oracle, PostgreSQL, MS SQL Server, and MySQL, and show off your experience with query languages like Structured Query Language and MDX.
Second, showcase any experience you have in data analysis. Employers want to know that you have the skills to effectively analyze data and draw meaningful conclusions from it. Be sure to list any projects you've worked on that demonstrate your proficiency in data analysis, as well as any tools you've used such as Excel, Access, or Tableau.
Finally, make sure to highlight any business intelligence or reporting experience you have. Employers want to know that you have the ability to create reports that are useful and accurate. Include any relevant experience such as writing complex reports using SQL, creating dashboard visualizations, or using data to create insights that inform business decisions.
By following these tips, you can create an impressive SQL data analyst resume that will catch an employer's eye. Make sure to showcase your experience and skills in a way that will set you apart from the competition and make you stand out from the pack. Good luck!
Let us help you build
your Resume!
Make your resume more organized and attractive with our Resume Builder