If you're a SharePoint Business Analyst looking for a job, having an effective and well-written resume can make a big difference. It's essential that you showcase your expertise, accomplishments and experience to potential employers. To help you craft a resume that will give you the best chance of being noticed, this guide provides information on what should be included in a SharePoint Business Analyst resume, along with advice on how to create a well-structured document and examples of successful resumes.
If you didn't find what you were looking for, be sure to check out our complete library of resume examples.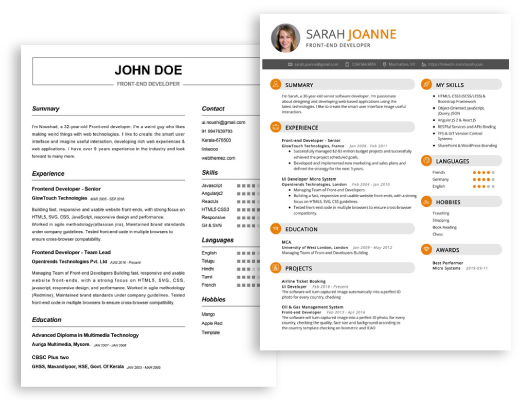 Start building your dream career today!
Create your professional resume in just 5 minutes with our easy-to-use resume builder!
An experienced SharePoint Business Analyst with a strong technical background and excellent communication and problem- solving skills. Skilled in understanding customer needs and developing strategies to implement SharePoint solutions that meet those needs. Possesses a comprehensive knowledge of SQL and SharePoint, and has a proven track record of successful project implementations. Experienced in leading project teams, managing stakeholders and supporting end users.
Core Skills:
SQL
SharePoint
Project Management
Business Analysis
Systems Analysis
Data Analysis
Requirements Gathering
Technical Writing
Testing
Training
Documentation
Professional Experience:
Led the implementation of SharePoint solutions for a variety of clients, with a focus on user experience and compliance with data security standards.
Developed SharePoint functionality and architecture to meet customer goals and expectations.
Analyzed business processes and identified opportunities for improvement.
Developed wireframes and mockups to visualize design concepts.
Performed QA testing on SharePoint applications and developed test plans and cases.
Prepared user manuals and provided end- user training.
Developed project plans and managed project teams.
Education:
Bachelor of Science in Computer Science, ABC University, City, State
Recent graduate with a Bachelor of Business Administration degree, looking to become a SharePoint Business Analyst.
Strong analytical and IT skills combined with a passion for learning and problem- solving.
Proficient in MS Office and general office administration.
Skills
Analytical Thinking & Problem Solving
MS Office Suite
Database Management
Technical Documentation
Project Management
Communication & Interpersonal Skills
Responsibilities
Collect and analyze business requirements from stakeholders.
Provide technical advice to help stakeholders understand the capabilities of SharePoint.
Design and develop custom SharePoint solutions to meet business needs.
Develop technical documents to ensure that SharePoint applications are properly maintained and effectively used.
Test and troubleshoot SharePoint applications to ensure they meet requirements.
Identify opportunities for process improvement and recommend changes to improve application performance.
Train users on SharePoint applications and provide ongoing support.
Highly motivated and creative SharePoint Business Analyst with more than 2 years of experience in the IT domain. Focused on delivering high- quality solutions for clients and providing excellent customer service. Possess excellent communication skills and an ability to work in both individual and team settings. Adept in gathering and analyzing business requirements for SharePoint initiatives, developing compelling business cases and designing user- friendly solutions.
Core Skills
SharePoint Design & Development
Business Requirements Analysis
Project Management
Microsoft Office Suite
SharePoint Administration
Database Development
Troubleshooting & Problem Solving
Customer Service
Requirements Gathering
Responsibilities
Performed detailed analysis to develop effective solution models.
Created comprehensive business cases and requirements documents to facilitate the implementation of SharePoint projects.
Developed and maintained SharePoint sites.
Provided technical support and troubleshooting for users who had issues with SharePoint.
Assisted with the development and implementation of SharePoint applications.
Developed a wide range of databases to support business operations.
Assisted in training users to work with SharePoint applications.
Coordinated with stakeholders to ensure business requirements are met.
Provided excellent customer service to clients.
Highly analytical and organized professional with 5 years of experience as a Business Analyst. Skilled in collecting and analyzing data, developing detailed reports and presentations, and identifying areas of improvement. Expert in finding ways to utilize technology to improve efficiency, accuracy and enhance customer satisfaction. Adept at managing multiple projects while meeting tight deadlines.
Core Skills:
Data Analysis
Project Management
Business Process Modeling
Reporting/Presentations
Requirements Gathering/Analysis
Problem Solving/Troubleshooting
Customer Service
SharePoint Administration
Responsibilities:
Provided project support and managed SharePoint applications for various departments
Assisted with gathering business requirements, analyzing and documenting workflows
Developed and maintained reports and presentations for senior management
Created process models and documented existing processes to ensure accuracy and consistency
Conducted data analysis to identify trends and areas of improvement
Provided technical support for applications and troubleshooting of SharePoint issues
Managed multiple projects and met tight deadlines to ensure deliverables were met
A highly motivated SharePoint Business Analyst with 7 years of experience in gathering business requirements, analyzing data and software solutions, and ensuring project implementation success. Experienced in data analysis, report writing, and creating business process flows. Skilled in analyzing complex business problems and developing solutions to increase operational efficiency and reduce costs. Possesses excellent communication skills and the ability to effectively interact with stakeholders, business users, and technical teams.
Core Skills:
Business Requirements Analysis
Data Analysis
Software Solutions
Business Process Flows
Report Writing
Project Management
Testing and Evaluation
Systems Documentation
Responsibilities:
Gathered and analyzed business requirements for the design, development, and implementation of SharePoint solutions to meet customer needs.
Analyzed data to identify trends, relationships, and potential issues that impacted system design.
Designed and developed efficient business processes to improve operational efficiency and reduce costs.
Created detailed system documentation, user manuals, and training material to ensure successful implementation and training of SharePoint solutions.
Managed project implementation to ensure successful delivery within budget and timeline.
Engaged with stakeholders, business users, and technical teams to ensure customer requirements were met.
Performed testing and evaluation of SharePoint solutions to ensure quality and accuracy.
Highly experienced SharePoint Business Analyst with 10+ years of experience in designing, developing, and deploying SharePoint solutions to meet customer requirements. Possess excellent written and verbal communication skills, as well as a comprehensive understanding of SharePoint Server, including design and workflow development. Experienced in requirements gathering, system analysis, resolving technical issues, and managing large- scale SharePoint projects from requirements to deployment. Highly motivated self- starter with a proven ability to develop innovative solutions to address business needs.
Core Skills:
SharePoint Server Administration
Requirements Gathering
System Analysis
Workflow Development
Business Process Optimization
Project Management
Troubleshooting
User Training
Technical Writing
Responsibilities:
Analyzed business requirements, developed functional specifications, and identified solution options for successful SharePoint implementations.
Developed complex workflows and configured settings to optimize user experience.
Ensured system compliance with security requirements, data protection policies, and user access protocols.
Ensured SharePoint solutions were scalable, extensible, and able to support high levels of user engagement.
Conducted SharePoint end- user training, provided technical support, and troubleshoot technical issues.
Developed and updated technical documentation for end- users and administrators.
Developed custom scripts and web applications to automate business processes.
Implemented performance improvement initiatives to maximize user efficiency.
Managed multiple large- scale SharePoint projects from requirements to deployment.
Highly experienced and creative Business Analyst with fifteen years of experience in managing and analyzing strategic business projects. Expertise in SharePoint, business analysis, project management, process improvement, and requirements gathering. Proven ability to translate business requirements into technical solutions and to lead cross- functional teams to successful project completion. Excellent communication and problem solving skills.
Core Skills:
SharePoint
Business Analysis
Project Management
Process Improvement
Requirements Gathering
Troubleshooting
Problem Solving
Communication
Strategic Planning
Project Documentation
Responsibilities:
Facilitate requirements gathering sessions and document the business requirements.
Analyze the business requirements and provide recommendations for SharePoint solutions.
Design, develop, and implement SharePoint solutions according to the business requirements.
Monitor the progress of the SharePoint projects, ensure on- time completion, and evaluate the project outcomes.
Track project milestones, budget, and resources.
Identify and analyze process improvement opportunities.
Develop technical specifications for SharePoint solutions.
Provide guidance and technical support to team members.
Create user guides and documentation for SharePoint projects.
Test and troubleshoot SharePoint applications.
Monitor and manage service requests, user feedback, and system issues.
In addition to this, be sure to check out our resume templates, resume formats, cover letter examples, job description, and career advice pages for more helpful tips and advice.
When you apply for a job as a SharePoint Business Analyst, your resume should accurately reflect your skills and experience. It is essential to include the following elements in your resume so employers can quickly determine your fit for the position:
Previous experience in SharePoint and related areas. Be sure to include any software development or programming experience, as well as systems analysis, design, and implementation skills.
Knowledge of project management, business process improvement, and data analysis.
Proficiency in Microsoft Office Suite, including Visio, Excel, and PowerPoint.
Understanding of system architecture, user interface design, and UX principles.
Ability to communicate effectively with customers, stakeholders, and other team members.
Experience with web technology and content management systems.
Ability to work independently and as part of a team.
Analytical and problem-solving skills.
Knowledge of software development life cycle.
A valid and current certification in SharePoint or related technologies is a plus.
A SharePoint Business Analyst resume should emphasize analytical and problem-solving skills, attention to detail, and experience with the SharePoint platform. Additionally, potential employers should be made aware of any other technical skills that the analyst may possess. A successful summary should provide a concise overview of the applicant's qualifications, focusing on their ability to drive projects to successful completion, their knowledge of the SharePoint platform and related applications, and their experience in the areas of business analysis, data analysis, and project management. The summary should also highlight any special software or tools that the analyst has expertise in, as well as any certifications or industry-related awards they have earned. Ultimately, the summary should demonstrate that the applicant is an experienced professional who can effectively analyze business and technical requirements, identify solutions, and implement SharePoint applications.
A SharePoint Business Analyst is a specialized computer analyst who works with businesses to design and implement SharePoint solutions. An effective SharePoint Business Analyst resume should clearly demonstrate the applicant's knowledge of SharePoint technology and ability to create customized solutions for businesses. Here are some objectives that are helpful to include in a resume for a SharePoint Business Analyst:
To obtain a position as a SharePoint Business Analyst, utilizing my expertise in technology and problem solving to develop solutions for business challenges.
To utilize my experience in SharePoint, project management, and software development to create improved business processes and workflows.
To create innovative solutions and optimize existing ones to better meet the needs of clients and businesses.
To create and maintain SharePoint solutions that are secure, efficient, and user-friendly.
To provide technical expertise and guidance to business users to ensure maximum utilization and adoption of SharePoint solutions.
To work collaboratively with internal and external stakeholders to design, implement, and maintain business-specific SharePoint solutions.
To develop training materials and help desk support documentation to ensure successful SharePoint deployments.
By including these objectives in your resume, you can effectively demonstrate your ability to be a successful SharePoint Business Analyst.
If you are a SharePoint Business Analyst, listing your skills on a resume is essential to demonstrate to potential employers that you possess the necessary knowledge and experience needed for the job. SharePoint Business Analysts are responsible for optimizing organizational processes using SharePoint, a business collaboration platform. Here are some tips for listing your SharePoint Business Analyst skills on a resume:
Include a Skills section: In this section, you should list all of your key SharePoint Business Analyst skills. These include proficiency in using the SharePoint platform, understanding of business requirements, ability to develop and analyze SharePoint solutions, and knowledge of software development life cycles.
List relevant experiences: Demonstrate your SharePoint Business Analyst skills by including relevant experiences in the Work History section of your resume. Include information on projects you've completed that illustrate your knowledge and implementation of the SharePoint platform.
Highlight certifications: If you have a SharePoint certification, make sure to include it on your resume. This will show potential employers that you have the necessary qualifications to be a successful SharePoint Business Analyst.
Use industry-standard language: To make sure your resume stands out, use industry-standard language when listing your SharePoint Business Analyst skills. This will show employers that you have the technical understanding required for the job.
By following these tips, you can effectively showcase your SharePoint Business Analyst skills on your resume and give potential employers a clear understanding of your qualifications.
When you are looking to become a SharePoint Business Analyst, it is important to highlight the right skills on your resume in order to impress potential employers. Having the right set of skills can help you stand out and make your resume stand out from the competition. Here is a list of skills to include on your resume for a SharePoint Business Analyst position:
Ability to analyze business needs and requirements: As a SharePoint Business Analyst, it is important to have the ability to understand the needs of the business and develop solutions based on those needs.
Knowledge of SharePoint technologies: As a SharePoint Business Analyst, it is important to have a working knowledge of the SharePoint platform, as well as related technologies such as ASP.NET, C#, and JavaScript.
Strong problem-solving skills: As a SharePoint Business Analyst, it is essential to have strong problem-solving skills in order to identify and resolve issues quickly and effectively.
Excellent communication skills: As a SharePoint Business Analyst, it is important to have excellent communication skills in order to convey complex technical concepts to stakeholders in a clear and concise manner.
Ability to work independently: As a SharePoint Business Analyst, it is important to be able to work independently in order to develop solutions that meet the needs of the business.
Understanding of software development lifecycle: As a SharePoint Business Analyst, it is necessary to have an understanding of the software development lifecycle, as well as the ability to manage projects throughout the lifecycle.
By including these skills on your resume, you will be able to demonstrate to potential employers that you are the ideal candidate for the SharePoint Business Analyst position. Good luck with your job search!
When it comes to writing a sharepoint business analyst resume, there are a few key takeaways to keep in mind. A sharepoint business analyst is responsible for gathering and analyzing data, developing solutions to business problems, and implementing systems and programs to streamline processes. As such, it is important to highlight your technical skills, analytical abilities, and problem-solving abilities.
In terms of technical skills, make sure to list any programming languages you are familiar with, as well as any software and databases you have experience using. Also, mention any other tools or applications you have experience with, as well as any experience you have with systems integration and/or web development.
To highlight your analytical abilities, emphasize any data analysis techniques you are familiar with, any experience you have with project management or budgeting, and any data mining or reporting skills you have. Additionally, list any experience you have with creating or managing business requirements documents, as well as any experience you have working with clients or stakeholders.
Finally, your problem-solving abilities should be emphasized. Be sure to mention any experience you have with troubleshooting or debugging issues, as well as any experience you have with developing solutions to complex business problems.
In summary, a successful sharepoint business analyst resume should highlight your technical skills, analytical abilities, and problem-solving abilities. Showcase any programming languages, software, databases, and tools you are familiar with, and emphasize your data analysis abilities and experience with project management and budgeting. Also, don't forget to mention any experience you have with troubleshooting and debugging. All of these skills and experiences will help you stand out as a qualified sharepoint business analyst.
Let us help you build
your Resume!
Make your resume more organized and attractive with our Resume Builder