Writing a resume for a Report Writer position can be challenging, especially if you are unsure of the specific job requirements. However, with the right guidance and examples, you can create a resume that reflects your qualifications and experience to stand out from the crowd. This guide will provide insight into the key areas to consider when writing a Report Writer resume and provide examples of what a great resume should look like.
If you didn't find what you were looking for, be sure to check out our complete library of resume examples.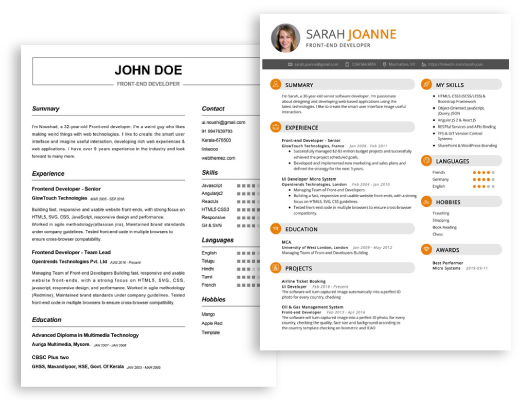 Start building your dream career today!
Create your professional resume in just 5 minutes with our easy-to-use resume builder!
Report Writer Resume Examples
John Doe
Report Writer
123 Main Street | Anytown, USA 99999 | Phone: (123) 456-7890 | Email: john.doe@email.com
A highly experienced Report Writer with extensive experience in data and analysis, reporting, project management and team leadership. Skilled in gathering information from multiple sources, understanding complex data, and creating meaningful reports that help teams and organizations make more informed decisions. Proven ability to develop comprehensive reports and present them in a meaningful way that drive business success.
Core Skills:
Data Analysis and Reporting
Statistical Modeling
Project Management
Team Leadership
Microsoft Office
Adobe Creative Suite
Visualization Software
Database Management
Data Mining
Professional Experience:
Report Writer, ABC Consulting, Houston, TX (2015- 2020)
Developed comprehensive reports and visuals that provided teams with meaningful data to help inform decisions
Created dashboards and visualizations to help present data in an understandable way
Collaborated with stakeholders to define objectives and develop hypotheses to drive data- driven decisions
Performed data mining and analysis to support research and identify trends
Presented reports to management using various software tools to demonstrate results
Education:
Bachelor of Science in Business Administration, University of Houston, Houston, TX (2013- 2015)
Masters of Science in Data Science, University of Houston, Houston, TX (2015- 2017)
Report Writer Resume with No Experience
Recent college graduate with a passion for creating in- depth and clear reports. With a background in accounting and finance, I possess the ability to work with complex data and create meaningful reports. Highly organized and detail- oriented with excellent communication and writing skills.
Skills:
Masters Degree in Accounting & Finance
Microsoft Office Suite Proficient
Excellent Written & Verbal Communication
Ability to Work Independently & in Teams
Highly Organized & Detail Oriented
Strong Analytical & Problem Solving Skills
Responsibilities:
Create in- depth reports and documents using data from various sources
Analyze data, draw conclusions and create actionable insights
Monitor and identify trends and patterns in data
Prepare presentations for management
Maintain up- to- date records of data and documents
Collaborate with internal and external teams to ensure accuracy and quality of reports
Report Writer Resume with 2 Years of Experience
A highly motivated and detail- oriented Report Writer with over 2 years of experience in creating comprehensive and effective reports for various departments. Adept at collecting and analyzing data to identify trends and opportunities for improvement. Possesses excellent communication and problem- solving skills that allow for the smooth completion of tasks. Committed to maintaining high standards of accuracy and timeliness in all projects.
Core Skills:
Data Analysis
Organizational Skills
Problem Solving
Report Writing
Communication
Accuracy
Time Management
Responsibilities:
Collect and analyze data from multiple sources
Develop and format detailed reports using Microsoft Excel, PowerPoint, and other software
Organize and store data in a secure manner
Create charts, graphs, and other visuals to illustrate data
Recommend ways to improve current processes and procedures
Ensure accuracy and timeliness of reports
Provide support and assistance to other departments as needed
Report Writer Resume with 5 Years of Experience
A highly motivated and experienced Report Writer, with over 5 years of hands- on experience creating complex and detailed reports for a wide range of businesses and organizations. Proven expertise in working independently to analyze information and data, and create relevant and informative reports for all stakeholders. Possessing a strong work ethic and commitment to ensuring the accuracy and quality of the reports produced.
Core Skills:
Database Management
Report Writing
Data Visualization
Research & Analysis
Ability to analyze complex data
Project Management
Problem- solving & Decision Making
Organizational & Time Management
Excellent Written & Verbal Communication
Responsibilities:
Researching and collecting data from various sources to create reports
Analyzing data to identify trends and patterns
Developing report templates and design formats
Updating and maintaining database systems
Assisting in data entry and data manipulation tasks
Preparing presentations for executive and management teams
Preparing reports for internal and external stakeholders
Responding to queries and providing relevant information regarding reports
Collaborating with teams to develop and design reports
Ensuring accuracy, consistency, and quality of reports
Report Writer Resume with 7 Years of Experience
A highly experienced Report Writer with 7 years of experience in creating and delivering high- quality reports. Experienced in writing reports for various clients and industries, including financial, healthcare, and educational institutions. Skilled in utilizing a variety of software applications to capture, analyze, and disseminate data. Possesses excellent organizational, interpersonal, and communication skills.
Core Skills:
Report Writing
Data Analysis
Software Applications
Organizational Skills
Interpersonal Skills
Communication Skills
Responsibilities:
Analyze and interpret large datasets to create reports that provide meaningful insights
Design reports with clear visuals and graphs to effectively communicate data
Develop report templates, metrics, and dashboards to monitor and measure performance
Identify trends and patterns from data to help identify areas of improvement
Collaborate with stakeholders to understand their data requirements and aid in report creation
Test and troubleshoot reports to ensure accuracy and data integrity
Report Writer Resume with 10 Years of Experience
I am an experienced Report Writer with 10 years of expertise in crafting detailed, accurate reports for clients within the financial sector. My background includes analyzing data, creating and delivering presentations, utilizing multiple databases for research, and preparing comprehensive reports. I have a proven track record of achieving positive results and meeting tight deadlines. I have advanced knowledge of Microsoft Office Suite and excellent communication skills.
Core Skills:
Data analysis
Presentation Delivery
Database Management
Report Writing
MS Office Suite
Project Management
Verbal and Written Communication
Time Management
Researching
Responsibilities:
Researching and analyzing data to create comprehensive reports
Utilizing various databases to retrieve data
Interpreting data to identify trends, issues, and opportunities
Developing presentations to communicate results
Assisting with the implementation of changes
Working in a team environment to ensure deadlines are met
Formulating effective strategies to increase efficiencies and reduce costs
Participating in meetings, conferences, and training sessions as needed
Report Writer Resume with 15 Years of Experience
A Report Writer with 15 years of experience in building and developing high- level reports for various businesses. I have a track record of creating reports that are accurate, efficient, and complete. My core skills include complex query writing, analytical processing, and data visualization. I am highly organized, detail- oriented, and have a strong business acumen. I thrive in a fast- paced environment and take pride in delivering quality work within tight deadlines.
Core Skills:
Complex Query Writing
Analytical Processing
Data Visualization
Report Building
Report Design
Business Acumen
Project Management
Database Maintenance
Data Analysis
Responsibilities:
Developed high- level reports that complied with company standards
Designed and implemented complex queries to extract relevant data
Constructed and formatted reports using various software or applications
Assessed and analyzed data to identify trends and insights
Updated existing reports with changes in client requirements
Developed and maintained databases for data collection and storage
Collaborated with cross- functional teams to ensure accurate and timely delivery of reports
Implemented automated processes to streamline reporting processes
Conducted tests and validation to ensure accuracy of reports
Ensured compliance with company policies and procedures
In addition to this, be sure to check out our resume templates, resume formats, cover letter examples, job description, and career advice pages for more helpful tips and advice.
What should be included in a Report Writer resume?
A report writer resume should clearly demonstrate your technical expertise, writing and editing skills, and knowledge of the software used to create reports. It should also highlight any experience you have in data analysis, management, and problem solving.
Here are some items to consider including on a report writer resume:
Professional Summary: Briefly describe your experience as a report writer, and any relevant certifications, awards, or other accomplishments.
Work History: Include the companies you have worked for, job titles, and start/end dates.
Education: List any degrees or certifications you have completed.
Technical Skills: Note your experience with report writing software, programming languages, and other relevant technology.
Writing and Editing: Highlight any experience you have in creating reports, editing documents, and using proper grammar and formatting.
Data Analysis: Showcase your abilities in data analysis and problem solving.
Management: Share any experience you have in managing teams or projects.
Interpersonal Skills: Demonstrate any skills you have in communication, collaboration, and customer service.
Achievements: List any awards or certifications you have received.
A comprehensive report writer resume should demonstrate your writing and technical skills, as well as your experience in data analysis and problem-solving. By including all of the above items, you can create a resume that will impress potential employers.
What is a good summary for a Report Writer resume?
A report writer resume is a document that highlights the skills and experience of a professional in the field of report writing. It should showcase the individual's writing expertise and technical proficiency to present a clear and concise summary of their accomplishments and demonstrate why they are a viable candidate for the role.
The resume should focus on key areas such as writing and proofreading, data analysis, and communication skills. It should also highlight the individual's ability to create accurate and informative reports, as well as their understanding of industry regulations and standards. Additionally, the document should provide evidence of their organizational and time management skills, their knowledge of research and report writing software, and their ability to work well with others.
By providing a comprehensive summary of their relevant experience, a report writer resume can help an individual stand out from other applicants and increase their chances of being hired for the role.
What is a good objective for a Report Writer resume?
A Report Writer resume objective should focus on showcasing your skills in data analysis and report writing, as well as your ability to interpret and present data in an accurate and meaningful way. To be a successful Report Writer, you need to be able to identify trends, analyze complex datasets and create insightful reports.
Here are some objectives to consider for a Report Writer resume:
Demonstrate expertise in report writing and data analysis to produce meaningful information
Use technical writing and data visualization skills to interpret data and present to stakeholders
Utilize advanced software to create insightful and accurate reports
Understand and implement data regulations to maintain accuracy and security of data
Develop and maintain high-quality database tools to support data analysis and reporting
How do you list Report Writer skills on a resume?
When crafting a resume, it is important to emphasize the skills you possess that will make you an excellent candidate for the job you are applying for. This is particularly true if you have experience with report writer software. The following tips will help you list report writer skills on your resume.
Begin with a "Skills" section that comes after the "Education and Work Experience" section.
Write a few sentences in the introduction to this section that demonstrate your proficiency with report writer software.
Create a list of bullet points that showcase your specific report writer skills. This may include managing complex report writing projects, creating custom reports, and troubleshooting report errors.
Include any relevant certifications or courses you have taken that relate to report writer software.
Describe any specialized report writer knowledge or techniques you have acquired through your experience.
By using these tips to list report writer skills on your resume, you can make sure that potential employers quickly recognize your qualifications and experience. Showcasing your skills in this way will help you land the job you desire.
What skills should I put on my resume for Report Writer?
A report writer is a specialized role that requires a very specific set of skills. When you are crafting your resume, it's important to highlight the abilities and qualifications that make you the ideal candidate. Here are some skills to include on your resume when you are applying for a job as a report writer:
Expertise in data analysis: Report writers must be able to collect, analyze, and interpret data to compile reports. It's important to highlight your knowledge of data analysis software and methods.
Proficiency in report formatting: Report writers need to be able to effectively format their documents to ensure they are easy to read and understand. Demonstrate your ability to design professional reports that are visually appealing.
Attention to detail: Accurate data is essential for producing reliable reports. Showcase your ability to pay close attention to details and ensure accuracy in each report.
Excellent writing skills: Good writing skills are essential for creating comprehensive and well-structured reports. Showcase your ability to write in a clear, concise, and professional manner.
Interpersonal skills: As a report writer, you may also need to interact with colleagues or clients. Highlight your ability to communicate effectively and build relationships.
Technical skills: Knowledge of relevant software and hardware is essential for report writing. Demonstrate your ability to use computer programs to produce high-quality reports.
Key takeaways for an Report Writer resume
When it comes to writing a resume for a Report Writer position, it is important to emphasize your skills in writing, research, data analysis, and communication. Here are some key takeaways to consider:
Be sure to highlight your experience with report writing, including any projects you may have used to craft a report. Showcase any training or certifications that show you are well-versed in the techniques and strategies behind successful report writing.
Include any research skills you have that can be applied to a report writing role. This could include researching industry trends and best practices, as well as gathering data from reliable sources.
Emphasize any data analysis skills you possess. A report writer must be able to organize and interpret data, so having experience with data analysis is key.
Make sure to demonstrate your communication skills. A report writer must be able to effectively communicate their findings in a clear and concise manner.
Finally, don't forget to include any relevant software experience you have. Most report writing roles require the use of various software programs and programs, so having knowledge of these tools is essential.
By following these key takeaways, you can make sure that your resume stands out from the rest and better showcases your qualifications for a report writing position.
Let us help you build
your Resume!
Make your resume more organized and attractive with our Resume Builder