Writing a resume as a report developer can be daunting, especially if you are new to the field. It is important to highlight your skills and experience in the most effective way possible to demonstrate your expertise and value to potential employers. This guide will provide an overview of the key components and tips for writing a successful report developer resume, as well as examples to show you how to format and structure your own document. By the end of this guide, you will have the knowledge and confidence you need to create an engaging, professional report developer resume.
If you didn't find what you were looking for, be sure to check out our complete library of resume examples.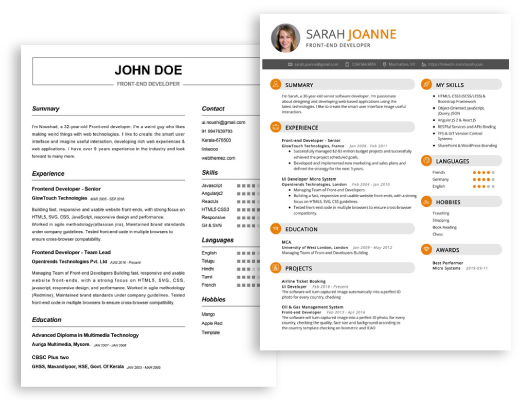 Start building your dream career today!
Create your professional resume in just 5 minutes with our easy-to-use resume builder!
Report Developer Resume Examples
John Doe
Report Developer
123 Main Street | Anytown, USA 99999 | Phone: (123) 456-7890 | Email: john.doe@email.com
A highly motivated and experienced software developer with a proven track record of creating innovative and user- friendly applications. Possessing excellent problem solving skills and a keen eye for detail. Experienced in multiple programming languages, software testing, debugging and system design.
Core Skills:
Experience in software development, programming, testing and debugging.
Proficient in Java, C#, HTML, CSS and SQL.
Strong understanding of object- oriented programming.
Competent in designing and developing software applications.
Excellent problem solving, communication and teamwork skills.
Highly organized and detail- oriented.
Professional Experience:
Software Developer – XYZ Company, San Francisco, CA (July 2019 – Present)
Designed and developed various software applications using Java and C#.
Performed debugging and testing of software applications.
Provided technical support to clients and troubleshooted software issues.
Analyzed requirements and created software solutions accordingly.
Upgraded existing applications to improve user experience.
Assisted in the deployment of new software updates.
Education:
Bachelor of Science in Computer Science – San Francisco State University, San Francisco, CA (May 2019)
Report Developer Resume with No Experience
Recent engineering grad with a passion for software development and a keen interest in creating innovative web applications. Eager to join a fast- paced development team and use my problem- solving skills to create high- quality solutions.
Skills
Proficient in programming languages including JavaScript, HTML, CSS, and SQL
Experience with front- end development frameworks including React, Angular and Vue
Knowledge of back- end development principles and practices
Strong analytical and critical thinking skills
Excellent communication and interpersonal skills
Responsibilities
Developing web applications for client projects
Creating efficient and reliable code to meet client requirements
Troubleshooting and debugging code
Testing applications for functionality and compatibility
Collaborating with other developers to integrate new features and functionality
Ensuring code meets industry standards and best practices
Report Developer Resume with 2 Years of Experience
Hardworking and motivated software developer with 2 years of experience developing and testing software applications. Possess excellent problem- solving and debugging skills, and a passion for staying up to date on the latest technologies. Skilled in developing software applications with C, C++, and Java, and experienced in troubleshooting software issues. Dedicated to creating software applications that meet customer needs and requirements.
Core Skills:
Ability to code in multiple programming languages (C, C++, Java)
Proficient in designing and troubleshooting software applications
Advanced knowledge of software development principles
Excellent communication, problem solving, and debugging skills
Familiar with software development process and procedures
Proficient in computer architecture and operating systems
Responsibilities:
Developed and tested software applications according to customer needs and requirements
Analyzed business requirements and generated technical design documents
Implemented application development tasks based on technical design documents
Troubleshot and debugged software applications and resolved issues
Developed application tests to ensure quality and accuracy of software applications
Maintained and tracked software application versions, changes, and updates
Report Developer Resume with 5 Years of Experience
A motivated and experienced software developer with 5+ years of experience, I bring a strong technical skill set to rapidly develop and maintain software applications. I have extensive experience in full life cycle software development and a track record of producing high quality products under tight deadlines. My core skills lie in designing, developing, and testing software solutions across multiple platforms, databases, and operating systems. Additionally, I possess excellent problem- solving and communication skills, as well as the ability to work both independently and collaboratively within a team environment.
Core Skills:
Coding in multiple programming languages
Designing and developing software applications
Database management and software debugging
Troubleshooting applications and software components
Effective communication and problem- solving skills
Ability to work both independently and collaboratively
Responsibilities:
Developing software solutions based on customer requirements
Designing, coding, testing, and documenting software programs
Troubleshooting complex software problems and debugging code
Evaluating existing software to identify areas for improvement
Providing technical support and training for software applications
Working independently and collaboratively with other developers and stakeholders
Report Developer Resume with 7 Years of Experience
Highly experienced Report Developer with 7 years of expertise in the design and development of complex enterprise- level reporting applications and services. Proven knowledge in all aspects of the report development life- cycle, including requirements gathering, design, coding, testing, and maintenance. Possesses strong interpersonal and communication skills, and is an excellent team player. Experienced in working with relational databases, and developing custom solutions for business analytics.
Core Skills:
Report Development
Database Design and Development
SQL, PL/SQL, and Microsoft Transact- SQL
Business Analysis
Requirements Gathering
Software Testing and Quality Assurance
Interpersonal and Communication Skills
Responsibilities:
Developed and maintained complex reports using SQL and business intelligence tools
Created ad- hoc reports and dashboards to meet business requirements
Developed stored procedures and functions to retrieve data from databases
Designed and maintained logical and physical database models
Gathered and analyzed requirements to determine reporting solution
Worked with stakeholders to ensure reports meet their expectations
Developed and maintained documentations for reporting processes
Monitored performance of reports to ensure accuracy and reliability
Report Developer Resume with 10 Years of Experience
I am a highly experienced and skilled software engineer with 10 years of work in the development of applications. I have a vast knowledge of various programming languages, software development tools, frameworks, and technologies. My expertise lies in providing efficient solutions to complex development issues and ensuring the timely completion of projects. I also possess excellent communication and organizational skills that make me an asset to any project.
Core Skills:
Proficient in web and mobile application development
Proficient in Object Oriented Programming (OOP)
Excellent knowledge of various programming languages such as HTML, CSS, JavaScript, Python, Java, and C++
Experienced in working with various frameworks such as React, Angular, and Node.js
Strong understanding of database architectures and data modeling concepts
Experienced in software testing and debugging
Adept in designing, developing, and deploying applications
Ability to work well in a team environment
Excellent problem- solving and analytical skills
Responsibilities:
Developing quality applications and software solutions
Analyzing user requirements and translating them into software solutions
Creating, maintaining, and troubleshooting applications
Testing applications for accuracy, performance, and scalability
Working with other developers to ensure a successful software development cycle
Enhancing system performance and ensuring application security
Developing and documenting programming code and technical specifications
Debugging applications and resolving technical issues
Providing technical support for users and clients
Report Developer Resume with 15 Years of Experience
With 15 years of experience as a software developer, I have extensive expertise in the development, implementation, and maintenance of web- based applications. I have an aptitude for quickly learning and mastering new concepts, technologies and approaches, and have excellent communication, problem- solving, and organizational skills. I am highly adept at achieving results quickly while maintaining high standards of quality and customer service.
Core Skills:
Web- based application development
Software engineering
Object- oriented programming
Database design & development
Software testing & quality assurance
Project management & planning
Software debugging & maintenance
User interface development & design
Agile & Scrum Methodology
Responsibilities:
Developed and maintained web- based applications using .NET, Java, JavaScript, and SQL
Created GUI for web- based applications using HTML, CSS, and JavaScript
Designed and implemented software solutions as per customer requirements
Developed software solutions for data storage and retrieval
Developed software solutions to automate existing processes
Implemented software testing and quality assurance processes
Resolved software bugs and application crashes
Identified and analyzed user requirements to develop software solutions
Provided training and technical support to end users
In addition to this, be sure to check out our resume templates, resume formats, cover letter examples, job description, and career advice pages for more helpful tips and advice.
What should be included in a Report Developer resume?
A successful Report Developer resume should include the following key elements:
Professional Summary: A brief statement that outlines your qualifications, experience, and expertise that make you the ideal candidate for the job.
Skills: A comprehensive list of the programming languages, databases, and other software applications that you are proficient in.
Education: Your academic qualifications and any professional certifications you may have obtained.
Work Experience: A detailed list of your professional experience, including the projects, clients, or technologies you have worked on.
Core Competencies: A list of the areas where you excel, such as data analysis, data visualization, report writing, and problem solving.
Projects: A summary of any projects you may have completed, such as developing reports, designing dashboards, or developing ETLs.
By including each of these elements in your Report Developer resume, you can demonstrate to the hiring manager that you are the right person for the job.
What is a good summary for a Report Developer resume?
A resume summary for a Report Developer should include the applicant's experience in designing, developing, and implementing report solutions. The summary should highlight the applicant's technical abilities, such as expertise in SQL, Visual Basic, and web development technologies. It should also demonstrate their organizational skills, such as creating plans to improve report performance, and their ability to handle multiple projects at once. Finally, the summary should showcase the applicant's commitment to staying up to date on the latest technologies and trends, such as cloud computing and analytics.
What is a good objective for a Report Developer resume?
Creating an effective resume for a Report Developer role is key to securing an interview. In this blog post, we'll detail the objectives that should be included in a Report Developer resume for a better chance at getting noticed.
Demonstrate an understanding of data modeling, data warehousing and data analysis concepts.
Showcase experience in gathering and analyzing data from multiple sources.
Document the ability to develop reports using SQL and other programming languages.
Highlight skills in designing and creating efficient reporting dashboards.
Prove proficiency in identifying user requirements and developing strategies to meet their objectives.
Demonstrate the ability to troubleshoot and optimize reporting systems.
Illustrate a commitment to staying current with industry trends.
Communicate a willingness to learn and grow in the position.
By including these objectives in a Report Developer resume, job seekers will have a better chance of getting noticed by potential employers. In addition, they will demonstrate that they possess the right skillset and attitude to be successful in the role.
How do you list Report Developer skills on a resume?
Developing reports is a complex skillset that requires a wide range of technical knowledge. As a Report Developer, you want to make sure to list your skills on your resume in a clear, concise way so employers can easily recognize your expertise. Here are some key skills to include:
SQL/Database Querying: Expertise in writing SQL queries and manipulating data from various databases and data sources.
Data Warehousing: Understanding of data warehousing concepts and the ability to create and maintain ETL processes.
Dashboard Development: Experience creating interactive, user-friendly dashboards to present data in a visually appealing format.
Scripting & Automation: Knowledge of scripting languages such as Python, R, or JavaScript to automate data processing tasks.
Reporting Tools: Proficiency with reporting tools such as Tableau, Power BI, or QlikView to design and create reports.
Analytical Thinking: Ability to analyze data and develop reports that provide meaningful insights.
By listing these Report Developer skills on your resume, you can demonstrate to employers that you have the technical knowledge and expertise to be successful in the role.
What skills should I put on my resume for Report Developer?
When writing a resume for a Report Developer position, it is important to include relevant skills that demonstrate your abilities as a developer. Here is a list of skills to consider adding to your resume:
Database Design: As a report developer, you will need to be able to design, develop, maintain, and troubleshoot databases. Include experience with SQL, Oracle, and other database technologies.
Data Analysis: Demonstrate your ability to analyze data and develop reports that are accurate and meaningful.
Problem Solving: Show your potential employer that you can use problem-solving skills to develop efficient solutions for complicated reporting problems.
Communication: Demonstrate your written and verbal communication skills, as report developers need to communicate with other departments within the company.
Technical Writing: Show your ability to write technical reports that are well-structured, accurate, and effective.
Programming Languages: Include experience with programming languages such as Java, C#, and Python.
Project Management: Demonstrate your ability to manage and coordinate multiple projects simultaneously.
Attention to Detail: Show that you have the ability to pay close attention to detail, which is essential when creating reports.
Key takeaways for an Report Developer resume
As a report developer, your resume is your opportunity to make a great first impression to potential employers. Here are some key takeaways to help you create an outstanding resume that will get you noticed and boost your chances of success:
Highlight Your Technical Skills – Your technical skills are the cornerstone of your report development competencies and should be prominently displayed on your resume. Include an overview of the languages, applications, and software you are proficient in and be sure to provide examples of completed projects with each.
Showcase Your Problem-Solving Abilities – Report developers must possess strong technical skills, but they must also have the ability to identify and solve problems. Be sure to highlight your problem-solving abilities and provide examples of problems you have solved for previous employers.
Demonstrate Your Experience – Your experience as a report developer is a key factor in your employability. Include a detailed list of all the projects you have completed, including the dates and the tools you used.
Provide Personal Contact Information – Make sure to include your contact information so potential employers can easily get in touch with you. Be sure to include your email address, phone number, and LinkedIn profile.
By following these key takeaways, you can create an outstanding report developer resume that will help you stand out from the competition and land the job you want.
Let us help you build
your Resume!
Make your resume more organized and attractive with our Resume Builder