When it comes to resumes, most people think of them as having a universal format, but this is definitely not the case. If you're going for a Planning Manager position, your resume should be customized to your experience and skill set. Crafting a solid resume for a Planning Manager position requires great attention to detail, organization, and strategic content. To help you out, we've created this guide to writing a Planning Manager resume with examples to get you pointed in the right direction.
If you didn't find what you were looking for, be sure to check out our complete library of resume examples.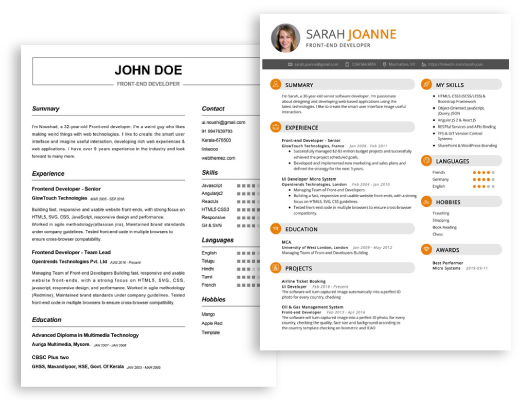 Start building your dream career today!
Create your professional resume in just 5 minutes with our easy-to-use resume builder!
Planning Manager Resume Examples
John Doe
Planning Manager
123 Main Street | Anytown, USA 99999 | Phone: (123) 456-7890 | Email: john.doe@email.com
Highly organized and results- driven Planning Manager with a proven ability to develop and execute comprehensive plans and strategies. Committed to ensuring that all deadlines and goals are met in the most efficient and cost- effective way possible. Adept at working with a variety of stakeholders across multiple departments and levels of the organization.
Core Skills:
Strategic Planning
Risk Management
Project Planning
Resource Allocation
Budget Management
Process Improvement
Problem Solving
Excellent Communication
Professional Experience:
Planning Manager, XYZ Corporation, 2017- Present
Developed and implemented comprehensive plans and strategies for the organization, ensuring that all company goals are met.
Analyzed potential risks and developed strategies to reduce them.
Allocated resources efficiently to meet project deadlines.
Monitored progress of projects and adjusted plans accordingly.
Created budgets and tracked expenses.
Implemented processes to ensure the most efficient use of resources.
Resolved any issues or problems that arose.
Education:
Bachelor of Science in Business Administration, ABC University, 2012- 2016
Planning Manager Resume with No Experience
Hardworking and motivated planning manager with no experience in the field. Seeking to bring an eager and open mindset to a planning manager role.
Skills
Ability to effectively manage multiple projects and prioritize tasks
Strong organization and problem solving skills
Proficient in project management software
Excellent communication and interpersonal skills
Knowledge of planning and scheduling principles
Responsibilities
Design and implement plans for projects
Develop and maintain relationships with internal and external stakeholders
Monitor progress on projects and ensure deadlines and budget constraints are met
Identify and address issues that arise and develop solutions
Analyze project data and recommend changes to optimize processes
Provide reports to management on project status and progress
Assist in the development of policies and procedures related to planning and scheduling.
Planning Manager Resume with 2 Years of Experience
Dynamic and results- oriented Planning Manager with 2 years of experience in providing strategic direction and leadership to analyze and develop medium and long- term business plans. Proven track record of driving projects to successful completion, while enhancing internal process efficiencies and driving customer satisfaction. Possess excellent communication and problem- solving skills, with the ability to manage multiple tasks and prioritize initiatives.
Core Skills:
Business Planning
Project Management
Budgeting and Forecasting
Process Optimization
Customer Relationship Management
Team Building and Mentoring
Financial Analysis
Responsibilities:
Developed and implemented long- term business plans to maximize revenue, profits, and customer satisfaction.
Created detailed business plans and financial models to assess the financial viability of various projects and initiatives.
Managed the budgeting, forecasting and financial analysis process, reporting on key findings and trends.
Developed and executed strategic plans to improve internal process efficiency and customer relationships.
Recruited, trained, and mentored a team of project managers and provided guidance to ensure successful completion of projects.
Conducted regular performance and financial reviews to identify opportunities for improvement.
Planning Manager Resume with 5 Years of Experience
Driven and organized Planning Manager with 5 years of experience in the retail industry. Skilled in developing and executing comprehensive plans to maximize efficiency and quality. Adept at leveraging data- driven insights to create effective strategies, planning, and organizing resources to increase business profitability.
Core Skills:
Planning & Scheduling
Strategic Planning
Data Analysis
Leadership
Project Management
Vendor Relations
Budgeting & Forecasting
Responsibilities:
Developed and implemented production planning strategies to reduce costs and improve quality
Conducted data analysis to identify trends and gather insights for strategic planning
Managed vendor relationships and negotiated contracts to drive cost savings and increase efficiency
Developed and maintained budgets and forecasts to evaluate short- term and long- term performance
Created and implemented staffing plans to ensure efficient business operations
Led cross- functional teams to complete projects on time and within budget
Communicated regularly with stakeholders to ensure projects progress as planned
Planning Manager Resume with 7 Years of Experience
I am a highly experienced Planning Manager with 7 years in the industry. I have an in- depth knowledge of the planning and delivery of projects as well as the scheduling, tracking and maintenance of all activities related to a project. I possess excellent organizational and multitasking skills, being able to manage and coordinate multiple projects concurrently. I am proficient in project management tools and technology and have the ability to develop comprehensive project plans, analyze and resolve potential problems and conduct regular project reviews.
Core Skills:
Project management
Project scheduling
Risk assessment
Cost analysis
Stakeholder management
Vendor negotiations
Resource allocation
Change management
Technology proficiency
Responsibilities
Develop project plans, track performance and review project progress
Analyze and resolve project issues and conflicts
Manage project resources and ensure delivery of projects
Develop project budgets and coordinate with stakeholders
Lead team meetings to review project status
Manage vendor relationships and ensure quality delivery
Plan and implement project changes
Monitor and identify potential risks
Provide guidance to project team members and report progress.
Planning Manager Resume with 10 Years of Experience
I am an experienced Planning Manager with over 10 years of experience in project and operations management. I have a diverse background in many different industries, including manufacturing, operations, and supply chain. My strengths include effective leadership, problem solving ability, organizational skills, and being able to work well with people at all levels. I am adept at streamlining processes and improving efficiency while maintaining quality standards.
Core Skills:
Project Management
Operations Management
Strategic Planning
Risk Management
Process Improvement
Team Leadership
Communication
Problem Solving
Organizational Skills
Quality Assurance
Responsibilities:
Design, implement and maintain systems and processes for planning, forecasting and scheduling
Monitor and analyze performance of projects to ensure goals and objectives are met
Develop and implement strategies to increase efficiency and reduce production costs
Manage and coordinate purchasing activities to ensure timely delivery of necessary supplies and materials
Analyze market conditions and assess customer needs to develop effective business plans
Develop metrics and KPIs to measure effectiveness of the planning process
Develop and implement training plans and programs for staff
Create and maintain documents and reports related to planning activities
Liaise with senior management to ensure planning objectives are being achieved
Planning Manager Resume with 15 Years of Experience
Experienced Planning Manager with over 15 years of experience in logistics and supply chain management. Adept at identifying and implementing cost- effective strategies, improving production efficiency and managing staff. Highly skilled in developing strong customer relationships, monitoring shipments and overseeing budgeting. Proven ability to coordinate with vendors and suppliers to meet deadlines and maintain quality standards.
Core Skills:
Logistics and supply chain management
Cost- effective strategies
Production efficiency
Staff management
Customer relations
Shipment monitoring
Budgeting
Vendor/supplier coordination
Responsibilities:
Develop and implement cost- effective strategies for logistics and supply chain operations
Monitor shipments, ensuring on- time delivery and accuracy of products
Manage and supervise staff, providing guidance, training and support
Identify and implement processes to improve production efficiency and quality
Review budgets and make adjustments to ensure compliance with financial goals
Communicate with vendors and suppliers to ensure timely and accurate delivery of products
Build and maintain strong customer relationships and ensure satisfaction with service
In addition to this, be sure to check out our resume templates, resume formats, cover letter examples, job description, and career advice pages for more helpful tips and advice.
What should be included in a Planning Manager resume?
A Planning Manager is responsible for developing and executing plans to help organizations reach their goals. An effective Planning Manager resume should demonstrate a candidate's ability to think strategically, manage projects, and collaborate with key stakeholders.
When creating your Planning Manager resume, make sure to include the following information:
Strategic Thinking: Demonstrate your ability to effectively analyze the needs of the organization and develop strategies that are actionable and results-oriented.
Project Management: Highlight your experience managing projects, including scope, budget, timelines and resources.
Stakeholder Collaboration: Mention any experience managing relationships with key stakeholders, demonstrating your ability to build trust and manage expectations.
Leadership: Showcase any leadership experience, including mentoring or motivating team members.
Key Achievements: Include any notable accomplishments that have had a significant impact on the organization.
By including these elements in your resume, you can make sure that you stand out to potential employers as an effective Planning Manager.
What is a good summary for a Planning Manager resume?
As a Planning Manager, you are responsible for overseeing the planning of projects and ensuring they are completed on time and on budget. A good summary for a Planning Manager resume should highlight your ability to coordinate and manage a variety of projects, your experience in collecting and analyzing data, and your technical and interpersonal skills. Additionally, be sure to mention any relevant certifications or qualifications you may have and emphasize your strong organizational skills. Your summary should be tailored to the specific position you are applying for and should be written in a way that demonstrates your qualifications and ability to succeed in the role.
What is a good objective for a Planning Manager resume?
A Planning Manager is a professional who oversees the overall planning and coordination of a company's operations. They are responsible for setting objectives, developing strategies, and implementing budgets. A successful Planning Manager resume should demonstrate an individual's ability to analyze data, develop plans, and implement strategies to achieve goals.
When creating an objective for a Planning Manager resume, it is important to highlight qualities and skills that will make the individual successful in the role. Here are some qualities to include in your resume objective:
Strong analytical and problem-solving skills: Planning Managers must have the ability to analyze data and develop plans that will lead to a successful outcome.
Excellent communication skills: Planning Managers need to be able to effectively communicate with all stakeholders in order to effectively implement strategies.
Experience in budgeting: Planning Managers need to be knowledgeable about budgeting and be able to create and manage budgets.
Ability to collaborate with others: Planning Managers need to be able to work with others to develop plans and strategies.
An example of a good objective for a Planning Manager resume would be: "A highly organized and detail-oriented individual seeking a position as a Planning Manager. With strong analytical and problem-solving skills, excellent communication abilities, extensive experience in budgeting, and the ability to collaborate with others, I am confident I can successfully plan and coordinate a company's operations."
How do you list Planning Manager skills on a resume?
When writing a resume for a Planning Manager role, it is important to include skills to demonstrate your ability to effectively plan and coordinate projects and activities.
Below are some key skills to include on your resume when applying for a Planning Manager role:
Strategic Planning: Ability to develop plans and strategies that support organizational objectives and goals.
Project Management: Possess a strong understanding of the project management process, and the ability to manage multiple projects simultaneously.
Risk Analysis: Ability to identify potential risks and develop strategies to mitigate them.
Financial Analysis: Proficient in evaluating financial data and developing financial models.
Communication Skills: Excellent written and verbal communication skills to effectively communicate with stakeholders and team members.
Leadership: Possess strong leadership skills and the ability to motivate and direct others.
Problem Solving: Ability to identify and resolve complex problems.
Decision Making: Possess the ability to make decisions quickly and effectively.
Time Management: Ability to manage time efficiently and meet tight deadlines.
What skills should I put on my resume for Planning Manager?
A Planning Manager is responsible for overseeing the planning, scheduling, and execution of a project. To be successful as a Planning Manager, you must have excellent organizational, problem-solving, and communication skills. When creating a resume for a Planning Manager role, you should make sure you include the following skills:
Project Management: Ability to lead a project from the start to finish and stay on track; competent in all aspects of a project, including budget, timeline, and resources.
Leadership: Ability to lead a team and provide direction when needed; experience in motivating, developing, and empowering team members.
Problem-Solving: Ability to address issues quickly and efficiently; excellent problem-solving skills and an understanding of root cause analysis.
Financial Analysis: Ability to analyze and interpret financial data; good understanding of budgeting and forecasting.
Communication: Excellent communication skills, both verbal and written, and the ability to effectively collaborate with team members and stakeholders.
Technical Skills: Proficiency in the use of project management software and other related technologies.
By including these skills on your resume for a Planning Manager role, you will be able to demonstrate your ability to be successful in this role.
Key takeaways for an Planning Manager resume
When it comes to creating a resume as a Planning Manager, there are certain key takeaways that should be highlighted in order to stand out to employers. Here are some key takeaways to include on your resume as a Planning Manager:
Leadership Skills: A Planning Manager needs to have strong leadership skills in order to be successful. Your resume should demonstrate your ability to supervise a team, delegate tasks, and make decisions.
Problem-Solving Ability: As a Planning Manager, you need to be able to troubleshoot and solve problems quickly and efficiently. Your resume should show your problem-solving skills.
Time Management: Managing time and resources is essential for Planning Managers. Be sure to emphasize your ability to manage time and juggle multiple tasks on your resume.
Analytical Skills: Since Planning Managers often have to develop strategies, they need to be able to analyze data and make decisions based on the information they find.
Communication Skills: A Planning Manager needs to be able to communicate effectively with both their team and their superiors. Make sure to highlight your communication skills on your resume.
These are just a few of the key takeaways that should be included on a Planning Manager resume. It is important to highlight your strengths in order to make your resume stand out to employers.
Let us help you build
your Resume!
Make your resume more organized and attractive with our Resume Builder