Writing a resume as a planning assistant can be a daunting task, especially if you are unsure of how to properly format and structure the document. In this guide, we will provide you with some resume writing tips and tricks that will help you create the perfect resume for your specific situation. We will also provide examples of fully written resumes that you can use as a template for your own. Whether you are applying for a job as a planning assistant, or for any other related position, this guide will provide you with all the advice and guidance you need to create a great resume.
If you didn't find what you were looking for, be sure to check out our complete library of resume examples.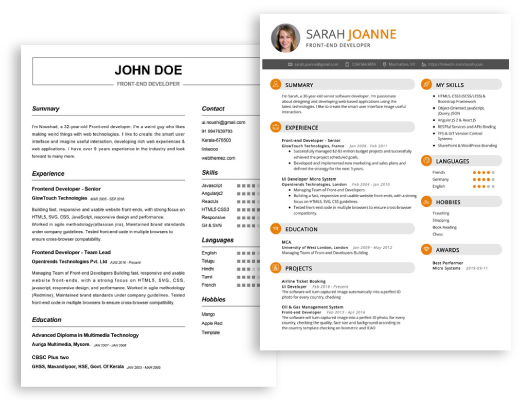 Start building your dream career today!
Create your professional resume in just 5 minutes with our easy-to-use resume builder!
Planning Assistant Resume Examples
John Doe
Planning Assistant
123 Main Street | Anytown, USA 99999 | Phone: (123) 456-7890 | Email: john.doe@email.com
I am a detail- oriented planning assistant with extensive experience in research and data analysis. I specialize in the development of plans, processes and protocols to increase efficiency, while working within the scope of budget and time constraints. I have a proven ability to handle multiple projects and prioritize tasks in order to meet tight deadlines. My experience in working with stakeholders, teams and individuals has enabled me to build strong relationships and foster collaboration.
Core Skills:
Analytical thinking and problem solving
Research and data analysis
Planning and implementation
Project management
Stakeholder management
Strong communication and interpersonal skills
Organizational and time management
Professional Experience:
Planning Assistant, ABC Corporation, 2018- Present
Conducted in- depth research on current and potential projects
Developed plans for projects and implemented them within budget and time constraints
Researched new market trends, potential customers, and analyzed data
Coordinated with various stakeholders to ensure successful project completion
Provided support in the creation of project documents and other collateral
Education:
Bachelor of Arts, Management and Organizational Studies, ABC University, 2017
Planning Assistant Resume with No Experience
Self- motivated and organized Planning Assistant with no experience in the planning field. Possessing a Bachelor's Degree in Business Administration, I am adept at data entry, analysis, and organizing tasks. Seeking to leverage my knowledge and skills to provide the highest level of planning and organizational support.
Skills
Excellent written and verbal communication skills
Proficient in Microsoft Office Suite
Time management and task prioritization
Attention to detail and accuracy
Ability to multitask and work in a fast- paced environment
Responsibilities
Assisted in the preparation of plans, schedules and reports
Compiled, sorted and verified data for accuracy and completeness
Reviewed and updated existing plans
Organized and filed documents for ease of access
Prepared presentations for meetings and proposals
Provided administrative support on assigned projects
Planning Assistant Resume with 2 Years of Experience
Highly experienced Planning Assistant with an in- depth knowledge of planning processes, project management and problem- solving. Proven ability to develop comprehensive plans and policies, manage resources, and deliver high- quality results. Well- versed in project coordination and data analysis. A dedicated team player with excellent communication, organizational, and multitasking skills.
Core Skills:
Project Planning & Administration
Project Scheduling & Management
Resource Allocation & Scheduling
Problem Solving & Analysis
Budgeting & Cost Control
Cross- functional Team Collaboration
Documentation & Reporting
Data Entry & Analysis
Responsibilities:
Developed and implemented effective project plans and policies.
Monitored project progress and schedule.
Assisted in resource allocation and management.
Resolved project issues and identified solutions.
Facilitated communication between project stakeholders.
Conducted data analysis and generated reports.
Created, updated, and maintained project databases.
Managed project budgets and ensured cost control.
Assisted in project coordination, monitoring, and evaluation.
Provided administrative support to project teams.
Planning Assistant Resume with 5 Years of Experience
A highly organized and motivated professional with more than 5 years of experience as a Planning Assistant. Possess an in- depth understanding of the planning process and the ability to synthesize complex data into executive summaries. Proven ability to work in a fast- paced and high- stress environment while managing multiple concurrent tasks. Adept at developing positive relationships with clients and colleagues, to ensure the successful completion of projects.
Core Skills:
Proven ability to manage multiple concurrent tasks
Expert in the planning process
Excellent communication and interpersonal skills
In- depth knowledge of MS Office applications
Ability to work in a fast- paced and high- stress environment
Accustomed to working with tight deadlines
Responsibilities:
Develop and maintain project plans to ensure timelines are met
Analyze data and present findings in executive summaries
Coordinate with stakeholders to ensure project goals are achieved
Develop and implement methods to improve project efficiency
Monitor project progress and provide regular updates to stakeholders
Provide technical support to staff when needed
Maintain project records, such as budget estimates and timelines
Planning Assistant Resume with 7 Years of Experience
Highly motivated and organized Planning Assistant with 7 years of experience in project planning, budgeting, and scheduling. Adept at analyzing data, understanding project requirements, and overseeing multiple projects at once. Possess a keen eye for detail, excellent problem- solving skills and a passion for organization. Skilled at working collaboratively with cross- functional teams and leveraging excellent communication skills to ensure successful project outcomes.
Core Skills
Project Planning
Budgeting
Scheduling
Data Analysis
Requirements Analysis
Cross- functional Teamwork
Excellent Communication Skills
Organizational Skills
Problem- solving
Responsibilities
Developed project plans and managed budgets for multiple projects simultaneously.
Analyzed project requirements and formulated schedules to ensure successful project completion.
Assessed project risks and developed strategies to reduce risk and maintain accurate schedules.
Drafted reports to track progress and to identify potential problems.
Provided support to project teams and coordinated with multiple departments.
Developed processes and procedures to improve efficiency and accuracy.
Conducted regular meetings and maintained open communication with stakeholders.
Performed data analysis and monitored project progress to determine areas of improvement.
Planning Assistant Resume with 10 Years of Experience
I am an experienced Planning Assistant with 10 years of experience in the field. I have excellent organizational and communication skills, and the ability to follow instructions accurately. I am proficient in the use of a variety of software programs and am a detail- oriented problem solver. I take pride in my ability to organize and coordinate the daily operations of any organization with ease. My proactive approach and self- motivation helps me work cooperatively and contribute to the success of the company.
Core Skills:
Excellent organizational and communication skills
Proficient in the use of a variety of software programs
Detail- oriented problem solver
Proactive approach and self- motivation
Ability to follow instructions accurately
Ability to multi- task
Ability to work independently as well as part of a team
Knowledge of project management principles
Responsibilities:
Monitor and manage the daily operations of an organization
Coordinate activities with various departments
Create and maintain detailed project plans
Ensure adherence to project timelines and budgets
Track progress and provide updates to management
Develop and implement strategies to improve efficiency and productivity
Manage databases and generate reports
Resolve conflicts between stakeholders
Develop project documents such as scope statements, work breakdown structures, and activity diagrams
Planning Assistant Resume with 15 Years of Experience
Experienced Planning Assistant with over 15 years of experience providing administrative, financial and planning support for a variety of organizations. Exceptional organizational and problem- solving skills, adept at developing efficient and effective administrative systems and managing time- sensitive projects. Proficient in various planning software and office applications.
Core Skills:
Strong financial and budgeting experience
Strong organizational skills
Project management
Advanced software proficiency
Excellent communication and interpersonal skills
Time management
Responsibilities:
Provide administrative assistance through organizing and preparing documents, coordinating meetings and responding to inquiries
Develop budgets and analyze financial reports
Provide support in planning, organizing and implementing projects related to strategic planning and forecasting
Create, review and maintain detailed plans, schedules and reports
Assist in the development of goals and objectives
Manage data, documents and records
Perform research and analysis to inform decision- making
Assist with monitoring project progress against schedule and budget
Organize and schedule planning activities and meetings
In addition to this, be sure to check out our resume templates, resume formats, cover letter examples, job description, and career advice pages for more helpful tips and advice.
What should be included in a Planning Assistant resume?
A Planning Assistant resume should include the following information:
Education: listing any professional certifications or educational degrees that demonstrate your planning skills.
Experience: providing details on any relevant planning assistant experience and how you applied your planning skills in those roles.
Skills: highlighting any technical or planning-specific skills that you possess, such as GIS (Geographic Information Systems), data analysis, project management, or report writing.
Projects: listing any planning assistant projects that you have completed, with details on the scope and outcomes of each.
Professional Affiliations: including any professional associations or organizations that you are a member of that are relevant to the planning assistant role.
Achievements: detailing any awards, accolades, or other achievements that demonstrate your planning skills and abilities.
References: including a list of references who can vouch for your planning experience and background.
What is a good summary for a Planning Assistant resume?
A Planning Assistant resume should provide a summary of a professional's qualifications and experience in the planning profession. It should include skills in planning, project management, budgeting and forecasting, problem-solving, and communication. It should showcase experience in strategic planning, policy development, and staff development. A Planning Assistant should have knowledge of relevant regulations, have excellent organizational skills, and have the ability to work effectively in a team-oriented environment. The summary should also highlight any relevant certifications, awards, and publications that demonstrate expertise in the field.
What is a good objective for a Planning Assistant resume?

Creating a Winning Objective Statement for a Planning Assistant Resume
For job seekers seeking a Planning Assistant role, a strong resume objective is a must to stand out from the competition. A resume objective statement should provide a brief yet compelling snapshot of your professional experience, education, and skills. It should be tailored to the role you're applying for.
When crafting a resume objective for a Planning Assistant role, consider the following tips:
Demonstrate your knowledge of the industry: Make sure to include relevant industry knowledge in your objective statement. Showcase your understanding of the job duties and requirements, and highlight any special skills that make you a particularly strong candidate.
Describe your qualifications: Be sure to list your professional qualifications and relevant education when crafting your objective statement. This will help you stand out from other applicants and show potential employers that you have the necessary skills for the role.
Showcase your enthusiasm: Your objective statement should express your enthusiasm for the role and show that you're passionate about the type of work you're applying for.
Highlight your relevant accomplishments: Take some time to list any past accomplishments that are relevant to the Planning Assistant role. This will help employers to see that you're a capable and experienced candidate.
By following these tips, you can craft a compelling resume objective statement that will make you stand out from the competition. With a strong objective statement, you'll be one step closer to landing your dream role as a Planning Assistant.
How do you list Planning Assistant skills on a resume?
When applying for a Planning Assistant position, it's important to highlight your related skills and experience on your resume. Include your technical skills in the education and skills sections, and any transferable skills in the experience section.
Education and Skills:
Proficiency in planning software such as AutoCAD and GIS
Knowledge of planning regulations and zoning ordinances
Ability to read and understand maps and schematics
Conceptualization and design skills
Excellent written and verbal communication skills
Strong problem solving and analytical skills
Experience:
Experience in developing plans and presenting them to stakeholders
Ability to work independently and adjust to changing requirements
Highly organized and detail-oriented
Proficient in creating reports and documents
Ability to manage multiple tasks and prioritize workload
Proven ability to work collaboratively in a team environment
What skills should I put on my resume for Planning Assistant ?
When writing a resume for a Planning Assistant position, there are a variety of skills that you should include in order to stand out from the competition. While some qualifications are specific to the field, there are some general skills that are important to highlight on any resume.
When it comes to Planning Assistant roles, keep in mind that you will need to be highly organized, detail-oriented, and able to think outside of the box to create innovative solutions. Here are some key skills to include on your resume:
Strong communication skills: You will need to be able to clearly communicate with other team members and departments, particularly when developing project plans or executing events.
Analytical and problem-solving skills: You must be able to analyze data, spot trends, and come up with solutions to any challenges that arise.
Strategic thinking: You must be able to think ahead and anticipate potential problems before they happen.
Project management skills: You must be able to manage multiple projects at once and ensure that they are completed on time and on budget.
Attention to detail: You must be able to keep track of minor details and double-check your work to ensure accuracy.
Ability to work independently: You must be able to work independently and take initiative when necessary.
Organizational skills: You must be organized and able to prioritize your tasks in order to complete them efficiently.
Time management skills: You must be able to manage your time wisely and meet deadlines.
Key takeaways for an Planning Assistant resume
When you are writing a resume for a planning assistant role, it is important to make sure that you present yourself in the best possible light. You want to show that you have the necessary skills and experience to be successful in the position. Here are some key takeaways to help you make your resume stand out:
Highlight Your Planning Skills – You should emphasize your planning and organizational skills in your resume. This may include knowledge of project management software and techniques, spreadsheet creation and analysis, budgeting, and scheduling. Showing that you have the skills to handle multiple tasks and deadlines will make you an attractive candidate.
Demonstrate Your Attention to Detail – A successful planning assistant must be able to pay attention to small details in order to ensure that projects are completed on time and on budget. Include examples of how you have successfully managed complex projects, or how you have identified and solved problems.
Mention Your Communication Skills – In addition to being organized and detail-oriented, a planning assistant also needs to be able to effectively communicate with colleagues and customers. Highlight any relevant experience you have in writing reports, emails or presentations as well as any public speaking or group facilitation experience.
Showcase Your Computer Knowledge – Many planning assistants use a variety of computer programs to manage their projects. Make sure to list any of the software you are proficient in, such as Microsoft Excel, Access, and PowerPoint.
By following these key takeaways, you can make sure that your planning assistant resume stands out from the competition. Showcase your skills and experience to make a great first impression and start your career off on the right foot.
Let us help you build
your Resume!
Make your resume more organized and attractive with our Resume Builder