Writing a resume as an Oracle Business Analyst can be a difficult task, but with the right information and guidance, it can be made easier. This guide will provide insight on how to best present your qualifications in order to make a great impression on potential employers. You will find tips on how to showcase your skills and experience, as well as examples of professional Oracle Business Analyst resumes that can be used as inspiration. With the right resume, you can make yourself stand out from the competition and maximize your chances of landing the job of your dreams.
If you didn't find what you were looking for, be sure to check out our complete library of resume examples.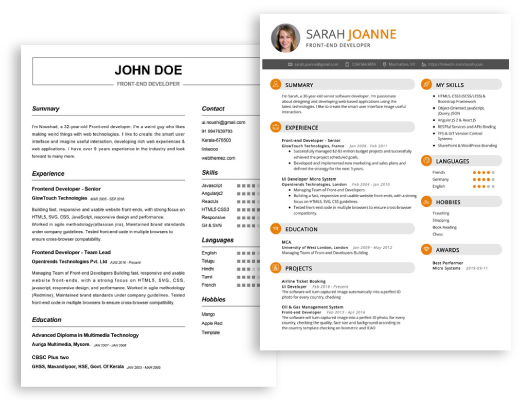 Start building your dream career today!
Create your professional resume in just 5 minutes with our easy-to-use resume builder!
Oracle Business Analyst Resume Examples
John Doe
Oracle Business Analyst
123 Main Street | Anytown, USA 99999 | Phone: (123) 456-7890 | Email: john.doe@email.com
A well experienced Oracle Business Analyst with more than 10 years of professional experience in the field. Skilled in gathering requirements, doing data analysis, design, implementation and testing of Oracle applications. Proven ability to work collaboratively with all stakeholders from business users to senior management to ensure requirements are captured and delivered. Experienced in working with various tools and methodologies such as SQL, PL/SQL, Agile and Waterfall.
Core Skills:
Gathering Business Requirements
Data Analysis
Design, Implementation & Testing
Oracle Applications
SQL, PL/SQL
Agile & Waterfall Methodologies
Professional Experience:
Oracle Business Analyst, XYZ Company, June 2010 – Present
Gathered and documented business requirements from clients and stakeholders.
Analyzed customer data and identified trends and insights to improve their business processes.
Created process flow diagrams and system diagrams to illustrate business process and system changes.
Designed, implemented and tested new Oracle applications to meet business requirements.
Provided day- to- day support and maintenance to existing Oracle applications.
Developed SQL and PL/SQL scripts for data extraction, transformation and loading.
Education:
Bachelor of Science in Computer Science, ABC University, 2005 – 2009
Oracle Business Analyst Resume with No Experience
Recent college graduate with an Accounting major and no experience in Oracle Business Analysis. Looking to use acquired technical and analytical skills to begin a career as an Oracle Business Analyst.
Skills
Microsoft Office Suite
SQL
Data Analysis
Problem Solving
Communication
Time Management
Organization
Responsibilities
Analyze and document existing business processes
Validate user requirements and develop system designs
Develop, test and maintain software solutions
Identify opportunities to improve system efficiency
Provide technical support and troubleshoot system issues
Create detailed project plans and coordinate resources
Develop and document procedures and processes
Monitor changes to business processes and systems
Oracle Business Analyst Resume with 2 Years of Experience
A passionate Oracle Business Analyst with 2 years of experience in managing business requirements, integrating systems, and creating dashboards for data reports. Experienced in creating effective strategies to ensure successful project delivery and meeting of business objectives. Possess excellent relationship building and communication skills, combined with a proven ability to understand customer needs. Core skills include problem- solving, data analysis, and system testing.
Core Skills:
Analyzing business requirements
Integrating systems
Creating dashboards for data reports
Creating effective strategies
Relationship building
Communication skills
Problem- solving
Data analysis
System testing
Responsibilities:
Developing project plans, outlining the tasks to be done and their deadlines
Implementing changes to existing systems, processes and procedures
Documenting all business requirements, processes, and procedures
Analyzing data and creating reports to identify trends and areas of improvement
Testing systems and applications to ensure functionality and accuracy
Developing and maintaining relationships with key stakeholders and stakeholders
Providing technical support and advice to clients and users
Oracle Business Analyst Resume with 5 Years of Experience
Experienced Oracle Business Analyst with 5 years of expertise in providing business solutions that enable clients to achieve their automation and efficiency goals. Highly developed analytical and problem- solving skills with an aptitude for quickly identifying customer pain points and proposing effective solutions. Adept in the areas of data analysis, system integration, and process improvement. Skilled at communicating complex concepts to both technical and non- technical audiences.
Core Skills:
Oracle Database Administration
Business Analysis
System Design & Integration
Process Improvement
SQL & PL/SQL
Data Analysis
Project Management
Client Relations
Technical Documentation
Responsibilities:
Served as a liaison between clients and technical staff throughout project lifecycles.
Analyzed business processes and customer requirements to develop effective system design and integration.
Translated complex customer requirements into system specs and technical specifications.
Developed and maintained project plans, timelines and other project documentation.
Constructed SQL queries, stored procedures and functions to support customer needs.
Developed test plans and conducted functional, integration and system tests.
Troubleshot and debugged application- related issues.
Performed data analysis and generated comprehensive reports for customer review.
Prepared detailed technical documentation for post- production phase.
Identified areas of system improvement and generated process optimization plans.
Provided on- going user support, maintenance and development of existing applications.
Oracle Business Analyst Resume with 7 Years of Experience
An Oracle Business Analyst with 7 years of experience in the IT field, specializing in Oracle Application implementations. Skilled in the development, implementation and support of Oracle Applications, providing expertise in the areas of configuration and customization. Proven success in delivering high- quality projects on time and within budget. Experienced in working with stakeholders to ensure requirements are understood, as well as providing training, ongoing technical support and troubleshooting services to clients.
Core Skills:
Extensive knowledge and experience with Oracle Applications
Analysis and requirements gathering
Project management and problem solving
Testing, development and deployment
Configuration and customization of Oracle Applications
Training and technical support
Responsibilities:
Gathered business requirements, analyzed and documented design documents, and created functional specifications.
Developed and executed test plans, tested system changes and implemented new applications.
Conducted training sessions and provided technical support to customers.
Coordinated cross- functional teams to ensure successful and timely delivery of projects.
Provided guidance and direction to clients during the planning, design, implementation, and support of Oracle Applications.
Provided on- site technical support for project implementation and production support.
Worked closely with developers, stakeholders and executives to ensure projects were completed on time and within budget.
Oracle Business Analyst Resume with 10 Years of Experience
Results- driven Oracle Business Analyst with 10 years of experience in developing and managing successful IT projects. Adept at gathering and analyzing business requirements, developing application models, testing and integrating applications, and ensuring high levels of customer satisfaction. Experienced in handling multiple projects and establishing standards for development, implementation, and testing processes. Highly skilled in managing large- scale Oracle applications and providing strategic direction to the IT team.
Core Skills:
Application Analysis and Design
Requirements Gathering and Documentation
Project and Program Management
Systems Testing and Integration
Oracle Database Administration
Business Process Modeling
Risk Analysis and Management
Stakeholder Communication and Negotiation
Software Development Life Cycle (SDLC)
Responsibilities:
Gathered and documented business requirements, developed use cases, and created system models for Oracle applications.
Designed data models, entity relationship diagrams, and application schemas for efficient business processes.
Managed and monitored development, implementation, and testing of multiple Oracle applications.
Developed and documented test cases, identified gaps, and created test scripts to validate system results.
Performed database administration and optimization tasks such as backup and recovery, index maintenance, and query optimization.
Monitored customer feedback and satisfaction levels and proposed solutions to address customer issues.
Managed and guided technical teams on software development and application testing activities.
Conducted risk analysis and proposed strategies to minimize and mitigate risks.
Collaborated with stakeholders to understand project objectives and develop effective strategies to meet them.
Oracle Business Analyst Resume with 15 Years of Experience
A highly experienced Oracle Business Analyst with 15 years of expertise in developing business strategies and plans to support organizational goals. Proven ability to identify and solve problems, reduce costs, and optimize performances. Skilled in deciphering and analyzing data, formulating business models, and creating reports. Possesses strong problem- solving and communication skills, with the ability to effectively collaborate with senior management and stakeholders.
Core Skills:
Business Analysis
Requirements Gathering
Data Analysis
Software Development Life Cycle
Project Management
Business Modeling
Test Planning
Reporting
Responsibilities:
Evaluated business requirements and systems specifications to develop detailed design documents
Gathered user requirements and analyzed the feasibility of the proposed solutions
Developed and maintained data models, data dictionaries, process models, and other documentation
Performed data analysis to identify trends, create reports and support decision- making
Developed and implemented test plans and scripts to ensure quality and accuracy of system applications
Supported the design, development and deployment of software applications
Established and maintained communication with stakeholders and project teams to ensure timely completion of deliverables
Provided expertise in business process reengineering and systems optimization
In addition to this, be sure to check out our resume templates, resume formats, cover letter examples, job description, and career advice pages for more helpful tips and advice.
What should be included in a Oracle Business Analyst resume?
Having a well-crafted Oracle Business Analyst resume is essential for job seekers in the field. As a business analyst, you must be able to create effective solutions that meet the needs of the business, and be able to present the results to stakeholders in a clear and concise manner. In order to stand out from the competition, you must make sure your resume is tailored to the Oracle Business Analyst role you're applying for.
Here are some of the key items that should be included in your Oracle Business Analyst resume:
Contact information: Make sure to include your full name, address, phone number and email address.
Summary of qualifications: This should be written in paragraph format and highlight your key skills and qualifications for the role.
Experience: This is the most important section of your resume and should include details of any relevant work experience and skills you have gained.
Education: Include details of any educational qualifications you have attained that are related to the Oracle Business Analyst role.
Technical skills: List any specific software and technology skills that are relevant to the role.
Certifications: If you have any industry-specific or Oracle-related certifications, be sure to list them here.
Soft skills: Demonstrate any interpersonal or communication skills that you have that are transferable to the role.
By following this guide, you will be able to create an Oracle Business Analyst resume that will make you stand out from the competition. Good luck with your job search!
What is a good summary for a Oracle Business Analyst resume?
A Oracle Business Analyst resume should contain a concise summary of the candidate's qualifications and experience. The summary should be specific and demonstrate the candidate's ability to use their technical and analytical skills to solve business problems. It should also highlight the candidate's knowledge of Oracle systems and their ability to create, maintain, and analyze complex data sets. Additionally, the summary should include any previous experiences in areas such as project management and customer service. Finally, the summary should be tailored to the employer and demonstrate the candidate's ability to contribute to the organization's success.
What is a good objective for a Oracle Business Analyst resume?
When creating a resume for an Oracle Business Analyst position, it is important to have an objective that accurately reflects the job you are applying for. An effective Oracle Business Analyst resume objective should demonstrate your commitment to the job, ability to solve complex problems, and attention to detail.
Detail-oriented professional with eight years of experience as an Oracle Business Analyst
Proven track record of successful project implementation, meeting timelines and budgets
Experienced in data analysis, data modeling, and database design
Knowledgeable in Oracle 11g, including Oracle Forms, Reports and Discoverer
Experienced in business process improvement, systems implementation and analysis
Self-motivated with the ability to multi-task and prioritize in a fast-paced environment
Comfortable working independently or as part of a team
Superior communication and interpersonal skills
How do you list Oracle Business Analyst skills on a resume?
When crafting a resume for a job as an Oracle Business Analyst, it is important to showcase the skills, qualifications, and experience that will make you stand out to potential employers. Here are some skills to consider listing on your resume when applying for an Oracle Business Analyst position:
Proficient in Oracle Business Intelligence (OBI) and Oracle Business Intelligence Applications (OBIA)
Strong knowledge of relational databases and SQL
Experienced in creating reports and dashboards
Ability to troubleshoot and provide technical support for Oracle databases
Proven ability to analyze and interpret business data
In-depth knowledge of business operations and processes
Skilled in data mining, analysis, and predictive modeling
Excellent communication and presentation skills
Strong problem-solving, project management, and organizational skills
Ability to work independently or as part of a team to meet project deadlines
Proficient in using Microsoft Office suite, including Excel and Access
What skills should I put on my resume for Oracle Business Analyst?
As a Oracle Business Analyst, it is important to tailor your resume to best reflect the skills that are required for the job. A good resume will demonstrate to employers that you possess the right skills and experience to become a successful Oracle Business Analyst. Below are some of the most important skills to include on your resume when applying for an Oracle Business Analyst role:
Technical Skills: Demonstrate your understanding of Oracle Business Analyst concepts, such as database design, application integration, SQL, PL/SQL, and data warehouse design.
Analytical Skills: Showcase your ability to analyze complex business problems, identify trends and patterns, and develop innovative solutions.
Communication Skills: Highlight your ability to communicate effectively with both technical and non-technical audiences.
Project Management: Emphasize your ability to drive projects from beginning to end, including planning, development, and implementation.
Problem Solving: Showcase your talent for resolving complex issues quickly and efficiently.
Business Acumen: Display your knowledge of the Oracle Business Analyst field and demonstrate your ability to understand and work with business processes.
By highlighting these key skills on your resume, you will demonstrate to employers that you have the necessary skills and experience to be a successful Oracle Business Analyst. Additionally, include any awards, certifications, or special projects where you have applied the skills listed above. These details will help employers to understand the breadth of your knowledge and will set you apart from other applicants.
Key takeaways for an Oracle Business Analyst resume
When it comes to creating a great Oracle Business Analyst resume, there are a few key takeaways that you should keep in mind. By understanding these key points, you can ensure that your resume stands out from the competition and helps you land the job you want.
First and foremost, you should focus on highlighting your Oracle skills, experience, and knowledge. Make sure to include any certifications or training that you have received to demonstrate your qualifications for the job. Additionally, list any projects you have worked on that have required you to use Oracle. This will show hiring managers that you have the experience and knowledge necessary to be a successful Oracle Business Analyst.
Second, you should list any relevant soft skills that you possess. Soft skills are essential in the business analyst role, and they can help illustrate to potential employers that you have the interpersonal and communication skills needed to succeed. Examples of these skills include problem-solving, critical-thinking, and collaboration.
Finally, don't forget to include any awards or accomplishments that you have achieved. This could include any awards you have received related to your Oracle work, as well as any hard numbers you can provide to demonstrate the successes you have had. Demonstrating your success and achievement in previous roles will give hiring managers the confidence that you will be successful in the position.
By following these key takeaways, you can create an Oracle Business Analyst resume that will make you stand out from the competition and make you a top candidate for the job.
Let us help you build
your Resume!
Make your resume more organized and attractive with our Resume Builder