Writing a resume as a Youth Director can be a challenge, as the job is so diverse. You are expected to lead, teach, and mentor young people, as well as plan, organize, and manage all aspects of the program. It's important to make sure your resume stands out from the competition and accurately reflects your experience. This guide provides expert tips and examples to help you craft a Youth Director resume that will get you noticed.
If you didn't find what you were looking for, be sure to check out our complete library of resume examples.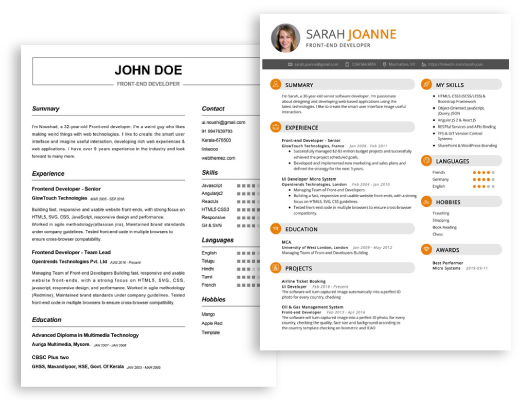 Start building your dream career today!
Create your professional resume in just 5 minutes with our easy-to-use resume builder!
Youth Director Resume Examples
John Doe
Youth Director
123 Main Street | Anytown, USA 99999 | Phone: (123) 456-7890 | Email: john.doe@email.com
A motivated and experienced youth director with a solid background in youth development, program development and management, and youth engagement. Possesses excellent interpersonal and organizational skills, an unwavering commitment to the well- being of youth, and a strong drive to make a difference.
Core Skills:
Child Advocacy
Program Development
Outreach
Leadership
Conflict Resolution
Team Building
Curriculum Design
Youth Engagement
Budgeting & Administration
Professional Experience:
Youth Director, ABC Foundation – 2017- Present
Developed and implemented a range of successful youth programming that engaged over 500 youth in the community
Built relationships with community members, stakeholders, and funders to facilitate youth initiatives
Implemented and monitored a system to track program progress and success
Developed and managed budget and resources to ensure successful implementation of youth activities
Facilitated and maintained a positive learning environment for youth participants
Oversaw and organized volunteer recruitment and training
Youth Program Manager, XYZ Corporation – 2015- 2017
Managed and coordinated a variety of youth programs and activities
Collaborated with local organizations and stakeholders to expand youth programming
Developed and implemented program curricula to meet the needs of youth participants
Developed and maintained relationships with stakeholders, funders, and community members
Monitored and evaluated program activities and outcomes
Developed and managed budgets for youth programs
Education:
M.S. in Education – ABC University 2015
B.A. in Psychology – XYZ University 2013
Youth Director Resume with No Experience
Recent college graduate looking to pursue a career in youth development, with a commitment to helping young people reach their goals through mentorship and guidance.
Skills
Strong communication and interpersonal skills
Proven ability to work with diverse groups of people
Ability to develop and implement youth programs
Experience in community outreach and engagement
Excellent organizational and problem- solving skills
Responsibilities
Developing and leading youth programs and activities
Providing guidance and mentorship to young people
Creating and implementing strategies for engaging young people
Organizing and delivering educational and recreational programs
Ensuring safety of young people during organized events
Establishing relationships with community resources
Recruiting and training volunteers
Creating and managing budgets
Youth Director Resume with 2 Years of Experience
Dynamic youth director with two years of experience in a leadership role, dedicated to providing youths with the skills and resources needed to succeed. A creative thinker with experience in planning and implementing programs designed to help foster healthy group dynamics, promote communication and collaboration, and reinforce a safe and positive environment. Skilled at working closely with youth and counselors to ensure successful developmental activities and outcomes.
Core Skills:
Strong organizational abilities
Excellent communicator
Excellent problem- solving skills
Ability to motivate youth
Ability to respond to emergency situations
Ability to create positive relationships with youth
Good understanding of child development
Knowledge of health and safety practices
Responsibilities:
Planning and executing age- appropriate activities
Developing and administering budget plans
Creating and enforcing rules, regulations and policies
Providing guidance and support to counselors and other staff
Organizing and supervising field trips and other outings
Developing behavioral plans and implementing disciplinary procedures
Maintaining records of program activities
Facilitating communication and collaboration between counselors, youth and parents
Youth Director Resume with 5 Years of Experience
Experienced and creative Youth Director with 5+ years of experience in developing and implementing programs that foster the physical, mental, and emotional well- being of adolescents. Skilled in creating activities, mentoring, and building relationships with young adults. Dedicated to providing engaging and high- quality services with a focus on social, educational, and personal development.
Core Skills:
Strong leadership and organizational skills
Strong interpersonal and communication abilities
Excellent problem- solving and decision- making skills
Proficient in computer software and office equipment
Knowledgeable about youth development and mental health
Ability to work with diverse populations
Responsibilities:
Develop and implement engaging programming for adolescents
Develop and maintain relationships with community organizations
Mentor and lead youth teams
Develop and monitor budgets
Track and evaluate program outcomes
Advocate for youth and their families
Facilitate group activities and workshops
Plan and lead special events
Provide crisis intervention when needed
Youth Director Resume with 7 Years of Experience
Dedicated and experienced Youth Director with 7 years of experience in developing and overseeing youth programs. Proven track record of creating engaging activities and facilitating meaningful relationships between participants and staff. Adept at problem solving and conflict resolution. Ability to develop effective relationships with the community, youth and families. Possesses excellent organizational and communication skills.
Core Skills:
Strong administrative and organizational skills
Able to develop and maintain relationships with the community
Superb communication and interpersonal skills
Extensive knowledge of youth development
Ability to develop and implement engaging programs
Excellent problem solving and conflict resolution skills
Experience in budgeting and fundraising
Responsibilities:
Developing and overseeing youth programs
Creating activities for youth within the programs
Facilitating meaningful relationships between participants and staff
Developing relationships with the community and families
Ensuring the safety and well- being of the youth
Collaborating with community agencies to provide resources
Managing and monitoring program budgets
Recruiting and training volunteers and staff
Youth Director Resume with 10 Years of Experience
Dynamic Youth Director with 10 years of experience in working with youth, creating programs and facilitating workshops. Proven track record of developing innovative and engaging programs to foster the personal growth and development of young people. Passionate about creating a safe and healthy environment where youth can learn valuable life skills and maximize their potential.
Core Skills:
Program Development
Leadership
Volunteer Management
Youth Mentoring
Public Speaking
Youth Outreach
Organizational Skills
Relationship Building
Problem Solving
Conflict Resolution
Responsibilities:
Developed and implemented engaging programs to promote personal growth and development of youth
Provided leadership and guidance to youth volunteers and counselors
Supported and facilitated workshops that build life skills in areas such as conflict resolution and substance abuse prevention
Developed and supervised team building activities with youth
Developed and maintained relationships with youth, parents, teachers, and community organizations
Assisted with fundraising and grant proposals
Provided mentoring and support to youth in need
Ensured compliance with all established rules, regulations, and policies
Youth Director Resume with 15 Years of Experience
Highly motivated and enthusiastic Youth Director with over 15 years of experience in youth development, community engagement, and program management. Proven track record of delivering successful, innovative, and engaging programs for youth. Experienced in developing and leading team- building activities, developing engaging curriculum, and cultivating strong relationships with stakeholders. Core expertise in program development, grant writing, fundraising, and grant management. Highly organized and detail- oriented, with excellent interpersonal and communication skills.
Core Skills:
Program Development
Community Engagement
Youth Development
Grant Writing
Fundraising
Grant Management
Team- Building
Interpersonal Communication
Organizational Skills
Curriculum Development
Responsibilities:
Developed and implemented youth development programs in collaboration with community organizations and stakeholders
Created and implemented team- building activities and curricula to enhance youth development and community engagement
Organized and implemented fundraising activities to secure funding for youth development and community programs
Researched and wrote grant proposals to secure funding for new program initiatives
Managed grant programs, ensuring accuracy of budgets and compliance with both internal and external regulations
Developed relationships with key stakeholders and donors to ensure successful program outcomes
Analyzed data and implemented strategies to continuously improve program outcomes
Provided mentorship and guidance to youth participants in program activities
Coordinated volunteers to assist with program outreach, development, and operations
In addition to this, be sure to check out our resume templates, resume formats, cover letter examples, job description, and career advice pages for more helpful tips and advice.
What should be included in a Youth Director resume?
A Youth Director resume should include the following information to showcase your qualifications to potential employers:
Education: List any relevant degrees and certifications that you have achieved.
Experience: Describe any experience you have working with youth and your role. Be sure to include any volunteer work or internships as well.
Skills: Include any special skills or knowledge you have that would be helpful for the role.
Professional Memberships: List any professional memberships or affiliations you have.
Leadership Roles: Describe any leadership roles you have held.
Accomplishments: Include any awards, recognitions, or accomplishments you have achieved.
References: List at least three references that can be contacted about your qualifications.
What is a good summary for a Youth Director resume?
A Youth Director's resume should provide an overall summary of the individual's professional background, education and accomplishments in the field of youth direction. It should emphasize the person's experience in developing innovative programs and activities for young people, as well as their ability to manage and mentor staff, motivate volunteers and provide positive leadership for programs. The resume should include information about any relevant certifications, awards or recognition received from organizations or individuals. It should also highlight the individual's understanding of the unique needs of youth, as well as their ability to work with schools, youth organizations and social service agencies. Finally, the resume should demonstrate the individual's commitment to the field of youth direction and their dedication to making a difference in the lives of young people.
What is a good objective for a Youth Director resume?
A youth director's resume should showcase their experience, skills, and qualifications to potential employers. It should also demonstrate their knowledge and enthusiasm for working with young people. A good objective for a youth director resume should include:
Demonstrate leadership, mentorship, and organizational skills to manage, motivate, and support a team of youth
Plan, organize, and implement programs, activities, and events specifically tailored to the needs of youth
Utilize effective communication and interpersonal skills to collaborate with staff, parents, and community members
Help youth develop skills and self-confidence to achieve their goals
Encourage youth to make healthy decisions and lead active and productive lives
Maintain accurate documentation for all programs and activities
Carry out effective risk management strategies in order to provide a safe and secure environment for youth
Prioritize and demonstrate sensitivity to the diversity of cultures, backgrounds, and abilities of youth
Exhibit knowledge of the principles, practices, and trends in youth development
How do you list Youth Director skills on a resume?
When writing a resume for a Youth Director role, it is important to highlight the skills you possess that make you a successful candidate for the job. Your resume should highlight your experience, qualifications, and any additional skills you have that relate to the position. Here are some of the key skills employers look for in a Youth Director:
Organizational and administrative skills: Youth Directors are responsible for overseeing the day-to-day operations of youth programs and activities. They must be able to effectively manage staff and resources, plan events, and ensure that activities are carried out safely and in compliance with program guidelines.
Leadership and communication skills: Youth Directors must be able to lead and motivate staff, volunteers, and participants. They must also have excellent communication skills in order to effectively communicate with stakeholders, parents, and the community.
Program development and management skills: Youth Directors must have the ability to design, implement, and evaluate youth programs and activities. They must be able to develop objectives, set goals, and assess progress.
Knowledge of youth development: Youth Directors must have a deep understanding of youth development principles and practices in order to effectively support the growth and development of youth.
Budgeting and financial management skills: Youth Directors are responsible for managing program budgets and ensuring that resources are allocated efficiently and effectively. They must also have the ability to track and report on program finances.
Interpersonal skills: Youth Directors must have strong interpersonal skills in order to work with a variety of people, including staff, volunteers, participants, parents, and stakeholders. They must be able to build relationships and collaborate with others in order to achieve program objectives.
What skills should I put on my resume for Youth Director?
When creating a resume for a Youth Director position, it is important to showcase your skills that are related to the job description. Below are some of the top skills and qualifications that should be included in your resume:
Strong Leadership: As a Youth Director, you will be tasked with leading a group of young people, providing guidance, and making sure all members of the group are safe. Showing that you have strong leadership skills will be beneficial in this role.
Organizational Skills: You will need to be able to effectively manage multiple tasks and activities simultaneously. This requires good organizational skills and the ability to think on your feet.
Problem-Solving: As a Youth Director, you will be faced with a variety of problems that you must be able to troubleshoot and resolve. Showing that you have strong problem-solving skills will demonstrate you have the ability to handle any situation.
Active Listening: You will be working with a lot of different people in this role, and you will need to be able to listen carefully to all of their needs and concerns. Strong active listening skills are essential in this position.
Interpersonal Communication: As a Youth Director, you will need to be able to communicate clearly with young people, parents, and colleagues. Showing that you have strong interpersonal communication skills will help you stand out from the competition.
Creative Thinking: This position requires someone who is creative and can think outside the box. Demonstrating that you have strong creative thinking skills will help you stand out from the crowd.
Time Management: You will need to be able to manage your time effectively in order to get everything done. Showing that you have strong time management skills will be a big plus for this role.
Key takeaways for an Youth Director resume
When writing a resume as a Youth Director, it can be difficult to know how to present yourself in the best light. After all, a resume should be a snapshot of your professional qualifications, experiences, and achievements. Therefore, here are some key takeaways for a Youth Director resume:
• Highlight your professional experience. List your previous work experience, especially any experience related to the role of a Youth Director. This could include leading youth camps, managing youth programs, or supervising youth volunteers. Make sure to include the organizations you worked for, the tasks you completed, and any successes while in the position.
• Demonstrate your leadership skills. A Youth Director is responsible for a group of youth, and therefore it is vital to demonstrate strong leadership skills. Showcase any initiatives you have taken in the past that demonstrate your ability to lead, motivate, and work with others.
• Showcase your education. Background or educational related to the field of youth work should be highlighted in your resume. This could include a degree in social work or a certification in youth counseling.
• Showcase your ability to communicate. Working with youth requires excellent communication skills. Make sure to showcase any experiences or certifications that demonstrate your ability to communicate effectively.
• Showcase your creativity. A Youth Director must be able to come up with creative ideas and solutions. List any creative activities or initiatives you have been involved in that showcase your ability to think outside the box.
By following these key takeaways for a Youth Director resume, you can create a quality resume that will effectively demonstrate your qualifications, experience, and achievements.
Let us help you build
your Resume!
Make your resume more organized and attractive with our Resume Builder