Saleswomen are invaluable members of any organization, as they bring a unique perspective to their role. Writing an effective saleswoman resume can help them stand out from the competition and get the job they want. This guide provides best practices for writing a saleswoman resume, along with examples to help you get started. Whether you're a beginner or an experienced saleswoman, you'll find the tips and tricks here to make sure your resume stands out from the crowd.
If you didn't find what you were looking for, be sure to check out our complete library of resume examples.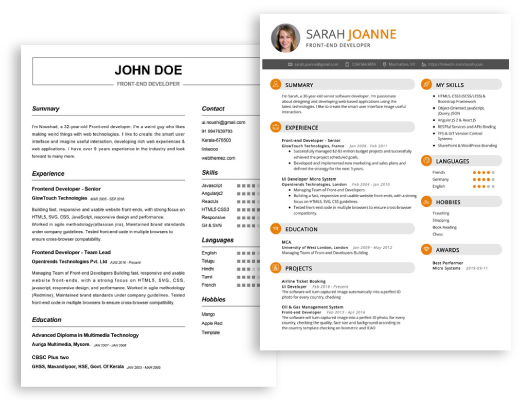 Start building your dream career today!
Create your professional resume in just 5 minutes with our easy-to-use resume builder!
Saleswoman Resume Examples
John Doe
Saleswoman
123 Main Street | Anytown, USA 99999 | Phone: (123) 456-7890 | Email: john.doe@email.com
I am an experienced saleswoman with a proven track record of success in exceeding sales goals, increasing customer satisfaction, and developing strong relationships with clients. I am passionate about creating a positive customer experience and have a keen eye for detail, ensuring that my clients' needs are met. With my extensive experience and knowledge of sales strategies and techniques, I am confident I can help your company achieve its goals.
Core Skills:
Sales Strategies & Techniques
Relationship Building
Account Management
Customer Service
Problem Solving
Negotiation
Data Analysis & Reporting
Professional Experience:
Sales Representative, ABC Corp. – 2020 to Present
Generate and qualify leads through cold calling, networking, and research
Develop relationships with prospects and existing clients
Oversee client accounts to ensure successful completion of projects
Implement sales strategies to maximize company profits
Analyze and report on sales data
Negotiate prices and terms with clients
Sales Associate, XYZ Inc. – 2017 to 2020
Promote products and services to potential customers
Provide excellent customer service
Manage accounts and develop relationships with clients
Utilize sales techniques to close deals
Maintain sales records and track performance metrics
Education:
Bachelor of Science in Business Administration, ABC University – 2017
Saleswoman Resume with No Experience
Motivated, hard- working and enthusiastic saleswoman with no prior experience but a passion for retail sales. A natural leader, with excellent interpersonal and communication skills, and a strong aptitude for success. Always looking for ways to increase and improve customer satisfaction.
Key Skills
Ability to quickly establish trust with customers and build productive relationships
Proven ability to understand customer needs and identify solutions
Experienced in multi- tasking and working under pressure
Strong written and verbal communication skills
Excellent organizational and problem- solving skills
Responsibilities
Greet and serve customers in a friendly and professional manner
Respond to customer inquiries and provide accurate information
Assist customers in selecting and purchasing products
Make product suggestions based on customer needs and interests
Process payments and complete sales transactions
Ensure merchandise is properly displayed and organized
Saleswoman Resume with 2 Years of Experience
Dynamic and results- driven saleswoman with two years of experience in direct and retail sales. A proven ability to build relationships, negotiate and close deals, and deliver excellent customer service. Seeking to leverage a successful sales track record to benefit a high- growth organization.
Core Skills:
Strong communication skills
Ability to meet sales goals
Proficient in customer relationship management (CRM) software
Self- starter attitude
Excellent negotiation and interpersonal skills
Comprehensive knowledge of sales strategies
Strong organizational skills
Responsibilities:
Respond to customer inquiries and ensure satisfaction
Develop and implement sales strategies to meet organizational objectives
Collaborate with marketing and product teams to promote new products and services
Participate in industry events to foster business growth
Research competitive products and pricing
Maintain a positive relationship with clients by providing timely and accurate information
Analyze market trends and customer feedback to devise new strategies for increasing sales
Saleswoman Resume with 5 Years of Experience
A dedicated and personable saleswoman with 5 years of experience in retail sales, specializing in customer service and product knowledge. Possesses a strong work ethic and a passion for helping customers find the perfect product. Highly organized and capable of multitasking in a fast- paced environment. Demonstrated ability to build relationships with customers and develop strategies to increase sales.
Core Skills:
Excellent interpersonal skills and ability to build relationships with customers
Effective time- management and multitasking abilities
Strong communication and negotiation skills
Proficiency in Microsoft Office Suite
Knowledge of retail sales processes and procedures
Responsibilities:
Greeted customers and assessed their needs
Provided accurate and up- to- date information on products, services and promotions
Maintained clean and organized store shelves and displays
Processed cash and credit card payments
Developed strategies to increase sales and customer loyalty
Ensured customer satisfaction and problem resolution
Assisted customers with returns and refunds
Tracked inventory levels and restocked products when needed
Saleswoman Resume with 7 Years of Experience
I am an experienced saleswoman with 7 years of experience in the retail industry. My skill set includes excellent communication and customer service skills, in- depth knowledge of sales strategies and tactics, and a proven ability to understand customer needs and navigate complex sales cycles. I am confident in my ability to build relationships with new and existing customers, and I am highly motivated to drive store sales and exceed customer expectations.
Core Skills:
Extensive knowledge of the retail industry
Strong interpersonal and communication skills
Ability to understand customer needs and build relationships
Proficiency in sales strategies and tactics
Excellent customer service skills
Ability to quickly learn new products and services
Responsibilities:
Developing and implementing sales plans to drive store sales
Building relationships with customers to ensure repeat business
Providing excellent customer service to ensure customer satisfaction
Analyzing customer trends and needs to determine appropriate sales techniques
Researching and staying up- to- date on new products and services
Developing and maintaining a customer database
Creating sales reports and presenting to management
Saleswoman Resume with 10 Years of Experience
Highly experienced and dedicated saleswoman with 10 years of experience in sales and customer service. A natural relationship builder and communicator, skilled in providing superior service to customers and partners. Proven success in developing strategic business plans, managing budgets, and finding creative solutions to difficult problems. A proven leader and mentor, with an innate ability to motivate and inspire others.
Core Skills:
Excellent customer service skills
Strong problem- solving and analytical skills
Excellent communication and interpersonal skills
Proficient in Microsoft Office Suite
Experienced in creating and developing strategic plans
Ability to analyze data and draw insightful conclusions
Strong ability to multitask and manage multiple projects simultaneously
Accurate and detail- oriented
Responsibilities:
Develop and implement sales strategies to meet and exceed sales targets
Develop and maintain relationships with customers and business partners
Lead and mentor sales teams, providing guidance and training
Develop and manage budgets within set parameters
Prepare reports to accurately track sales performance and results
Provide customer service support and address customer inquiries
Identify new opportunities and areas of improvement
Manage data entry and inventory tracking systems
Remain informed of industry trends and developments to ensure competitive edge
Saleswoman Resume with 15 Years of Experience
A highly motivated and results- driven saleswoman with 15 years of experience in sales, customer service and marketing. I have an in- depth knowledge in different areas of sales such as product promotion, customer relations management, and inventory control. I am passionate about helping customers find the best products and services that meet their needs. I strive to exceed sales goals and build long- term relationships with customers.
Core Skills:
Proven track record in meeting and exceeding sales goals
Expertise in customer- relations management
Excellent communication and interpersonal skills
Ability to work independently or as part of a team
Knowledge of sales trends and market analysis
Proficient in Microsoft Office Suite and other relevant software
Responsibilities:
Generating sales leads, developing and maintaining client relationships
Creating sales strategies and ensuring they are implemented
Analyzing sales data and identifying areas of improvement
Negotiating with customers and providing solutions to their queries
Managing inventory control and keeping accurate records of sales
Conducting market research and keeping abreast of industry trends
In addition to this, be sure to check out our resume templates, resume formats, cover letter examples, job description, and career advice pages for more helpful tips and advice.
What should be included in a Saleswoman resume?
A resume for a Saleswoman should include all relevant information about the applicant's sales experience, qualifications, and relevant job skills. Here are the key components that should be included in a Saleswoman resume:
Professional Summary: A brief, but concise summary of your sales career and skills.
Education: Any formal education related to sales or marketing, such as a Bachelor's degree in Business Administration or Marketing.
Experience: A list of your relevant sales experience and job history, including current and previous positions held. If you've held any managerial positions, list those as well.
Special Skills: Any specialized skills that you possess, such as knowledge of a particular software program or the ability to develop sales strategies.
Achievements: A list of any awards or recognitions you've received in the sales field.
Additional Skills: Any additional skills that are related to sales, such as customer service, communication, problem-solving, and negotiation.
Professional References: A list of references that can attest to your sales skills and experience.
What is a good summary for a Saleswoman resume?
A good summary for a Saleswoman resume should focus on the candidate's ability to drive sales, generate leads, and build relationships with customers. It should also highlight her experience in developing sales strategies, managing customer relationships, and analyzing market trends. The summary should emphasize the candidate's knowledge of the industry, her ability to exceed sales goals, and her excellent communication skills. By emphasizing these qualities, the summary will help potential employers quickly understand the candidate's strengths and experience.
What is a good objective for a Saleswoman resume?
A saleswoman's resume should be tailored to the job she is applying for, with an objective that sets her apart from other applicants. The objective should highlight her experience, qualifications, and skills that make her the best fit for the position. Here are some good objectives for a saleswoman's resume:
Experienced saleswoman with a proven track record of driving sales and meeting targets.
Seeking a sales position where I can utilize my knowledge of sales tactics, customer service, and communication skills to drive customer satisfaction and sales success.
Self-motivated saleswoman with the drive to exceed expectations and push sales goals.
Looking to secure a challenging and rewarding sales position that encourages personal and professional growth.
Goal-driven salesperson seeking to join a team where I can use my ability to build relationships and utilize my sales expertise to deliver maximum results.
Skilled saleswoman eager to join an organization that values hard work and dedication to achieving sales objectives.
How do you list Saleswoman skills on a resume?
Saleswomen are responsible for selling a variety of products and services. They must possess a wide range of skills to be successful in this role. When writing a resume for a saleswoman position, it is important to include all relevant skills and experience. Here are some skills you can list on your saleswoman resume:
Product Knowledge: Saleswomen should be knowledgeable about the products and services they are selling, as well as their various features and benefits.
Customer Service: Being able to communicate effectively with customers and build relationships is key to any successful sales role.
Negotiation: Being able to effectively negotiate prices and terms with customers is an important skill for any saleswoman.
Problem Solving: Saleswomen should be able to think on their feet and come up with solutions to any customer issues that arise.
Time Management: Being able to manage their time and prioritize tasks is essential for saleswomen to be successful in their roles.
Communication: Being able to articulate ideas clearly and efficiently is essential in any sales role.
Relationship Building: Developing relationships with customers and building trust is a key part of any salesperson's job.
Persuasion: Being able to effectively persuade customers and close sales is an important skill for saleswomen.
These are just some of the skills you can list on a saleswoman resume. It is important to highlight any relevant experience or training you have received in order to show potential employers that you have what it takes to be successful in this role.
What skills should I put on my resume for Saleswoman?
When applying for a Saleswoman job, you should use your resume to demonstrate that you have the skills and abilities to succeed in the role. Here are some of the key skills you should include on your resume:
Sales Techniques: Saleswomen need to have a strong understanding of sales techniques and strategies. Showcase your ability to close sales, develop relationships with customers, and create innovative strategies to meet sales goals.
Product Knowledge: Employers want to know that you have a thorough knowledge of their products. Demonstrate your knowledge with examples of how you've successfully sold their products.
Customer Service: Being a successful Saleswoman requires the ability to provide excellent customer service. Showcase your ability to build relationships with customers, address their concerns, and provide solutions.
Communication: As a Saleswoman, you will need to have excellent communication skills. Showcase your ability to present products and services to customers, negotiate deals, and explain complex concepts in a way that customers can understand.
Time Management: Demonstrate your ability to successfully manage your time, prioritize tasks, and meet deadlines.
Technology: Many Saleswomen use technology to help manage customer relationships, track sales activity, and manage accounts. Showcase your experience with relevant software and systems.
By including these skills on your resume, you can show employers that you have the skills to be a successful Saleswoman.
Key takeaways for an Saleswoman resume
When writing a resume as a salesperson, the key takeaway is to ensure that the resume showcases your particular set of skills and experiences that are relevant to the position. Your resume should differentiate you from other candidates by highlighting your unique selling points and accomplishments.
It's vital to have a strong professional summary that quickly and clearly explains who you are and what you have to offer. This section should include three to five sentences of your professional goals, experience, and accomplishments.
You also want to focus on the core competencies that employers look for in sales positions. These include your sales skills, customer service skills, communication skills, and problem-solving skills. Be sure to include specific examples of how you have used each of these skills within your current or previous experience.
You will also want to showcase your sales results, such as the amount of revenue that you have generated or the number of deals that you have closed. Any awards or recognition should also be listed in your resume.
Finally, make sure that your resume is up to date and free of any errors. You want to make an impressive first impression with your resume, so take the time to proofread it thoroughly.
By following these key takeaways for crafting a resume as a salesperson, you can be sure that you have included all the necessary information to make a great impression and get the job you're after.
Let us help you build
your Resume!
Make your resume more organized and attractive with our Resume Builder