Are you looking for ways to improve your resume and make it stand out among other applicants? Writing a resume as a salesperson can be a daunting task and although you have a lot of experience, you may not know the best way to showcase it. This guide will provide tips on how to craft a resume that will land you the job. Additionally, there are several resume examples to help you get started. With these tips and resume examples, you will be able to create a resume that effectively highlights your skills and experience and make it stand out from other applicants.
If you didn't find what you were looking for, be sure to check out our complete library of resume examples.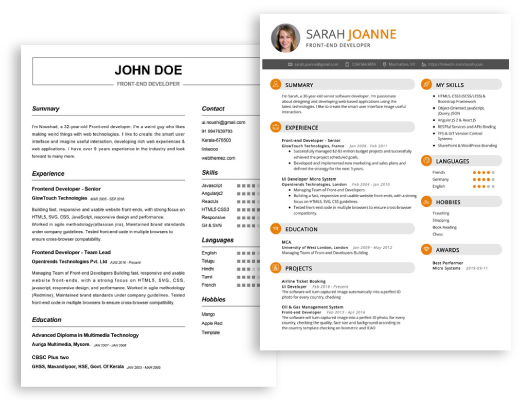 Start building your dream career today!
Create your professional resume in just 5 minutes with our easy-to-use resume builder!
Salesman Resume Examples
John Doe
Salesman
123 Main Street | Anytown, USA 99999 | Phone: (123) 456-7890 | Email: john.doe@email.com
I am an experienced and motivated Salesman with a track record of success in the retail industry. I have excellent communication skills and the ability to build lasting relationships with customers. I am highly organized and adept at problem- solving and prioritizing tasks. I possess strong knowledge of the products I am selling, as well as product trends, and am comfortable with all areas of the sales process from lead generation to deal closure.
Core Skills:
Strong interpersonal and communication skills
Superb negotiation skills
Knowledge of product trends
Ability to build relationships with customers
Organizational and problem- solving skills
Results- driven approach
Professional Experience:
Retail Sales Associate, ABC Store
Assisted customers in selecting merchandise
Provided customers with product information
Maintained a high level of customer satisfaction
Managed store operations and inventory
Analyzed sales figures and market trends
Closed sales deals and generated leads
Education:
B.A. in Business Administration, XYZ University
Salesman Resume with No Experience
Results- driven and organized Salesman with an eye for detail and passion for sales.
Highly motivated to exceed goals and build relationships with customers.
Developed strong communication and organizational skills from previous roles in customer service.
Skills
Excellent customer service and communication skills
Ability to understand customer needs
Excellent interpersonal skills
Strong organizational and multitasking abilities
Ability to stay calm and professional under pressure
Computer proficiency in Windows, MS Word, Excel, and PowerPoint
Responsibilities
Greet customers warmly and ascertain what each customer wants or needs
Provide customers with product information, features, and benefits
Suggest specific items that meet customer's needs and requirements
Explain the differences between different product options
Describe product warranties and services available
Respond to customer questions in a timely and professional manner
Develop and maintain lasting customer relationships
Identify new customer prospects and contact them to generate leads
Maintain the visual presentation of the sales floor
Protect the store's inventory by monitoring shoplifters and faulty merchandise
Salesman Resume with 2 Years of Experience
I am an experienced sales professional with over two years of experience in the retail industry. I specialize in developing relationships with potential customers and efficiently closing sales. I am highly organized and excel in handling multiple tasks at once. My interpersonal and customer service skills are exceptional and I am able to work independently or in a team setting. I am also able to think analytically, problem- solve, and adjust to changing situations quickly.
Core Skills:
Outstanding customer service
Skilled in sales presentations and negotiations
Highly driven and motivated
Excellent communication and interpersonal skills
Proven ability to develop relationships with customers
Analytical problem solving
Responsibilities:
Developing relationships with new prospects and customers
Meeting and exceeding sales goals
Maintaining updated records of customers
Identifying and analyzing customer needs
Generating sales reports and product reviews
Demonstrating product knowledge to customers
Providing efficient customer service
Negotiating and closing deals
Participating in trade shows and promotional events
Salesman Resume with 5 Years of Experience
Dynamic and results- driven Salesman with 5 years of experience in sales and customer service. Proven track record of exceeding organizational goals, expanding customer base, and providing excellent customer service. Experienced in developing strong relationships with customers, analyzing the marketplace, and creating innovative strategies for successful sales campaigns. Exceptionally organized, highly motivated, and an adept communicator.
Core Skills
Sales and Customer Service
Negotiation
Account Management
Product Knowledge
Market Analysis
Business Development
Organizational Skills
Cross- Functional Teamwork
Strategic Planning
Problem- Solving
Leadership
Responsibilities
Greeted customers upon entering the store and directed them to appropriate aisles.
Maintained knowledge of current sales and promotions, policies regarding payment and exchanges, and security practices.
Assisted customers in selecting merchandise based on individual requirements and preferences.
Demonstrated merchandise and thoroughly explained features, benefits, and warranties.
Developed and maintained relationships with customers to encourage repeat business.
Processed payments by totaling purchases, processing checks, cash, and store or other credit cards.
Ensured that all sales transactions are completed accurately and in a timely manner.
Provided customer feedback to the appropriate internal teams.
Maintained accurate inventory records and re- stocked merchandise displays as needed.
Ensured that the store is clean and well- organized.
Adhered to store safety standards and regulations.
Salesman Resume with 7 Years of Experience
A highly effective and motivated Salesman with seven years of experience in sales, customer service, and business development. Possess excellent interpersonal skills and the ability to work with customers from a wide range of backgrounds and cultures. Proven track record of success in developing and maintaining relationships with clients, generating new business opportunities and achieving sales growth. Possesses a thorough understanding of the sales process from initial contact to close and has a positive and encouraging attitude.
Core Skills:
Client Relationship Management
Strong Verbal Communication
Sales Negotiation
Product Knowledge
Customer Service
Data Analysis
Teamwork
Responsibilities:
Maintaining client/customer relations
Fostering sales growth and providing solutions to customer needs
Generating leads and new business opportunities through networking and leveraging existing customer relationships
Assisting in the development and implementation of sales strategies
Providing product training, sales materials and customer service
Analyzing data to identify new opportunities, evaluate trends and adjust sales strategies accordingly
Developing and managing the sales team to ensure targets are achieved
Maintaining current industry knowledge and staying up- to- date with product changes and enhancements
Salesman Resume with 10 Years of Experience
Dynamic and results- driven Salesman with 10 years of success in achieving sales goals and improving customer service. Skilled in developing customer relationships, negotiating contracts and closing sales. Excellent communication and problem- solving skills. Proven track record of exceeding targets and providing superior customer service.
Core Skills:
Sales and marketing
Leadership and management
Customer service and relations
Communication and negotiation
Project management
Problem- solving
Organizational and time management
Responsibilities:
Establishing sales and customer service goals, and developing plans to achieve them
Analyzing sales statistics and developing strategies to optimize sales
Identifying potential customers and cultivating relationships
Negotiating contracts and closing sales
Developing promotional materials to increase sales
Responding to customer inquiries and resolving customer complaints
Developing and implementing customer service initiatives
Training and managing sales staff
Salesman Resume with 15 Years of Experience
A highly experienced and motivated Salesman with fifteen years of experience in the field of sales. Proven ability to exceed sales quotas, develop lasting customer relationships and possess a deep knowledge of products and services. Possess excellent communication and interpersonal skills, strong organizational and time management skills, and the ability to work in a fast- paced, customer- focused environment.
Core Skills:
Exceptional sales and customer service experience
Strong negotiation, persuasion and problem solving skills
Proven ability to exceed sales targets
Excellent verbal and written communication skills
Skilled in developing and maintaining customer relationships
Ability to work independently and as part of a team
Proficient in Microsoft Office Suite and other relevant software
Responsibilities:
Maintaining an up- to- date knowledge of products and services
Developing and implementing sales strategies to meet organizational objectives
Analyzing sales trends and providing reports to management
Preparing and presenting sales presentations to potential and existing customers
Following up on leads and inquiries in a timely manner
Developing and maintaining relationships with existing customers
Developing and maintaining relationships with potential customers
Monitoring competitor activity and providing feedback to management
Processing orders and ensuring customer satisfaction
In addition to this, be sure to check out our resume templates, resume formats, cover letter examples, job description, and career advice pages for more helpful tips and advice.
What should be included in a Salesman resume?
A Salesman resume should include information that will help employers understand the skills and experience level of the applicant. This includes the following:
Contact information: Include name, address, phone number, and email address.
Professional summary: A brief statement that summarizes your qualifications and highlights your key selling points.
Education: Provide details of any relevant education, such as degree, certifications, and other qualifications.
Professional experience: List your employment history and provide detailed descriptions of the sales positions you have held.
Skills: Highlight the sales-related skills that make you an asset, such as customer service, communication, negotiation, and problem solving.
Achievements: Provide examples of any awards or recognition you have earned for your sales successes.
Hobbies and interests: Include any activities or interests that demonstrate your commitment to personal growth and development.
By including these key elements in your Salesman resume, you will be able to showcase your skills and experience in a way that will make a great impression on potential employers.
What is a good summary for a Salesman resume?
A good summary for a Salesman resume should provide an overview of the candidate's top qualifications that relate to the job. It should highlight their experience in sales, customer service, and business development as well as their ability to achieve sales goals. It should also include any awards, certifications, or other accomplishments. The summary should be specific and concise, and should leave the reader with a positive impression of the applicant. A good summary for a Salesman resume should showcase the applicant's strengths and demonstrate their suitability for the role.
What is a good objective for a Salesman resume?
A Salesman's resume should include a concise and clear objective that communicates their career goals and achieves the purpose of the resume. A good objective for a Salesman resume should focus on the value they can bring to the organization by highlighting their sales experience and skills. The following are examples of suitable objectives for a Salesman resume:
To obtain a sales position that will utilize my knowledge of customer relations, marketing strategies, and product knowledge.
To leverage my sales experience to increase revenue and develop new customer relationships.
To secure a position as a Salesman where I can use my communication, organizational, and customer service skills.
To obtain a challenging and stimulating sales role that will harness my ability to identify and convert opportunities to drive sales.
To bring my years of sales experience to an organization and exceed goals by developing innovative sales strategies.
A well-crafted objective for a Salesman resume will help attract the attention of potential employers and increase the chances of being called for an interview.
How do you list Salesman skills on a resume?
When it comes to listing salesman skills on a resume, it is important to showcase your abilities and abilities to the employer. This can be done through emphasizing your customer service, communication, negotiation and problem-solving skills. Here are some things to consider when listing your salesman skills on a resume:
Customer Service: Showcase your ability to provide excellent customer service and build customer relationships. Demonstrate your success in customer satisfaction, upselling and cross-selling.
Communication: Highlight your strong communication skills, both verbal and written. Showcase your ability to clearly communicate with customers and other stakeholders.
Negotiation: Demonstrate your negotiating skills, as this is a key element of successful salesmanship. Showcase your ability to present products and services, as well as your knowledge of industry trends and customer needs.
Problem-Solving: Showcase your problem-solving abilities, particularly in relation to customer needs and issues. Demonstrate your ability to identify customer problems and come up with creative solutions.
By highlighting these key abilities, you can demonstrate why you are a great fit for the sales role. Include examples of successful sales initiatives to demonstrate your successes and emphasize your strengths.
What skills should I put on my resume for Salesman?
Having the right skills on your resume is essential for any job, and particularly crucial for the sales profession. To be a successful salesman, you need to have a range of qualities that demonstrate your ability to interact with people, bring in customers, and close deals. The following list of skills is essential for any sales resume, and should be emphasized when crafting your own.
Communication: The ability to communicate effectively is key to success in sales. You must be able to listen to customers, ask questions, and explain the features of your product or service in a way that is tailored to the customer's needs.
Negotiation: Negotiating is a key part of the sales process, and you must be able to identify win-win solutions that satisfy both the customer and the company.
Persuasion: A successful salesman must be able to persuade potential customers to buy their product or service. This requires an understanding of customer needs and the ability to demonstrate why your solution is the best one for them.
Organizational Skills: Sales requires being able to manage multiple tasks and deadlines at once. You must be organized and able to prioritize your work in order to be successful in this role.
Customer Service: A successful salesman must be able to provide excellent customer service before, during, and after the sale. This requires being able to address customer complaints and questions in a timely manner.
By demonstrating these skills on your resume, you will show employers that you have the qualities necessary to be an effective salesperson. With the right qualifications and experience, you will be well on your way to a successful career in sales.
Key takeaways for an Salesman resume
Writing a resume as a salesperson is an essential part of the job search. Your resume is your first impression, so it's important to make sure you make a good one. Here are some key takeaways to consider when writing a salesperson resume:
Focus on the Highlights – Make sure to include the most notable achievements from your career on your resume in order to stand out. Highlight any successes and awards you've earned and make sure to include information that will show employers that you've had success in sales.
Emphasize Your Communication Skills – As a salesperson, communication skills are paramount. Make sure to include any public speaking experience, presentations, or networking you've done as part of your sales career.
Showcase Your Knowledge of Sales – Demonstrate your knowledge of the sales process and how you've used it to generate results. Your resume should include any strategies or techniques you've used to generate sales, such as cold calling, prospecting, and negotiation.
Include Customer Service Experience – Customer service is an integral part of any sales position. Make sure to include any customer service experience you have, including any client feedback or reviews you've received.
Showcase Your Knowledge of Technology – In today's digital world, salespeople must have a strong knowledge of technology. Demonstrate your knowledge of software and platforms you're familiar with and any specialized skills you have to help you close more sales.
These key takeaways should be kept in mind when writing a salesperson resume. Your resume should reflect your success as a salesperson and demonstrate your knowledge of the sales process. By emphasizing the highlights of your career, showcasing your communication skills, and showing off your knowledge of technology, you can make sure your resume stands out.
Let us help you build
your Resume!
Make your resume more organized and attractive with our Resume Builder