As a salesperson, having an effective, professional resume can be the difference between success and failure when looking for a new job. Your resume provides potential employers with a glimpse of your qualifications and can be the deciding factor in getting an interview, so it is important to make sure you have a well-written, up-to-date resume that is tailored to the job you are applying for. This guide will provide you with tips on how to create a sales trainer resume that will stand out from the crowd and help you get that job you've been dreaming of. We will also provide you with examples of sales trainer resumes that you can use as a template for crafting your own.
If you didn't find what you were looking for, be sure to check out our complete library of resume examples.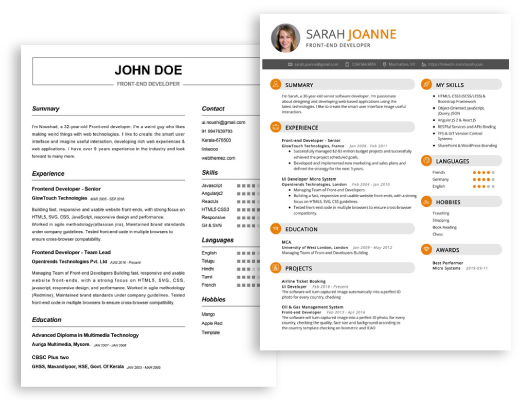 Start building your dream career today!
Create your professional resume in just 5 minutes with our easy-to-use resume builder!
Sales Trainer Resume Examples
John Doe
Sales Trainer
123 Main Street | Anytown, USA 99999 | Phone: (123) 456-7890 | Email: john.doe@email.com
A highly motivated and results- driven sales trainer with over 10 years of experience in sales training and support. Demonstrated track record of effectively developing and delivering sales training programs to enhance sales team productivity. Proven ability to build relationships with clients, create successful sales strategies and identify areas of improvement in sales processes. Successfully managed operations and developed training materials for global markets.
Core Skills:
Sales Training
Sales Strategies
Project Management
Sales Processes
Team Building
Facilitation
Relationship Building
Management
Training Materials Development
Professional Experience:
Senior Sales Trainer, ABC Company, New York, NY | 20XX – Present
Develop innovative sales training programs to enhance the performance of sales teams
Develop and implement comprehensive training materials for global markets
Facilitate sales training sessions and provide feedback to team members
Monitor and assess sales team performance using metrics
Develop and manage sales team budget
Identify areas of improvement in sales process and develop solutions
Work with senior management to develop and implement sales strategies
Sales Trainer, XYZ Corporation, Los Angeles, CA | 20XX – 20XX
Facilitated on- site and remote sales training programs to increase team productivity
Developed and implemented comprehensive training materials
Monitored and assessed sales team performance using metrics
Identified areas of improvement in sales process and developed solutions
Worked with senior management to develop and implement sales strategies
Education:
Bachelor of Science in Business, University of California, Los Angeles, CA | 20XX
Sales Trainer Resume with No Experience
Enthusiastic, motivated and driven Sales Trainer with no formal experience looking for a role in which to develop skills in sales training and client relations. Possesses an innovative mindset, a desire to learn and a commitment to exceptional customer service.
Skills:
Excellent communication and organizational skills
Strong interpersonal and problem- solving skills
Ability to work in a fast- paced environment
Proficient in Microsoft Office Suite
Knowledge of sales and customer service strategies
Responsibilities:
Assisting sales staff to develop and maintain successful relationships with clients
Providing feedback and guidance on sales techniques and strategies
Conducting training sessions and workshops to educate sales staff on product knowledge and sales processes
Developing and implementing sales strategies to increase customer satisfaction and revenue
Creating and managing sales plans and targets
Assessing sales performance and providing feedback to the team
Listening to customer feedback and responding accordingly
Identifying areas for improvement in sales processes and customer service
Sales Trainer Resume with 2 Years of Experience
Results- oriented Sales Trainer with two years of extensive experience in the sales industry. Proven track record of developing successful sales teams and increasing sales performance. Adept at identifying and developing sales strategies and tactics to assist in growing sales and customer satisfaction. Possesses excellent communication, organizational, and problem- solving skills, as well as the ability to quickly build relationships with customers and colleagues.
Core Skills:
Developing and delivering sales training programs
Monitoring sales and customer service performance
Identifying sales strategies and tactics
Developing sales goals and objectives
Maintaining comprehensive sales records
Developing and implementing customer service initiatives
Providing customer service support
Responsibilities:
Developed, implemented, and evaluated sales training initiatives.
Provided individual coaching and sales support to team members.
Monitored and evaluated sales performance and customer service standards.
Identified sales strategies and tactics to improve sales performance.
Developed and implemented customer service initiatives.
Provided customer service support and assistance to customers.
Maintained comprehensive sales records and performance tracking.
Analyzed customer feedback to identify areas of improvement.
Sales Trainer Resume with 5 Years of Experience
Dynamic and results- oriented Sales Trainer with 5 years of experience in the sales and training industry. Highly experienced in developing and delivering training programs to sales teams, as well as in building and maintaining relationships with clients and customers. Skilled in adapting training material to meet the needs of participants and in analyzing customer feedback to improve training processes. Focused on helping organizations achieve their sales goals and build professional sales teams.
Core Skills:
Training Program Development
Customer Relations
Sales Strategies
Client Relationship Building
Training Material Adaptation
Motivational Training
Performance Evaluation
Responsibilities:
Developed and delivered comprehensive training courses to sales teams
Collected and analyzed customer feedback to improve training processes
Adapted training material to the needs of participants
Set and monitored sales goals to ensure they were met
Established and maintained relationships with clients
Assisted sales teams in developing strategies to increase sales
Evaluated the performance of sales teams and provided feedback
Facilitated motivational training sessions for sales teams.
Sales Trainer Resume with 7 Years of Experience
With seven years of experience in the sales training field, I have developed a passion for helping others become successful in their sales and interpersonal communication goals. I am adept at designing and implementing training programs that are tailored to the needs of each organization. My main strengths are in developing customized sales strategies and presentations, managing training sessions, and conducting post- training evaluations. I have a proven ability to build rapport with peers and students, and to motivate and encourage strong performance. Through my dedicated work, I have helped numerous sales teams improve their performance.
Core Skills:
Sales Strategies and Presentations
Training Program Design
Performance Evaluation and Management
Interpersonal Communication
Training Delivery and Motivation
Coaching and Mentoring
Relationship Building
Responsibilities:
Developed customized training sessions and presentations for sales teams
Evaluated current sales techniques and designed strategies to improve performance
Managed and implemented training sessions
Conducted post- training evaluations and reported on the effectiveness of the training
Coached and mentored individual employees to improve their sales skills
Built strong relationships with students to foster a positive learning environment
Motivated and encouraged sales teams to reach their goals
Sales Trainer Resume with 10 Years of Experience
With over 10 years of experience in sales training and management, I have a strong understanding of how to best coach and motivate sales teams. I have a track record of delivering exceptional results and have a proven ability to develop and implement successful sales strategies. My core skills include sales process improvement, customer service optimization, and superior communication, as well as a deep understanding of the sales cycle. I am confident that I can help any organization achieve its sales goals.
Core Skills:
Sales Process Improvement
Customer Service Optimization
Communication
Sales Cycle Knowledge
Sales Strategy Development
Responsibilities:
Developing sales training programs, processes, and materials
Delivering training sessions and ensuring team understands material
Monitoring effectiveness of sales training sessions and making adjustments as needed
Analyzing customer feedback and making changes to enhance customer experience
Working closely with management to develop and implement sales strategies
Assisting with recruitment and onboarding of new sales team members
Maintaining records of sales metrics and providing reports to management
Building relationships with customers and providing excellent customer service
Analyzing sales performance and making recommendations to optimize sales process
Sales Trainer Resume with 15 Years of Experience
Seasoned Sales Trainer with 15 years of extensive experience in training, sales coaching and development, and customer service excellence. Proven track record of increasing productivity, efficiency, and sales revenues. Adept at identifying areas for improvement, developing and implementing effective learning solutions, and managing implementation to ensure successful outcomes. Exceptionally skilled in communication and presentation, with an ability to build relationships, increase customer satisfaction, and foster collaboration.
Core Skills:
Sales and customer service training
Instructional design and curriculum development
Performance management
Motivational and individualized coaching
Knowledge transfer
Training program development
Strategic planning
Project management
Leadership
Responsibilities:
Develop and implement customer service and sales training programs to enhance customer satisfaction, employee engagement, and productivity
Develop and conduct training sessions to provide sales reps with product knowledge, sales techniques, and customer service skills
Analyze and evaluate the effectiveness of training, making adjustments as necessary to ensure optimal outcomes
Facilitate on- the- job learning experiences, provide feedback and support, and identify areas for improvement
Develop and maintain company- wide training materials and guides
Advise and mentor team members on customer service, sales, and product knowledge
Monitor and analyze customer service data, trends, and calls to identify training requirements and areas for improvement
Ensure compliance with applicable laws and regulations related to training and customer service.
In addition to this, be sure to check out our resume templates, resume formats, cover letter examples, job description, and career advice pages for more helpful tips and advice.
What should be included in a Sales Trainer resume?
A sales trainer resume should include a summary of the candidate's qualifications, experience, and background in sales. It should showcase the candidate's accomplishments and skills that make them the ideal sales trainer for a specific job. Here are some key elements to include in a sales trainer resume:
Professional summary that outlines the candidate's experience in sales and training
Experience in related fields such as customer service, sales management, and sales operations
Knowledge of sales process and sales strategies
Ability to develop and deliver effective presentations
Hands-on experience with sales software and applications
Effective communication and interpersonal skills
A track record of driving results and improving sales performance
Familiarity with the sales industry
Certification in sales and training
Education, certifications, and other qualifications relevant to the position
Previous training and development experience
Success stories and accomplishments in sales training
References from previous employers and clients
What is a good summary for a Sales Trainer resume?
A Sales Trainer resume should highlight an individual's experience and qualifications in order to show potential employers their ability to teach, motivate, and develop sales teams. A strong summary should include past job roles and achievements, and demonstrate the individual's knowledge of sales training best practices. Additionally, the summary should communicate the individual's knowledge of methods for improving sales performance, their understanding of customer needs and wants, and their ability to work with diverse personalities. The right summary will also include any relevant certifications and qualifications, as well as personal characteristics that make the individual a strong sales trainer. Overall, a good summary should demonstrate the individual's commitment to helping sales teams reach their goals and achieve success.
What is a good objective for a Sales Trainer resume?
A Sales Trainer resume objective is an important part of a resume as it gives potential employers an idea of the individual's experience in the field and what he or she can bring to the table. A good objective should be tailored to the specific job for which the individual is applying. Here are some ideas for what a good objective for a Sales Trainer resume might look like:
Experienced Sales Trainer with 8+ years of experience in direct sales, working with both inbound and outbound sales teams.
Proven track record of training sales personnel and increasing sales and customer satisfaction.
Highly motivated and enthusiastic with excellent communication and organizational skills.
Knowledgeable in both traditional and modern sales techniques and processes, such as call center operations, customer service, and online marketing.
Demonstrated abilities in training and mentoring team members to reach their full potential.
Passionate about helping sales personnel develop their skills and grow professionally.
How do you list Sales Trainer skills on a resume?
Sales Trainers are responsible for developing and delivering sales training programs to ensure sales staff have the necessary skills and knowledge to reach their goals. A successful Sales Trainer resume should demonstrate excellent communication, coaching and people management skills. The following are some skills employers may look for when evaluating Sales Trainer resumes:
Knowledge of sales processes and techniques: Sales Trainers should have a comprehensive understanding of sales best practices, including sales cycles, customer segmentation, and product positioning.
Time and project management experience: Sales Trainers should have a proven track record of effectively managing multiple projects at once and ensuring training materials are delivered on time.
Presentation, facilitation, and instructional design skills: Sales Trainers should understand how to create and deliver engaging, interactive presentations and activities that keep trainees engaged and motivated.
Knowledge of adult learning principles: Sales Trainers should be familiar with adult learning principles, such as understanding different learning styles and providing feedback.
Ability to diagnose training needs: Sales Trainers should be able to identify areas of improvement and develop training programs to meet those needs.
Proficiency in digital tools: Sales Trainers should be comfortable using technology to create and deliver training programs, such as webinars, e-learning, and virtual classrooms.
What skills should I put on my resume for Sales Trainer?
When applying for a position as a Sales Trainer, it's important to highlight your skills in both sales and training. A good Sales Trainer should have a combination of technical and interpersonal abilities. To make sure your resume stands out, consider including the following skills:
Technical Knowledge: Proven knowledge of sales processes and strategies, including customer onboarding, marketing and sales automation, and customer retention.
Communication: Strong verbal and written communication skills, including the ability to articulate complex ideas to a variety of audiences.
Analytical Thinking: Ability to analyze data to identify trends and devise solutions to complex sales problems.
Collaboration: Demonstrated experience working with diverse teams and stakeholders to develop successful sales strategies.
Training: Ability to create and deliver engaging training programs and materials to help sales teams reach their goals.
Adaptability: Ability to quickly adapt to changing market conditions and adjust sales strategies accordingly.
Including these skills on your resume will make you stand out from other applicants and show hiring managers that you have the skills to be a successful Sales Trainer.
Key takeaways for an Sales Trainer resume
When it comes to writing an effective sales trainer resume, there are a few key takeaways that you should keep in mind. First and foremost, you need to ensure that your resume puts your skills and qualifications in the best light possible. This means crafting a resume that showcases your unique strengths, experience, and achievements.
Another key takeaway is to make sure that your resume is organized and easy to read. Don't try to cram too much information into too little space. Instead, use concise bullet points to emphasize the most important aspects of your qualifications. Highlight any certifications or awards that you have received.
It's also important to quantify your sales training accomplishments as much as possible. Include specific numbers and percentages when possible so potential employers can get a better sense of your impact in the sales training environment.
Finally, make sure to include any relevant details that show how you have gone above and beyond in your sales training career. For example, if you have developed new sales training materials or led successful training sessions, be sure to list those accomplishments in your resume.
By following these simple tips, you can create an effective sales trainer resume that will help you stand out from the competition and land the job of your dreams.
Let us help you build
your Resume!
Make your resume more organized and attractive with our Resume Builder