Writing a resume for a sales promoter job can be a daunting task, as it requires showcasing your skills, experience and achievements to create an effective document that will land you an interview. A well-written resume needs to emphasize the core competencies required for the job, as well as highlight any prior experience and successes. This guide provides practical tips and advice on how to craft an outstanding sales promoter resume, and also includes several resume samples to help you get started. With this information, you can create an effective, attention-grabbing resume that will help you stand out from the competition and land that job.
If you didn't find what you were looking for, be sure to check out our complete library of resume examples.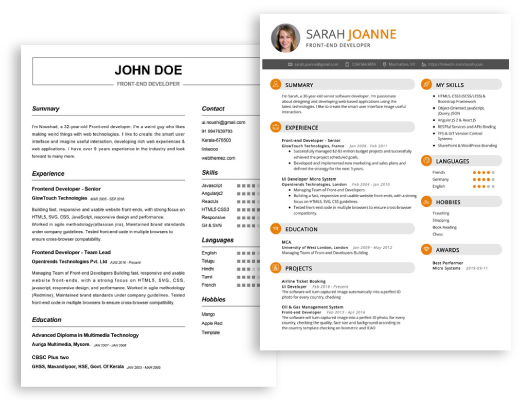 Start building your dream career today!
Create your professional resume in just 5 minutes with our easy-to-use resume builder!
Sales Promoter Resume Examples
John Doe
Sales Promoter
123 Main Street | Anytown, USA 99999 | Phone: (123) 456-7890 | Email: john.doe@email.com
I am a highly motivated and experienced Sales Promoter with 10+ years of experience in developing and executing successful sales strategies. Through successfully managing sales teams, training, and motivating staff, I have been able to increase sales, build brand loyalty, and improve overall customer satisfaction. My core skills include developing and delivering comprehensive sales plans, strong communication, problem- solving and interpersonal skills. I am confident in my ability to promote product sales and excel in a team environment.
Core Skills:
Developing and delivering comprehensive sales plans
Training and motivating sales teams
Improved customer satisfaction
Managing sales relations
Promoting product sales
Strong communication skills
Problem solving and interpersonal skills
Professional Experience:
Sales Promoter, ABC Company, 2020 – Present
Developed and implemented a comprehensive sales plan to promote new products
Trained and managed sales staff to achieve sales goals
Built relationships with customers and maintained customer loyalty
Improved customer satisfaction rates by providing excellent customer service
Sales Associate, XYZ Company, 2015 – 2020
Promoted products to customers and successfully met sales targets
Updated and tracked customer information in the company database
Handled customer inquiries and complaints
Assisted customers with selections and in- store purchases
Education:
Bachelor's Degree in Business Administration, ABC University, 2017
Associate's Degree in Marketing, XYZ College, 2015
Sales Promoter Resume with No Experience
Highly motivated individual seeking an entry- level Sales Promoter role to utilize and expand my communication and inter- personal skills. I am eager to learn and grow in the field.
Skills:
Excellent communication and interpersonal skills
Self- motivated, driven, and organized
Strong problem- solving and analytical skills
Proficient with Microsoft Office Suite
Familiar with basic retail operations
Responsibilities:
Assist customers with product inquiries and sales
Follow up with customers regarding their orders and inquiries
Work closely with the sales and marketing team to develop promotional campaigns
Update product knowledge and be familiar with all products
Monitor customer satisfaction levels and suggest improvements
Demonstrate product features to customers
Sales Promoter Resume with 2 Years of Experience
Highly motivated and experienced sales promoter with two years of experience in the sales industry. Possesses great communication and interpersonal skills to quickly learn about products and services and to deliver engaging presentations. Experienced in managing customer inquiries, handling customer complaints, and building relationships with customers. Excellent ability to organize and prioritize tasks, work independently, and work in a fast- paced environment.
Core Skills:
Experience in product demonstrations and presentations
Ability to handle customer inquiries and complaints
Great communication and interpersonal skills
Proficient in using Microsoft Office Suite
Organizational and time management skills
Knowledge of sales strategies and techniques
Responsibilities:
Demonstrated products and services to customers
Answered customer questions and addressed customer complaints
Developed relationships with potential and existing customers
Communicated with customers regarding product features and related services
Handled sales transactions and provided product information
Assisted customers in selecting the best product for their needs
Followed up with customers after sales to ensure satisfaction
Sales Promoter Resume with 5 Years of Experience
Dynamic and experienced Sales Promoter with 5 years of experience in marketing, product promotion, and customer relations. Adept in developing customer relationships, providing customer service, and generating sales leads. Experienced in creating and executing marketing strategies to drive customer engagement and brand visibility. Skilled in creating presentations, negotiating contracts, and managing budgets. Enthusiastic and outgoing team member with a proven track record of success.
Core Skills:
Marketing strategy
Product promotion
Customer service
Customer relations
Lead generation
Presentation creation
Negotiations
Budget management
Responsibilities:
Developed customer relationships, provided customer service and generated sales leads
Developed, implemented and monitored marketing strategies for product promotion
Created and executed strategies directed at increasing customer engagement and brand visibility
Developed presentations to increase visibility and customer understanding of products and services
Negotiated contracts and managed budgets to ensure effective product promotion
Assisted in training other sales promoters to ensure brand consistency and customer satisfaction
Sales Promoter Resume with 7 Years of Experience
Objective
To secure a position as a Sales Promoter in a reliable organization that will allow me to utilize my seven years of experience in the field.
Results- driven Sales Promoter with seven years of experience in sales, customer service, and marketing. Proven track record of consistently exceeding company expectations and driving sales. Skilled in creating innovative strategies, building relationships with customers, and cultivating a successful environment.
Core Skills:
Leadership
Customer Service
Strategic Marketing
Product Knowledge
Sales Management
Networking
Time Management
Responsibilities:
Developed and implemented effective sales approaches and strategies to identify and win new business opportunities
Provided excellent customer service and maintained positive relationships with customers
Conducted market research to identify emerging trends and opportunities in the marketplace
Researched and maintained current knowledge of products, services, and industry trends
Developed comprehensive sales and marketing plans
Managed merchandise displays and promotions with an eye for detail to optimize customer experience
Established and cultivated strong rapport with customers to ensure repeat business
Assisted customers with purchasing decisions and answered questions regarding product information, availability, and pricing
Sales Promoter Resume with 10 Years of Experience
An accomplished sales promoter with 10 years of experience in working with retail outlets and large- scale customers. Possess a deep understanding of the sales process, excellent communication and interpersonal skills, and an aptitude for building strong customer relationships. Proficient in identifying customer needs and offering tailored solutions to meet their requirements. Skilled in multitasking and managing multiple tasks effectively.
Core Skills:
Client relations
Sales process
Product promotion
Closing deals
Market research
Negotiation
Networking
Problem- solving
Responsibilities:
Generate sales leads and identify potential customers
Reach out to potential customers and explain the features/benefits of products/services
Develop relationships with customers to understand their needs and propose a suitable solution
Provide technical consultations to customers and resolve their queries
Provide product demonstrations to prospective customers and close deals
Analyze customer feedback and suggest improvements to the product/service
Track customer orders and ensure timely product delivery
Monitor customer accounts and ensure timely payment of dues
Assist in creating promotional campaigns and sales strategies to maximize sales
Sales Promoter Resume with 15 Years of Experience
A highly experienced and motivated sales promoter with 15 years of success in customer service and sales. Skilled in communicative and negotiable techniques to reach a consensus between customer and company. Efficiently manage inventory management and the implementation of new sales strategies. Possess a degree in Business Administration and specialized skills in leveraging customer relationships and closing deals.
Core Skills:
Customer Service
Sales Strategy
Negotiation
Inventory Management
Conflict Resolution
Responsibilities:
Conducted market research to identify customer needs and developed tailored sales strategies
Improved customer relationships by providing superior customer service
Created and established positive relationships with customers to promote sales
Managed inventory accurately and ensured timely delivery of merchandise
Developed and implemented promotional activities to attract new customers
Identified sales opportunities and developed plans to increase sales volume
Resolved customer disputes and provided timely feedback to customers
Conducted regular training sessions to enhance knowledge of sales and customer service staff
In addition to this, be sure to check out our resume templates, resume formats, cover letter examples, job description, and career advice pages for more helpful tips and advice.
What should be included in a Sales Promoter resume?
Having a strong resume is fundamental to landing a job as a Sales Promoter. Your resume should include key information that demonstrates your knowledge of sales, marketing, and customer service. Here are some of the key points to include in a Sales Promoter resume:
Professional Summary: A brief summary of your professional experience, highlighting key skills and accomplishments.
Education: List all educational experiences and any certifications or degrees you have earned.
Sales Experience: Include all your relevant sales experience, such as sales positions, cold-calling, lead generation, etc.
Marketing Experience: Include any marketing experience you have, such as managing campaigns, advertising, SEO, etc.
Customer Service: Include any customer service experience you have, such as problem resolution, customer complaints, etc.
Computer Skills: List any computer skills you have, such as Microsoft Office, Adobe Creative Suite, etc.
Soft Skills: Include any interpersonal skills you have, such as communication, teamwork, public speaking, etc.
Languages: Include any languages you are proficient in, such as Spanish, French, Japanese, etc.
By following these guidelines and including the key points above, you can create a strong resume that will help you stand out from the competition. With the right resume, you will have a great chance of getting hired as a Sales Promoter.
What is a good summary for a Sales Promoter resume?
A sales promoter resume summary should showcase key skills and experiences that relate to sales, promotion and customer service. It should also include a brief overview of the applicant's qualifications, such as any relevant degrees, certifications or licenses held. A good summary should mention successes that are relevant to the position for which the applicant is applying. It should also be written in such a way that it grabs the attention of the hiring manager.
For example, if the applicant is applying for a job as a sales promoter in a retail store, they may begin by stating how their ability to actively engage with customers, upsell products and cultivate strong customer relationships has resulted in an increase in sales. Then they can provide details about their degree in marketing and their customer service certification.
Ultimately, a good sales promoter resume summary should emphasize the applicant's unique skills and experiences. It should also reflect their enthusiasm and knowledge of the role they are applying for.
What is a good objective for a Sales Promoter resume?
A sales promoter is an individual who promotes products or services to potential buyers. When applying for a job as a sales promoter, your resume should include an objective that clearly states what type of opportunity you are seeking. The objective should set you apart from other applicants and demonstrate your professionalism and enthusiasm for the job.
A good objective for a sales promoter resume should include the following:
Demonstrate enthusiasm and professionalism for sales promotion
Outline your experience and qualifications as they relate to sales promotion
Highlight your ability to effectively market and promote products to potential buyers
Show your ability to work as part of a team and build relationships with customers
Demonstrate your ability to meet or exceed sales targets
Include any industry certifications, awards, or experiences that are relevant to the job
How do you list Sales Promoter skills on a resume?
When creating your resume, it is essential to list both hard and soft skills related to being a Sales Promoter. To show a potential employer that you have the skills necessary to excel in the role, you should go beyond simply stating that you have sales experience and explain how your skills have contributed to your success.
When listing Sales Promoter skills on your resume, you should focus on the following areas:
Knowledge of Sales Principles: Demonstrating a comprehensive understanding of sales tactics and strategies, including persuasive techniques and product knowledge.
Communication Skills: The ability to listen to and address customer concerns, as well as to explain a product's features and benefits effectively.
Interpersonal Skills: Possessing the social and emotional intelligence to interact with customers in a professional manner.
Customer Service: Showing an understanding of customer needs and the ability to provide beneficial solutions.
Time Management: Demonstrating the ability to multitask and prioritize tasks to meet objectives and deadlines.
Adaptability: Being able to respond to changes in product promotions and customer requirements quickly and efficiently.
Including these skills on your resume will help employers see that you possess the experience and qualifications necessary to succeed as a Sales Promoter. With the right skill set, you will be well on your way to a successful career in the field.
What skills should I put on my resume for Sales Promoter?
When writing a resume for a sales promoter position, it is important to highlight the skills that make you a strong candidate for the job. Here are some of the key skills to include in your resume:
Effective Communication: Sales promoters need to be able to craft persuasive messages that will convince customers to make a purchase. This requires strong verbal and written communication skills.
Excellent Interpersonal Skills: You should be able to establish a rapport with potential customers quickly in order to promote your product.
Sales Experience: If you have previous sales experience, include it on your resume.
Negotiation and Persuasion Skills: You should be able to use your persuasive skills to convince customers to buy your product.
Product Knowledge: You should be knowledgeable about the products you are selling in order to effectively promote them.
Customer Service: You should be able to provide excellent customer service in order to retain customers and build relationships with them.
Time Management: You should be able to manage your time effectively in order to meet customer needs and ensure that sales targets are met.
Organization Skills: You should be able to organize your work efficiently in order to maximize customer satisfaction and sales.
These are just some of the skills that you should include on your resume for a sales promoter position. By including these skills, you will demonstrate to potential employers that you are a qualified candidate for the job.
Key takeaways for an Sales Promoter resume
A sales promoter resume is an important tool for any salesperson looking for a new job. It showcases your experience and qualifications to potential employers, and can make or break your chances of getting an interview. Here are some key takeaways to keep in mind when crafting your sales promoter resume:
Focus on your accomplishments and results. Employers are looking for a resume that demonstrates tangible success. Don't just list activities – include measurable results, such as increased sales or improved customer satisfaction.
Highlight your sales skills. A sales promoter resume should show off your knowledge of products, services and industry trends. Focus on the sales techniques and strategies you have used in the past, such as upselling or cross-selling.
Showcase your communication abilities. Good communication skills are essential in sales. Make sure your sales promoter resume highlights your ability to communicate effectively with customers, team members and other departments.
Demonstrate your knowledge of marketing. Employers want to know that you understand the principles of marketing, such as understanding customer needs, determining the target audience and creating promotional campaigns.
Emphasize your customer service skills. Good customer service is essential for a successful salesperson. Make sure your resume demonstrates your ability to provide excellent customer service.
By following these key takeaways, you can create a sales promoter resume that effectively showcases your experience and qualifications. Good luck in your job search!
Let us help you build
your Resume!
Make your resume more organized and attractive with our Resume Builder