Writing a resume for a sales professional is not always easy. After all, you must be able to capture the unique qualities and experience of a sales professional, while also making sure that the resume is easily understood by potential employers. Fortunately, there is a way to achieve this balance, and this guide is here to help. In this guide, you will find helpful tips on how to create an effective sales professional resume, as well as some example resumes that you can use to get started. With the right approach, you can create a resume that will show employers why they should hire you, and get you the job you want.
If you didn't find what you were looking for, be sure to check out our complete library of resume examples.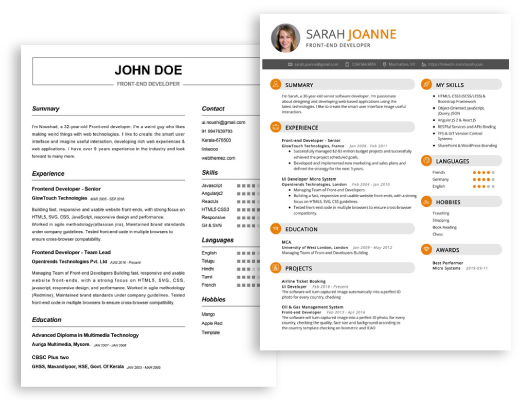 Start building your dream career today!
Create your professional resume in just 5 minutes with our easy-to-use resume builder!
Sales Professional Resume Examples
John Doe
Sales Professional
123 Main Street | Anytown, USA 99999 | Phone: (123) 456-7890 | Email: john.doe@email.com
A highly motivated and experienced Sales Professional with over 10 years of experience in driving sales initiatives. Proven track record of developing relationships with clients and consistently exceeding goals. Possesses excellent communication, negotiation, and interpersonal skills. Highly organized and results- oriented individual who is passionate about developing sales strategies and delivering success.
Core Skills:
Analyzing customer needs and developing strategies to meet those needs
Conducting market research to identify potential opportunities
Negotiating sales contracts and closing deals
Developing and implementing sales and marketing plans
Building and maintaining relationships with clients
Monitoring sales performance and reporting on results
Utilizing professional selling techniques
Professional Experience:
Senior Sales Representative, ABC Company, 2016 – Present

Responsible for generating new business and expanding the existing customer base.
Developed and monitored sales and marketing plans to meet customer needs.
Negotiated and closed deals with clients.
Developed relationships with partners to increase sales.
Established an effective customer service system to ensure customer satisfaction.

Sales Associate, XYZ Company, 2011 – 2016

Generated new business and increased customer base.
Created and implemented sales and marketing plans.
Negotiated and closed sales deals.
Developed customer relationships and ensured customer satisfaction.
Monitored sales performance and reported on results.
Education:
Bachelor's Degree in Business Administration, ABC University, 2006–2010
Diploma in Sales and Marketing, XYZ Institute, 2010–2011
Sales Professional Resume with No Experience
Recent college graduate with no formal experience in sales but a strong background in customer service and a passion for achieving results. Possess excellent communication and problem- solving skills, with a strong focus on customer satisfaction. Proven ability to collaborate and work efficiently in fast- paced environments.
Skills
Customer service
Negotiation
Time management
Analytical thinking
Organization
Product knowledge
Communication
Responsibilities
Analyzing customer needs to determine their interests in products and services
Developing and implementing strategies to increase customer loyalty
Working with clients to create mutually beneficial, long- term partnerships
Continuously researching and staying up to date on industry trends
Developing sales plans and goals and consistently monitoring progress
Actively participating in promotional and marketing activities to increase sales
Processing customer orders and payments in a timely manner
Sales Professional Resume with 2 Years of Experience
Highly motivated and detail- oriented Sales Professional with 2 years of experience in a fast- paced retail environment. Dedicated to delivering exceptional customer service while driving sales and meeting quotas. Proven ability to build relationships with customers and knowledgeable in the use of POS systems.
Core Skills:
Excellent written and verbal communication
Commitment to customer service
Ability to work in a team and independently
Proficient in using POS systems
Self- motivated and detail- oriented
Responsibilities:
Greet and assist customers in finding desired items
Respond to customer inquiries and resolve issues
Monitor stock levels and restock shelves as needed
Balance sales and receipts at end of shift
Collaborate with team members to achieve daily sales goals
Maintain accurate records of inventory, pricing, and customer information
Sales Professional Resume with 5 Years of Experience
Highly motivated and accomplished Sales Professional with over 5 years of experience in developing relationships with customers and cultivating strong partnerships. Proven track record of exceeding sales goals and finding creative ways to grow revenue. Effective communicator with strong problem- solving, organizational and leadership skills.
Core Skills:
Strategic Sales Planning
Customer Relationship Management
Territory Management
Sales Process Optimization
Key Account Management
Business Development
Knowledge of CRM Software
Cold Calling
Responsibilities:
Develop and implement sales plans for achieving sales objectives in assigned territory
Manage customer relationships and build long- term partnerships with key accounts
Utilize CRM software to build and maintain customer databases
Analyze sales performance to identify areas of improvement, trends and market potential
Develop and deliver presentations to potential clients to explain services and products
Maintain contact with customers to ensure their satisfaction and keep up to date on market trends
Prospect potential clients and generate leads by cold calling and attending networking events
Negotiate and close lucrative sales contracts with clients
Sales Professional Resume with 7 Years of Experience
Objective
To obtain a sales professional position and utilize my 7 years of experience in the sales industry to contribute to the organization's financial growth.
I am an experienced sales professional with 7 years of experience in the sales industry. I have a demonstrated ability to drive sales growth, optimize customer relations, and generate profitable revenue. My proactive management style, exceptional communication skills, and ability to build effective relationships have enabled me to successfully develop and implement sales strategies across a range of industries. I thrive on challenges and am committed to meeting customer demands and achieving organizational objectives.
Core Skills:
Account Management
Sales Trend Analysis
Sales & Marketing Strategies
Lead Generation
Customer Negotiations
Product Demonstration
Team Leadership
Marketing & Advertising
Responsibilities:
Maintained customer relationships and provided customer service.
Identified sales trends and performed market research to determine customer needs.
Developed and implemented successful sales & marketing strategies to increase revenue.
Managed sales team and provided guidance to ensure customer satisfaction and team efficiency.
Generated leads and identified potential customers and target markets.
Conducted product demonstrations and negotiated contracts with clients.
Created marketing and advertising materials to promote products and services.
Monitored customer feedback to evaluate product quality and customer service.
Sales Professional Resume with 10 Years of Experience
A highly motivated, detail orientated, and professional Sales Professional with 10+ years of experience in the sales industry. Proven ability to drive sales, increase market share and exceed revenue goals. Exceptional communicator, negotiator and relationship builder with a proven track record for successful sales strategies and tactics. Proven ability to manage teams and create positive working environments that result in increased employee productivity and morale.
Core Skills:
B2B Sales
Customer Service
Relationship Management
Team Management
Lead Generation
Project Management
Consultative Selling
Data Analysis
Strategic Planning
Negotiation
Marketing
Responsibilities:
Develop and implement sales plans to achieve organizational objectives
Analyze market trends, track competitors, and develop strategies to stay ahead of the competition
Manage relationships with customers to ensure customer satisfaction
Develop and maintain effective relationships with key stakeholders
Analyze and monitor sales data to identify trends and opportunities
Lead, motivate and manage sales teams to achieve organizational objectives
Prepare sales reports and other documents to track progress and performance
Provide training and guidance to sales team members to ensure consistent performance
Develop and implement strategies to improve sales and customer satisfaction
Identify and capitalize on new sales opportunities
Sales Professional Resume with 15 Years of Experience
Highly motivated and experienced sales professional with fifteen years of success in sales and account management. Proven ability to develop and maintain high performing sales teams, exceed sales goals, and take on special projects. Demonstrated skills in building relationships with key stakeholders and customer segments, while analyzing data and taking appropriate actions to achieve customer objectives.
Core Skills:
Sales and Account Management
Leadership and Collaboration
Business Development
Strategic Planning
Client Relationship Management
Data Analysis
Responsibilities:
Lead sales team to exceed sales goals by creating and executing effective strategies
Analyze data to identify areas of opportunity and take appropriate action to maximize sales performance
Develop customer relationships, build loyalty, and increase customer satisfaction
Develop and implement strategic plans to increase market share and enhance customer retention
Manage accounts and collaborate with key stakeholders to ensure customer objectives are met
Track sales performance, identify trends, and develop creative solutions to address customer needs
In addition to this, be sure to check out our resume templates, resume formats, cover letter examples, job description, and career advice pages for more helpful tips and advice.
What should be included in a Sales Professional resume?
A Sales Professional resume should highlight an individual's sales-oriented skills and strengths, as well as their ability to lead successful sales teams. Here are some key elements that should be included:
Summary of Qualifications: A brief overview of your skills, credentials and accomplishments as a Sales Professional.
Professional Experience: A detailed list of your sales-oriented roles, employers and job titles along with a description of the duties you performed and how you increased sales.
Education: List of all post-secondary education, degrees and certifications.
Training and Certification: List of any formal sales training, certifications and additional skills acquired.
Achievements: Include any awards, recognitions and sales milestones achieved.
Special Skills: List of any special skills such as languages spoken, technical skills or areas of expertise.
Professional Affiliations: List of any professional organizations, trade groups and societies you are a member of.
By including these elements, a Sales Professional resume will be able to showcase an individual's experience, skills and accomplishments, and will have a greater chance of being noticed by potential employers.
What is a good summary for a Sales Professional resume?
As a sales professional, your resume must reflect your highly developed skills in sales, customer service, and communication. A good summary should provide an overview of your experience, skills, and qualifications in order to grab the reader's attention, and showcase why you are the best candidate for the job.
Start your summary by describing your overall sales experience, covering the areas you have expertise in, such as closing sales, managing customer accounts, and developing sales strategies. Then, highlight the strengths you possess that enable you to be successful in sales, such as excellent communication, negotiation, and networking skills. Finally, list any relevant qualifications you have that are related to the sales profession, such as diplomas or certifications.
By providing an accurate and detailed summary, you can demonstrate to potential employers why you are the best candidate for the job. With the right summary, you can stand out from the competition, and be one step closer to landing the perfect sales role.
What is a good objective for a Sales Professional resume?
A sales professional resume is used by individuals who are interested in pursuing a career in sales. A good objective for a sales professional resume should highlight the candidate's ability to effectively articulate a message, create relationships, and close deals. It should also demonstrate an understanding of the sales industry, customer needs, and market trends.
Here are some tips for writing a strong objective for a sales professional resume:
Highlight relevant skills, such as persuasive communication, customer service, and problem-solving.
Focus on the candidate's ability to successfully close deals and generate revenue.
Stress the candidate's ability to effectively manage customer relationships.
Mention any relevant experience in sales, such as working in a particular industry or dealing with a certain type of customer.
Demonstrate an understanding of the latest sales trends and technologies.
Include any awards or recognition received for sales excellence.
A strong objective for a sales professional resume should be tailored to the specific job and demonstrate the knowledge and skills necessary to become a successful sales professional. It should be clear, concise, and showcase the candidate's unique strengths and abilities.
How do you list Sales Professional skills on a resume?
When writing a resume for a sales professional position, it is important to focus not only on your experience, but also on the specific skills that make you suited for this job. A great way to do this is to list the core skills that are required for the position in a dedicated skills section.
When listing sales professional skills on a resume, it is important to be thorough and to include both hard and soft skills that are relevant to the job. Here are some of the key skills that should be highlighted:
Negotiation: A successful sales professional should have strong negotiation skills, which includes the ability to listen, understand the customer's needs, and come up with creative solutions to meet those needs.
Persuasion: Sales professionals should be able to use their communication skills to persuade customers and build trust.
Product knowledge: A thorough understanding of the product or service being sold is essential in order to be able to address customer questions and concerns.
Problem-solving: Having a problem-solving mindset and the ability to troubleshoot issues quickly is an important part of being a successful sales professional.
Customer service: The ability to provide excellent customer service and build relationships with customers is a must-have for sales professionals.
Time management: Being able to effectively manage time is essential for being able to meet goals and deadlines.
With these core skills listed on your resume, you will show potential employers that you have the necessary skills to be a successful sales professional.
What skills should I put on my resume for Sales Professional?
When putting together a resume for a sales professional position, it is important to include the right skills to make you stand out as an ideal candidate. The following skills are essential to include on any resume for a sales professional:
Interpersonal Skills: It is important to be able to communicate effectively and build relationships with customers, colleagues, and other key stakeholders. Be sure to showcase your strong interpersonal skills in your resume.
Negotiation Skills: Sales professionals must be able to negotiate with customers and other stakeholders in order to reach an agreement. Be sure to highlight your excellent negotiation skills in your resume.
Analytical Thinking: As a sales professional, you need to be able to analyze data and make informed decisions. Showcase your analytical thinking skills in your resume.
Leadership Skills: As a sales professional, you should have strong leadership skills and the ability to motivate and manage a team. Include any leadership experience you have on your resume.
Problem-Solving: You must be able to find creative solutions to complex sales problems. Highlight your problem-solving skills in your resume.
Time Management: You must be able to manage your time effectively in order to meet deadlines and close sales. Showcase your time management skills on your resume.
By highlighting these skills on your resume, you can be sure that you have the necessary skills and experience to excel in a sales professional role.
Key takeaways for an Sales Professional resume
One of the most important things to include on a sales professional resume is a summary of qualifications. This section should highlight your sales experience, qualifications, and any awards or accolades you have received.
When crafting your summary, be sure to use action verbs such as "achieved," "exceeded," or "sold" to show employers the tangible results of your hard work. Additionally, it is important to list the types of products or services you sold, including any unique or specialized experience.
Another important section for a sales professional resume is the professional experience section. Here, you should list each of your sales positions, including job titles, employer names, dates of employment, and a brief description of your duties and accomplishments. Be sure to include any sales records you achieved or major sales campaigns you managed.
Finally, it is important to list any certifications or training related to your sales career. This is a great way to demonstrate your commitment to staying current on industry trends and best practices.
In summary, key takeaways for a sales professional resume should include a summary of qualifications, a professional experience section, and a list of any relevant certifications and/or training. With this information, employers will be able to clearly see your accomplishments and commitment to the sales industry.
Let us help you build
your Resume!
Make your resume more organized and attractive with our Resume Builder