Having a well written and effective resume is an essential tool for landing a job as a salesperson. A resume should showcase your skills, qualifications and experiences in order to demonstrate to hiring managers and potential employers that you are the right person for the job. Writing a resume for a salesperson role can be tricky – you need to make sure the information included is relevant and concise, while still showing off those great sales skills. In this blog post, we'll provide a guide to writing an effective salesperson resume, including examples of what to include and how to structure it.
If you didn't find what you were looking for, be sure to check out our complete library of resume examples.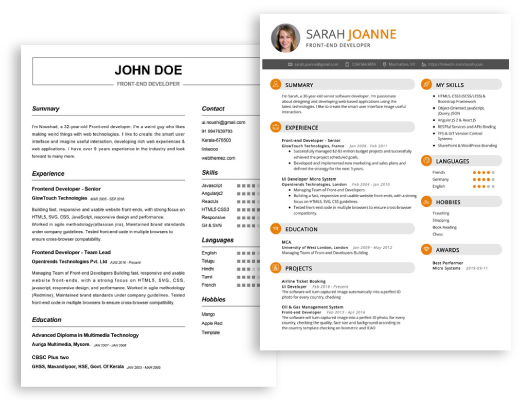 Start building your dream career today!
Create your professional resume in just 5 minutes with our easy-to-use resume builder!
Sales Person Resume Examples
John Doe
Sales Person
123 Main Street | Anytown, USA 99999 | Phone: (123) 456-7890 | Email: john.doe@email.com
I am an experienced sales professional with over 15 years of in depth experience in Client Relationship Management, Sales and Marketing. My expertise ranges from leading sales teams to providing customer- facing services that drive profitability and improve customer satisfaction. My experience includes developing and implementing customer- oriented sales programs, developing sales strategies and goals, managing customer accounts and providing comprehensive customer service.
Core Skills:
Client Relationship Management
Sales & Marketing
Leadership
Strategic Planning
Account Management
Customer Service
Professional Experience:
Sales Manager – ABC Company, Chicago, IL (2017- Present)
Lead, manage and motivate a team of sales professionals to meet or exceed sales targets
Develop and implement customer- oriented sales programs
Analyze market trends, customer needs, and competitor strategies
Develop sales goals and objectives
Organize and coordinate sales activities
Provide ongoing customer support and training
Sales Representative – XYZ Corporation, Chicago, IL (2010- 2017)
Provided customer- facing services to drive profitability and improve customer satisfaction
Developed sales strategies and goals
Managed customer accounts
Provided comprehensive customer service
Education:
Bachelor of Science in Business Administration – University of Chicago, Chicago, IL (2005- 2009)
Sales Person Resume with No Experience
Recent college graduate with a passion for sales and customer service, seeking an entry- level position in the sales field. Possess excellent communication and interpersonal skills, with a reputation for consistently delivering superior customer satisfaction.
Skills
Strong organizational and time management skills
Exceptional customer service and communication skills
Proficient in Microsoft Office and other software programs
Knowledge of basic accounting principles
Detail- oriented with excellent problem solving ability
Responsibilities
Establish and build relationships with new and existing customers
Responsible for achieving individual sales targets
Gather customer feedback on products and services
Provide accurate and timely quotes to customers
Follow up on customer inquiries and complaints
Maintain accurate and up- to- date customer records in the company database
Sales Person Resume with 2 Years of Experience
Highly motivated and experienced Sales Professional with more than two years of industry experience. Proven track record of exceeding sales targets and quotas on a consistent basis. Excellent communication and interpersonal skills, highly organized, and adept at creating strategies designed to maximize conversion rates. Possesses the ability to think strategically while also paying close attention to the details needed to achieve success.
Core Skills:
Sales strategy development
Leadership
Customer service
Product demonstration
Time management
Influential negotiation
Effective communication
Responsibilities:
Developed sales plans to promote product visibility and to increase sales
Maintained and established relationships with clients to increase sales
Conducted cold calling and sales presentations
Assisted in increasing market share and volume of sales
Assisted in developing and executing marketing plans
Provided sales support and customer service to ensure customer satisfaction
Monitored market trends and gathered competitor information
Prepared and presented sales reports to management
Analyzed customer feedback and identified areas for improvement
Sales Person Resume with 5 Years of Experience
Dynamic and highly motivated Sales Professional with five years of experience in driving sales growth and managing customer relationships. A passionate and ambitious individual with an impressive track record of achieving and exceeding sales targets. Possess excellent communication, interpersonal and problem solving skills, combined with a strong work ethic and the capacity to work well in teams. Proven ability to build effective customer relationships and handle customer inquiries efficiently.
Core Skills:
Strong communication and interpersonal skills
Ability to analyze data and create sales strategies
Organizational and problem solving skills
Highly motivated and goal oriented
Proficiency in Microsoft Office Suite
Experienced in working with CRM software
Responsibilities:
Developed and implemented effective sales strategies to meet and exceed sales targets
Maintained strong relationships with customers and provided great customer service
Analyzed data and provided reports to upper management
Researched potential customers, contacted potential leads, and performed cold calls
Created and delivered presentations to potential customers
Built relationships to ensure repeat customers and referrals
Managed customer inquiries and complaints efficiently
Collaborated with cross- functional teams to support sales and customer service initiatives
Sales Person Resume with 7 Years of Experience
A highly successful self- driven sales professional with 7 years of experience in sales and marketing. Proven track record of building strong customer relationships and consistently exceeding targets. Possesses excellent customer service, communication and negotiation skills. Successfully developed and implemented marketing strategies to increase sales and brand visibility. Experienced in leveraging digital tools to drive customer engagement and brand loyalty.
Core Skills:
Excellent communication and customer service skills
Strong negotiation and sales skills
Ability to develop and implement effective sales and marketing strategies
Knowledge of digital marketing tactics
Familiarity with CRM systems
Strong analytical and problem- solving skills
Ability to work with minimal supervision
Responsibilities:
Responsible for building relationships with customers and providing exceptional customer service
Developed and executed sales and marketing strategies to increase customer engagement and brand loyalty
Conducted market analysis to identify opportunities to improve sales performance
Developed and implemented CRM strategies to track customer data and analyze customer profiles
Collaborated with cross- functional teams to identify and resolve customer issues
Generated customer reports to track and measure sales performance
Developed and maintained relationships with key stakeholders and partners to increase sales and brand visibility
Sales Person Resume with 10 Years of Experience
I have 10 years of experience as a Sales Person and have consistently achieved my team's goals. I have excellent interpersonal and communication skills, as well as a strong knowledge of the industry and an extensive network of contacts. My ability to identify customer needs and persuasively communicate the benefits of products and services has been key to my success. I am confident in my ability to help businesses and individuals fulfill their goals and am looking for a new opportunity to make an impact.
Core Skills:
Identifying customer needs
Developing relationships with clients
Analyzing customer data
Marketing and selling products and services
Negotiating sales agreements
Closing sales
Maintaining customer relationships
Keeping up with current industry trends
Responsibilities:
Develop and maintain relationships with potential and existing customers
Identify customer needs and provide appropriate solutions
Develop, organize, and conduct sales presentations
Analyze customer data to identify sales opportunities
Negotiate sales agreements and close sales
Monitor customer trends and preferences
Provide feedback to management regarding customer needs and preferences
Manage customer inquiries, complaints, and feedback
Sales Person Resume with 15 Years of Experience
With over 15 years of experience in sales, I am a highly skilled and knowledgeable sales professional with an extensive background in customer service and staff management. My expertise includes account management, market research, and problem- solving, as well as strong communication, organizational, and multi- tasking skills. I am a confident leader and have the ability to effectively motivate my team and increase sales.
Core Skills:
Account Management
Market Research
Problem- solving
Excellent communication skills
Organization skills
Multi- tasking
Leadership
Motivational ability
Salesmanship
Responsibilities:
Developing and implementing effective sales strategies
Managing customer relationships and providing exceptional service
Analyzing sales figures and market data in order to make sound decisions
Recruiting and training new sales staff
Developing relationships with vendors, suppliers, and other partners
Establishing and maintaining strong customer relationships
Ensuring compliance with all sales policies and procedures
Facilitating sales meetings
Overseeing the sales process from start to finish
In addition to this, be sure to check out our resume templates, resume formats, cover letter examples, job description, and career advice pages for more helpful tips and advice.
What should be included in a Sales Person resume?
A Sales Person resume should include information relevant to the position in order to demonstrate to potential employers the necessary skills and experiences that make a successful salesperson. To help you craft a persuasive resume, here are some key components to include:
Professional Summary: A brief statement that showcases your qualifications, industry experience, and career objectives.
Education & Certifications: Include any degrees, certifications, or courses that are related to the position.
Professional Experience: List the roles and organizations you have worked with, as well as any accomplishments.
Skills & Abilities: Highlight the skills and abilities that make you an effective salesperson, such as communication, negotiation, and problem solving.
Relevant Achievements: Detail any awards or recognition you have earned in your sales career.
Additional Qualifications: Include any additional qualifications, such as language proficiency, computer knowledge, or customer service experience.
By including these key components on your resume, you can create a persuasive, compelling document that will help you stand out to potential employers.
What is a good summary for a Sales Person resume?
A successful salesperson resume should emphasize a track record of excellent customer service and communication skills, an ability to identify opportunities and build relationships with potential customers, and an ability to understand and articulate market trends. Your resume should also include any related experience, certifications, and training. It should also demonstrate your passion for the sales industry and your eagerness to learn and stay informed with the latest trends and technologies. Make sure to include any awards or professional affiliations that you may have earned. Lastly, make sure to emphasize your enthusiasm and dedication to the sales profession and your ability to motivate and inspire others. With this combination of skills and knowledge, you will be well on your way to a successful career in sales.
What is a good objective for a Sales Person resume?
When writing a resume for a sales position, it's important to accurately and effectively explain your career goals and objectives. A good objective for a salesperson resume should focus on the desired job responsibilities, highlight any qualifications and accomplishments that are applicable, and express enthusiasm for the position.
Here are some examples of objectives for a salesperson's resume:
To acquire a challenging and rewarding sales position that enables me to utilize my communication, interpersonal, and problem-solving skills.
To use my extensive experience in sales and customer service to maximize company profits and customer satisfaction.
To expand my sales knowledge and skills in a fast-paced and dynamic environment.
To leverage my strong communication and organizational skills to secure new clients and grow business.
To secure a sales position that allows me to use my strong interpersonal and persuasive skills to build relationships with customers, convert leads, and increase profits.
To contribute to the success of a respected company by utilizing my knowledge of sales techniques, customer service, and brand loyalty.
How do you list Sales Person skills on a resume?
When crafting a strong resume, it's important to make sure that your qualifications as a Sales Person are properly showcased. As a Sales Person, your resume must emphasize your ability to communicate effectively, develop relationships, understand customer needs, and close sales.
Here are some of the key skills you should consider including on your resume:
Relationship building: Sales Persons must have excellent interpersonal skills and the ability to work with diverse customers and colleagues. Demonstrate your ability to build rapport and trust with prospective clients.
Communication: Sales Persons must have strong communication skills, both verbally and in written documents. Describe your ability to effectively articulate your message, whether it's to a single customer or in a presentation to a large group.
Problem-solving: Sales Persons must be able to identify customer needs and develop solutions. Showcase your ability to analyze customer concerns, identify solutions, and present them in a compelling way.
Networking: Sales Persons must be able to establish and maintain relationships with existing and potential customers. Describe your networking ability and how you use it to generate sales leads.
Negotiation: Sales Persons must be able to use their persuasive and persuasive skills to negotiate and close deals. Detail your ability to identify customer needs, and then negotiate and close the deal in a way that benefits both parties.
Product knowledge: Sales Persons must have a good understanding of their products and services, as well as their competitors'. Explain your ability to explain the features and benefits of your products and services in a way that resonates with customers.
Time management: Sales Persons must be able to multitask and manage their time effectively. List any experiences that demonstrate your ability to prioritize tasks, manage customer inquiries, and handle multiple sales opportunities at once.
By including these key skills on your resume, you can demonstrate your qualifications as a
What skills should I put on my resume for Sales Person?
When it comes to applying for a job as a sales person, the skills you choose to put on your resume can make or break your chances of securing the job. To ensure you make a good impression, here are some of the top skills you should put on your resume for a sales person:
Knowledge of Sales Process: A good sales person should have a thorough understanding of the sales process from lead generation to closing a deal. Be sure to highlight any sales courses you have taken or any industry experience you've had that demonstrate your knowledge of the sales process.
Interpersonal Skills: Successful sales people have strong interpersonal skills that allow them to build relationships with customers and colleagues. When crafting your resume, emphasize any previous customer service experience you have or any activities that have required you to communicate effectively with customers or colleagues.
Analytical Skills: Being able to analyze data and use it to make decisions is essential for any sales person. List any relevant analytical coursework you have taken or show how you have used data to make successful decisions in the past.
Negotiation Skills: Sales people must be able to negotiate with customers to get the best deal. Highlight any relevant negotiation skills that you have, such as your ability to identify customer needs and find creative solutions to meet them.
Time Management Skills: Time management is an important skill for any sales person as they must be able to manage their time effectively to meet customer demands and deadlines. Showcase any experience you have managing multiple tasks and meeting deadlines.
With these skills on your resume, you should be able to make a great impression when applying for a sales position.
Key takeaways for an Sales Person resume
A resume is a valuable tool in any job search. It should be tailored to the specific position you are applying for and highlight the skills, experience, and qualifications that make you the best candidate for the job. As a salesperson, you have a unique set of skills and experiences that can put you ahead of the competition, so it's important to make sure your resume reflects this. Here are some key takeaways for crafting a salesperson resume:
Focus on results: Your resume should highlight the successes you have achieved in sales positions. This might include sales goals you have achieved, awards or recognition you have received, and challenges you have overcome.
Demonstrate your customer service skills: As a salesperson, you are expected to be an excellent customer service provider, so make sure your resume reflects this. Include examples of any customer service training you have undergone and any problem-solving activities you have been involved in.
Highlight your team-building skills: Working in sales often means you are part of a team. Your resume should show you have the ability to work collaboratively and motivate others.
Make use of data and analytics: Demonstrate your technical knowledge by including examples of how you have used data and analytics to improve sales performance.
Showcase your communication skills: Salespeople need to be able to effectively communicate with customers and prospects, so make sure your resume shows that you have the appropriate skills.
Include a cover letter: A cover letter is an important part of any job application and can help you stand out from the competition. Make sure you include one with your resume and make sure it is tailored to the job you are applying for.
By following these tips, you can make sure your resume reflects the skills and experiences that make you the best candidate for the job. With a strong, tailored resume, you'll be able to highlight your value to any potential employer.
Let us help you build
your Resume!
Make your resume more organized and attractive with our Resume Builder