Having a well-crafted resume is essential for standing out in the competitive job market. For sales leaders, this is especially true. Your resume should give a potential employer an accurate picture of your skills, qualifications, and experiences in a professional and concise format. To help you create the perfect sales leader resume, this guide will provide step-by-step instructions on how to craft the perfect resume, along with helpful examples to guide you.
If you didn't find what you were looking for, be sure to check out our complete library of resume examples.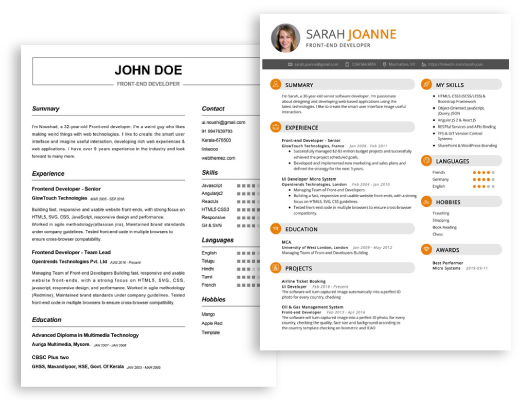 Start building your dream career today!
Create your professional resume in just 5 minutes with our easy-to-use resume builder!
Sales Leader Resume Examples
John Doe
Sales Leader
123 Main Street | Anytown, USA 99999 | Phone: (123) 456-7890 | Email: john.doe@email.com
I am a highly motivated and experienced Sales Leader with a proven track record of success in fast- paced sales environments. I have 8 years of experience in sales, including 5 years in a managerial role. I have a strong work ethic and excellent communication skills, and I am highly organized and attentive to detail. I am a results- oriented team player who can develop effective strategies and plans to meet objectives and exceed expectations.
Core Skills:
Leadership
Strategic Planning
Sales Strategies
Team Building
Training and Development
Market Analysis
Negotiation and Closing
Customer Service
Reporting and Analytics
Professional Experience:
Sales Manager, ABC Company, 2014- 2019
Developed and implemented sales strategies to increase market share
Established and maintained relationships with clients, vendors and distribution partners
Managed a team of 10 sales representatives
Conducted training and development sessions for sales staff
Analyzed market trends and customer feedback to find new sales opportunities
Negotiated contracts with clients and vendors
Monitored sales performance and reported results to senior management
Sales Representative, XYZ Company, 2010- 2014
Generated new business through face- to- face meetings and cold calling
Developed a customer database and provided customer service
Developed and presented sales proposals
Negotiated pricing and discounts with customers
Developed and implemented sales strategies to increase sales
Education:
B.S. in Business Administration, Florida State University, 2010
Sales Leader Resume with No Experience
Highly motivated sales leader with no experience looking to bring my strong leadership skills and passion for sales to an organization. I have exceptional communication and problem solving skills and am eager to learn and develop my sales knowledge.
Skills
Excellent communication skills
Superior problem- solving abilities
Ability to work in a team environment
Strong leadership skills
Passion for sales
Willingness to learn and develop sales knowledge
Responsibilities
Create and execute sales plans
Responsible for setting and meeting sales targets
Develop relationships with customers and build customer loyalty
Identify sales opportunities and develop new strategies to increase revenue
Develop and implement marketing initiatives to increase brand visibility
Provide training and mentorship to junior sales staff
Sales Leader Resume with 2 Years of Experience
A results- oriented and experienced sales leader with 2 years of experience in developing and managing high performance sales teams. Adept in leveraging customer insights to craft compelling sales strategies, and working closely with clients to develop and implement cutting- edge sales solutions. Proven success in exceeding goals and objectives through innovative approaches to sales.
Core Skills:
Sales Leadership
Client Relations Management
Strategic Planning
Process Improvements
Sales Presentations & Negotiations
Market Trend Analysis
Data Analysis & Reporting
Customer Relationship Management
Responsibilities:
Built and managed a successful sales team to meet revenue goals
Developed and implemented innovative sales and marketing strategies to increase revenue
Grew accounts by cultivating relationships with existing customers
Negotiated and closed deals with customers to meet sales quotas
Prepared and presented sales presentations to executives and key stakeholders
Analyzed industry trends and market data to identify potential opportunities
Monitored sales performance metrics, identified areas of improvement and implemented strategies to increase sales
Developed customer insights to improve sales processes and increase customer satisfaction.
Sales Leader Resume with 5 Years of Experience
Highly motivated and experienced sales leader with five years of experience in sales and marketing. Proven track record of consistently achieving sales goals and exceeding customer expectations. Skilled in developing effective sales plans and strategies, building relationships, and delivering exceptional customer service. Possesses strong leadership, problem- solving and communication skills. Experienced in working with both small and large teams to manage and drive sales initiatives.
Core Skills:
Sales Planning and Strategies
Relationship Building
Customer Service
Leadership
Problem- Solving
Communication
Team Management
Responsibilities:
Developed and implemented effective sales plans and strategies to drive customer acquisition and maximize revenue growth.
Established and maintained positive customer relationships to ensure customer satisfaction and retention.
Identified and pursued new sales opportunities to expand customer base and grow market share.
Coordinated with sales team members to develop and manage sales initiatives to meet or exceed customer expectations.
Evaluated customer feedback to improve customer experience and drive customer loyalty.
Fostered team collaboration and provided guidance to ensure successful completion of sales goals.
Assisted with customer service issues by providing support and solutions.
Analyzed customer data and sales metrics to evaluate performance and identify areas of improvement.
Sales Leader Resume with 7 Years of Experience
A highly experienced sales leader with 7 years of experience in driving growth and meeting targets through strategic planning and implementation. Proven ability to cultivate long- term relationships with clients and team members. Skilled in creating and implementing innovative sales strategies and identifying high- potential opportunities. Passionate about ensuring customer satisfaction and delivering exceptional services.
Core Skills:
Sales Planning and Strategy
Business Development
Client Relationship Management
Team Leadership
Negotiation and Conflict Resolution
Data Analysis and Reporting
Market Research and Analysis
Responsibilities:
Developing and executing sales plans to drive growth and attract new customers
Identifying and pursuing high- potential opportunities to build revenue
Overseeing the development of sales materials and strategies
Recruiting, training and supervising a team of sales professionals
Developing and cultivating long- term relationships with clients
Negotiating contracts and resolving conflicts in a timely and amicable manner
Analyzing sales data and generating reports to track performance
Conducting market research to identify emerging trends and developments
Ensuring customer satisfaction by delivering exceptional services and support.
Sales Leader Resume with 10 Years of Experience
A highly- motivated and results- driven sales leader with 10 years of experience in managing and leading sales teams to exceed targets and objectives in the FMCG and retail sectors. With a track record for driving sales growth and increasing customer loyalty, I am committed to creating and executing strategies to propel sales and deliver results. My core skills include customer relations, data analysis, market research, training, and optimization.
Core Skills:
Customer relations
Data analysis
Market research
Training
Optimization
Strategic management
People management
Negotiation
Process improvement
Project management
Responsibilities:
Designing and implementing sales strategies to meet the company's goals and objectives
Developing and managing relationships with customers and stakeholders
Leading, coaching and motivating sales teams to maximize performance and increase revenue
Analyzing sales data and trends to identify areas for improvement
Researching customer and market requirements
Conducting sales training to ensure team members stay up to date with product and industry knowledge
Managing budgets and resources to optimize operations
Participating in sales meetings, conferences and exhibitions
Monitoring the competition and market trends to inform sales strategies
Sales Leader Resume with 15 Years of Experience
A highly experienced Sales Leader with 15 years of extensive experience in sales, marketing and customer service. A skilled professional with a solid track record of driving revenue growth, building customer relationships and generating new leads. Proven ability to lead teams, develop and implement successful sales strategies, and utilize effective problem solving skills to overcome obstacles. Highly organized, self- motivated, and results- driven individual.
Core Skills:
Excellent written and verbal communication skills
Highly organized and self- motivated
Strategic and creative problem solving
Skilled in developing and managing sales teams
Experienced in marketing and customer service
Proven track record of driving revenue growth
Proficient in MS Office Suite
Responsibilities:
Develop and implement successful sales strategies
Lead sales team to generate new leads and close deals
Identify customer needs and develop solutions
Manage sales and marketing operations
Maintain positive relationships with existing customers
Analyze customer data and develop insights
Establish and maintain records of sales activities
Develop and implement customer service policies
Track market trends and competitive landscape to identify opportunities
Ensure compliance with sales regulations
In addition to this, be sure to check out our resume templates, resume formats, cover letter examples, job description, and career advice pages for more helpful tips and advice.
What should be included in a Sales Leader resume?
A sales leader plays a pivotal role in any business, as they are responsible for building strong relationships with customers and increasing sales. As such, it is important to have a strong and detailed sales leader resume that outlines your experience, skills, and qualifications.
Below are the key elements that should be included in a sales leader resume:
Professional summary: A brief overview of your experience and qualifications as a sales leader.
Experience: Details of the sales roles you have held and the successes achieved in each role.
Skills: Specific skills and competencies related to sales, such as communication, negotiation, and problem-solving.
Education: Any degrees and certifications relevant to sales leadership.
Awards: Any awards and distinctions earned in sales leadership roles.
Professional development: Any training, seminars, and workshops you have attended related to sales leadership.
Languages: Any additional languages you are proficient in.
By including these key elements in your sales leader resume, you will be able to showcase your qualifications and experience as a sales leader to potential employers.
What is a good summary for a Sales Leader resume?
A Sales Leader is a high-level sales and management professional who is responsible for setting sales goals and strategies, building relationships with clients and customers, and leading successful sales initiatives. A good summary for a Sales Leader resume should demonstrate the candidate's background in sales and marketing, leadership, and team building. It should highlight the candidate's accomplishment in sales, their ability to create effective sales strategies, and their experience in both managing and motivating teams. Additionally, it should articulate the candidate's skills in dealing with customer service, problem-solving, and communication. In summary, a successful Sales Leader resume should showcase the candidate's ability to excel in sales, create successful strategies, and lead and motivate teams.
What is a good objective for a Sales Leader resume?
A good objective for a Sales Leader resume should focus on the ability to drive increased sales and profitability for an organization. It should also demonstrate an ability to nurture and lead a successful sales team. Here are some specific criteria to consider:
Track record of consistently meeting or exceeding sales goals
Proven ability to develop and implement effective sales plans and strategies
Excellent team-building and management skills
Ability to identify and cultivate new markets
Strong customer service focus
Excellent problem-solving and analytical skills
Knowledge of industry trends
Ability to quickly adapt to changing market conditions
These objectives should provide a clear indication of a Sales Leader's ability to generate results and lead a team to success. When combined with an impressive work history and professional accomplishments, these qualifications can help a Sales Leader stand out and get the job.
How do you list Sales Leader skills on a resume?
Sales Leaders are responsible for leading a team of sales representatives and driving revenue. To be successful in this role, they must possess a wide range of skills. In order to make sure that these skills are properly evaluated by potential employers, it is important to list them on your resume. Here are some of the Sales Leader skills that should be included on your resume:
Strategic Thinking: Sales Leaders must be able to create and implement a strategy in order to increase sales and reach business goals.
Analytical Skills: Sales Leaders need to be able to analyze data and customer behavior in order to improve sales performance.
Industry Knowledge: Sales Leaders should have an in-depth knowledge of their industry and the products and services that they are selling.
Team Management: Sales Leaders must be able to motivate and manage a team of sales representatives in order to achieve success.
Communication: Sales Leaders must be able to communicate effectively with colleagues, customers, and management.
Negotiation Skills: Sales Leaders must be able to negotiate and close deals with customers.
Time Management: Sales Leaders need to be able to prioritize tasks, manage their time efficiently, and ensure that deadlines are met.
What skills should I put on my resume for Sales Leader?
A sales leader is an individual responsible for leading a sales team and achieving sales goals. To stand out in the job market, it's important that you highlight your relevant skills on your resume. Here are some key skills you should include on your resume when applying for a sales leader position:
Communication: As a sales leader, you will be responsible for communicating with prospects, customers and colleagues. You should demonstrate that you have excellent written and verbal communication skills, as well as the ability to effectively communicate with different personality types.
Leadership: You should be able to showcase your leadership skills and experience managing a team. Describe instances where you have exhibited strong leadership, such as motivating your team to reach targets or resolving conflicts with colleagues.
Sales Tactics: As a sales leader, you need to be familiar with the most effective sales tactics. Demonstrate a strong understanding of how to use persuasive sales techniques, such as upselling and cross-selling, to increase sales.
Relationship Building: You should be able to demonstrate your ability to build relationships with customers and colleagues. Describe how you have cultivated relationships to achieve sales goals and build customer loyalty.
Analytical Skills: As a sales leader, you need to have strong analytical skills to track and assess performance. Showcase your ability to interpret data and make informed decisions that will improve sales productivity.
Problem Solving: Demonstrate that you have strong problem solving skills and the ability to think critically. Describe how you have used creative problem-solving techniques to overcome challenges and improve sales processes.
By highlighting these key skills on your resume, you will illustrate to employers that you have the experience and qualifications to succeed as a sales leader.
Key takeaways for an Sales Leader resume
A successful Sales Leader resume should focus on three key areas: experience, education, and professional accomplishments. As a Sales Leader, you have the opportunity to showcase your leadership skills, sales strategy, and customer service.
Experience:
When writing your resume as a Sales Leader, highlight your experience in the field. Focus on your sales background, such as your sales goals, revenue targets, and customer service skills. Showcase your ability to lead the sales team and to create new strategies for success.
Education:
Your resume should also include your education. Highlight the degree or certifications that you have earned in sales or related fields. This will demonstrate your knowledge and skills in the field.
Professional Accomplishments:
Finally, be sure to include any professional accomplishments or awards you have earned. These can include success in sales or customer service, or awards from professional organizations. This will demonstrate that you are a successful Sales Leader and will add credibility to your resume.
By focusing on these three key areas, you can create an effective Sales Leader resume. Be sure to showcase your experience, education, and professional accomplishments in order to stand out from the competition and get the job you desire.
Let us help you build
your Resume!
Make your resume more organized and attractive with our Resume Builder