Writing a resume for a sales lead role is an important step for any job seeker looking to start or continue their career in sales. It's important to craft a resume that stands out and shows off your accomplishments so that employers can see why you're the perfect candidate for the job. This guide will provide you with tips on how to write a great sales lead resume, including what to include, helpful examples and best practices. With these guidelines, you'll be able to write an influential resume that helps you secure the job of your dreams.
If you didn't find what you were looking for, be sure to check out our complete library of resume examples.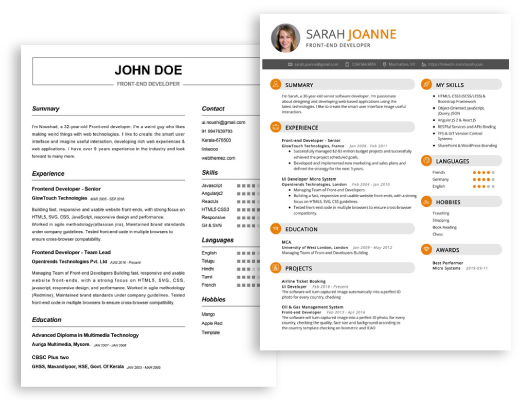 Start building your dream career today!
Create your professional resume in just 5 minutes with our easy-to-use resume builder!
Sales Lead Resume Examples
John Doe
Sales Lead
123 Main Street | Anytown, USA 99999 | Phone: (123) 456-7890 | Email: john.doe@email.com
A highly motivated and goal- oriented professional with 6+ years of experience in generating sales leads, developing and executing marketing plans, and building customer relationships. Proven track record in meeting and surpassing goals, driving profitability, and developing successful sales lead strategies. Possess excellent communication, problem solving and negotiation skills, as well as a strong understanding of the sales and marketing process.
Core Skills:
Lead Generation
Account Management
Relationship Building
Marketing Strategies
Sales Pipeline Development
Team Management
Negotiation
Business Development
Professional Experience:
Lead Generation Specialist, ABC Technologies Inc.
Developed and executed lead generation strategies, resulting in a 20% increase in sales leads
Built and maintained relationships with key accounts
Conducted market research to identify trends and customer needs
Provided training and support to sales teams
Implemented sales lead tracking systems
Marketing Manager, XYZ Corporation
Created and implemented successful marketing plans to drive sales and increase customer engagement
Managed team of 10+ employees to develop marketing campaigns
Analyzed data to identify customer trends and implement strategies
Assisted in the design of brochures and promotional materials
Education:
Bachelor of Business Administration, University of Florida
Graduated Magna Cum Laude
Sales Lead Resume with No Experience
Recent college graduate with an entrepreneurial spirit, strong communication and organizational skills, and the ability to generate leads for new business.
Highly motivated with a passion for helping others and the desire to learn new sales techniques.
Seeking a Sales Lead position that will provide opportunity to gain valuable experience while contributing to the success of the company.
Skills
Excellent communication skills.
Strong organizational and multitasking abilities.
Proficient in customer service and problem solving.
Knowledge of sales principles and techniques.
Ability to stay organized and think independently.
Adaptable to a variety of tasks.
Responsibilities
Identify and contact potential customers, including cold calls and emails.
Develop relationships with customers to create new sales opportunities.
Follow- up on leads and schedule meetings with potential customers.
Research customer needs to develop tailored sales strategies.
Create detailed reports to track customer interactions, sales progress, and performance metrics.
Connect customers with the appropriate resources to ensure satisfaction.
Recommend new products and services to customers.
Sales Lead Resume with 2 Years of Experience
Dynamic sales lead with 2 years of experience in driving revenue and creating successful sales strategies. Proven record of achieving sales goals and developing long- term relationships with customers. Skilled in delivering presentations and creating solutions tailored to customer needs. Adept at gathering market intelligence and leveraging various systems, platforms and tools to boost sales performance.
Core Skills:
Sales strategy and execution
Strategic Account Management
Customer Relationship Management
Market Intelligence
Presentation and Negotiation
Team Leadership
Data Analysis
Responsibilities:
Developed sales strategies and campaigns to maximize sales performance, increase revenue and acquire new customers.
Managed customer relationships and maintained a CRM database tracking customer information and sales data.
Conducted market intelligence, identified trends and gathered data to analyze competitors and develop strategies.
Delivered presentations to clients and prospects, and negotiated terms and conditions.
Led, coached and developed a team of 5 sales representatives.
Created solutions tailored to customer needs and provided after- sales support.
Utilized various sales tools, platforms and systems to increase efficiency and boost sales.
Sales Lead Resume with 5 Years of Experience
Dynamic and results- driven sales leader with over 5 years of experience in developing and executing sales strategies to drive revenue growth. Proven track record of achieving sales goals and increasing customer satisfaction. Skilled in building relationships with customers, managing complex projects, and developing strong and effective sales teams. Highly organized and detail- oriented, with excellent problem- solving, communication, and negotiation skills.
Core Skills:
Sales Management
Strategic Planning
Leadership Development
Business Development
Account Management
Customer Relations
Negotiation
Team Building
Responsibilities:
Developed and implemented sales strategies to increase revenue and customer satisfaction.
Maximized sales performance by tracking and analyzing sales data.
Created and managed sales pipelines, forecasts and reports.
Trained and supervised sales teams, while providing guidance and support.
Conducted market research to understand customer needs and preferences.
Identified potential business opportunities and increased sales through effective networking.
Developed and maintained relationships with customers, vendors and stakeholders.
Resolved customer complaints in a timely and efficient manner.
Negotiated contracts and terms with clients.
Analyzed competitors' strategies and developed effective strategies to stay ahead.
Sales Lead Resume with 7 Years of Experience
I am a highly motivated and experienced Sales Lead with 7 years of experience in a customer- facing role. I have a comprehensive understanding of sales, marketing and customer service principles. I have been highly successful in developing and leading a sales team, utilizing an extensive background in customer relationship management, market and competitive analysis and customer service. I have experience in negotiating and closing deals and have extensive knowledge of inventory management, product promotion and customer satisfaction.
Core Skills:
Ability to lead, motivate and support a sales team
Comprehensive understanding of sales, marketing and customer service principles
Extensive experience in customer relationship management, market and competitive analysis and customer service
Excellent negotiation and closing skills
In- depth knowledge of inventory management and product promotion
Exceptional customer service and satisfaction
Responsibilities:
Developing sales strategies and targets
Leading a sales team to deliver optimal results
Managing customer relationships and providing customer service
Analyzing markets and competition to develop strategies to maximize sales
Negotiating and closing deals
Managing inventory, product promotion and customer satisfaction.
Making sure sales goals are met and that customer expectations are exceeded.
Sales Lead Resume with 10 Years of Experience
I am an experienced Sales Lead with 10 years of experience in sales, customer service, and marketing. My expertise lies in building and sustaining customer relationships and creating innovative sales strategies to maximize profits. I am skilled in assessing customer needs, developing solutions and delivering results. I have a proven track record in helping companies grow their revenues and increase customer loyalty. I have a strong ability to multitask and have excellent problem- solving skills.
Core Skills:
Relationship Building
Sales Negotiation
Strategic Planning
Customer Service
Market Research
Problem Solving
Team Leadership
Public Speaking
Market Analysis
Business Development
Responsibilities:
Develop strategic sales plans to increase customer retention and grow revenues
Build and maintain customer relationships to ensure customer loyalty
Analyze customer feedback and develop solutions to improve services
Negotiate contracts and discounts to maximize profits
Research and analyze market trends to identify new business opportunities
Create and deliver presentations to customers
Develop and train sales team to increase sales and reach goals
Monitor and analyze sales performance to make recommendations for improvement
Develop pricing strategies and tactics to maximize profits and increase customer satisfaction
Sales Lead Resume with 15 Years of Experience
Highly motivated, results- driven professional with 15 years of experience in sales and business development, seeking to leverage a proven skill set and expertise to take on a challenging role in a progressive organization. Adept at leading sales teams, building and maintaining client relationships, and developing new strategies to increase company revenue and expand market share. Excellent communicator with a talent for identifying and capitalizing on growth opportunities.
Core Skills:
Strategic Planning
Relationship Building
Customer Relationship Management
Market Analysis
Sales Strategies
Product Promotion
Sales Forecasting
Market Research
Budgeting & Financial Management
Responsibilities:
Directed a team of 10 sales personnel, providing guidance and training.
Developed and implemented an effective sales strategy to maximize revenue.
Collaborated with marketing, finance and operations teams to ensure efficient and successful implementation of sales plans.
Conducted market research to identify trends and opportunities to increase market share.
Established and maintained client relationships through effective communication and follow up.
Managed and monitored sales activities to ensure goals and objectives were achieved.
Developed and tracked sales budgets to ensure efficient use of resources.
Analyzed sales reports and generated action plans to address discrepancies and areas of improvement.
In addition to this, be sure to check out our resume templates, resume formats, cover letter examples, job description, and career advice pages for more helpful tips and advice.
What should be included in a Sales Lead resume?
Before creating and submitting a resume for a sales lead position, it is important to consider what should be included to demonstrate your qualifications and experience. A sales lead resume should be tailored to the position and showcase how your skills and experience can help the company reach its goals. Below are some key things to include when creating a sales lead resume.
Professional Summary: At the top of the resume, include a professional summary that showcases your qualifications, experience, and achievements. Focus on the skills and qualities that make you a great candidate for the position.
Work Experience: Include past experience that is relevant to the sales lead position. Include the company name, job title, job duties, and any accomplishments or awards that you achieved in the position.
Education: Include any relevant degrees and certifications that demonstrate your knowledge and commitment to the field.
Relevant Skills: Highlight any skills that you have that are relevant to the position. This could include sales-related skills, such as customer service and sales strategies, as well as interpersonal skills, such as communication and problem-solving.
Awards and Achievements: Include any awards or accomplishments that display your success in sales and leadership.
Extra-curricular Activities: Include any volunteer or extracurricular activities that demonstrate your commitment to the sales field.
By including these key points in a sales lead resume, you can ensure that you are presenting yourself in the best light possible and giving yourself the best chance of success.
What is a good summary for a Sales Lead resume?
A sales lead resume should succinctly highlight qualifications, experience, and skills that demonstrate the individual's ability to lead and excel in sales. A good summary should start off with a strong statement of the candidate's sales abilities and include a concise description of their experience. It should also list their relevant skills, such as the ability to develop and implement successful sales strategies, and any industry certifications or credentials. Finally, it should be an accurate reflection of the individual's personal qualifications in order to create a convincing argument to any potential employers. A well-written sales lead resume summary can go a long way in helping a jobseeker stand out from the competition.
What is a good objective for a Sales Lead resume?
A Sales Lead is a professional who takes on a leadership role within a sales team, guiding the team and monitoring their performance. In order to be successful in this role, a Sales Lead must have a clear and defined career objective. Writing a compelling objective for your Sales Lead resume will help you stand out among other applicants and increase your chances of being hired. Here are some examples of good objectives for a Sales Lead resume:
To leverage my extensive experience in sales, marketing, and customer service to effectively lead a sales team, drive growth, and exceed sales goals.
To use my strong organizational and communication skills to build a successful sales team and achieve desired revenue targets.
To lead and manage a sales team to deliver exceptional levels of customer service and increase sales revenue.
To develop and implement effective sales and marketing strategies to maximize revenue and customer satisfaction.
To build and maintain client relationships to ensure consistent growth and long-term success.
To use my experience in sales and marketing to increase sales, reduce costs, and expand market share.
How do you list Sales Lead skills on a resume?
When applying for a sales position, it is important to have an up-to-date resume that outlines your sales lead skills. Hiring managers will look for evidence of these skills in your resume, so it is important that they are listed in a clear and concise manner. Here are some tips for how to list sales lead skills on your resume:
Presentation Skills: Sales roles often require the ability to clearly and confidently present products and services to potential customers. Showcase your presentation skills by outlining how you have presented and pitched products in the past.
Communication Skills: The ability to communicate effectively with customers, colleagues, and other stakeholders is essential for a successful sales lead. Detail the various communication skills you possess such as active listening, negotiation, and problem-solving.
Leadership Skills: Good sales leads need to be able to lead their team, set targets, and motivate performance. Highlight past experiences in which you have successfully led a team or project, as well as any additional leadership qualifications you may have.
Sales Knowledge: Demonstrate your knowledge and expertise in the sales field by detailing any sales-related qualifications or certifications you may have. Also list any experience of using specific sales software, such as CRM systems.
Results Orientation: Selling is all about results, so include examples of achievements that demonstrate your ability to close sales and meet targets. Include figures and data to support your claims.
By following these tips, you can effectively showcase your sales lead skills on your resume and make a strong impression to potential employers.
What skills should I put on my resume for Sales Lead?
When creating a resume for a Sales Lead position, it's important to highlight the skills that demonstrate your ability to successfully interact with customers, manage people, and generate sales. The following skills should be included on your resume:
Leadership: Sales Leads are responsible for managing a team of salespeople, so strong leadership skills are essential. Employers look for candidates who can lead by example, encourage and motivate their team, and set clear goals and expectations.
Communication: As a Sales Lead, your ability to communicate effectively is key. You should be able to collaborate with customers and other salespeople, get your point across in an articulate and concise manner, and give clear instructions to your team.
Negotiation: A successful Sales Lead should be able to negotiate win-win scenarios and close deals while maintaining positive relationships with customers.
Strategic Thinking: You should have the ability to develop sales strategies and plans to meet organizational goals and objectives. Strategic thinking is essential for strategic decision making and for analyzing customer needs.
Analytical Skills: You should have excellent analytical skills to evaluate customer data, monitor sales performance, and identify opportunities for improvement.
Knowledge of Sales Processes: You should be knowledgeable about the sales process and understand current sales trends and techniques.
These are just a few of the essential skills you should highlight on your resume for a Sales Lead position. When creating your resume, be sure to include relevant experience and any certifications that show your knowledge and expertise in the industry.
Key takeaways for an Sales Lead resume
A strong sales lead resume is an essential tool for job seekers in the sales industry. Whether you are a first-time job seeker or a seasoned professional, it is important to have an updated and effective resume. A well-crafted sales lead resume should highlight your accomplishments and qualifications, as well as demonstrate your ability to lead and motivate others.
Here are some key takeaways for a sales lead resume:
Make sure your resume is concise and professional. List only relevant information and avoid long, drawn-out descriptions. Make sure to include contact information and a clear and concise summary of your qualifications.
Highlight your successes and accomplishments. Don't forget to include sales metrics and numbers to demonstrate your success.
Demonstrate your leadership experience. Include any positions held that demonstrate your ability to lead and motivate others.
Showcase your teamwork skills. Include examples of how you have worked effectively in a team and how you have gone above and beyond to meet goals.
Demonstrate your knowledge and familiarity with sales techniques and strategies. Discuss the techniques and strategies you have used in past positions.
Showcase any awards or certifications you have earned.
Keep your format consistent. Make sure all dates and information are organized and formatted consistently throughout the resume.
By following these guidelines, you can create a compelling and effective sales lead resume that will help you stand out from the competition. With a strong resume, you can increase your chances of landing the perfect job.
Let us help you build
your Resume!
Make your resume more organized and attractive with our Resume Builder