The Sales Analyst role is an important one for any company seeking to increase their sales. To become a successful and competitive Sales Analyst, you must have a resume that stands out and highlights your skills, experience, and accomplishments. A great resume can make all the difference in whether or not you are chosen for an interview. Writing a resume for a Sales Analyst role can be intimidating, but this guide will help you craft one that will get you noticed. Through tips and examples, you will learn how to write a resume that will set you apart from the competition.
If you didn't find what you were looking for, be sure to check out our complete library of resume examples.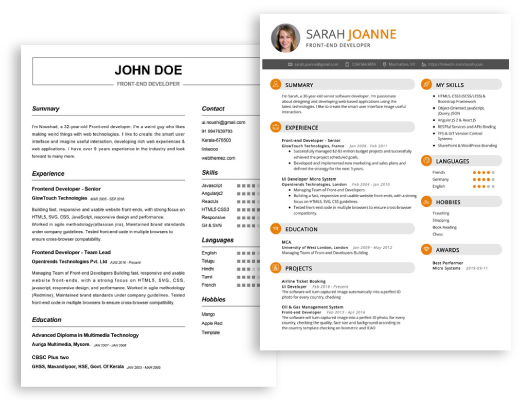 Start building your dream career today!
Create your professional resume in just 5 minutes with our easy-to-use resume builder!
Sales Analyst Resume Examples
John Doe
Sales Analyst
123 Main Street | Anytown, USA 99999 | Phone: (123) 456-7890 | Email: john.doe@email.com
Enthusiastic Sales Analyst with 4+ years of experience in analyzing sales trends to drive growth. Proven track record of developing efficient strategies to increase sales and customer satisfaction. Adept at using various analytical tools and techniques to generate in- depth market insights. Possesses excellent communication, interpersonal, and problem- solving skills.
Core Skills:
Sales & Market Analysis
Strategic Planning
Data Analytics
Customer Satisfaction
Forecasting & Reporting
Product Knowledge
MS Excel & Access
Professional Experience:
Sales Analyst, ABC Group, Miami, FL
Analyzed sales data to identify trends, forecast sales projections, and develop strategic plans for the company.
Developed customer segmentation models to improve sales and customer satisfaction.
Identified opportunities for new products and services, and suggested ways to increase market share.
Provided data- driven insights and recommendations to executive management.
Prepared monthly sales reports and presented them to the executive team.
Education:
Bachelor of Science in Business, ABC University, Miami, FL
Sales Analyst Resume with No Experience
Recent college graduate with a Bachelor's Degree in Business Administration and strong analytical, organizational, and communication skills. Motivated to use acquired knowledge and experience to gain a role in sales analysis and research.
Skills
Analytical Skills
Data Interpretation
Organizational Ability
Attention to Detail
Time Management
Computer Proficiency
Communication Skills
Problem- Solving
Responsibilities
Analyze sales data and identify trends, patterns, and opportunities
Develop data- driven sales strategies to maximize profitability
Assist in the development of reports and presentations for senior management
Identify areas of improvement and develop solutions to enhance sales performance
Analyze customer segmentation and develop strategies to target new markets
Monitor competitor activities and develop response plans
Stay up- to- date with industry and market trends to identify new opportunities
Sales Analyst Resume with 2 Years of Experience
Driven and detail- oriented Sales Analyst with more than two years of experience in interpreting customer data, designing and implementing sales models, and providing meaningful insights and reports to improve business performance. Proven track record of developing and executing effective sales strategies, and providing exceptional customer service. Highly skilled in data analysis, problem- solving, and decision- making.
Core Skills:
Data Analysis
Sales Model Design
Customer Service
Strategic Planning
Problem Solving
Business Performance
Reporting & Presentation
Data Visualization
Responsibilities:
Developed and implemented business strategies to eliminate discrepancies in customer data and increase sales efficiency
Analyzed customer data to identify trends and formulate meaningful insights to optimize sales performance
Provided detailed reports and presentations on customers' buying behaviors and product performance
Developed sales models to accurately forecast future sales and budget requirements
Ensured customer satisfaction through timely responses and follow- up services
Monitored market trends and competitor activities to develop strategies to maintain company's competitive advantage
Collaborated with other departments to analyze potential markets and determine customer needs
Sales Analyst Resume with 5 Years of Experience
A motivated and analytical sales analyst with 5 years of experience in data analysis, sales forecasting, and market research. Adept at utilizing quantitative and qualitative methods to develop strategies and solutions to maximize sales and profits. Experienced in optimizing existing processes, utilizing data insights to inform decisions, and driving sales objectives.
Core Skills:
Data Analysis
Sales Forecasting
Market Research
Business Analysis
Product Marketing
Strategy Development
Problem Solving
Data Insights
Data Visualization
Responsibilities:
Gathering and analyzing data from sales and market trends to develop strategies for sales growth
Developing sales forecasts and reports to track and monitor key performance indicators
Conducting market research and industry analysis to identify opportunities for sales improvement
Collaborating with cross- functional teams to ensure product development and marketing strategies are aligned with sales goals
Analyzing customer data to identify sales opportunities and potential issues
Developing and implementing processes and procedures to improve sales productivity
Utilizing data insights to inform decisions, develop strategies, and optimize processes
Creating presentations and reports to communicate data insights and sales performance to stakeholders
Sales Analyst Resume with 7 Years of Experience
Highly motivated and experienced Sales Analyst with 7 years of industry experience. Proven track record of developing and executing sales strategies to increase market share, leverage customer relationships, and optimize conversions. Ability to analyze data and draw meaningful insights to identify areas of improvement. Experienced in leveraging customer feedback to develop and maintain sales funnels. Excellent interpersonal and communication skills, with expertise in both digital and traditional sales channels.
Core Skills:
Sales Strategies
Data Analysis
Insights Discovery
Customer Relationships
Sales Funnel Development
Digital & Traditional Sales Channels
Interpersonal & Communication Skills
Responsibilities:
Developed and implemented sales strategies to increase the sales and market share of the company.
Gathered and analyzed data to draw meaningful insights and identify areas of improvement.
Established and maintained customer relationships to maximize customer retention and loyalty.
Monitored customer feedback to develop and optimize sales funnels.
Created and managed campaigns to promote products/services through digital and traditional channels.
Provided technical support and guidance to sales representatives.
Generated weekly and monthly reports to track sales performance.
Identified opportunities for improvement in sales processes and procedures.
Collaborated with stakeholders to create and implement new strategies.
Sales Analyst Resume with 10 Years of Experience
Dynamic and results- driven Sales Analyst with 10 years of experience providing in- depth analysis on sales metrics and performance, forecasting future trends, and ensuring process optimization and efficiency. Skilled in developing and implementing strategic sales plans and driving effective sales growth. Adept at utilizing data- driven insights to increase profitability and identify potential opportunities.
Core Skills:
Analytical Thinking
Strategic Planning
Sales Forecasting
Data Analysis
Reporting
Process Optimization
CRM Systems
Team Leadership
Account Management
Responsibilities:
Monitored sales performance to identify trends and establish future objectives and strategies.
Analyzed customer behavior and generated meaningful insights to improve sales force efficiency.
Developed comprehensive sales reports to track and monitor performance of sales teams and individual sales representatives.
Optimized sales processes and systems to maximize operational efficiency.
Assisted with budget planning and forecasting to ensure the achievement of the organization's financial goals.
Worked closely with the marketing team to align sales and marketing initiatives.
Collaborated with senior management to define and implement sales strategies.
Established and maintained key accounts for long- term success.
Mentored and trained new sales personnel on sales tactics and techniques.
Sales Analyst Resume with 15 Years of Experience
Talented and experienced Sales Analyst with over 15 years of experience in sales analysis and reporting. Possesses excellent knowledge of sales analytics tools and techniques. Proven ability to analyze sales data, identify trends, and develop accurate forecasts. Skilled at developing and maintaining strong customer relationships that lead to increased sales. Excellent problem- solving skills, communication skills, and organization skills.
Core Skills:
Sales Analysis
Data Analysis
Forecasting
Customer Relations
Data Mining
Problem Solving
Communication
Organization
Responsibilities:
Analyzing sales data to identify trends and develop forecasts
Creating reports using sales analytics tools
Developing and maintaining strong customer relationships
Interpreting customer data to make informed decisions
Providing support to sales representatives
Developing marketing strategies to drive sales
Conducting market research to identify new sales opportunities
Analyzing customer feedback to improve customer satisfaction
In addition to this, be sure to check out our resume templates, resume formats, cover letter examples, job description, and career advice pages for more helpful tips and advice.
What should be included in a Sales Analyst resume?
A Sales Analyst resume should include a professional summary, relevant experience, educational background, and specific skills. It is important to include any experience related to the sales field, such as analyzing customer data, leading presentations, and developing sales strategies.
Professional Summary: Summarize your experience and qualifications in a few sentences at the top of your resume.
Relevant Experience: Outline any sales-related roles you've had, such as your duties, successes, and any awards or recognition you've received.
Educational Background: Include your educational background, such as the name of your degree and the name of the school you attended.
Specific Skills: List any technical and soft skills that are related to the sales analyst role, such as data analysis, sales forecasting, and customer service.
Extra: You can also include any other certifications or accomplishments that are related to the sales field.
What is a good summary for a Sales Analyst resume?
A good summary for a Sales Analyst Resume should highlight key accomplishments in the field of sales and analytics. The summary should provide a concise but comprehensive overview of the job seeker's experience and qualifications. It should focus on the candidate's strengths and showcase their ability to analyze data and provide insights to drive sales. A successful Sales Analyst should demonstrate the ability to build strong relationships with customers, as well as a solid understanding of the sales process and strategies. They should also showcase their expertise in data analysis, market research, and forecasting. Finally, the summary should emphasize the candidate's ability to maintain accurate data and reports, while providing insightful recommendations to increase sales.
What is a good objective for a Sales Analyst resume?
A sales analyst is a professional who looks at sales data and provides insights to a company's sales team. They are responsible for analyzing sales data and making recommendations to increase sales performance and profitability. A good objective for a sales analyst resume should reflect a candidate's experience in using data analysis to create actionable strategies for sales teams.
Demonstrate knowledge of sales analytics and the ability to make accurate forecasts of sales performance
Showcase expertise in developing and implementing strategies to reach sales goals
Highlight aptitude in identifying trends in customer behavior and preference
Display proven ability to analyze market trends and adjust sales strategies accordingly
Illustrate skills in data collection, evaluation, and interpretation
Highlight knowledge of CRM systems and Excel to track and monitor sales trends
Provide examples of success in developing innovative solutions to increase sales performance
How do you list Sales Analyst skills on a resume?
When creating a resume, including a list of Sales Analyst skills is a great way to highlight your qualifications and experience in the field. Sales Analysts are responsible for monitoring sales performance, analyzing data, and providing insights to help with sales improvement. To make sure your resume stands out and showcases your expertise, here are some Sales Analyst skills to list on your resume:
Data Analysis: Ability to identify trends and patterns in data, as well as extract insights to help inform sales strategy.
Market Research: Ability to research customer needs, preferences, and trends.
Report Writing: Ability to develop detailed and comprehensive reports to convey sales performance data.
Strategic Thinking: Ability to think strategically and develop sales strategies for improving performance.
Communication: Ability to communicate effectively to stakeholders and report on sales performance.
Project Management: Ability to manage multiple projects and ensure deadlines are met.
Problem Solving: Ability to identify and troubleshoot issues in order to improve sales performance.
Technical Knowledge: Knowledge of sales software, analytics tools, and other technology used in the sales process.
What skills should I put on my resume for Sales Analyst?
When it comes to crafting a resume for a Sales Analyst position, it is important to emphasize the analytic and communication skills necessary to be successful in the role. Below are some key skills that should be included on your resume:
Sales Analysis: Demonstrate your experience in sales analysis, including working with data sets, analyzing trends, and forecasting potential sales outcomes.
Data Visualization: Showcase your ability to draw insights from data sets by presenting them in visually appealing ways, such as through charts and graphs.
Data Management: Highlight your expertise in managing data, including organizing and curating data sets for easier processing and analysis.
Communication: Showcase your communication skills, both written and verbal, which are essential for presenting analyses to stakeholders.
Problem-Solving: Demonstrate your aptitude for problem-solving and your ability to take a systematic approach to finding the best solutions.
Attention to Detail: Showcase your attention to detail, which is essential when conducting research and analysis.
Leadership: Demonstrate your ability to lead projects, manage teams, and work independently.
Teamwork: Highlight any experience working collaboratively on projects, in order to show your ability to work with others.
Key takeaways for an Sales Analyst resume
When writing a resume for a Sales Analyst position, it is important to consider the key skills and qualifications required by the job. Here are some key takeaways to remember when crafting your resume:
Highlight Your Analytical Skills: As a Sales Analyst, you need to have strong analytical skills. Be sure to emphasize your ability to analyze data, interpret trends, and create reports in your resume.
Showcase Your Technical Skills: You'll also need strong technical skills, such as knowledge of databases, software, and programming languages. Demonstrate these skills by including relevant certifications, as well as any past experience in software development or systems engineering.
Communicate Your Experience: It is essential that you showcase your experience in customer service, sales processes, and market research. Make sure to include details about the specific projects you worked on and the results you achieved.
Demonstrate Your Leadership Skills: As a Sales Analyst, you are expected to be a leader. Demonstrate your leadership skills by highlighting any team-building or process improvements you implemented in past roles.
Include Relevant Education: Many companies require that Sales Analysts have a bachelor's degree in business or computer science. Make sure to include any relevant education you have in your resume.
By following these key takeaways, you can create a resume that will demonstrate your qualifications and experience as a Sales Analyst.
Let us help you build
your Resume!
Make your resume more organized and attractive with our Resume Builder