Whether you are a new sales agent just entering into the field or an experienced professional looking for a new job, writing an effective and impressive resume is essential. Your resume will be the first impression potential employers have of you and it can be the deciding factor whether or not you get the job. This guide will provide you with tips and advice for writing an effective sales agent resume that stands out from the competition. You will also find examples of resumes for sales agents that have proven effective in real-world applications.
If you didn't find what you were looking for, be sure to check out our complete library of resume examples.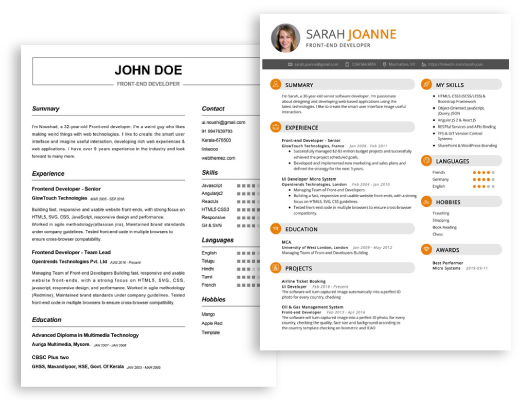 Start building your dream career today!
Create your professional resume in just 5 minutes with our easy-to-use resume builder!
Sales Agent Resume Examples
John Doe
Sales Agent
123 Main Street | Anytown, USA 99999 | Phone: (123) 456-7890 | Email: john.doe@email.com
A highly motivated, results- driven Sales Agent with 5+ years of experience in sales, customer service, and account management. Adept at developing creative sales strategies, building strong client relationships, and utilizing initiative to identify opportunities for increased efficiency in sales processes. Committed to providing exceptional customer service and ensuring the long- term success of clients.
Core Skills:
Sales and Account Management
Prospecting and Lead Generation
Team Collaboration
Customer Service
Data Analysis
Strategic Planning
Negotiation and Closing
Professional Experience:
Sales Agent, ABC Company, 2019 – Present
Develop and implement strategies to increase sales, improve customer acquisition, and increase customer loyalty
Negotiate pricing and terms of sales and service agreements with clients
Review customer feedback and develop plans to improve customer service
Manage a portfolio of large accounts and expand customer base through relationship building
Train and mentor new sales agents
Analyze sales data and develop strategies to improve sales process
Sales Representative, XYZ Company, 2016 – 2018
Developed and managed customer accounts
Generated leads and managed sales pipeline
Negotiated contracts and pricing
Ensured customer satisfaction with product and services
Developed sales strategies for target markets
Trained and mentored junior sales representatives
Education:
Bachelor of Science in Business, University of XYZ, 2014 – 2016
Sales Agent Resume with No Experience
Highly motivated and passionate sales agent eager to learn and develop new skills in a growing company. Able to effectively communicate with customers and potentially close sales. Highly organized, able to multitask and prioritize tasks.
Skills
Excellent communication skills
Strong interpersonal skills
Proficient with computer applications
Proficient with customer relationship management (CRM) systems
Detail- oriented
Ability to work independently
Ability to work in a team environment
Ability to negotiate
Ability to close sales
Responsibilities
Generate leads and cold- call potential customers
Develop relationships with customers
Identify customer needs and recommend appropriate products
Actively follow- up on leads to maximize sales
Monitor customer service levels to ensure satisfaction
Provide accurate and timely updates to customers on the status of their orders
Establish and maintain professional relationships with customers
Participate in sales meetings and training sessions
Stay up to date with industry trends and changes in the marketplace
Sales Agent Resume with 2 Years of Experience
Dynamic sales professional with 2 years of experience in customer relations and sales operations. Adept at utilizing excellent interpersonal skills to develop and nurture customer relationships. Proven ability to increase sales and customer engagement through successful sales strategies and customer service initiatives.
Core Skills:
Strong customer service and communication skills
Expertise in customer relations management
Proven ability to increase sales
In- depth knowledge of sales and marketing strategies
Proficient in problem- solving and data analytics
Responsibilities:
Developed and implemented customer service policies and procedures
Cultivated relationships with customers to ensure repeat sales
Collaborated with team members to create sales and marketing campaigns
Analyzed customer feedback to identify areas of improvement
Conducted market research to develop new sales strategies
Prepared weekly sales reports and tracked customer data
Maintained up- to- date customer information and sales records
Sales Agent Resume with 5 Years of Experience
With five years of experience in Sales Agent positions, I bring a comprehensive understanding of customer service, sales strategies and organizational capabilities. I have experience in developing relationships with customers through both in- person contact and phone interactions and am confident in my ability to provide exceptional customer service. I am a highly organized and driven individual who is comfortable working independently as well as in a team environment.
Core Skills:
Excellent customer service skills
Strong communication and negotiation skills
Highly organized
Proven ability to exceed sales targets
Proficient in Microsoft Office Suite and customer service software
Strong problem- solving capabilities
Responsibilities:
Identifying customer needs and providing customized solutions
Educating customers on product offerings and services
Developing relationships with clients through in- person contact and phone calls
Maintaining customer records and updating customer data
Creating and implementing sales strategies to increase sales
Analyzing customer feedback to identify areas of improvement
Assisting with administrative tasks such as tracking orders and invoices
Sales Agent Resume with 7 Years of Experience
Dynamic sales agent with 7 years of experience driving sales growth for well- known companies. Proven track record of success building and maintaining client relationships, meeting and exceeding sales goals, and providing customers with exceptional service. Core competencies include customer management, market analysis, and new product development. Highly organized, creative, and goal- oriented with an ability to identify and capitalize on opportunities.
Core Skills:
Customer Management
Market Analysis
New Product Development
Strategic Planning
Sales Forecasting
Business Development
Account Management
Negotiation
Responsibilities:
Generated and qualified leads to drive sales growth
Developed and implemented strategic plans to build customer loyalty and satisfaction
Presented new product ideas to customers and prospects to expand sales
Provided exceptional customer service to ensure customer satisfaction
Analyzed customer needs and preferences to create tailored solutions for their business
Controlled sales and margins to maximize profits
Researched industry trends and competitors' activities to identify new opportunities
Negotiated terms and conditions of sales contracts to ensure the best deal for the company
Sales Agent Resume with 10 Years of Experience
Dynamic and results- driven professional with 10 years of experience as a Sales Agent in the telecommunication and retail industry. Adept at managing customer service, sales, and promotional activities. Proven track record of success in establishing and cultivating relationships with customers. Possesses excellent communication, interpersonal, and relationship building skills necessary to create a positive customer experience.
Core Skills:
Customer Service
Sales
Promotion
Relationship Building
Communication
Team Building
Marketing
Problem Solving
Organizational
Responsibilities:
Implementing sales strategies and tactics to exceed sales quotas.
Developing and maintaining customer relationships.
Helping to develop new products and services to meet customer needs.
Providing customer service and support.
Analyzing customer feedback and making necessary adjustments.
Following up with customers on their orders, inquiries, and other related services.
Participating in promotional activities to increase customer awareness.
Generating reports and providing feedback to management.
Assisting with training and mentoring new sales agents.
Sales Agent Resume with 15 Years of Experience
Objective
To secure a Sales Agent position with a well- established company that will allow me to utilize my fifteen years of experience in sales.
Highly experienced Sales Agent with fifteen years of experience in both in- person and digital sales. Proven track record of success in prospecting and qualifying leads, building relationships with customers, and closing sales. Proven ability to develop customer loyalty and repeat business. Skilled in using digital platforms to promote products and services and drive sales.
Core Skills:
Lead Generation
Client Relationship Building
Lead Qualification
Product Promotion
Sales Strategies
Sales Presentations
Sales Forecasting
Digital Platforms
Responsibilities:
Develop and implement sales strategies to meet revenue goals
Prospect for and qualify leads for new customers
Identify customer needs and present appropriate solutions
Build long- term relationships with customers to generate repeat business
Utilize digital platforms to promote products and services and drive sales
Conduct sales presentations to potential customers
Develop sales forecasts and track sales performance against goals
Train new sales agents and provide ongoing coaching and feedback
In addition to this, be sure to check out our resume templates, resume formats, cover letter examples, job description, and career advice pages for more helpful tips and advice.
What should be included in a Sales Agent resume?
A sales agent resume should include a range of important skills, experience, and achievements. It's important to tailor your resume to the specific job you're applying for, so that it can demonstrate your qualifications. Here are some of the key aspects to consider when writing a sales agent resume:
Professional Summary: This should be a few sentences highlighting your key strengths and experience.
Relevant Experience: List any previous experience you have in sales, customer service, or other related fields. Include your job title, the company you worked for, the length of employment, and any relevant accomplishments.
Education and Training: Include details of degrees, certifications, and any other relevant training.
Skills: List any skills you have that are relevant to the sales agent role, such as customer service, marketing, communication, problem solving, and organization.
Achievements: Include any awards or recognitions you have received, or any other accomplishments that demonstrate your ability to succeed in a sales role.
Additional Information: If you have any other experience or qualifications that may be relevant to the job, include them here.
By including all the relevant details in your resume, you can give employers a good understanding of your qualifications, skills, and abilities. This will help you secure the job of your dreams.
What is a good summary for a Sales Agent resume?
A sales agent resume should be concise, yet comprehensive enough to showcase you and your experience as a sales professional. It should include key components such as your educational qualifications, professional experience, and a summary of your skills and accomplishments.
Your educational qualifications should include the degrees or certifications you've earned, as well as any industry-specific training you've received. Be sure to include any courses or seminars that have enabled you to hone your sales skills.
In the professional experience section of your resume, include both your current place of employment and any previous roles you've held in a sales capacity. List job titles, the dates of employment, and a brief overview of the duties and responsibilities associated with each position.
Your skills and accomplishments should be listed in a highlights section, which is a great way to showcase your success. Include any sales awards you've won, as well as any special projects or initiatives you've led.
Finally, your resume should include a summary of your qualifications. This is your chance to really showcase your capabilities as a sales agent and make a positive impression on potential employers. Focus on describing your top selling points, such as your ability to close deals, strengthen customer relationships, and build new accounts.
By following these tips and quantifying your accomplishments, you can create a winning sales agent resume that will get you noticed and help you land your next job.
What is a good objective for a Sales Agent resume?
Writing a resume can be challenging and the most important part is coming up with an objective that effectively summarizes your career goals. An effective objective for a sales agent resume should highlight your ability to build relationships, close deals, and generate revenue.
Demonstrate superior sales performance, exceeding targets and objectives set by the organization.
Develop and execute strategic plans to increase customer base and generate revenue.
Utilize excellent communication and interpersonal skills to build strong customer relationships.
Maintain knowledge of the industry and market trends to identify opportunities and develop sales strategies.
Monitor competitor activities and pricing to ensure competitive advantage.
Actively participate in sales meetings, conferences, and training sessions.
Stay up-to-date on new products and services to offer and present them to customers.
Provide detailed feedback on customer preferences, product quality, and market trends.
How do you list Sales Agent skills on a resume?
When creating a resume, it is essential to illustrate your skills and abilities that are relevant for the position you are applying for. Sales agents play a key role in companies and organizations, as they need to possess a wide range of skills in order to be successful. In order to list your sales agent skills on a resume, here are some essential skills and qualities that should be included:
Excellent communication skills: The ability to communicate effectively is essential when dealing with customers, potential clients and colleagues. Sales agents need to be able to explain the benefits of products and services in a clear, concise manner, as well as be able to listen and understand customer requirements.
Customer service oriented: Sales agents should be customer-focused and driven, as they need to be able to respond to customer queries quickly and accurately. They should also be able to provide personalized customer experiences, and build strong relationships with customers.
Negotiation and persuasion skills: The ability to effectively negotiate and persuade customers to purchase products and services is a key skill for sales agents. They should be able to remain calm and professional in stressful situations, and have the ability to influence customer decisions.
Self-motivated: Sales agents should be able to work independently, and be driven and motivated to reach targets and goals. They should also be able to work well under pressure, and maintain a positive attitude.
Analytical skills: Sales agents should be able to analyze customer data and market trends, in order to identify opportunities for growth and to develop strategies. They should also be able to interpret customer feedback, and use it to improve customer service.
By demonstrating these essential skills and qualities on a resume, you can demonstrate to employers that you possess the skills and abilities to be a successful sales agent.
What skills should I put on my resume for Sales Agent?
Sales agents are responsible for selling products and services to customers and making sure companies meet their sales goals. To be successful in this line of work, you need a resume that highlights your customer service, sales, and communication skills.
Here are some skills to consider including on your resume to demonstrate your qualifications for a sales agent position:
Customer Service: Sales agents should possess excellent customer service skills and be able to create a friendly and pleasant customer experience. This involves being able to respond to customer inquiries and resolve customer complaints in a timely and professional manner.
Sales Knowledge: Sales agents should be knowledgeable about the products and services they are selling and have the ability to accurately explain the features and benefits to customers. They should also have a good understanding of the target market and be able to develop sales strategies to meet customer needs.
Negotiation Skills: Negotiation skills are essential for sales agents, as they need to be able to close deals and reach agreements with customers. This involves being able to recognize customer needs and desires, identify the key points of a deal, and explore alternative solutions that can benefit both parties.
Communication Skills: Sales agents need to be excellent communicators, both verbally and in writing. They should have strong interpersonal skills, be able to actively listen to customers, and be able to clearly and effectively explain products and services.
Time Management: Sales agents should be able to manage their time effectively and prioritize tasks to meet sales deadlines and goals. This requires the ability to multitask and stay organized while managing multiple customer accounts.
Computer Skills: Many sales agents use computers to track customer accounts and process orders. Therefore, they should have a good understanding of computer programs such as customer relationship management (CRM) systems and Microsoft Office Suite.
By including these skills on your resume, you can demonstrate to employers that you have the necessary qualifications for the role of a
Key takeaways for an Sales Agent resume
When creating a resume for a Sales Agent role, it is important to ensure that your resume is well structured, showcases your relevant experience and skills, and captures the attention of the hiring manager. Here are some key takeaways to keep in mind when creating your resume:
Highlight Your Sales Achievements: Make sure to highlight your sales achievements and successes, such as any awards or recognitions you have received. This will help you to stand out from the competition.
Tailor Your Resume: Each role is different, so tailor your resume to the specific role. Include relevant skills, experiences, and qualifications that make you a great fit for the job.
Use Keywords: Many companies use applicant tracking systems (ATS) to help them filter through resumes. Make sure to use industry-specific keywords in your resume to ensure that your resume makes it through the ATS.
Include Your Contact Information: Don't forget to include your contact information in your resume, such as your name, phone number, and email address.
Develop a Professional Summary: Include a professional summary at the top of your resume that perfectly sums up your experience and qualifications in a few sentences.
Demonstrate Your Communication Skills: Communication is a key component of a successful sales career. Make sure to highlight your communication skills in your resume.
Following these key takeaways will ensure that your resume stands out from the rest and captures the attention of the hiring manager. Good luck!
Let us help you build
your Resume!
Make your resume more organized and attractive with our Resume Builder