Your resume is one of the most important tools you have when you're looking for a job. It's your first impression with potential employers, and if it's not up to par, it could cost you the opportunity to land the job. Writing a good resume can be a daunting task, especially if you're not sure where to start. That's why we've put together this comprehensive guide to help you create a resume that will get you noticed. We'll look at what should be included, how to format it, and provide resume writing examples to help you create a winning document. Follow this guide and you'll be one step closer to landing your dream job.
If you didn't find what you were looking for, be sure to check out our complete library of resume examples.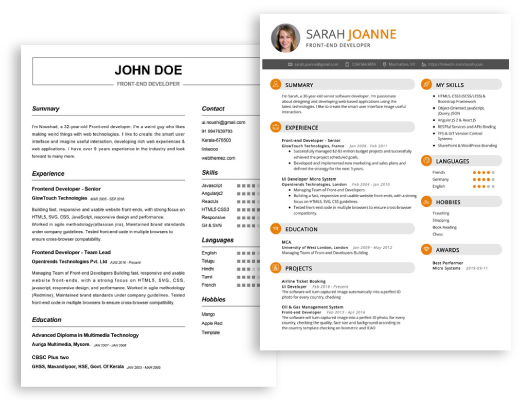 Start building your dream career today!
Create your professional resume in just 5 minutes with our easy-to-use resume builder!
Lead Generator Resume Examples
John Doe
Lead Generator
123 Main Street | Anytown, USA 99999 | Phone: (123) 456-7890 | Email: john.doe@email.com
A results- oriented Lead Generator with 4 years of experience in the sales and marketing industry. Proven ability to develop and strengthen customer relationships while driving sales growth. Skilled in developing customer segmentation and targeting strategies. Adept at financial analysis and market research. Seeking to leverage my experience and skills to join an innovative, customer- focused organization.
Core Skills:
Organizational and time management abilities
Demonstrated ability to work independently and with cross- functional teams
Sales and customer service experience
Familiarity with CRM and other software programs
Strong interpersonal and communication skills
Ability to analyze data and draw conclusions
Professional Experience:
Lead Generator, ABC Company, 2019 – Present
Developed comprehensive customer segmentation strategies to drive sales growth
Identified and tracked customer needs and formulated solutions to match
Conducted financial and market analysis to identify new sales opportunities
Developed customer outreach strategies to build relationships and acquire new leads
Maintained a high level of customer service to ensure customer loyalty
Marketing Associate, XYZ Corporation, 2015 – 2019
Developed and implemented comprehensive customer segmentation and targeting strategies
Generated leads through customer outreach activities
Managed customer relations and negotiated contracts
Conducted market research and analyzed data to identify customer trends and needs
Developed marketing campaigns for new products and services
Education:
Bachelor of Science in Business Administration, ABC University, 2015
Lead Generator Resume with No Experience
Highly motivated and energetic recent graduate with a strong interest in the field of lead generation. Skilled in developing relationships with clients and maintaining customer satisfaction. Results- oriented, with the ability to quickly learn new concepts and technologies.
Skills
Strong communication and customer service skills.
Ability to work independently and in teams.
Proficiency in Microsoft Office Suite and CRM software.
Knowledge of lead generation best practices and strategies.
Excellent organization and time management skills.
Ability to multitask and manage multiple projects.
Responsibilities
Collaborate with marketing and sales teams to identify leads and develop marketing strategies.
Conduct research to uncover potential leads and target audiences.
Develop, maintain and report on a lead generation database.
Create and execute lead generation campaigns, including email and outbound calls.
Develop relationships with potential customers to encourage further interest.
Track customer data and analyze customer trends to improve lead conversion rates.
Monitor competitor activities and lead development opportunities.
Lead Generator Resume with 2 Years of Experience
Motivated and reliable Lead Generator with 2 years of experience in customer service and sales. Achieved sales goals and objectives through developing genuine relationships with customers, cross- selling and up- selling. Excellent communication skills and a genuine interest in customer service. Looking for a Lead Generator role to apply customer service and sales knowledge.
Core Skills:
Lead Generation
Outbound Calls
Customer Service
Sales
Closing
Teamwork
Product Knowledge
Time Management
Problem Solving
Interpersonal Skills
Responsibilities:
Generated leads through outbound calling and cold emailing
Effectively answered customer inquiries and handled complaints
Collaborated with sales team to create customized solutions for customers
Reached out to potential customers, identified their needs and provided appropriate solutions
Built relationships with customers and followed up with them on a regular basis
Negotiated contracts with customers
Followed up on customer referrals and provided customer feedback to the sales team
Developed thorough product knowledge and communicated it effectively to customers
Lead Generator Resume with 5 Years of Experience
Seasoned Lead Generator with 5 years of experience in sales and customer service. Proven ability to initiate and nurture successful relationships with customers and business partners alike to build and promote products. Experienced in managing and motivating sales teams to achieve results. Exceptionally organized and detail- oriented professional with excellent communication, interpersonal, and problem- solving abilities.
Core Skills:
Lead Generation
Relationship Building
Sales Management
Customer Service
Project Management
Data Analysis
Interpersonal Communication
Organizational Skills
Responsibilities:
Conducting market research to identify potential customers and determine their needs.
Generating leads through cold e- mails, cold- calling, and other strategies.
Developing sales strategies to target potential customers.
Engaging with customers to establish relationships and build trust.
Managing and motivating sales teams to achieve desired results.
Creating project plans and timelines to ensure the success of team goals.
Analyzing customer data to make decisions and improve sales strategies.
Participating in promotional events and trade shows to increase brand visibility.
Providing excellent customer service to ensure customer satisfaction.
Lead Generator Resume with 7 Years of Experience
Highly motivated and dedicated Lead Generator with 7 years of experience in developing and implementing lead generation strategies and maintaining strong relationships with clients. Proven track record of using various sources to generate leads and drive growth through strategic marketing tactics. Possess excellent written and verbal communication skills, a comprehensive understanding of sales processes, and an ability to think creatively to reach new markets.
Core Skills:
Lead Generation
Relationship Management
Sales Processes
Strategic Marketing
Analytical Thinking
Creative Problem Solving
Microsoft Office Suite
Customer Service
Responsibilities:
Develop and implement lead generation strategies to reach new customers.
Use various sources to generate leads including email campaigns, social media, and traditional methods.
Identify and develop relationships with key customers and potential leads.
Monitor and analyze market trends and customer feedback to adjust strategies as needed.
Design and implement creative campaigns to drive sales and increase customer satisfaction.
Maintain accurate records of leads and customer data.
Collaborate with sales and marketing teams to develop strategies and ensure successful execution.
Provide exceptional customer service and respond to customer inquiries in a timely manner.
Lead Generator Resume with 10 Years of Experience
I am a Lead Generator with 10 years of experience in sales, customer service and marketing. I have a proven ability to qualify leads, develop relationships with potential customers, and drive sales. I am a highly motivated team player with exceptional communication skills, able to quickly build relationships with customers and consistently meet or exceed sales targets. I have a track record of success in sales, customer service and marketing, and I am looking to use my skills and experience to bring a positive impact to an organization.
Core Skills:
Lead Generation
Sales and Customer Service
Marketing
Relationship Building
Communication
Team Work
Time Management
Responsibilities:
Generating leads through various channels, such as cold calling and email outreach
Qualifying leads through a consultative approach
Developing relationships with potential customers
Providing customer service to ensure customer satisfaction
Maintaining accurate records of customer interactions
Participating in marketing activities, such as content creation and social media campaigns
Collaborating with team members to drive sales and reach targets
Prioritizing tasks and managing time effectively to meet deadlines
Gathering customer feedback and making recommendations for process improvements.
Lead Generator Resume with 15 Years of Experience
Experienced Lead Generator with a proven track record in developing and managing high- impact lead generation campaigns for a variety of industries. Skilled at gathering customer intelligence, researching and identifying target leads, creating and sending emails and other marketing materials, and engaging prospects in meaningful conversations. Possesses excellent communication, analytical and problem- solving skills.
Core Skills:
Lead Generation and Management
Analyzing Customer and Market Data
Identifying Target Leads
Marketing and Promotional Strategies
Database Management
CRM and Salesforce
Technical Writing and Presentations
Responsibilities:
Developed and implemented lead generation plans and strategies
Researched and identified target leads
Created and distributed emails and other marketing materials
Analyzed customer and market data to identify trends and opportunities
Engaged prospects in meaningful conversations to generate qualified leads
Managed CRM and Salesforce databases to track and monitor performance
Developed technical writing and presentations for internal and external audiences
Managed lead generation budget and ensured cost- effectiveness of campaigns
In addition to this, be sure to check out our resume templates, resume formats, cover letter examples, job description, and career advice pages for more helpful tips and advice.
A Lead Generator resume should emphasize any experience or knowledge related to generating leads, sales, and customer service. It should also showcase the applicant's ability to effectively communicate and collaborate with others. When writing a Lead Generator resume, include the following:
Relevant work experience: List all relevant work experience, such as customer service jobs, lead generation roles, sales positions, or any other positions involving lead generation or sales. Include company name, dates of employment, job title, and a brief description of your duties.
Skills: Include any specialized skills you have that relate to lead generation, such as sales skills, customer service skills, or marketing knowledge.
Education: Include any relevant formal education, such as a degree or certificate in sales or marketing.
Achievements: Include any awards, certifications, or other achievements that you have earned related to lead generation or sales.
Computer skills: List any computer programs you are proficient in that are related to lead generation or sales, such as CRM software or marketing software.
Personal characteristics: Include any personal qualities that could be beneficial to a lead generation role, such as strong communication skills, team-work ability, or problem-solving skills.
What is a good summary for a Lead Generator resume?
Lead generators are an essential part of the modern sales team, and an impressive resume is essential to landing the perfect job. A good lead generator resume should concisely and accurately showcase the applicant's experience, skills, and education related to lead generation. It should also include relevant achievements, such as successful campaigns and developed leads. The resume should also include any and all customer service and communication skills that could prove beneficial to a lead generation role. Finally, it should emphasize the candidate's knowledge of the product or service being sold and the sales process. With a well-crafted resume, a lead generator can set themself apart from the competition and secure the ideal role.
What is a good objective for a Lead Generator resume?
A lead generator is responsible for identifying potential customers and then converting them into actual sales. They are an important part of any organization's sales process and their role is critical to the success of an organization. A good objective on a lead generator resume should show that you are capable of finding, connecting with, and converting potential customers into loyal customers and in the long term, sales.
To bring in and cultivate new leads through various marketing tactics, such as email campaigns, website upgrades, and other creative strategies.
To develop relationships with customers and identify their needs to be able to convert them into loyal customers.
To track and analyze customer data and behavior to understand what works and what needs improvement.
To use a combination of sales and marketing strategies to generate leads and close sales.
To be knowledgeable of the latest trends in digital marketing and use them to increase lead generation.
To work closely with the sales team to ensure that all leads are converted into effective sales.
How do you list Lead Generator skills on a resume?
When preparing a resume for a Lead Generator role, it is important to highlight the skills necessary for success in the job. A Lead Generator is a sales professional responsible for generating leads for potential customers. They often work in a call center or sales department and must have excellent communication and customer service skills. Here are some key Lead Generator skills to include on a resume:
Customer Service: Lead Generators must be able to build relationships with potential customers and provide them with the relevant information they need. They must be able to handle customer queries and complaints efficiently and professionally.
Communication: Lead Generators must be able to communicate effectively with customers, both in person and over the phone. They should be able to explain products and services, as well as answer customer questions and address any concerns.
Negotiation: Lead Generators must be able to negotiate with customers to close deals. They must be able to convince customers to purchase products or services and come to a mutually beneficial agreement.
Organization: Lead Generators must be able to keep track of all leads and ensure that all customer interactions are tracked properly in the company's CRM system.
Research: Lead Generators must have strong research skills to identify potential leads and target customers. They must be able to use various sources and tools to do market research and find potential customers.
By including these skills on your resume, you can show employers that you have what it takes to be a successful Lead Generator.
What skills should I put on my resume for Lead Generator?
Your resume is one of the most important documents you'll need when applying for a Lead Generator position. It's your chance to show potential employers the skills and experience you have that make you an ideal candidate. To help you make sure your resume stands out, here are the key skills you should include on your resume for Lead Generator:
Communication: Lead Generators are required to have excellent communication skills to connect with potential customers and explain the features of the product or service they are promoting.
Organization: You should have excellent organizational skills to keep track of leads and ensure that customer inquiries are being addressed in a timely manner.
Salesmanship: Being a successful Lead Generator requires having excellent salesmanship skills to be able to close deals and generate new leads.
Customer Service: You need to be able to provide excellent customer service to ensure customer satisfaction and loyalty.
Attention to Detail: It's essential that you have a keen eye for detail to ensure accuracy in order taking and customer service.
Computer Skills: You should also have some basic computer skills to be able to use customer relationship management (CRM) systems and other software related to the job.
By demonstrating these skills on your resume, you'll show potential employers that you have the qualifications to be an effective Lead Generator.
Key takeaways for an Lead Generator resume
Having a well-crafted resume is essential in order to be considered for a lead generator position. With a lead generator role, there are certain core skills that must be highlighted to demonstrate the value that you can bring to the position. Below are some key takeaways to keep in mind when crafting your resume.
Demonstrate Your Outreach Experience: Since a lead generator position involves a lot of contacting potential customers, it is important to emphasize any relevant experience you have in outreach. This could include your experience in email campaigns, sales calls, customer service, or any other relevant positions.
Highlight Your Communication Skills: It is important to showcase your communication skills on your resume. Lead generation requires a good understanding of customer service and the ability to effectively communicate with customers. Make sure to include any relevant customer service experience, as well as any positive customer feedback you have received.
Quantify Your Results: When possible, back up your experience and accomplishments with quantitative results. If you have led successful initiatives, explain how they resulted in increased leads or sales. This will help demonstrate your success in a lead generating role.
Emphasize Your Knowledge of Sales Tactics: Lead generation requires a strong knowledge of the sales process. Make sure to include any sales-related skills or knowledge you may have, such as familiarity with CRM systems or understanding of lead nurturing.
Be Specific: Make sure to be as specific as possible when discussing your experience and accomplishments. Avoid generic phrases and focus on how you were able to succeed in a lead generating position.
By following these key takeaways, you can create a resume that will stand out and help you land the lead generation position you've been aiming for.
Let us help you build
your Resume!
Make your resume more organized and attractive with our Resume Builder