Writing a resume is one of the most important steps in the job search process, especially when applying for a position as a field representative. When looking for a job as a field representative, you want your resume to be tailored specifically to the requirements of the role. That means including the right information in the right format. To help you craft the perfect resume, this guide will cover important tips on how to make your resume stand out from other applicants and provide field representative resume examples to use as a reference. With the helpful information in this guide, you'll be able to create a unique and professional resume that will make a great first impression to potential employers.
If you didn't find what you were looking for, be sure to check out our complete library of resume examples.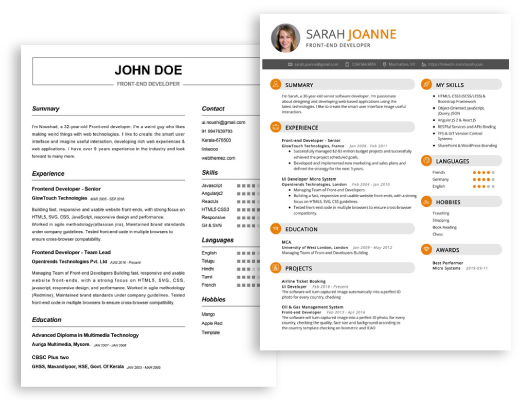 Start building your dream career today!
Create your professional resume in just 5 minutes with our easy-to-use resume builder!
Field Representative Resume Examples
John Doe
Field Representative
123 Main Street | Anytown, USA 99999 | Phone: (123) 456-7890 | Email: john.doe@email.com
An experienced Field Representative with 5+ years of in- field experience providing high- level service and support to clients. Experience in sales and customer service, with knowledge of both public and private sector industries. Highly organized, self- motivated, and committed to delivering exceptional customer service.
Core Skills
Excellent communication and interpersonal skills
Extensive experience resolving customer inquiries
Strong problem- solving and decision- making skills
Ability to work independently and within a team
Extensive knowledge of relevant public and private sector industries
Expert knowledge of sales and customer service techniques
Professional Experience
Field Representative, ABC Company, 2017 – Present
Develop relationships with customers and assist them with their inquiries
Manage customer accounts and ensure their satisfaction with their service
Resolve customer issues and provide the highest level of customer service
Work with business owners to help them understand their options and make the best decisions
Track customer orders and make sure they are delivered on time
Monitor customer feedback and develop strategies to improve customer service
Field Representative, XYZ Company, 2015 – 2017
Provided customer service and sales support to clients
Developed strategies to improve customer satisfaction
Assisted customers with their inquiries and resolved their issues
Monitored customer feedback and identified areas that needed improvement
Developed marketing strategies and promotional materials
Administered customer accounts and ensured accuracy with all data
Education
Bachelor of Arts in Business Administration, University of California, 2012- 2015
Associate of Arts in Business Administration, University of California, 2010- 2012
Field Representative Resume with No Experience
A highly motivated and ambitious recent college graduate with a passion for customer service, looking to begin a career as a Field Representative. With excellent interpersonal and communication skills, strong organizational skills, and a focus on providing top- notch customer service, I am ready to take on the challenges of this role.
Skills
Interpersonal and communication skills
Organizational skills
Customer service
Problem- solving skills
Multitasking
Ability to work in a fast- paced environment
Responsibilities
Coordinate with customers to address their needs and issues
Provide customer service and technical support
Ensure customer satisfaction
Resolve customer complaints and provide feedback to management
Identify and report any potential or existing customer service concerns
Attend meetings with stakeholders to discuss customer feedback, strategies and initiatives
Maintain accurate customer records and reports
Develop and implement customer service strategies
Keep up to date with changes in customer service policies and procedures
Maintain a professional and friendly demeanor at all times
Field Representative Resume with 2 Years of Experience
A highly organized and detail- oriented Field Representative with two years of experience in customer relations and customer service. Possesses excellent problem- solving and communication skills, and is organized and capable of handling a variety of tasks simultaneously. Has a proven track record of being able to build strong relationships with clients in order to ensure customer satisfaction and loyalty. Eager to join a team in an organization that values customer service, customer satisfaction, and hard work.
Core Skills:
Strong customer service and relationship building skills
Excellent written and verbal communication
Able to work independently and collaboratively
Flexible and able to adapt to changing situations
Proficient in Microsoft Office Suite
Responsibilities:
Greet customers and respond to inquiries in a professional and courteous manner
Provide accurate and timely feedback on customer complaints and requests
Build relationships with customers to ensure satisfaction and loyalty
Assist customers with basic product and service knowledge
Conduct market research and surveys in order to better understand customer needs and preferences
Process customer orders and handle payments
Maintain current product knowledge in order to provide customers with accurate information
Perform general administrative tasks such as filing, entering data into databases, and preparing reports
Field Representative Resume with 5 Years of Experience
Highly motivated and organized Field Representative with 5 years of experience in developing client relationships, providing customer service, and carrying out administrative tasks. Experienced in using data analysis and problem- solving skills to identify customer needs, develop and execute customized solutions, and provide exceptional customer service. Possesses excellent organizational, communication, and leadership skills with the ability to work well in fast- paced environments.
Core Skills:
Client Relationship Management
Customer Service
Data Analysis
Problem- Solving
Organizational Skills
Communication
Leadership
Responsibilities:
Develop and maintain strong client relationships
Analyze customer data and feedback to identify customer needs
Create and execute customized solutions to address customer needs
Provide exceptional customer service in a timely and professional manner
Maintain accurate records of customer interactions
Participate in client meetings, trainings, and other events
Provide technical support and troubleshooting for customers
Ensure customer satisfaction with services and products
Conduct market research and stay up to date on industry trends
Develop and manage sales strategies to reach business goals
Handle customer inquiries and complaints in a timely manner
Manage operational activities and ensure compliance with regulations
Field Representative Resume with 7 Years of Experience
I am a Field Representative with seven years of experience in providing a wide range of service to customers. My background includes servicing, installing, and repairing of a variety of equipment, troubleshooting problems, providing customer support, and maintaining service records. My strong communication, problem- solving, and multitasking skills make me a valuable asset for any organization's field operations. I have the ability to quickly assess and troubleshoot complex problems and provide solutions in a timely manner. My experience in providing customer service in a variety of settings makes me a valuable asset to any employer.
Core Skills:
Maintenance and repair of equipment
Technical support
Troubleshooting
Customer service
Problem solving
Multi- tasking
Excellent communication skills
Responsibilities:
Installing and servicing a variety of equipment
Troubleshooting and problem solving technical issues
Meeting customers' needs and providing excellent customer service
Maintaining service records
Developing and implementing strategies to improve service efficiency
Working collaboratively with other departments to ensure customer satisfaction
Training and developing personnel in technical skills
Field Representative Resume with 10 Years of Experience
Dynamic and highly organized Field Representative with 10 years of experience in the sales industry. Skilled in conducting market research, cultivating customer relationships, and providing exceptional customer service. Possesses deep knowledge of sales processes, customer service best practices, and marketing principles. Proven track record in consistently exceeding sales goals and objectives. Demonstrated ability to develop extensive customer databases and successfully coordinate and manage sales campaigns.
Core Skills:
Market Research
Customer Relationship Management
Sales Processes
Customer Service
Marketing Principles
Database Management
Campaign Management
Sales Goals and Objectives
Negotiation
Communication
Responsibilities:
Conducting market research to determine current trends and customer needs.
Developing and nurturing customer relationships to build trust and loyalty.
Analyzing customer response to current sales promotion campaigns.
Developing and maintaining an extensive customer database.
Coordinating and managing sales campaigns to maximize profits.
Negotiating pricing and payment terms with customers.
Providing exceptional customer service through regular follow- ups and account management.
Utilizing effective communication strategies to build relationships with potential customers.
Meeting and surpassing sales goals and objectives.
Field Representative Resume with 15 Years of Experience
Experienced Field Representative with 15 years of experience in developing and implementing business strategies and operations, managing teams, and providing customer service. Proven track record of success in improving customer satisfaction, increasing profits, and expanding company's market share. Focused on identifying and capitalizing on opportunities to drive growth and enhance customer service.
Core Skills:
Strategic planning
Leadership
Team Management
Project Management
Business Development
Customer Service
Marketing
Problem Solving
Data Analysis
Responsibilities:
Developed and implemented business strategies to increase company market share and profitability
Managed team of field representatives to ensure efficient operation of services
Provided exceptional customer service to ensure customer satisfaction and loyalty
Negotiated contracts with vendors and suppliers to optimize cost savings
Prepared reports on market trends and customer feedback to identify areas for improvement
Collaborated with management to create marketing campaigns and promotional offers
Analyzed data to identify opportunities for growth and implement strategies to capitalize on them
Developed and implemented policies and procedures to ensure compliance with regulatory agencies
In addition to this, be sure to check out our resume templates, resume formats, cover letter examples, job description, and career advice pages for more helpful tips and advice.
What should be included in a Field Representative resume?
When applying for a role as a Field Representative, it's important to make sure your resume stands out from the competition. A well-written resume should include several sections that highlight your key accomplishments and experiences. Here are some of the essential elements to include in your Field Representative resume:
Education and Training: Include any educational credentials and professional training that are relevant to the position.
Professional Experience: Include any relevant job titles, employment dates, and employers.
Skills: Include any special skills, such as knowledge of customer service or product support, that you possess.
Achievements: List any awards, certifications, or other accomplishments you have achieved in your career.
Communication and Interpersonal Skills: Include any special communication or interpersonal skills, such as problem-solving or collaboration, that you possess.
Computer Skills: Include any computer or technical skills you may have, such as proficiency in using software programs or familiarity with coding languages.
Additional Qualifications: Include any additional qualifications or experiences that could be beneficial to the position.
By emphasizing your accomplishments and qualifications, you can create an outstanding resume that will get you noticed by potential employers. With the right resume, you can land the Field Representative position of your dreams!
What is a good summary for a Field Representative resume?
A field representative resume should include a summary section that highlights the candidate's skills and qualifications for the position. The summary should focus on relevant professional experience and knowledge, as well as any qualifications that make the candidate a great fit for the role. It should be a few sentences long and should provide a snapshot of the candidate's experience, skills, and qualifications. The summary should also emphasize any areas of expertise or special qualifications that are relevant to the job. Finally, it should also include a few words that describe the candidate's personality and work style. By including this information in the summary, the candidate can make a strong impression with potential employers.
What is a good objective for a Field Representative resume?
A successful objective for a Field Representative resume should be concise and tailored to the specific job. It should communicate the key qualifications you possess that make you the ideal candidate for the job. When crafting your objective, consider the following:
Explain the value you bring to the company.
Highlight the skills and experience that make you a great fit.
Focus on the duties and responsibilities the position entails.
Summarize how your qualifications can benefit the employer.
Your objective should grab the hiring manager's attention, quickly conveying why you are the right person for the job. Consider using some of the following examples in your resume objective:
Proven professional seeking position as a Field Representative to utilize extensive experience in customer service, problem solving, and communication to benefit a successful organization.
Experienced Field Representative looking to leverage 5+ years of experience in customer relations and sales to contribute to a growing team.
Enthusiastic professional seeking to join ABC Company as a Field Representative to serve as a brand ambassador and build relationships with customers.
Resourceful and organized Field Representative with a track record of success in establishing and maintaining mutually beneficial relationships with customers.
How do you list Field Representative skills on a resume?
When crafting a resume for a Field Representative position, it is important to highlight the relevant skills that you possess that would make you an ideal candidate for the role. Here are some of the key skills to include on your resume:
Adaptability: Field Representatives often work in a variety of environments, so it is essential that you are able to adapt quickly and effectively to changing conditions.
Communication: Field Representatives must have strong communication skills in order to effectively interact with customers and relay important information.
Problem-solving: Field Representatives must be able to think on their feet and come up with solutions to complex problems.
Time management: Field Representatives must be able to manage their time effectively and efficiently in order to meet deadlines and customer needs.
Interpersonal skills: Field Representatives must have the ability to interact with customers in a professional and friendly manner.
Analytical skills: Field Representatives must be able to analyze data and make informed decisions quickly and accurately.
Organizational skills: Field Representatives must be able to keep track of all customer interactions and data in an organized manner.
What skills should I put on my resume for Field Representative?
When you're applying for a Field Representative position, it's important to make sure your resume properly displays the skills you possess that make you the best fit for the job. To help you stand out from the crowd, here are the key skills you should include on your resume:
Excellent Communication: Field Representatives must be able to communicate effectively with people from a variety of backgrounds and be able to provide accurate information. As such, it's important to show on your resume that you possess strong verbal and written communication skills.
Problem-solving: As a Field Representative, you will be expected to find solutions to problems or difficult situations. Show that you have experience in problem-solving by including examples of times you have successfully solved a problem, from a previous job or outside of work.
Attention to Detail: Field Representatives must be able to look closely at data and documents in order to provide detailed reports and analysis. Ensure that your resume highlights your exceptional attention to detail and ability to focus on small details.
Organizational Skills: Field Representatives must be able to prioritize tasks and manage their time efficiently. Demonstrate your organizational skills by including examples of projects you have completed to a tight timeline or when you have had to juggle multiple tasks at once.
Adaptability: Due to the nature of the job, Field Representatives must be able to handle unexpected changes or tasks that arise. Show that you can adapt quickly by mentioning times you have had to adjust to an unexpected situation.
By including these key skills on your resume, you'll be sure to make a great impression on potential employers and highlight your suitability for the role.
Key takeaways for an Field Representative resume
A field representative resume should be comprehensive and showcase your experience, skills, and qualifications in a concise manner. As you prepare your resume, here are some key takeaways to keep in mind:
Highlight Your Relevant Experience: Make sure you include any relevant experience you have in the field. Include positions, projects, and any other activities that demonstrate your knowledge and experience.
Showcase Your Expertise: Showcase your expertise in the field by highlighting specific skills, qualifications, and accomplishments in your field.
Demonstrate Your Results: Quantify your results to demonstrate the value you can bring to an organization. Include any relevant statistics or metrics you have achieved in the past, such as increased revenue or cost savings.
Use Keywords: Be sure to include keywords that are relevant to the position for which you are applying. This will increase the chances of your resume being noticed by employers.
Tailor Your Resume: Tailor your resume to the position and company you are applying to in order to stand out. Make sure you include only relevant information and demonstrate why you are the best candidate for the job.
By following these key takeaways, you can create a field representative resume that will help you stand out and get noticed by employers.
Let us help you build
your Resume!
Make your resume more organized and attractive with our Resume Builder