Are you looking for tips on how to write an effective car salesman resume? Writing a resume can be a daunting task, but it doesn't have to be. This guide is designed to help you create a resume that will showcase your skills, experience, and accomplishments as a car salesman. We will provide you with tips and examples to ensure that your resume stands out to employers. With the right information and guidance, you can craft a resume that will get you the job you want.
If you didn't find what you were looking for, be sure to check out our complete library of resume examples.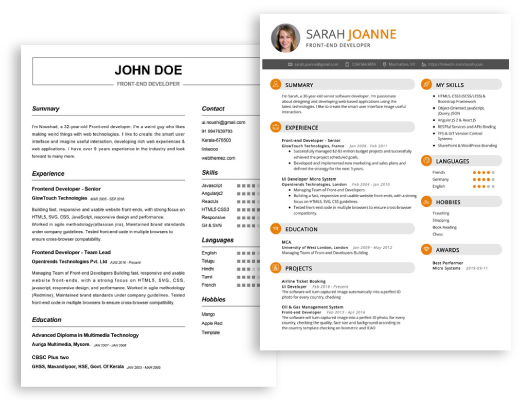 Start building your dream career today!
Create your professional resume in just 5 minutes with our easy-to-use resume builder!
Car Salesman Resume Examples
John Doe
Car Salesman
123 Main Street | Anytown, USA 99999 | Phone: (123) 456-7890 | Email: john.doe@email.com
I am a motivated car salesperson with 5 years of experience in the automotive industry. I have a proven track record of providing great customer service and achieving targets. I'm experienced in generating new sales leads and closing deals. I am a self- starter who excels in a fast- paced environment, and I'm always eager to learn and expand my skillset.
Core Skills:
Strong communication and interpersonal skills
Knowledge of various sales strategies
Excellent customer service
Ability to multitask and prioritize
Proficient in Microsoft Office Suite
Familiarity with automotive products and industry
Professional Experience:
City Ford – Car Salesperson, 2015 – 2020
Responsible for selling new and used cars and providing customers with product information.
Developed and maintained relationships with customers
Delivered excellent customer service and satisfaction
Met sales targets and generated new sales leads
Managed customer inquiries in a timely and professional manner
Advised customers on the best- suited car models for their needs
Education:
Bachelor of Science in Automotive Technology, 2012
University of California, Los Angeles
Car Salesman Resume with No Experience
Enthusiastic, motivated sales professional with a passion for cars and customer service
Interested in obtaining a position as a car salesman with no experience to gain invaluable industry knowledge
Eager to learn, grow and excel in a fast- paced and ever- changing industry
Skills
Excellent communication and customer service skills
Ability to negotiate and close deals
Knowledge of the latest car models and technology
Persuasive selling techniques
Ability to work calmly and efficiently under pressure
Responsibilities
Greet and establish rapport with customers
Listen and understand customer needs and concerns
Explain features and benefits of vehicles
Demonstrate car features and explain aftercare options
Negotiate car sale and upsell additional products and services
Maintain knowledge of applicable laws and regulations
Ensure customer satisfaction through follow- up
Process paperwork for car sale transactions
Maintain cleanliness and appearance of dealership showroom
Assist with marketing and promotional activities for dealership
Respond to customer inquiries and complaints in a timely manner
Car Salesman Resume with 2 Years of Experience
Highly motivated and experienced Car Salesman with two years of experience in the automotive industry. Track record of success in delivering exceptional customer service, maintaining an extensive knowledge of current vehicle models, and ensuring customer satisfaction. Skilled in establishing relationships with clients and providing advice and recommendations in line with their individual needs. Proven ability to stay up- to- date with changing industry trends and working collaboratively with colleagues to drive sales.
Core Skills:
Establishing rapport with customers
Knowledge of current vehicle models
Explaining technical features
Negotiating terms of sales
Meeting sales targets
Identifying customer needs
Closing sales
Handling customer inquiries
Providing product advice
Building customer relationships
Responsibilities:
Meeting and greeting customers in the dealership
Listening to customer needs and providing tailored solutions
Demonstrating features, functions and benefits of vehicles
Negotiating and closing deals with customers
Following up with customers after sales
Handling customer inquiries and complaints
Meeting and exceeding sales targets
Keeping up to date with changing industry trends and vehicle models
Providing advice and recommendations to customers based on individual needs
Working collaboratively with colleagues to drive sales
Car Salesman Resume with 5 Years of Experience
Experienced car salesperson with over five years of experience in the automotive industry. Proven ability to create and maintain relationships with customers and deliver outstanding sales performance. Highly knowledgeable in the automotive sector and have an exceptional ability to read customer needs and match them to the right products. Possess excellent communication and negotiation skills, as well as a commitment to providing excellent customer service.
Core Skills:
Extensive knowledge of the automotive industry
Excellent customer service and relationship building skills
Strong communication and negotiation abilities
Proficient in sales strategies and techniques
Proficient in technical aspects of cars and automotive repair
Responsibilities:
Assisted customers in selecting the right car for their needs
Developed, maintained and updated customer relationships
Maintained and updated product knowledge to ensure the customer received accurate information
Promoted sales by providing customer with product knowledge and services
Provided accurate estimates and quotes for customers
Negotiated customer pricing and terms
Processed paperwork and administrative tasks related to sales
Followed up with customers to ensure satisfaction and answer any inquiries
Car Salesman Resume with 7 Years of Experience
I am a dedicated, hard- working Car Salesman with 7 years of experience in the automotive industry. I am highly organized, customer service- oriented, and possess strong interpersonal and communication skills. My extensive knowledge of automobiles and passion for the industry drive me to ensure top- notch sales and customer satisfaction. I am enthusiastic to be part of a team that embraces challenges and enjoys rewarding and fulfilling experiences.
Core Skills:
In- depth knowledge of automotive industry trends and customer service best practices
Proven track record of sales achievements
Dynamic problem- solving and negotiation skills
Excellent interpersonal, communication, and customer service skills
Strong organizational and time management skills
Ability to work effectively in a fast- paced environment
Responsibilities:
Developing and executing creative sales strategies
Negotiating deals and fielding customer inquiries
Training new and existing sales staff
Building and maintaining relationships with customers
Creating promotional campaigns to increase sales
Maintaining a thorough and up- to- date knowledge of vehicles and accessories
Executing sales and marketing initiatives to drive revenue and increase brand awareness
Managing inventory and addressing customer complaints
Car Salesman Resume with 10 Years of Experience
Hands- on and knowledgeable Car Salesman with 10 years of experience in providing customer service, completing sales transactions, and offering support for customers. Highly organized and detail- oriented in completing necessary paperwork and other administrative tasks. Able to assist customers in selecting the right car for their needs, answer customer inquiries, and provide a pleasant car buying experience. Committed to delivering consistent, first- class customer service.
Core Skills:
Results- oriented
Expert in sales and customer service
Excellent communication
Team player
Proficient in inventory management
Skilled in negotiating and closing deals
Knowledgeable of automotive industry
Responsibilities:
Provided customers with detailed information about car features, prices, and warranties
Assisted customers in selecting the right car for their needs
Answered customer inquiries and addressed any concerns
Processed paperwork and contracts
Closed deals and prepared sales contracts
Researched current pricing and industry trends
Organized and managed inventory of cars
Developed relationships with customers and provided exceptional customer service
Promoted new car models and offered deals to customers
Built customer loyalty and ensured customer satisfaction
Car Salesman Resume with 15 Years of Experience
Experienced and knowledgeable Car Salesman with over 15 years of experience creating successful sales strategies resulting in a consistently high closing rate. Proven track record in developing customer relationships and delivering excellent customer service. Possess excellent communication, negotiation and problem- solving skills. Implements creative marketing strategies to drive sales, increase customer satisfaction and boost revenues.
Core Skills:
Strong sales and customer service skills
Familiarity with sales strategies and product knowledge
Excellent written and verbal communication skills
Excellent problem- solving and organizational skills
Proficient in computer software and technology
Responsibilities:
Develop effective sales strategies to meet company goals and objectives
Greet customers, answer inquiries and provide product information
Negotiate sales and close deals with customers
Develop and maintain customer relationships
Analyze customer needs and develop solutions
Ensure customer satisfaction and address customer concerns
Maintain up- to- date sales and inventory records
Provide customer service and support
Adhere to all safety and regulatory policies and procedures
In addition to this, be sure to check out our resume templates, resume formats, cover letter examples, job description, and career advice pages for more helpful tips and advice.
What should be included in a Car Salesman resume?
A car salesman is responsible for helping negotiate customer transactions in order to sell cars. A successful car salesman must be knowledgeable in the product, understand customer needs and wants, and be able to close the deal. In order to stand out from the competition and secure a job in car sales, it is important for a candidate to have an effective resume. Here are some important components to include on a car salesman resume:
Education: Include any formal education you have, such as a degree in automotive technology or sales.
Work Experience: Include any relevant experience such as sales or customer service experience.
Skills: List any customer service or sales skills, such as negotiation and persuasion, which could be beneficial during the sales process.
Automotive Knowledge: Including any knowledge of the automotive industry or current vehicles on the market could also be beneficial.
Achievements: Include any awards you have received, such as "Salesman of the Month" or "Top Salesperson".
Personality: Be sure to include a few sentences that showcase your personality, such as your enthusiasm for the industry and passion for sales.
By including these components in your resume, you can show potential employers that you are the best candidate for the job. With an effective resume, you can be confident that you will be able to stand out from the competition and secure a job as a car salesman.
What is a good summary for a Car Salesman resume?
A good summary for a car salesman resume should include your knowledge and experience in automotive sales and customer service, as well as your ability to meet sales goals. It should include highlights of your sales accomplishments, such as successful negotiations and customer satisfaction. Additionally, it should highlight the car dealership's values, such as honesty and integrity, and demonstrate your commitment to customer loyalty. By emphasizing your knowledge and experience in automotive sales and customer service, as well as your ability to meet sales goals and build customer loyalty, a good summary for a car salesman resume can make you stand out from the competition.
What is a good objective for a Car Salesman resume?
A car salesman resume objective is an important part of any resume. It serves to draw the attention of the reader to the key points of the resume and give the reader a good understanding of the individual's background and career aspirations. A good car salesman resume objective should demonstrate an individual's experience in sales, customer service, product knowledge, and communication skills.
Demonstrate an understanding of the car industry and its products
Showcase an ability to accurately assess customer needs and interests
Demonstrate strong communication and interpersonal skills
Possess the ability to work well in a team environment
Show a commitment to exceeding customer expectations
Demonstrate experience in successfully managing and closing sales
Possess excellent customer service skills and a positive attitude
Demonstrate an eagerness to learn and a willingness to use new technologies
How do you list Car Salesman skills on a resume?
A car salesperson should have a range of skills in order to effectively interact with prospective customers and close sales. When crafting a resume for a car salesperson job, be sure to include the relevant skills that you possess that can help you in this role. Here are some essential skills to list on your resume when applying for a car salesperson job:
Customer Service: Car salespeople must be able to provide excellent customer service, as they will be interacting with prospective customers frequently. They should be friendly, helpful, and knowledgeable about the vehicles they are selling.
Product Knowledge: Car salespeople should be well-versed in the features and benefits of the vehicles they are selling. Having a thorough understanding of the product offerings can help salespeople better explain the cars to prospective customers and make persuasive sales pitches.
Negotiation: Car salespeople need to be able to negotiate effectively with customers in order to close sales. They should be able to listen to customer needs and come up with creative solutions to meet them.
Organization: Car salespeople should be well-organized and able to manage their time effectively. They should be able to keep track of customer information and stay on top of paperwork and other administrative tasks.
Communication: Car salespeople must be able to communicate effectively with customers. They should be able to discuss car features in a clear and concise manner as well as explain financing options.
Teamwork: Car salespeople should be able to work well with other salespersons and collaborate on sales strategies. They should also be able to successfully work with other areas of the dealership, such as finance and service.
What skills should I put on my resume for Car Salesman?
If you're looking to make a career out of car sales, you'll need to have a winning resume. To get started, focus on emphasizing the following skills in your resume:
Product Knowledge: It's essential that car salesmen have a thorough understanding of their inventory, from the make and model of the cars to the details of their features and options. This knowledge will help you quickly and effectively answer questions from potential customers.
Customer Service: You'll need excellent customer service skills to engage with customers and ensure their satisfaction. This includes active listening, strong communication, building relationships, and offering personalized options and advice that meet their needs.
Negotiation: You should be able to negotiate deals in a way that benefits both you and the customer. This means having the ability to handle objections and find solutions that move the sale forward.
SalesAbility: To succeed in car sales, you'll need to be driven and have the confidence to close deals. This includes having a strong knowledge of sales techniques, such as presenting the features and benefits of the cars you're selling.
Computer Skills: Car salesmen must also be comfortable using technology. This includes everything from navigating dealership software to researching competitive pricing to managing customer records.
By highlighting these skills on your resume, you'll be sure to make a great first impression with potential employers. Good luck!
Key takeaways for an Car Salesman resume
When applying for a job as a car salesman, it is important to have an effective resume that makes you stand out from the competition. There are a few key takeaways that you should make sure to include in your resume to give you an edge over other applicants.
First, you should include any sales experience you have. Whether you have ever worked in a dealership or another type of retail store, any sales experience you have will be beneficial in showing that you understand the sales process. Additionally, include any customer service experience you may have. As a car salesman, you will be interacting with customers on a daily basis and having prior experience in customer service can show that you have the skills necessary to handle customers professionally.
Next, include any certifications or training you have received that are related to cars. Whether it is a certification from a car manufacturer or a training program from a dealership, any knowledge you have of cars will help to make you stand out from other applicants.
Finally, list any beneficial skills that you have that could be an asset to a dealership. For example, if you are computer skillful, include that on your resume as this is a skill that could be very helpful in the daily operations of a car dealership.
These are just some of the key takeaways that you should make sure to include on your car salesman resume. Having an effective resume that showcases your skills and experience is the best way to set yourself up for success as a car salesman.
Let us help you build
your Resume!
Make your resume more organized and attractive with our Resume Builder