Writing your resume as a security officer can be a difficult and intimidating task. With the right guidance and examples, however, you should be able to create a resume that is both impressive and professional. This guide to security officer resume writing will provide you with the information and examples you need to make sure your resume stands out in the crowd. With the right approach and some effort, you can create an outstanding security officer resume that will help you land the job you want.
If you didn't find what you were looking for, be sure to check out our complete library of resume examples.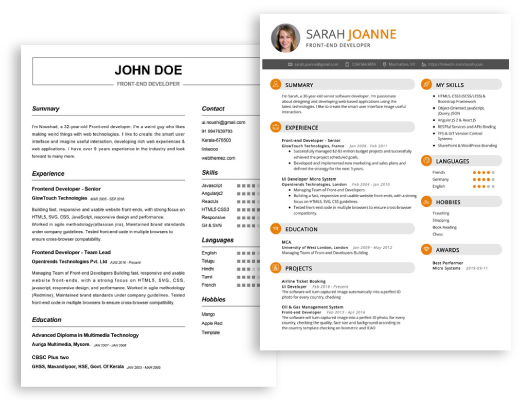 Start building your dream career today!
Create your professional resume in just 5 minutes with our easy-to-use resume builder!
Security Officer Resume Examples
John Doe
Security Officer
123 Main Street | Anytown, USA 99999 | Phone: (123) 456-7890 | Email: john.doe@email.com
I am a highly motivated professional security officer with a decade of experience in protecting people, property and assets. I am certified in Crowd Management, First Aid, and Fire Safety. I am an excellent problem solver with the ability to quickly assess and respond to any situation. I have an excellent record of upholding safety regulations and providing exemplary customer service.
Core Skills:
Patrolling
Access control
Threat assessment
Incident response
Crowd management
Alarm systems
Surveillance
First Aid
Fire Safety
Professional Experience:
Security Officer, ABC Security, 2020 – Present
Monitoring the premises and personnel to prevent theft, violence and other violations of company policy
Checking ID cards and inspecting items to ensure that no prohibited items enter the premises
Responding to alarms and investigating disturbances
Assisting law enforcement in case of emergencies
Maintaining log books to record all security- related incidents
Security Officer, XYZ Security, 2017 – 2020
Provided security services for large events such as concerts and festivals
Conducted crowd control to ensure the safety of the patrons
Monitored surveillance cameras and responded to alarms
Conducted foot and vehicle patrols
Assisted with the evacuation of guests in case of emergency
Education:
High School Diploma, ABC High School, 2011
Security Officer Resume with No Experience
Highly motivated and hard- working individual seeking to become a Security Officer. Possess good communication skills, a strong sense of responsibility, and the ability to remain calm and collected in a crisis. Looking to leverage experience in customer service, hospitality, and event planning to excel in this role.
Skills:
Excellent communication skills
Strong sense of responsibility
Ability to remain calm and collected
Customer service experience
Hospitality experience
Event planning experience
Responsibilities:
Monitoring and patrolling premises
Checking for suspicious activity
Responding to emergency situations
Enforcing regulations and laws
Identifying and reporting any safety hazards
Conducting security checks
Performing searches
Interacting with customers and the public
Writing detailed reports
Greeting guests and visitors
Resolving disputes
Maintaining records and access logs
Security Officer Resume with 2 Years of Experience
Efficient and reliable Security Officer with two years of experience working in the security sector. Proven record of professionalism and reliability, as well as problem- solving skills when faced with difficult situations. Thoroughly trained in various aspects of physical security, public safety, and criminal justice. A focused individual who can interact effectively with both personnel and the public.
Core Skills:
Physical Security
Fire Safety
Public Relations
Criminal Justice
Problem Solving
Communication
Responsibilities:
Monitor public and personnel movement in and out of the building.
Patrol the premises and inspect for suspicious activity or safety violations.
Respond to emergency situations and assist law enforcement officers.
Investigate and prepare detailed reports on any suspicious and/or illegal activities.
Respond to alarms and investigate for potential security breaches.
Handle customer complaints and other inquiries.
Provide assistance to first responders and fire personnel.
Manage access control systems, CCTV, and other security equipment.
Security Officer Resume with 5 Years of Experience
Dedicated and experienced Security Officer with five years of experience in the Security industry. A pro- active and detail- oriented professional, who is highly skilled in managing security operations, conducting safety assessments, and maintaining safety in the workplace. Committed to complying with security regulations, providing excellent customer service, and ensuring the safety of all personnel. Skilled in identifying and resolving security issues, patrolling premises, and monitoring activities.
Core Skills:
Security Operations Management
Surveillance and Monitoring
Threat Assessment and Management
Emergency Response
Report Writing
Access Control
Risk Management
Crisis Management
Responsibilities:
Monitor and secure premises for unauthorized personnel and activities
Conduct safety assessments, inspections, and patrol premises
Respond to emergencies and provide first aid when necessary
Report incidents and document activities in accordance with the current regulations
Investigate security breaches and take appropriate action
Maintain access control systems and ensure compliance with security protocols
Assist in the implementation of new security measures
Monitor CCTV systems and investigate suspicious activities
Address customer inquiries and provide assistance when needed
Security Officer Resume with 7 Years of Experience
Highly organized and detail- oriented Security Officer with 7 years of experience providing physical protection, monitoring surveillance equipment and ensuring compliance with safety regulations and procedures. Possess excellent conflict resolution and communication skills, with a strong commitment to maintaining safety and security. Proven ability to interact professionally and effectively with all levels of staff.
Core Skills:
Observant and vigilant in the detection of any suspicious activity
Comprehensive knowledge of security policies and procedures
Proficient in the use of security control systems and surveillance devices
Excellent communication and problem solving skills
Highly developed interpersonal and conflict resolution skills
Responsibilities:
Monitor and maintain the security of premises and personnel
Utilize security systems and surveillance cameras to monitor activity throughout the premises
Respond to alarms and investigate potentially suspicious activity
Investigate incidents, take reports and provide security for special events
Intervene and de- escalate situations as needed, utilizing conflict resolution techniques
Apprehend trespassers and provide security escorts
Enforce regulations, policies and procedures related to security and safety
Ensure compliance with legal regulations and industry standards
Maintain accurate documentation of security operations and activities
Provide excellent customer service to all personnel and guests on the premises.
Security Officer Resume with 10 Years of Experience
Highly motivated and results- driven Security Officer with 10 years of experience in safety and security operations. Skilled in monitoring and controlling access to facilities, assisting with emergencies, and responding to suspicious activities. Proven ability to handle crisis situations with patience and calmness. Ability to patrol premises and conduct security checks in order to assess any potential risks.
Core Skills:
Superior communication and interpersonal skills
Excellent knowledge of security policies and regulations
Proficient in the use of security monitoring systems
Familiar with current security threats and risks
Strong problem- solving and decision- making skills
Responsibilities:
Conducted regular patrols of the premises to detect any suspicious activities
Monitored access to the facility and handled visitor inquiries
Assisted with emergency situations and responded to alarms
Identified security risks and potential hazards and took appropriate action
Investigated reports of theft and vandalism
Provided customer service to resolved any security- related issues
Created detailed incident reports and maintained updated records
Security Officer Resume with 15 Years of Experience
Dynamic and experienced Security Officer with 15 years of experience in providing security services in the public and private sectors. Skilled in surveillance, crowd control, and emergency response. Able to lead a team, work independently, and think on my feet in a fast- paced environment. Proactive, detail- oriented, and vigilant approach to security operations.
Core Skills:
Physical Security
Access Controls
Crisis Management
Emergency Response
Information Security
Risk Management
Surveillance
Report Writing
Leadership
Interpersonal Communication
Responsibilities:
Monitoring CCTV cameras, access control systems, and fire alarm systems
Patrolling premises to identify possible threats or hazards
Responding to emergency situations swiftly and professionally
Investigating suspicious activity or incidents
Writing detailed incident reports
Maintaining access control records
Supervising and leading a team of security personnel
Enforcing safety measures according to rules and regulations
Interacting with customers and visitors in a friendly and professional manner
Monitoring and controlling access at security checkpoints
Conducting training sessions for new employees
In addition to this, be sure to check out our resume templates, resume formats, cover letter examples, job description, and career advice pages for more helpful tips and advice.
What should be included in a Security Officer resume?
Security Officers are an important asset to any organization, as they ensure the safety and security of the building and its occupants. As such, it is essential for Security Officers to create a strong resume in order to stand out from other applicants and secure the job. The resume should be tailored to the specific position and include the following elements:
Summary of Qualifications: Briefly summarize any relevant experience, certifications, or other qualifications that you bring to the job.
Professional Experience: Describe your experience as a Security Officer, including the settings you have worked in, the duties you have performed, and the skills you have developed.
Technical Skills: List any technical skills related to security, such as CCTV operation, alarm systems, and access control.
Education: Include any relevant degrees, certificates, or diplomas related to security.
Certifications: Include any relevant certifications, such as First Aid, Fire Safety, or Conflict Management.
Professional Affiliations: List any professional organizations or associations that you are a member of or have been certified by.
Awards and Achievements: Describe any awards or achievements that you have received related to your work as a Security Officer.
Other Skills: Mention any other skills that you possess, such as customer service, problem-solving, or communication.
By including these elements in your resume, you can ensure that you convey the skills, qualifications, and experience necessary to excel as a Security Officer.
What is a good summary for a Security Officer resume?
A Security Officer is responsible for monitoring and protecting an organization's property, personnel, and assets. Security Officers must be reliable, self-motivated, and assertive. The following are some good summary points to include in a Security Officer resume:
Proven ability to respond quickly and effectively to emergency situations.
Skilled at conducting security checks, patrolling, and monitoring CCTV systems.
Experienced in assessing potential threats and identifying solutions to mitigate risks.
Track record of successfully implementing security strategies and policies.
Excellent written and verbal communication skills.
Knowledgeable in relevant laws, regulations, and best practices.
High level of integrity and discretion.
Ability to remain calm and focused in high-stress situations.
Training in self-defense, first aid, and emergency response.
What is a good objective for a Security Officer resume?
A good objective for a Security Officer resume should emphasize a candidate's ability to protect property and ensure safety while also highlighting their experience and qualifications in the field.
Highlight any specialized training and certifications relevant to the security field
Display an understanding of the duties and responsibilities of a Security Officer
Show evidence of strong verbal and written communication skills
Demonstrate the ability to work in a team and independently
Mention any prior experience in the security field
Showcase a commitment to learning and staying up to date with security trends
Describe a commitment to professional development and staying ahead of the curve on new security strategies
How do you list Security Officer skills on a resume?
When applying for a Security Officer position, it is important to have a resume that stands out from the competition and highlights your skills and experience. A well-crafted resume will help you get noticed by employers and can be the key to landing an interview.
When listing your Security Officer skills on your resume, be sure to include any relevant experience and expertise. Here are some of the essential skills you should list on your resume:
Observation: Ability to observe and identify suspicious behaviors and activities in a timely manner.
Crisis response: Ability to respond calmly and effectively to emergency situations.
Communication: Excellent written and verbal communication skills.
Patrolling: Ability to patrol grounds and buildings to ensure safety and security.
Documentation: Ability to document incidents, observations, and reports in an accurate and detailed manner.
Surveillance: Knowledge of surveillance techniques and equipment operation.
Interpersonal Skills: Ability to interact in a professional and courteous manner with clients and customers.
Technical: Knowledge of security systems and protocols, such as access control and CCTV monitoring.
Physical Fitness: Ability to stand for long periods and perform physical tasks, such as searching, chasing, and restraining.
Problem solving: Ability to identify and resolve potential security threats quickly and efficiently.
By highlighting your Security Officer skills on your resume, you will be positioning yourself as a top candidate for the job and increasing your chances of getting an interview.
What skills should I put on my resume for Security Officer?
A security officer's job is an important one, as they are responsible for the safety and wellbeing of people and property. Therefore, when creating your resume for a security officer position, it is important to showcase your experience and skills necessary for this role. Here are some of the key skills to include on your resume for a security officer position:
Surveillance Skills: As a security officer, you should be able to monitor and survey an area for suspicious activity. This means being proficient in the use of surveillance cameras and other monitoring equipment.
Interpersonal Skills: Security officers must be able to interact with people in a professional manner. You should convey the ability to communicate effectively with both the public and other employees.
Physical Fitness: Security officers need to be in good physical shape, as they may be required to walk and stand for extended periods of time.
Attention to Detail: Security officers must have a keen eye and attention to detail in order to recognize potential threats and to observe details accurately.
Conflict Resolution Skills: Security officers must be able to remain calm and composed in difficult situations. They should be able to use clear communication and de-escalation techniques to resolve conflicts.
Problem Solving Skills: Security officers must be able to assess situations and come up with creative solutions.
By including these skills on your resume, you can show employers that you are qualified for the job and that you have the skills necessary to be successful in the role.
Key takeaways for an Security Officer resume
When it comes to writing a resume for a security officer, there are some key takeaways that will help you stand out from the competition. First, it is important to highlight any previous experience you have in security, including any certifications, licenses, or specialized training you have obtained. This will demonstrate to potential employers that you are knowledgeable and have the necessary skills and qualifications to be effective in the role. Additionally, include any relevant experience that demonstrates your reliability, such as a consistent work history and good references.
Next, be sure to list any skills you have that are related to security, such as operating monitoring systems, using surveillance equipment, handling firearms, or responding to emergencies. This will demonstrate to employers that you are able to handle the day-to-day tasks of the job.
Finally, make sure to include any additional education or certifications that could make you a more attractive candidate. This could include first aid and CPR certification, specialized training in defense tactics, or additional training in security technology. These may not be required, but they will demonstrate to employers that you are always looking for ways to grow in your profession and are committed to staying up-to-date in the field.
In summary, a resume for a security officer should include any previous experience in security, relevant skills and certifications, and additional education or training. By following these key takeaways, potential employers will have a better understanding of your background and be able to make an informed decision as to whether you are the right fit for the role.
Let us help you build
your Resume!
Make your resume more organized and attractive with our Resume Builder