Writing a resume as a security engineer can be a challenging process. You need to make sure that you showcase your skills and experience in a way that appeals to potential employers. To make the process easier, this guide provides tips and examples to help you create an effective resume that highlights your qualifications and helps you stand out from the competition. By using the right format, content, and keywords, your resume has the potential to elevate your job search and get you the job you want.
If you didn't find what you were looking for, be sure to check out our complete library of resume examples.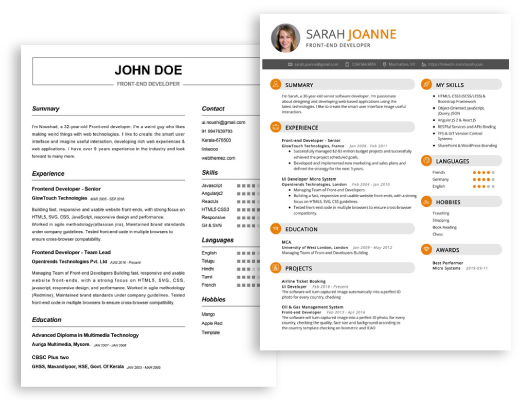 Start building your dream career today!
Create your professional resume in just 5 minutes with our easy-to-use resume builder!
Security Engineer Resume Examples
John Doe
Security Engineer
123 Main Street | Anytown, USA 99999 | Phone: (123) 456-7890 | Email: john.doe@email.com
Experienced Security Engineer with 5+ years of experience monitoring, troubleshooting, and resolving security issues. Proven success in deploying and managing security systems, as well as developing secure networks. Skilled in configuring firewalls and network components with a focus on usability, performance, and security. Possess excellent leadership, communication, and decision- making skills.
Core Skills:
Network Security
Troubleshooting
Firewall Configuration
Security Software
Security Auditing
Network Design
Performance Tuning
Problem Solving
Data Encryption
Professional Experience:
Security Engineer, ABC Solutions, 2020- Present
Provide proactive and reactive security for cloud and on- premise environments by implementing security policies and configurations.
Design, deploy, and maintain firewalls, IDS/IPS, antivirus, and other security measures.
Perform security audits to identify and address vulnerabilities.
Provide technical assistance to resolve security issues.
Monitor and analyze security logs for potential threats.
Security Engineer, XYZ Technologies, 2017- 2020
Configured firewalls and network components for optimal performance and security.
Developed secure networks for clients by implementing robust encryption methods.
Managed security systems and monitored for potential threats.
Provided technical support to resolve security issues.
Trained staff in proper security protocols and best practices.
Education:
Bachelor of Science in Computer Science, University of XYZ, 2017
Security Engineer Resume with No Experience
Recent Security Engineering graduate with a passion for cybersecurity, cryptography, and network security. Experienced in creating and implementing security solutions, testing systems for security vulnerabilities, and creating secure systems designs. Aspiring to use my knowledge of security engineering to become a valuable addition to any organization.
Skills
Knowledge of network and system security
Familiarity with industry- standard security tools
Ability to develop and implement security solutions
Knowledge of cryptography and cyber defense techniques
Excellent troubleshooting and problem- solving skills
Ability to interpret and analyze security reports
Excellent written and verbal communication skills
Responsibilities
Implementing security systems to protect sensitive data from unauthorized access
Developing security policies and guidelines for systems and networks
Performing regular security reviews and audits
Investigating security breaches and identifying solutions to prevent similar attacks
Monitoring and responding to security incidents in a timely manner
Coordinating with internal teams to ensure security compliance
Developing security strategies for disaster recovery and business continuity
Security Engineer Resume with 2 Years of Experience
I am a highly experienced Security Engineer with two years of hands- on experience in the design and implementation of secure computer networks and systems. I have solid expertise in areas such as firewalls, virtual private networks, wireless networks, and Intrusion Prevention Systems (IPS), as well as a deep knowledge of security principles, security policies, encryption, and authentication. I am a keen problem solver and have a proven track record of success in the development and maintenance of secure networks. I am comfortable working independently and as part of a team and possess excellent communication and customer service skills.
Core Skills:
Network Security
Firewalls
Virtual Private Networks
Wireless Networks
Intrusion Prevention Systems
Security Principles
Security Policies
Encryption
Authentication
Responsibilities:
Analyzing, designing and implementing secure networks and systems.
Researching, analyzing and responding to security incidents.
Developing and maintaining security policies and procedures.
Monitoring networks for threats and responding to security incidents.
Setting up and configuring security appliances such as firewalls, VPNs, and IPS.
Testing and evaluating new security technologies.
Implementing security systems in accordance with security best practices.
Troubleshooting, diagnosing and resolving security- related issues.
Training users in security protocols and procedures.
Security Engineer Resume with 5 Years of Experience
Dedicated Security Engineer with 5+ years of experience in designing and executing security protocols to safeguard sensitive data. Proven expertise in developing secure networks, configuring systems to ensure optimal performance, and auditing existing security systems. Skilled in analyzing security threats and recommending solutions to mitigate risks.
Core Skills:
Security Design & Configuration
Network Security & Firewall Administration
Security System Auditing & Monitoring
Risk Analysis & Threat Identification
Vulnerability & Compliance Testing
Documentation & Reporting
Project Management & Administration
Responsibilities:
Developed secure networks and systems to protect confidential data from malicious online threats.
Configured security protocols, firewalls and encryption algorithms to ensure safe and secure data transmission.
Audited existing security systems to identify vulnerabilities and compliance issues.
Tested network security and systems to identify any potential risks or issues.
Developed and implemented solutions to mitigate identified risks and threats.
Generated detailed security reports on a regular basis to monitor security levels.
Provided support and technical assistance to ensure optimal performance of security systems.
Assisted in the management and administration of security projects.
Security Engineer Resume with 7 Years of Experience
A motivated and detail- oriented security engineer with 7 years of experience working in security compliance and risk management. Have a proven track record of successful implementations of security solutions, risk assessments, and security audit monitoring. Have excellent analytical and problem- solving skills and a strong ability to think with a strategic mindset.
Core Skills:
Security compliance and risk management
Security solutions implementation
Vulnerability assessment and management
Security audit monitoring
Data protection and privacy
Security architecture
Network security
Troubleshooting and problem- solving
Responsibilities:
Participated in security compliance and risk management activities.
Developed and implemented security solutions to protect data and systems.
Performed vulnerability assessment and management to identify and mitigate security risks.
Monitored security audits to ensure compliance with security policies.
Developed and implemented data protection and privacy policies.
Designed and implemented security architectures for networks and systems.
Investigated security incidents and provided recommendations to prevent future incidents.
Troubleshot and resolved network security issues.
Security Engineer Resume with 10 Years of Experience
Highly experienced and motivated Security Engineer with 10+ years of professional experience in the Information Technology field. Skilled in implementing and managing security systems, as well as monitoring and troubleshooting them. Proven track of record of implementing security policies and procedures, as well as developing security plans and risk mitigation strategies. Experienced in the development of security databases and authorization systems. Possess excellent problem- solving, communication and customer service skills.
Core Skills:
System Security
Security Auditing
Risk Assessment
System Administration
Network Security
Security Policies
Security Compliance
Troubleshooting
Database Security
Authorization Systems
Responsibilities
Monitored and troubleshot security systems and networks.
Implemented security systems and monitored for any suspicious activity.
Developed security policies and procedures, as well as risk mitigation plans.
Performed regular security audits and assessments to identify any potential risks.
Analyzed system logs and identified potential security threats.
Participated in system administration and maintenance tasks.
Developed security databases and authorization systems.
Ensured compliance with security policies and standards.
Reviewed and updated security policies as needed.
Assisted in incident response processes and investigated security breaches.
Security Engineer Resume with 15 Years of Experience
A highly motivated and experienced Security Engineer offering 15 years of experience in the IT security field. Possesses excellent knowledge and experience in information security, IT infrastructure, and cloud security. Skilled in planning, designing, developing, and deploying security infrastructure which includes firewalls, Virtual Private Networks (VPNs), intrusion detection systems, and authentication services. Adept at troubleshooting, mitigating, and resolving security issues in a timely and cost- effective manner. Experienced in maintaining and monitoring all firewall systems to ensure data security and integrity.
Core Skills:
Knowledge in security principles, best practices, and technologies
Experience with IT and Cloud Security
Ability to troubleshoot, mitigate and resolve security issues
Expertise in planning, designing, developing and deploying security infrastructure
Skilled in maintaining and monitoring all firewall systems
Proven track record of implementing effective security solutions
Responsibilities:
Design, implement, and deliver complex security infrastructures
Analyze the security requirements of the organization and ensure adequate security measures are in place
Monitor and review all firewall systems to ensure data security and integrity
Investigate, analyze, and resolve security violations and incidents
Develop and maintain security policies and procedures
Test, evaluate, and deploy new security products and features
Manage and maintain antivirus and security software
Provide advice and guidance on security issues to internal and external stakeholders.
In addition to this, be sure to check out our resume templates, resume formats, cover letter examples, job description, and career advice pages for more helpful tips and advice.
What should be included in a Security Engineer resume?
A security engineer resume should include a comprehensive overview of the applicant's experience, skills, and qualifications. It should highlight any unique experiences, certifications, and technical abilities. When creating a security engineer resume, the following should be included:
Education: Include any college degrees or specialized courses taken in the security field.
Work Experience: List any relevant jobs held in the past, including job titles and employer's name.
Technical Skills: List any technical skills or certifications related to security engineering, such as CCNA or CISSP.
Security Knowledge: Detail any security knowledge and experience, such as experience with security protocols, vulnerability assessment and patch management.
Soft Skills: List any soft skills related to security engineering, such as communication and problem-solving abilities.
Project Experience: Detail any projects related to security engineering, such as system security design or implementation.
Additional Qualifications: List any additional qualifications, such as certifications, awards, or memberships in professional associations.
By including all of the above information, a security engineer resume will provide a comprehensive overview of the applicant's experience and qualifications. This will help employers quickly identify the appropriate candidate for the job.
What is a good summary for a Security Engineer resume?
A Security Engineer resume should include a summary that showcases one's experience, skills, and professional background in the security industry. It should demonstrate their knowledge of the principles, processes, and tools for designing and implementing secure systems and networks. The summary should also highlight any certifications, such as the CISSP, that demonstrate expertise in the field. The summary should demonstrate one's ability to analyze security requirements and develop security solutions that can be maintained and monitored. Finally, the summary should display one's understanding of the importance of risk management and the ability to adapt security solutions to changing technologies.
What is a good objective for a Security Engineer resume?
A security engineer is responsible for monitoring and maintaining a company's computer systems and networks to ensure that they are secure from external threats. As such, a good objective for a security engineer resume should focus on the applicant's ability to identify, analyze, and resolve security issues.
Here are some objectives that a security engineer resume could include:
To utilize my expertise in network security to identify, analyze and resolve security threats that may affect the integrity of the system
To develop and implement effective security procedures and policies within the organization to ensure the safety and security of its data and systems
To detect and investigate potential security incidents and implement measures to prevent future occurrences
To monitor and evaluate network security hardware and software to ensure compliance with industry standards and best practices
To collaborate with other departments in the organization to ensure the security of all systems and networks
To keep abreast of new trends and technologies in the field of security engineering and apply them to improve organizational security.
How do you list Security Engineer skills on a resume?
When listing your skills as a Security Engineer on a resume, be sure to highlight your technical abilities and certifications that demonstrate your proficiency in the field. It's important that you create an accurate, yet impressive, resume that will catch the attention of potential employers. Here are some skills that you should consider listing on your resume:
Experience with network security, intrusion detection systems, and firewalls
Knowledgeable in network engineering, system administration, and application security
Proficiency in scripting languages such as Python, Bash, and PowerShell
Thorough understanding of encryption protocols such as SSH, TLS, and IPSec
Capable of leveraging forensic tools and techniques to investigate security incidents
Skilled in analyzing system and application logs
Experienced in developing security policies and procedures
Ability to coordinate with cross-functional teams to ensure security
Strong problem-solving and analytical skills
Current certifications such as Security+, CISSP, or CCSP
What skills should I put on my resume for Security Engineer?
When creating your resume for a Security Engineer role, it is important to think about the skills you bring to the table and how they can be highlighted to potential employers. Here are some of the key skills to consider and add to your resume:
Familiarity with security processes and protocols: A Security Engineer should be knowledgeable about the different security protocols and processes needed to maintain a secure environment. This includes understanding encryption and authentication technologies, firewalls, and intrusion detection systems.
Networking experience: Being able to configure, troubleshoot, and maintain networks is a must for a Security Engineer. Ensure to highlight any experience you have with managing routers and switches, using network monitoring tools, and resolving network-related issues.
Software development skills: Understanding software development and how it relates to security is essential for Security Engineers. Highlight any development skills you have, such as coding in programming languages like Java, SQL, or JavaScript, and working with databases.
Problem-solving skills: Problem solving is a key skill for any Security Engineer because it involves anticipating and preventing security issues before they occur. Make sure to emphasize any experience you have with researching security solutions and developing strategies to address potential security risks.
Management capability: Depending on the role, Security Engineers might be responsible for managing a team of security personnel. Be sure to include any leadership or management roles you've held and detail how you were able to effectively manage a team.
By including these skills on your resume, you will be able to show employers that you have the qualifications necessary for the job. Additionally, it will give you an advantage over other Security Engineer candidates who may not have the same level of expertise.
Key takeaways for an Security Engineer resume
When creating a resume for a security engineer position, it is important to ensure that your credentials stand out from the crowd. This is even more important as the cyber security field is highly competitive and employers are looking for candidates with the knowledge and expertise to keep their networks secure. The following are some key takeaways to consider when crafting your security engineer resume:
Highlight Your Technical Skills: The most important aspect of a security engineer resume is to show off your technical skills. Be sure to list any certifications you have relevant to the position, such as CompTIA Security+ or Certified Ethical Hacker (CEH). It is also beneficial to list any programming languages, operating systems, and firewalls you are familiar with.
Education and Training: Employers want to know that you are up to date with industry trends, so it is important to list any educational courses, seminars, or workshops you have completed. Additionally, don't forget to list any degrees or certificates you have earned.
Experience: Experience is invaluable in the cyber security field, so be sure to list any relevant experience you have. Describe in detail any roles you have had in developing or managing security systems or the tasks you have completed.
Problem Solving Skills: Security engineers must be able to solve issues quickly and efficiently. Be sure to highlight any problem solving skills you have, such as the ability to identify and address security vulnerabilities.
Soft Skills: While technical skills are important, employers also want to see that you have the soft skills necessary to work in the security engineering field. List any transferable skills you have, such as communication, leadership, or analytical skills.
By following these tips, you can create a resume that will stand out from the competition and help you land the security engineer position of your dreams.
Let us help you build
your Resume!
Make your resume more organized and attractive with our Resume Builder