If you're a security consultant looking for a new job, having an effective resume is essential. Developing an effective resume can be a daunting task, especially when you are in a competitive field such as security consulting. Knowing what to include and what to leave out can be difficult. To make the process easier, this article provides a security consultant resume writing guide with examples. The guide will help you craft a resume that effectively showcases your skills, experiences, and qualifications. It will also discuss the best practices for presentation and formatting of your resume, as well as tips for addressing any potential concerns about your application. With this guide, you can create a resume that will get you noticed by potential employers and help you land the job.
If you didn't find what you were looking for, be sure to check out our complete library of resume examples.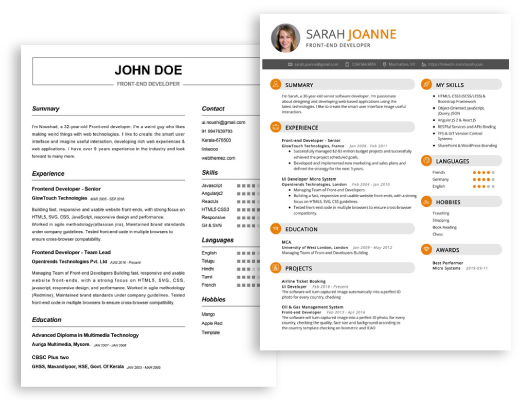 Start building your dream career today!
Create your professional resume in just 5 minutes with our easy-to-use resume builder!
Security Consultant Resume Examples
John Doe
Security Consultant
123 Main Street | Anytown, USA 99999 | Phone: (123) 456-7890 | Email: john.doe@email.com
I am an experienced security consultant specializing in network security solutions. I have worked with clients to develop secure systems and ensure their data is safe from external threats. I am knowledgeable in all aspects of security, with a particular focus in encryption, firewalls, and server security. My experience includes designing, deploying, and managing secure and reliable networks for companies of all sizes. I am confident in my ability to quickly identify and resolve security issues and develop strategies to protect companies from future threats.
Core Skills:
Knowledge of network security solutions
Expertise in encryption and server security
Familiarity with firewalls and intrusion prevention systems
Ability to identify and resolve security issues
Experience in designing and deploying secure networks
Excellent communications and problem- solving skills
Professional Experience:
Security Consultant, XYZ Solutions, 2020- Present
Provided clients with security solutions and identified potential vulnerabilities in their networks
Developed strategies to secure networks and protect assets from external threats
Designed and deployed secure and reliable networks
Monitored networks and identified security risks
Network Security Engineer, ABC Solutions, 2015- 2020
Designed and implemented encryption solutions for clients
Developed policies and procedures for server security
Installed, configured, and managed firewalls and intrusion prevention systems
Troubleshooted network security issues and resolved problems
Developed plans to respond to security threats
Education:
Bachelor of Science in Computer Science, University of XYZ, 2012- 2015
Security+ Certification, CompTIA, 2017
Security Consultant Resume with No Experience
Recent college graduate with a Bachelor's degree in IT Security. With knowledge in system security, risk management, data security, and security best practices, I am looking to start my career as a Security Consultant with no experience.
Skills:
Strong knowledge in system security
Experience with risk management tools
Proficient in data security practices
Understanding of security best practices
Excellent written and verbal communication skills
Proactive problem solving and decision making
Responsibilities:
Perform security audits, risk assessments, and threat analysis
Monitor security systems and suggest changes when needed
Advise on security measures and analyze the effectiveness of them
Develop, maintain, and review security policies and procedures
Provide security expertise to internal and external teams
Collaborate with IT and other departments to ensure best practices are followed
Security Consultant Resume with 2 Years of Experience
Dedicated and highly motivated Security Consultant with 2 years of experience in performing security assessments, risk analysis, security planning and implementation, and project management. Possess a strong understanding of security and risk management principles and a wide range of best practices in security and system administration. Skilled in developing and executing policies, procedures, and protocols for system security. Well- versed in understanding and applying security best practices from various frameworks such as NIST, SANS, and ISO.
Core Skills
Security Assessment
Risk Analysis
Security Planning & Implementation
Project Management
Policies & Procedures
System Security
Best Practices
Network Security
Responsibilities
Performed security assessments and risk analyses to recommend security countermeasures
Developed and implemented security plans for IT systems
Managed security projects, including developing requirements, budgeting, project scheduling, and progress tracking
Established and maintained policies, procedures, and protocols for system security
Provided technical expertise in security best practices from various frameworks such as NIST, SANS, and ISO
Provided technical support in the areas of network security and system administration
Conducted regular security audits and identified areas of improvement in IT systems
Security Consultant Resume with 5 Years of Experience
A highly motivated and driven Security Consultant with five years of experience in providing analysis, advice and support to ensure the safety and security of private and public organizations. Experienced in assessing the current security infrastructure and helping to provide strategic guidance to improve security measures. Skilled in developing security policies, procedures and standards and providing training and awareness activities to ensure that staff are properly informed and trained. Possesses excellent communication and interpersonal skills as well as experience with a wide range of security technologies.
Core Skills:
Vulnerability Analysis & Management
Incident Response & Investigation
IT Security Auditing & Compliance
Access Control & Authentication
Risk Management & Governance
Security Policy & Procedure Development
Responsibilities:
Developed security policy, procedures, and standards for organizations to ensure compliance with laws, regulations, and best practices.
Performed vulnerability analysis, penetration testing and risk assessments to identify security flaws in networks and systems.
Implemented access control, authentication and authorization measures to protect sensitive information.
Investigated security incidents and provided guidance on proper responses.
Conducted audits and reviews of the organization's security systems to ensure compliance with security requirements.
Trained staff on security best practices and procedures, as well as awareness activities.
Monitored networks and systems for suspicious activity and potential threats.
Security Consultant Resume with 7 Years of Experience
I am a highly experienced Security Consultant with 7 years of experience in providing clients with sound security and risk management advice, increasing profitability and customer satisfaction. I bring a wealth of knowledge and expertise in corporate security policies, security system design, risk assessment and management, incident response, and physical security. My experience ranges from large complex organizations to smaller companies and I understand the importance of security and compliance across all types of organizations.
Core Skills:
Security system design
Risk assessment and management
Incident response and physical security
Compliance and audit
Cybersecurity policies
Vulnerability assessment
Penetration testing
Responsibilities:
Developing and implementing security policies, procedures and plans
Assessing risks associated with hardware, software, and networks
Investigating security breaches, incidents, and threats
Identifying security vulnerabilities and recommending solutions
Performing penetration testing, vulnerability scanning, and system audits
Working with stakeholders to ensure compliance with security policies and procedures
Evaluating and recommending appropriate security products
Providing technical and physical security training to employees
Security Consultant Resume with 10 Years of Experience
Highly resourceful and organized security consultant with 10 years of experience developing and implementing security protocols, system configurations, and procedural policies. Proven success in ensuring the protection of company assets, networks, and servers. Excellent analytical, problem solving, and communication skills; able to interact effectively with clients, colleagues, and vendors.
Core Skills:
Network Security
Security Policies
System Configurations
Informational Assessments
Network Monitoring
Risk Mitigation
Security Auditing
Incident Response
Data Analysis
Regulatory Compliance
Responsibilities:
Developed and implemented security protocols, system configurations, and procedural policies.
Monitored networks for security events and threats, incidents, and potential vulnerabilities.
Conducted informational assessments to identify and mitigate risks to the security of the system and network.
Analyzed and responded to various technical security incidents and provided technical guidance.
Ensured compliance with applicable laws and regulations, including HIPAA and PCI- DSS.
Resolved technical issues and provided technical support to clients.
Evaluated existing security protocols and systems, and recommended improvements.
Developed security policies and procedures in accordance with internal and external requirements.
Investigated data breaches and other security- related incidents.
Security Consultant Resume with 15 Years of Experience
A highly experienced security consultant with 15 years of experience in the industry, offering a wide range of technical and operational skills in information security, risk management, and data protection. Proven record in providing security guidance for complex projects, developing solutions for risk management and data protection, and identifying and mitigating security vulnerabilities. Skilled in stakeholder management and delivering effective security solutions.
Core Skills:
Information Security
Risk Management
Data Protection
Stakeholder Management
Security Vulnerability Identification
Security Solution Development
Security Guidance
Responsibilities:
Developing comprehensive security strategies for the organization
Identifying and mitigating any security threats
Implementing and managing security policies and procedures
Updating security systems, technologies and processes
Assessing and evaluating the organization's security infrastructure
Investigating security breaches and providing appropriate solutions
Overseeing the security operations of all departments
Coordinating and collaborating with stakeholders to ensure secure operations
Ensuring compliance with relevant security standards and regulations
Developing training programs to increase security awareness
Providing technical guidance to staff on security- related matters
In addition to this, be sure to check out our resume templates, resume formats, cover letter examples, job description, and career advice pages for more helpful tips and advice.
What should be included in a Security Consultant resume?
A Security Consultant is responsible for helping clients assess their security needs and create secure systems to protect their data. A well-written Security Consultant resume will showcase a candidate's technical skills, knowledge of security systems, and their experience in the field.
When writing a Security Consultant resume, it is important to include the following:
Education: List any relevant degrees or certifications that you have in the field of security.
Experience: Include any experience as a Security Consultant, such as consulting with clients, designing and implementing secure systems, and testing security systems.
Technical Skills: List any relevant technical skills that you possess, such as coding, database management, and operating system knowledge.
Knowledge: Demonstrate your knowledge of security systems and procedures, such as encryption algorithms and firewalls.
Communication: Showcase your ability to communicate effectively with clients and colleagues, both verbally and in writing.
Problem-solving: Demonstrate your ability to think critically and quickly solve complex security issues.
By including this information on your Security Consultant resume, you can show potential employers that you are the ideal candidate for the job.
What is a good summary for a Security Consultant resume?
A Security Consultant resume should provide a comprehensive overview of any skills and experience relevant to the consultant role. It should include a summary of qualifications, relevant certifications, and experience in consulting and security professional roles. A strong resume should also demonstrate the consultant's ability to analyze security threats and develop comprehensive security plans and policies. Finally, the resume should include examples of the consultant's successful security projects and client relationships. The summary should be concise and tailored to the specific consulting role for which the applicant is applying.
What is a good objective for a Security Consultant resume?
A security consultant is a professional who provides advice and assistance on matters related to information security. They are responsible for identifying and addressing security risks, developing security policies and procedures, and creating secure systems. The objective of a security consultant resume should reflect the individual's experience and qualifications in this field.
Here are some examples of good objectives for a security consultant resume:
Utilize knowledge of information security and risk management to identify and protect organizations against threats
Leverage extensive experience in cyber security strategy and system architecture to develop secure systems and procedures
Apply expertise in security operations and incident response to ensure maximum security and reliability
Implement best practices in data protection and access control for organizations
Develop and implement security policies that adhere to industry standards and regulations
Act as a trusted advisor to clients on security matters and develop strategies to mitigate risks
Utilize expertise in security technologies, such as biometrics, encryption, and firewalls, to improve security posture
Track emerging threats and trends in security and stay up to date on developments in the security industry
How do you list Security Consultant skills on a resume?
When it comes to listing Security Consultant skills on a resume, it's important to highlight the qualities that make you a competitive candidate. Here is a list of the most important qualities to include on your security consultant resume:
Knowledge of security protocols and policies: Security consultants need to demonstrate an in-depth understanding of security protocols and policies in order to protect their clients' networks and systems.
Analytical and problem-solving skills: Security consultants need to identify and analyze threats and develop solutions to protect against them.
Technical expertise: Security consultants should have strong technical expertise in order to develop, implement, and maintain secure systems.
Communication skills: Security consultants need to be able to effectively communicate their expertise and recommendations to both technical and non-technical teams.
Attention to detail: Security consultants need to be detail-oriented in order to identify and prevent potential security risks.
Project management skills: Security consultants need to be able to coordinate and manage security projects from start to finish.
Knowledge of compliance and regulations: Security consultants should have a thorough understanding of industry regulations and compliance standards.
Leadership experience: Security consultants should have demonstrated leadership skills in order to lead teams and projects.
Teamwork: Security consultants need to be able to work effectively in teams in order to share information and coordinate efforts.
What skills should I put on my resume for Security Consultant?
A Security Consultant helps organizations assess their cyber security risks and implement measures to protect their systems, networks and data. To be successful in this role, you should demonstrate strong understanding of security concepts, tools and technology. Here are some of the key skills you should include on your resume for a Security Consultant role:
Knowledge of security protocols and systems: A Security Consultant should have a comprehensive understanding of security protocols and systems to identify potential weak points and develop effective solutions.
Analytical thinking: You should be able to analyze system designs and code to identify security vulnerabilities.
Risk assessment: To identify potential risks and develop mitigation strategies, you should have the ability to assess risk accurately.
Technical expertise: You should be proficient in managing network systems, firewalls, authentication systems, and wireless networks.
Communication skills: To effectively communicate security knowledge to clients, you should have strong verbal and written communication skills.
Project management: A Security Consultant is responsible for overseeing security projects, so you should be able to manage projects from inception to completion.
Teamwork: As a Security Consultant, you will be part of a team, so you should have the ability to work collaboratively with colleagues.
By including these skills on your resume, you will be better equipped to land the Security Consultant role you are seeking.
Key takeaways for an Security Consultant resume
The job outlook for security consultants is strong, and a well-crafted resume can help you stand out as a great candidate. When writing a security consultant resume, there are some key takeaways to keep in mind.
Highlight Your Skills: Your resume should highlight the hard and soft skills that make you a great candidate for the job. Make sure to include any certifications that may be relevant, such as CISA, CISSP, and CEH.
Use the Right Industry Buzzwords: When describing your experience in a security consultant position, make sure to use industry-specific keywords and terminology. This will help employers quickly understand your qualifications.
Demonstrate Your Experience: Employers want to know you can handle the job. Make sure to include any relevant work experience that demonstrates your knowledge of security protocols and practices.
Showcase Your Knowledge: Security consultants must stay on top of the latest trends and technologies in the field. Demonstrate your knowledge by including projects, courses, or conferences you've attended.
By following these key takeaways, you can create an impressive security consultant resume that will help you stand out from the competition.
Let us help you build
your Resume!
Make your resume more organized and attractive with our Resume Builder