Writing a guard resume can be difficult because it's a specialized field and there are certain expectations that employers look for. Knowing what kinds of information to include and how to present it in the most efficient and effective way can be a challenge. This guide will provide you with helpful guidelines for writing a guard resume that will make a positive impression on potential employers. It will explain the key elements to include, provide examples of what to include in each section and offer tips for making sure your guard resume stands out among the competition. By following the advice in this article, you can create a guard resume that will land you the security position you've been looking for.
If you didn't find what you were looking for, be sure to check out our complete library of resume examples.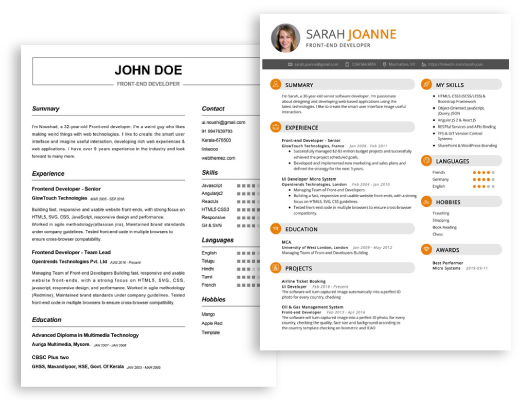 Start building your dream career today!
Create your professional resume in just 5 minutes with our easy-to-use resume builder!
Guard Resume Resume Examples
John Doe
Guard Resume
123 Main Street | Anytown, USA 99999 | Phone: (123) 456-7890 | Email: john.doe@email.com
A dedicated, motivated, and highly professional Guard with 10+ years of experience in security and safety management. Possesses strong knowledge of security principles, surveillance techniques, and effective response protocols in order to ensure the safety of personnel and property. Able to remain calm and level- headed in stressful and hostile environments, and thrive in high- pressure situations. Committed to delivering outstanding customer service and protective services to clients.
Core Skills:
Leadership
Surveillance
Security Principles
Crisis Management
Conflict Resolution
Decision Making
Risk Assessment
Patrolling
Crisis Intervention
Emergency Response
Communication
Professional Experience:
Security Guard, ABC Security Company, 2015- 2020
Monitored and identified suspicious activity and reported it to the appropriate authorities.
Patrolled designated areas and ensured safety of personnel and property.
Responded to emergency situations quickly and accurately.
Assisted visitors with directions and informational inquiries.
Conducted security checks and inspections.
Investigated any incidents or violations of security protocols.
Security Guard, XYZ Security Services, 2009- 2015
Monitored CCTV footage to detect suspicious activity.
Patrolled the premises ensuring safe environment and responding to emergency situations.
Investigated incidents and reported findings to the appropriate personnel.
Provided superior customer service to visitors and guests.
Educated and trained new security personnel.
Education:
Bachelor of Science in Security and Risk Management, ABC University, 2008
Majored in Security and Risk Management
Completed courses in Criminology, Surveillance, Conflict Resolution, and Risk Assessment.
Guard Resume with No Experience
Highly motivated and adaptable professional with experience working in security roles.
Able to rapidly learn new concepts and processes, and work collaboratively in high- stress environments.
Dedicated to providing superior security services and protecting the safety of people and property.
Skills
Excellent physical fitness and coordination
Excellent observation and communication skills
Strong problem- solving skills
Proficient in Microsoft Office and other computer programs
Knowledge of security systems and protocols
Ability to remain calm and act decisively in emergency situations
Responsibilities
Monitor premises and people to identify any suspicious activities
Perform access control duties, such as checking identifications or directing visitors
Perform patrols of designated areas and document activity
Respond to alarms and investigate disturbances
Enforce security protocols, such as identifying visitors and issuing badges
Investigate thefts, vandalism, and other criminal activities
Report any safety hazards or areas requiring maintenance
Maintain logs of security activities and produce incident reports
Guard Resume with 2 Years of Experience
Hardworking guard with 2 years of experience in providing safety and security for a variety of clients across multiple industries. Proven ability to monitor and control access to premises, resolve conflicts, and investigate incidents. Highly trained in using advanced security systems, devices and equipment. Effectively able to coordinate with law enforcement agencies and provide support during emergencies.
Core Skills:
Strong communication and interpersonal skills
Excellent problem- solving and decision- making abilities
In- depth knowledge of security operations
Proficient in using security equipment
Ability to stay calm and composed in critical situations
Able to work independently or as part of a team
Responsibilities:
Monitoring premises and inspecting security systems
Controlling access and supervising entry and exit points
Investigating and reporting incidents and potential threats
Responding to alarms and emergency calls
Maintaining logs of activities and personnel records
Coordinating with law enforcement agencies in cases of emergencies
Performing patrols and conducting security checks
Guard Resume with 5 Years of Experience
A highly motivated and skilled Guard with 5 years of experience in providing security and monitoring services. Possess strong problem- solving and communication skills, with a deep understanding of safety protocols and procedures. A self- starter with the ability to work effectively both independently and as part of a team. Committed to providing a safe environment for all personnel, visitors, and the workplace.
Core Skills:
Surveillance and Monitoring
Conflict Resolution
Report Writing
Crisis Management
First Aid/CPR Certified
Excellent Verbal and Written Communication
Microsoft Office/Computer Proficiency
Responsibilities:
Conducting surveillance tours of the premises and logging incidents
Assisting in the investigation of any security- related incidents
Maintaining order and discipline in the workplace
Responding quickly to emergencies and providing first aid when necessary
Interacting with the public and staff in a professional and courteous manner
Answering inquiries from visitors and staff
Writing detailed reports on any security- related incidents
Monitoring CCTV systems and other security equipment
Guard Resume with 7 Years of Experience
I am a highly organized and detail- oriented guard with 7 years of experience in providing protection services to residential, commercial, and industrial clients. I have a thorough understanding of security practices and procedures and have a proven track record of excellent attendance and punctuality. I am committed to providing superior protection services and maintain a professional attitude at all times.
Core Skills:
Knowledge of Security Policies and Procedures
Familiar with Fire Safety Practices
Strong Interpersonal and Communication Skills
Proficient with Security System Operation
Excellent Surveillance and Monitoring Skills
Able to Remain Calm and Alert in Emergency Situations
Responsibilities:
Monitor and patrol assigned area on a regular basis
Enforce security policies and procedures
Report any suspicious behavior or criminal activity to the authorities
Investigate disturbances and respond to alarms
Provide assistance to visitors and guests
Monitor the access of individuals through doors and gates
Prepare detailed reports of all incidents, activities, and patrols
Guard Resume with 10 Years of Experience
A highly experienced and reliable Guard offering 10+ years of expertise in the safety and security field. Possessing an exceptional record of preventing crime, enforcing laws, and safeguarding the premises. Skilled in responding promptly to emergency situations and investigating suspicious activities. Committed to providing a safe and secure environment for guests, employees, and visitors.
Core Skills:
Observation Skills
Security Procedures
Excellent Physical Fitness
Conflict Resolution
Strong Communication
Patrolling
Risk Assessment
Situational Awareness
Attention to Detail
Report Writing
Responsibilities:
Monitor and authorize access to the premises
Check identification cards and direct visitors to the appropriate areas
Operate security systems and surveillance equipment
Investigate and report suspicious activities or violations
Respond quickly and accurately to emergency situations
Enforce rules and regulations on the premises
Conduct regular patrols and inspections
Provide assistance to guests, employees, and visitors
Investigate any reports of stolen, lost, or damaged items
Maintain accurate logs and reports
Guard Resume with 15 Years of Experience
I am a highly experienced guard with 15 years of experience in security and surveillance operations. I have a proven track record in ensuring the safety and security of people, property and assets in a wide range of environments. My core skills include preventative security measures, incident management, access control, surveillance operations, and environmental safety. I am a detail- oriented professional with excellent communication and problem- solving skills.
Core Skills:
Preventative Security Measures
Incident Management
Access Control
Surveillance Operations
Environmental Safety
Communication
Problem- Solving
Responsibilities:
Patrolling designated areas to ensure safety of people, property and assets
Monitoring entry and exit points to ensure unauthorized personnel do not access the premises
Responding to incidents, alarms, and suspicious activity
Investigating incidents, accidents, and violations of regulations and procedures
Providing assistance to visitors and customers
Documenting details of incidents and activities in logs and reports
Maintaining order during special events, such as concerts and conferences
Enforcing safety rules, policies, and procedures
Providing first aid where necessary
Conducting surveillance operations and inspections
Performing security checks of personnel, vehicles, and items
In addition to this, be sure to check out our resume templates, resume formats, cover letter examples, job description, and career advice pages for more helpful tips and advice.
What should be included in a Guard resume?
A Guard resume should include information about your work experience, educational qualifications, and certifications. It should also include a description of your skills and abilities related to the position. Here are the key points that should be included in a Guard resume:
Work experience: List any previous job experience that is relevant to the Guard position. Include descriptions of tasks, such as security patrols and access control.
Education: Include any educational qualifications you have, such as a high school diploma or degree in Criminal Justice.
Certifications: Include any relevant certifications that you have obtained, such as a Certified Protection Professional or a Firearms Safety Certificate.
Skills: List any skills related to the Guard position, such as communication, observation, and problem-solving.
References: Provide contact details of two references who can provide further information about your skills and experience.
By including these key points in your Guard resume, you can ensure that you stand out from other applicants and increase your chances of securing the job.
What is a good summary for a Guard resume?
A good summary for a Guard resume should highlight the applicant's relevant experience, knowledge and skills that are necessary for the job. It should also include any certifications and training they have received. The summary should be specific and concise and should outline the applicant's background, as well as any particular strengths or qualifications they possess. A Guard resume summary should also emphasize any specialized abilities the applicant has, such as using force if necessary, maintaining order, observing and reporting suspicious behavior, and responding to emergency situations. The summary should also include any previous security positions the applicant has held, as well as any relevant customer service experience. Finally, the summary should demonstrate the applicant's commitment to providing the highest level of security and safety for those who depend on them.
What is a good objective for a Guard resume?
A guard resume should be tailored to fit the job description of the position you are applying to. A good objective for a guard resume should demonstrate your qualifications and experience in protecting people, property, and information. Here are a few examples of objectives for a guard resume:
To secure a position as a guard with a reputable company where I can use my extensive training and experience in security to create a safe and secure environment.
To utilize my expertise in surveillance, monitoring, and regulations to ensure the safety of people, property, and information.
To provide excellent customer service while protecting people, property, and information in a professional and timely manner.
Seeking a guard position that will allow me to utilize my expertise in de-escalating conflict, communicating effectively, and following security protocols.
To leverage my excellent physical fitness, attention to detail, and ability to stay alert in order to prevent crime and maintain a secure environment.
To secure a guard position that will allow me to utilize my skills in surveillance, risk assessment, and maintaining an organized and secure environment.
By including an objective on your guard resume, you can clearly demonstrate your qualifications and experience in protecting people, property, and information. Keep your objective short and to the point to effectively highlight your skills and experience.
How do you list Guard skills on a resume?
As a Guard, you know that having the right resume is critical to your success in the job market. But with so many different skills and abilities to showcase, it can be difficult to know exactly how to demonstrate them on your resume. This guide will help you understand how to list your Guard skills on your resume in a way that will help you stand out among the competition.
Security: As a Guard, you should emphasize your experience with security operations and procedures. This includes any experience with security systems, surveillance and monitoring, access control, and incident response.
Physical Fitness: Guards may be required to stand for extended periods of time, as well as patrol and conduct other physical activities. Highlight your physical fitness and any related certifications or training you have.
Communication: Demonstrate your effective communication skills, including your ability to interact with people in a polite and professional manner, write reports clearly and accurately, and provide instruction or direction when needed.
Conflict Resolution: List any experience you have in managing or diffusing difficult situations or disputes.
Attention to Detail: Highlight your ability to recognize and respond to anomalies, as well as your attention to detail when writing reports or monitoring activity.
By showcasing your Guard skills on your resume, you can make sure that recruiters and potential employers are aware of the value that you can bring to their organization.
What skills should I put on my resume for Guard?
If you are applying to a position as a guard, there are some key skills you should put on your resume in order to make a positive impression on potential employers. Here are some of the skills you should include on your resume:
Physical Fitness: Working as a guard will require you to be physically fit and able to perform duties such as foot patrols and chasing down suspects.
Conflict Resolution and De-escalation: Guards must be able to remain calm in potentially dangerous or heated situations, and be able to resolve conflicts without the use of force.
Communication: Guards must be able to effectively communicate with supervisors, other guards, and members of the public.
Surveillance and Observation: Guards must be able to observe and survey their surroundings to ensure the safety and protection of the area.
First Aid and Emergency Response: Guards must be able to respond to medical and other emergencies quickly and effectively.
Computer and Technology Skills: Many modern security systems are computerized, so guards must be proficient in the use of computers and other related technologies.
By emphasizing these key skills on your resume, you can demonstrate to employers that you have the right qualifications for the position of guard.
Key takeaways for an Guard resume
When it comes to writing a great security guard resume, there are a few key takeaways you should keep in mind. Here are some of the most important things to remember when crafting your resume:
Make sure you highlight your relevant experience. As a security guard, it's important to make sure you list any prior experience you may have in the security field. Whether you've worked as a retail security guard, a corporate security guard, or any other type of security professional, make sure it's clear on your resume.
Include your certifications and training. Many employers require security guards to have specific certifications and training. Make sure to list any that you have completed as well as any relevant courses you have taken. This will help you stand out from other applicants when hiring managers review your resume.
Showcase your communication skills.Security guards are expected to be able to communicate effectively with a variety of people. Make sure to include examples of active listening skills, customer service skills, and problem-solving abilities.
Explain your attention to detail. Security guards must have excellent attention to detail so they can be effective in their positions. Include any examples of your ability to think critically and notice small details that could be important.
Stress your ability to handle difficult situations. As a security guard, you may be faced with difficult situations. Explain how you've handled similar situations in the past to show the hiring manager that you can handle the job.
By following these five tips, you'll be well on your way to writing an effective security guard resume. Make sure to research the company you're applying to and tailor your resume to the job description to make a lasting impression.
Let us help you build
your Resume!
Make your resume more organized and attractive with our Resume Builder