Are you looking to apply for a storeman role? A Storeman is an important role in any warehouse or storage facility, and a well-written resume that showcases your skills, qualifications and experience is essential to securing an interview. Writing a resume can seem daunting, but it doesn't have to be. In this blog post, we'll provide you with a comprehensive storeman resume-writing guide, as well as some example resumes to help you get started.
If you didn't find what you were looking for, be sure to check out our complete library of resume examples.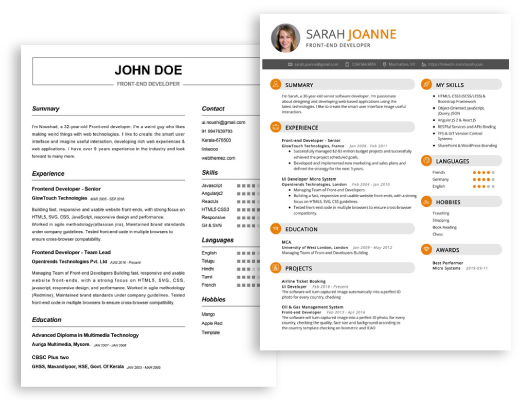 Start building your dream career today!
Create your professional resume in just 5 minutes with our easy-to-use resume builder!
Storeman Resume Examples
John Doe
Storeman
123 Main Street | Anytown, USA 99999 | Phone: (123) 456-7890 | Email: john.doe@email.com
I am an experienced Storeman with a knack for problem solving and detail- orientation. I have a proven track record of maintaining product and store inventory levels, and I am highly capable of independently managing all aspects of store operations. I possess excellent communication and interpersonal skills and I am experienced in using inventory and point- of- sale software programs. I am proficient in creating and implementing store policies and procedures and I thrive in busy work environments.
Core Skills:
Inventory and product management
Store displays and merchandising
Store operations and procedures
Inventory and point- of- sale software
Excellent communication and interpersonal skills
Problem solving and decision- making
Organizational and time management skills
Safety and security procedures
Professional Experience:
Storeman, ABC Retail Store, 2015 – Present
Organize and manage stockroom inventory, warehouse and store displays
Receive, verify and process incoming orders from suppliers
Unload and store merchandise in designated areas
Maintain stockroom and storage areas in a clean and secure condition
Assist customers with product selection
Operate point- of- sale systems to process customer orders
Monitor stock levels and order new merchandise as needed
Education:
Bachelor of Business Administration, ABC University, 2012 – 2015
Storeman Resume with No Experience
Recent college graduate with a degree in Business Administration
Strong organizational and communication skills
Ability to work with a team and independently
Able to quickly learn new processes and procedures
Skills
Inventory Management
Data Entry
Time Management
Organizational Skills
Communication Skills
Teamwork
Responsibilities
Organize, label and store inventory items
Maintain accurate stock levels and records
Verify accuracy of incoming and outgoing shipments
Ensure safety and security of inventory
Maintain cleanliness of storeroom and work area
Assist with stocking shelves and other tasks as needed
Storeman Resume with 2 Years of Experience
Dedicated Storeman with 2 years of experience in the logistics industry. Demonstrated strong ability to manage warehouse inventory and oversee staff. Skilled in inventory management, stock control, and maintaining records. Committed to providing accurate communication between departments and maintain a safe working environment.
Core Skills:
Inventory Management
Stock Control
Record Maintenance
Staff Supervision
Communication
Problem Solving
Interpersonal Relations
Safety Regulations
Logistics
Responsibilities:
Ensured the accuracy, safety and security of inventory and stock
Developed and implemented stock control systems to ensure inventory accuracy and appropriateness
Monitored inventory levels and ensure timely re- ordering and delivery of stock
Responsible for the training and supervision of store personnel
Coordinated and communicated regularly with other departments to ensure smooth functioning of the warehouse
Ensured the warehouse complies with safety regulations and standards
Implemented and maintained record keeping systems for tracking and maintaining documentation
Developed and maintained strong relationships with customers, product manufacturers and suppliers
Storeman Resume with 5 Years of Experience
A highly experienced and detail- oriented Storeman with 5+ years of experience in inventory, receiving, and stocking. Possess a great ability to work independently, as well as part of a team, and maintain a professional level of customer service. With a commitment to accurate work and safety, my experience includes using a variety of software and operating systems to manage inventory and stock, as well as helping customers with questions and purchases.
Core Skills:
Inventory Management
Logistics & Shipping
Receiving & Stocking
Picking & Packing
Forklift Operations
Load & Unloading
Quality Control
Order Fulfillment
Customer Service
Responsibilities:
Responsible for receiving and stocking merchandise, ensuring all items are accurately logged, stored and tracked in the inventory system.
Maintained accurate and up- to- date records of all inventory, stock levels, and shipments.
Utilized forklifts and other manual/ powered equipment to safely move and store items.
Picked and packed customer orders according to customer and company specifications.
Loaded and unloaded items from trucks in a timely, safe, and accurate manner.
Assisted customers with their questions and purchases.
Carried out quality control inspections, ensuring all products were up to standard before shipping.
Assisted in other areas of the store as needed.
Storeman Resume with 7 Years of Experience
I am an experienced and organized Storeman with seven years of experience managing inventory, stocking and rotating products, and keeping records of all products entering or leaving the warehouse. I have excellent communication and organizational skills, a keen eye for detail, and a strong ability to multitask. I thrive in a fast- paced work environment and am able to prioritize tasks and complete them in an efficient and timely manner. I am also a highly motivated individual who takes pride in ensuring the warehouse is clean and organized, and that all products are stored and cared for properly.
Core Skills:
Strong Communication Skills
Excellent Organizational Skills
Ability to Prioritize Tasks
Excellent Attention to Detail
Knowledge of Warehouse Management Software
Good Math Skills
Ability to Lift Heavy Objects
Responsibilities:
Receiving, stocking, and rotating products
Managing inventory, tracking incoming and outgoing products
Ensuring warehouse is clean and organized
Assisting customers in finding products
Loading and unloading products from trucks or other vehicles
Maintaining records of products moved in and out of the warehouse
Operating equipment such as forklifts, pallet jacks, and other machinery
Ensuring products are properly stored and cared for
Preparing orders for shipment to customers
Storeman Resume with 10 Years of Experience
I am a storeman with more than 10 years of experience in inventory control and warehouse operations. My expertise includes the smooth running of warehouse operations, stock control processes, stocktake accuracy, and inventory reconciliation. I have exceptional knowledge of safety processes and regulations, as well as working knowledge of ERP systems and RF scanning processes. I am highly organized, detail- oriented, and am experienced in delivering excellent customer service.
Core Skills:
Inventory Control
Warehouse Operations
Stock Control Processes
Stocktake Accuracy
Inventory Reconciliation
Safety Processes and Regulations
ERP Systems
RF Scanning Processes
Excellent Customer Service
Organizational Skills
Detail- Oriented
Responsibilities:
Receive, inspect, and store incoming goods
Conduct scheduled and unscheduled stock counts
Maintain stock records accurately and up- to- date
Investigate discrepancies and resolve any issues
Ensure the security of warehouse facilities
Manage inventory storage and retrieval processes
Keep compliance with safety protocols and regulations
Operate and monitor material handling equipment
Complete paperwork tasks such as reports and invoices
Liaise with suppliers and arrange for deliveries
Pack and dispatch items to customers
Storeman Resume with 15 Years of Experience
I am a highly organized and hardworking professional Storeman with 15 years of experience in supply chain operations, warehouse management, inventory control and logistics. I possess knowledge of handling goods and goods receiving, storage and delivery operations, in addition to a deep understanding of inventory management, stock control and supply chain processes. I am capable of working independently as well as in a team in order to achieve organizational goals and objectives and to ensure continuous improvement of the organization's operations.
Core Skills:
Over 15 years of experience in warehouse management and inventory control
Excellent knowlege and understanding of supply chain processes
Skilled in maintaining a safe and secure work environment
Experienced in using various software and IT systems
Good communication and problem solving skills
High attention to detail and accuracy
Responsibilities:
Managed and coordinated daily warehouse operations, ensuring compliance with safety regulations and standards
Worked closely with purchasing and procurement teams in order to ensure the availability of stock and to optimize cost savings
Monitored and maintained accurate inventory levels in order to meet customer needs
Ensured goods are packed and delivered and that orders are checked and fulfilled accurately
Handled goods receiving and storage operations, including unloading, stacking, labeling and storing of goods
Carried out daily stock checks and audits in order to ensure inventory accuracy
Developed and implemented strategies to improve stock management and ensure efficient supply chain operations
Provided training and guidance to staff on warehouse procedures, safety protocols and inventory control measures
In addition to this, be sure to check out our resume templates, resume formats, cover letter examples, job description, and career advice pages for more helpful tips and advice.
What should be included in a Storeman resume?
A storeman is a highly sought after professional whose responsibilities include managing the storage systems of retail companies and ensuring that products are delivered in a timely manner. A storeman resume should include key information about the candidate's skills, experience, and qualifications in order to demonstrate why they are the best candidate for the job. Here is a list of what should be included in a storeman resume:
Education: Include all degrees or certifications that the candidate has received related to the storeman position.
Work Experience: List any storeman jobs that the candidate has held in the past, including details such as the company name, job title, and job responsibilities.
Skills: Highlight the storeman-specific skills that the candidate possesses, such as knowledge of supply chain management, inventory control, and customer service.
Awards & Achievements: Any awards or achievements related to the storeman position should be included here.
Professional References: List three or more professional references who can vouch for the candidate's experience and qualifications.
What is a good summary for a Storeman resume?
A storeman is responsible for managing the inventory, supplies, and resources of a business. A good storeman resume should clearly outline the skills, experience, and qualifications that make you the ideal candidate for the position. Your summary should provide an overview of your most relevant skills and qualifications, emphasizing the areas in which you excel. Additionally, you should highlight any relevant past experience and specific accomplishments. Finally, make sure to emphasize your organizational and problem-solving skills as well as your reliability and attention to detail. Together, these elements make up a strong summary that will showcase your qualifications and make you stand out to potential employers.
What is a good objective for a Storeman resume?
A Storeman is responsible for the efficient and safe movement of goods in and out of a warehouse, so when writing your Storeman resume objective, you should emphasize your experience and abilities in managing, organizing, and storing items in an orderly fashion. The following are some good objectives to include in your resume:
To obtain a Storeman position with a successful company where I can use my experience in shipping/receiving, stocking, and inventory control to promote efficiency and accuracy.
Seeking a Storeman position where I can utilize my expertise in warehouse operations, inventory and stock management, and customer service.
To secure a Storeman role where I can deploy my knowledge of safety protocols, organizational skills, and problem-solving abilities.
To leverage my experience in materials management, data entry, and order tracking to help the company achieve its goals.
Aiming to work as a Storeman at a fast-paced organization that recognizes and rewards hard work, dedication, and commitment.
How do you list Storeman skills on a resume?
Mentioning your Storeman skills on a resume is important for highlighting your relevant qualifications for the job. Here are some tips for listing your Storeman skills on a resume:
Include any knowledge of inventory management systems, such as stock control systems, ordering systems, and warehousing systems.
Highlight your experience with various types of equipment, such as forklifts, pallet jacks, and other machinery.
Showcase your ability to accurately receive, store, and distribute goods.
Demonstrate your organizational skills and attention to detail, especially when dealing with large volumes of items.
Provide examples of your ability to manage multiple tasks, prioritize tasks, and meet deadlines.
Detail your experience working in a warehouse or other similar environment.
If applicable, note your experience with hazardous materials or other safety requirements.
Describe any customer service or customer-facing experience.
Be sure to include all relevant certifications or qualifications that you possess.
What skills should I put on my resume for Storeman?
When applying for the role of Storeman, it is important to showcase your relevant skills and experience to demonstrate your suitability for the job. Writing a resume for this role can be daunting, so here are some of the skills you should include on your Storeman resume:
Good understanding of stock control systems: As a Storeman, you need to be able to keep accurate records of stock levels in the warehouse. This includes being able to navigate and use stock control systems, and to keep track of stock that comes in and out.
Knowledge of safety procedures: As a Storeman, you need to be aware of the safety hazards that may be present in the warehouse and be able to implement safety procedures and processes to keep yourself and other employees safe.
Attention to detail: As a Storeman, you need to be able to keep accurate records of stock levels and be able to identify discrepancies in items that are sent and received.
Physical fitness: As a Storeman, you need to be able to carry items, climb ladders, and lift heavy items as part of your job. You should have the physical ability to do so.
Good organizational skills: As a Storeman, you need to have good organizational skills to be able to efficiently process orders and keep full records of stock and items in the warehouse.
Time management: As a Storeman, you need to be able to manage your time efficiently to process orders in a timely manner and ensure that orders are fulfilled on time.
These are just some of the skills that should go on your Storeman resume. When writing your resume, it is important to highlight any other relevant skills and experience that you have that may make you a good fit for the role.
Key takeaways for an Storeman resume
As a storeman, your resume serves as a tool for employers to get an understanding of your skills, qualifications and experience. It's important to make sure that you have included all of the crucial information on your resume so that you can get noticed by employers.
Here are some key takeaways for an effective storeman resume:
Include your experience and qualifications. List any storeman-related certifications, qualifications, or experience that you have. Being able to demonstrate that you have the necessary skills and experience to do the job can be a great way to stand out from the competition.
Showcase your skills. Describe your skills and abilities and how they relate to the job you are applying for. Be sure to highlight any technical skills or software proficiency that you have.
Focus on your achievements. Mention any awards, honors, or achievements that you have received that relate to your storeman experience.
Describe job responsibilities. Include a section for each job that you've held, describing your job responsibilities and the impact that you had on the organization.
Highlight your strengths. Highlight your unique skills and traits that make you a great fit for the job.
By following these key takeaways, you can ensure that your storeman resume stands out from the competition and sets you up for success.
Let us help you build
your Resume!
Make your resume more organized and attractive with our Resume Builder