Writing a resume for a store owner role can be intimidating, especially when you haven't had to write one for a long time. When applying for a store owner role, there are certain experiences and skills that employers will be looking for in your resume. In this blog post, we will give you a comprehensive guide to writing an effective store owner resume and provide examples to help you on your way. You will learn what information to include, how to optimize your store owner resume for an ATS, and actionable tips on how to make your resume stand out.
If you didn't find what you were looking for, be sure to check out our complete library of resume examples.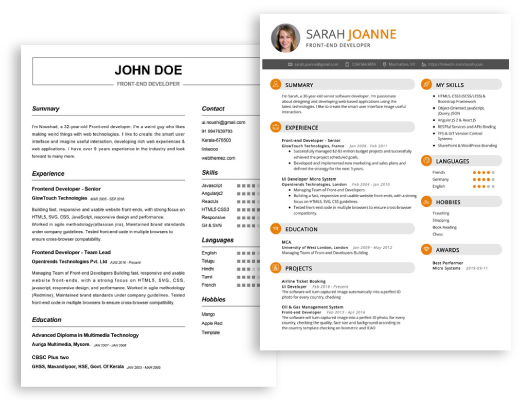 Start building your dream career today!
Create your professional resume in just 5 minutes with our easy-to-use resume builder!
Store Owner Resume Examples
John Doe
Store Owner
123 Main Street | Anytown, USA 99999 | Phone: (123) 456-7890 | Email: john.doe@email.com
I am an experienced and knowledgeable store owner with over five years in the industry. I am well- versed in sales, customer service, and marketing and have a proven track record of success. I am highly organized, motivated, and I have an eye for detail. I am an excellent communicator and I am able to engage customers with ease. I am passionate about customer service and I am always looking for ways to improve the customer experience.
Core Skills:
Sales and customer service
Merchandising and marketing
Inventory management
Financial analysis and budgeting
Problem solving and decision- making
Excellent communication and interpersonal skills
Professional Experience:
Store Owner, ABC Store – 2014 to Present
Manage the daily operations of a retail store
Develop and maintain relationships with customers
Create and implement marketing and merchandising strategies
Create and manage the budget and financial projections
Ensure the store runs efficiently and meets profits goals
Assistant Store Manager, XYZ Store – 2011 to 2014
Assisted the store manager with the daily operations of the store
Trained and supervised sales staff
Developed and implemented merchandising and marketing plans
Maintained inventory of products and supplies
Education:
Bachelor of Science, Business Administration – 2009
University of California, Berkeley
Store Owner Resume with No Experience
Detail- oriented individual with a passion for customer service and a dedication to learning new skills in the retail industry. Self- motivated and hardworking with a desire to assist customers and ensure their satisfaction.
Skills
Ability to work on a fast- paced environment
Organizational and time management skills
Excellent customer service and communication skills
Knowledge of product inventory and retail operations
Proficient in using computer software
Strong attention to detail
Responsibilities
Greeting customers and providing assistance
Processing customer payments accurately
Maintaining product inventory and restocking shelves
Identifying customer needs and providing appropriate solutions
Creating a welcoming and friendly environment for customers
Providing excellent customer service and responding to customer inquiries
Assisting customers with product selection and helping them find what they need
Store Owner Resume with 2 Years of Experience
A highly motivated and experienced retail store owner with two years of experience in owning, operating and managing a retail store. Skilled in developing effective marketing strategies, developing customer relationships, and managing finances. Possesses an excellent eye for detail and an ability to multitask in a fast- paced environment. Able to work independently and collaboratively and able to stay organized while dealing with multiple tasks.
Core Skills:
Customer service
Financial management
Marketing strategies
Efficient problem- solving
Strong organizational skills
Ability to work independently
Strong communication skills
Ability to multitask
Responsibilities:
Developing effective marketing strategies to promote store products
Creating customer relationships and providing outstanding customer service
Maintaining store finances and bookkeeping
Ordering new stock and managing stock levels
Hiring, training and supervising staff
Managing all day- to- day operations of the store
Ensuring compliance with all laws and regulations
Monitoring store performance and making changes as necessary
Developing and implementing new ideas to increase store sales and revenue
Store Owner Resume with 5 Years of Experience
I am an experienced store owner with five years of experience in the retail sector. I have a proven track record of success in managing teams, driving sales and increasing customer satisfaction. I am well- versed in customer service, inventory management, financial management, and creating attractive store displays. I am also skilled in digital marketing, website maintenance, and managing staff. I am confident that I can provide a high level of service and success to any retail business.
Core Skills:
Inventory management
Financial management
Staff management
Customer service
Digital marketing
Website maintenance
Store display creation
Responsibilities:
Developed strategies to improve sales and customer satisfaction
Managed store staff and oversaw daily operations
Purchased and maintained inventory, tracked sales, and managed financial records
Implemented marketing campaigns and maintained the store's website
Developed and updated store displays to draw in more customers
Resolved customer inquiries and complaints in a timely manner
Ensured compliance with all local and federal laws and regulations
Trained new employees on store policies and procedures
Monitored stock levels, placed orders, and stocked shelves
Store Owner Resume with 7 Years of Experience
Experienced store owner with 7 years of retail experience. Strive to exceed customer expectations and drive sales through excellent customer service. My core skills include strong leadership, problem solving, and communication. I have an extensive knowledge of customer service, store operations, and product inventory. My responsibilities include managing day to day store tasks, training and managing staff, and assisting customers with product selection. My goal is to ensure that customers have a positive shopping experience and that the store reaches its full potential.
Core Skills:
Strong leadership
Problem solving
Communication
Customer service
Store operations
Product inventory
Responsibilities:
Manage store operations and day- to- day tasks
Train and manage staff
Assist customers with product selection
Increase sales and customer satisfaction
Maintain product inventory
Ensure compliance with store policies
Oversee customer service standards
Maintain store cleanliness and organization
Store Owner Resume with 10 Years of Experience
Motivated, experienced store owner with 10 years of experience in retail business management. Adept in analyzing market data, creating innovative promotional strategies and managing store operations to increase sales and customer satisfaction. Effective in building relationships with suppliers, staff and customers to ensure smooth operations and create a positive shopping experience.
Core Skills:
Retail store management
Sales and promotions
Merchandising
Staffing and training
Budgeting and finance
Inventory control
Customer service
Responsibilities:
Developed and implemented store policies and procedures to ensure compliance with all applicable regulations
Assessed and analyzed store sales data to identify areas for improvement
Negotiated and maintained relationships with key vendors and suppliers
Hired, trained and managed store staff to ensure quality customer service
Monitored store inventory to ensure maximum product availability at all times
Developed and implemented promotional strategies to increase store sales and market share
Utilized customer feedback to identify and address areas of improvement in store operations
Developed and managed store budgets to ensure fiscal responsibility
Store Owner Resume with 15 Years of Experience
An experienced Store Owner with 15 years of experience in retail and customer service. Proven success in providing customer service, merchandising, sales, and marketing. Proven track record of increasing sales, developing and executing marketing plans, and increasing customer satisfaction. Skilled in analyzing data and identifying solutions to improve performance.
Core Skills:
Customer Service
Merchandising
Sales
Marketing
Data Analysis
Problem Solving
Inventory Management
Responsibilities:
Developed and implemented marketing plans to increase sales
Managed customer relationships to increase customer satisfaction
Analyzed data to identify trends and improve store operations
Implemented inventory control systems to maximize profits
Oversaw day- to- day operations of the store
Provided excellent customer service to ensure customer loyalty
Maintained store appearance and merchandise displays
In addition to this, be sure to check out our resume templates, resume formats, cover letter examples, job description, and career advice pages for more helpful tips and advice.
What should be included in a Store Owner resume?
A store owner resume should include a summary of qualifications, job experience, education, and any relevant skills or certifications.
Summary Of Qualifications
Proven leadership, organizational and problem-solving skills
Highly experienced in store management and operations
Strong understanding of customer service and satisfaction
Demonstrated ability to increase sales and profits
Job Experience
Store Manager, ABC Store, 2016-present
Responsible for managing store operations and personnel
Developed and implemented strategies to drive sales, increase profits, and improve customer satisfaction
Monitored inventory levels and reordered as needed
Trained and supervised employees
Education
Bachelor of Science in Business Administration, University of XYZ, 2016
Skills & Certifications
Proficient in Microsoft Office
Excellent verbal and written communication skills
Certified in First Aid and Safety
Knowledge of store operations, merchandising and inventory management
What is a good summary for a Store Owner resume?
A Store Owner resume should be tailored to the specific job opening and should include the most relevant information to demonstrate the candidate's skills and abilities to the employer. The resume should be clear and concise, highlighting a candidate's experience in business, customer service, retail, merchandising, and other related skills.
The summary section should be a brief overview of the candidate's education, experience, and qualifications. It should also include any special certifications, awards, or achievements. The summary section is an opportunity to make a good first impression, demonstrating the candidate's qualifications and enthusiasm for the position.
In addition to the summary section, a Store Owner resume should include a detailed work history, showcasing the candidate's past job experience and any relevant education or certifications. It should also include any special skills or qualifications that may be applicable to the position. Finally, the resume should be customized to the employer and the specific job posting, as well as demonstrate the candidate's enthusiasm and commitment to the job.
What is a good objective for a Store Owner resume?
A store owner is a business owner who is responsible for the day-to-day operations of a retail store. They have a lot of responsibility and must be able to handle a variety of tasks, from managing staff to overseeing stock levels. When writing a store owner resume, it is important to write an objective that accurately reflects your skills and experience. Here are some examples of good objectives for store owner resumes:
To leverage my extensive retail management experience, customer service skills, and knowledge of the industry to drive success for an established retail store.
To utilize my proven record of increasing sales and profits, managing multiple projects, and leading staff to success as an experienced store owner.
To bring my exemplary leadership skills, knowledge of store operations, and customer service experience to an established retail store.
To utilize my more than 5 years of experience in retail management to increase profits, motivate staff, and improve customer satisfaction within a growing retail organization.
To apply my familiarity with store operations, ability to manage multiple projects, and passion for customer service to benefit a successful retail store.
How do you list Store Owner skills on a resume?
For store owners, having the right skills can make all the difference in running a successful business. When creating your resume, it's important to list the store owner skills that will make you stand out to employers.
To showcase your store owner skills on your resume, include a section devoted specifically to them. Here are some store owner skills to consider including:
Financial Management: Being able to manage spending, budget, and profits is an essential skill for store owners. Showcase your ability to analyze financial data and make strategic decisions.
Customer Service: As a store owner, you'll be responsible for ensuring customers have a positive experience. List any customer service experience you have, as well as your ability to create an inviting shopping environment.
Leadership: Managing a successful store requires strong leadership skills. Showcase your ability to motivate and manage staff, as well as delegation and problem-solving skills.
Merchandising: Being able to choose the right products and display them effectively is essential for store owners. Showcase your ability to select and arrange merchandise to maximize sales.
Marketing: Knowing how to develop and implement effective marketing strategies is essential for store owners. List any experience you have creating marketing campaigns or using social media to promote products.
Time Management: Managing a store requires juggling many different tasks at once. Showcase your ability to prioritize tasks and manage time effectively.
Business Operations: Running a store requires knowledge of business operations. Include any experience you have dealing with suppliers and vendors, as well as managing inventory.
What skills should I put on my resume for Store Owner?
If you're applying for a job as a store owner, your resume should reflect the skills and experience necessary to successfully manage and grow a retail business. Here are some key skills to include on your resume:
Financial Management: As a store owner, you must have financial management skills to successfully operate a business. This includes understanding how to manage cash flow, create a budget, set and manage financial goals, and manage inventory.
Business Operations: You must demonstrate experience with all aspects of running a business, such as managing employees, marketing, customer service, and ordering and tracking inventory.
Retail Marketing: Having knowledge of retail marketing strategies is essential for store owners. This includes developing effective marketing materials, such as flyers, coupons, and sales strategies, as well as leveraging digital marketing strategies, such as social media and email campaigns.
Vendor/Supplier Management: As a store owner, you must have the ability to build and maintain relationships with vendors and suppliers. This includes negotiating prices, terms, and delivery schedules.
Merchandising: Knowing how to create attractive and effective displays and how to merchandise products is a key skill for store owners.
Technology: Being knowledgeable in the use of technology to manage a retail business is necessary to succeed. This includes proficiency in point of sale systems, inventory tracking software, and accounting software.
By including these skills on your resume, you can demonstrate to potential employers that you have the necessary experience and knowledge to be an effective store owner.
Key takeaways for an Store Owner resume
A store owner resume should include key information about your experience and qualifications to help you stand out from the rest. Having a well-crafted, professional resume can be the difference between you getting the job of your dreams or being passed over for another applicant. Here are the key takeaways for creating an effective store owner resume.
Highlight Your Experience – A store owner resume should emphasize any experience you have in the retail industry, such as managing a store, handling customer service, or working as a cashier. Include a list of any responsibilities you had in these roles, such as managing inventory and providing customer service.
Include Your Education – Be sure to include any relevant academic credentials on your resume. This could include a degree in business management or retail operations, or a specialization in the field.
Mention Any Certifications – If you have any special certifications that are related to the position, such as Food Safety or Retail Management Certification, make sure to include them on your resume.
Demonstrate Your Leadership Skills – Store owners need to be able to lead and motivate a team to ensure that the store runs smoothly. On your resume, emphasize any leadership roles you have had in the past, as well as any qualities or skills you possess that demonstrate your ability to lead.
Describe Your Achievements – Make sure to include any successes you have had as a store owner, such as increasing sales or improving customer satisfaction. This will show employers that you have the drive and skills necessary for the job.
By following these key takeaways, you can create an effective store owner resume that will help you stand out from the competition. Make sure to include all the necessary information, while also highlighting your qualifications and accomplishments. With a well-crafted resume, you can increase your chances of being hired for the job.
Let us help you build
your Resume!
Make your resume more organized and attractive with our Resume Builder