Writing your resume as a shop manager can be a daunting task if you're unsure of the right approach. After all, your resume is one of the key pieces of your job application and it needs to stand out if you want to land the job. In this blog post, we'll provide a shop manager resume writing guide with easy to follow examples so you can write the perfect resume for your dream job.
If you didn't find what you were looking for, be sure to check out our complete library of resume examples.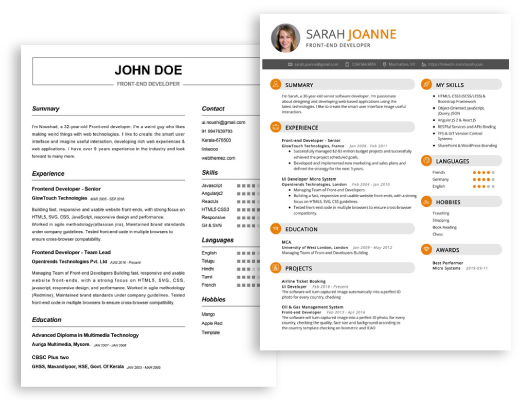 Start building your dream career today!
Create your professional resume in just 5 minutes with our easy-to-use resume builder!
Shop Manager Resume Examples
John Doe
Shop Manager
123 Main Street | Anytown, USA 99999 | Phone: (123) 456-7890 | Email: john.doe@email.com
A highly organized and motivated Shop Manager with several years of retail experience managing a variety of operations. With an excellent sense of customer service and care, I am able to consistently achieve operational goals and standards. My expertise includes stock control, staff management, and ensuring high customer satisfaction. I am confident in my ability to ensure the efficient running of a shop and have the passion and energy to successfully lead and motivate a team.
Core Skills:
In- depth knowledge of retail products and services
Ability to develop and implement effective strategies
Excellent customer service and problem- solving skills
Proven ability to manage and motivate staff
Ability to develop and manage budgets
Proficient in Microsoft Office and POS systems
Professional Experience:
Shop Manager, ABC Retail Store – May 2015 to Present
Developed and implemented marketing and promotional plans to increase business
Implemented cost- effective strategies to reduce operating costs
Managed inventory levels and maintained accurate records
Developed and monitored staff performance to drive efficiency
Ensured high level of customer satisfaction by providing excellent customer service
Assistant Shop Manager, XYZ Retail Store – October 2012 to April 2015
Handled customer inquiries and ensured resolution of customer complaints
Assisted in recruiting, training and development of staff
Monitored the performance of staff and conducted appraisals
Generated daily reports and maintained records of customers and inventory
Education:
B.A. Business Administration, University of California – 2010 to 2012
Shop Manager Resume with No Experience
Diligent and detail- oriented aspiring Shop Manager with a strong commitment to customer care.
Able to combine exceptional interpersonal and problem- solving skills to create a positive customer experience.
Highly organized and efficient with a drive to exceed expectations.
Skills
Strong customer service skills
Excellent communication and interpersonal skills
Knowledgeable in basic business principles
Proficient in Microsoft Office Suite
Able to work independently or in a team setting
Able to multi- task and prioritize tasks
Ability to manage a team
Excellent problem solver
Responsibilities
Greeting customers in a friendly and professional manner
Assisting customers with product selection, inquiries and checkout
Handling customer complaints and resolving them in a timely manner
Maintaining displays and stock levels
Ensuring all store policies and procedures are followed
Tracking inventory levels and ordering new stock as needed
Maintaining a safe and clean working environment
Providing feedback to store management on customer experience
Overseeing daily operations and delegating tasks to staff
Training and supervising staff as needed
Shop Manager Resume with 2 Years of Experience
I am an experienced Shop Manager with two years of experience in managing staff, operations and customer service. I have strong leadership, communication and problem- solving skills, as well as a passion for providing excellent customer service. I am experienced in all areas of retail management, from sales to inventory, from customer service and training to visual merchandising. I have a proven track record of successfully increasing customer satisfaction and maximising sales in a challenging and competitive retail environment.
Core Skills:
Strong Leadership
Excellent Communication
Problem Solving
Customer Service
Retail Management
Sales
Inventory Management
Training
Visual Merchandising
Responsibilities:
Managed a team of 15 employees and ensured they provided excellent customer service.
Developed and implemented successful sales strategies to maximise customer satisfaction and sales.
Monitored daily operations and ensured all staff were trained on the company policies and procedures.
Managed inventory, organised merchandise and implemented Visual Merchandising strategies.
Created weekly, monthly and annual reports to track store performance.
Resolved customer complaints and established an effective customer feedback system.
Identified and implemented cost- saving measures to reduce store operating costs.
Assisted with inventory control and conducted regular stock take.
Monitored and maintained store standards, keeping a clean and organised sales floor.
Shop Manager Resume with 5 Years of Experience
Highly motivated and organized Shop Manager with 5 years of experience in retail management.
Focus on providing excellent customer service and ensuring that the store runs smoothly and efficiently.
Versatile in managing, motivating and developing a team to provide exceptional customer service.
Effectively use promotional tactics to increase sales and ensure efficient operations, both in- store and online.
Proven track record of reducing costs while increasing profit margins and customer satisfaction.
Core Skills:
Retail Management
Customer Service
Team Leadership
Merchandising
Sales
Inventory Control
Marketing
Staff Recruitment
Store Operations
Responsibilities:
Creating and maintaining a dynamic in- store environment that encourages customers to shop.
Developing and implementing strategies to increase store sales and profitability.
Managing and monitoring store inventory, including ordering, stocking, and pricing.
Overseeing store operations, including delegating tasks and supervising staff.
Developing promotional and marketing campaigns to attract customers and ensure sales targets are met.
Providing leadership and direction to store staff, setting performance goals and conducting performance reviews.
Monitoring customer complaints, responding accordingly and resolving customer disputes.
Ensuring compliance with all retail laws, policies and procedures.
Shop Manager Resume with 7 Years of Experience
I'm an experienced shop manager with 7 years of experience managing retail stores. I have extensive knowledge in sales, customer service, and inventory management and am an excellent communicator with a passion for team development. My organizational skills have helped me to build an effective, profitable, and organized store environment. I'm able to ensure customer satisfaction, efficiently manage time and resources, and meet sales goals.
Core Skills:
Strong knowledge of retail and sales operations
Excellent people management and customer service skills
Organized and detail- oriented
Proficient in inventory management
Team development and motivation
Effective communication skills
Ability to plan and prioritize
Responsibilities:
Managing daily store operations and ensuring customer satisfaction
Developing and implementing sales strategies and goals
Training and motivating staff to meet customer service and sales goals
Maintaining accurate inventory records and ordering new stock when needed
Monitoring stock levels and identifying areas for improvement
Handling customer queries and complaints in a professional manner
Analyzing store performance and identifying areas for improvement
Ensuring compliance with health, safety, and security regulations
Shop Manager Resume with 10 Years of Experience
Hardworking, efficient, and organized shop manager with 10 years of experience in retail and customer service. Proven ability to foster a positive work environment with a history of developing employee- customer relationships and monitoring staff performance. Track record of success in boosting sales and increasing customer loyalty. Core skills include inventory management and loss prevention, as well as exceptional communication, problem- solving, and organizational skills.
Core Skills:
Inventory Management
Customer Service
Loss Prevention
Communication
Problem- solving
Organizational Skills
Staff Supervision
Financial Management
Product Promotion
Leadership
Responsibilities:
Ensuring all store operations are running smoothly
Developing and implementing policies to increase customer loyalty
Managing stock levels and liaising with suppliers
Ordering and receiving inventory
Ensuring accurate pricing and product marketing
Maintaining a safe, secure, and clean working environment
Recruiting, training, and supervising staff
Monitoring staff performance and providing feedback
Managing cash, credit, and debit transactions
Analyzing sales data, investigating discrepancies, and implementing corrective measures
Ensuring adherence to all health and safety standards
Developing and enforcing security policies to reduce theft and minimize losses
Shop Manager Resume with 15 Years of Experience
A highly skilled and experienced Shop Manager with fifteen years of experience in retail store management, merchandising, and customer service. A proven leader with a track record of success in driving sales, increasing customer service levels, and improving profit margins. Possesses strong team- building and problem- solving skills, and is able to maximize staff performance to meet customer service and profit objectives. Dedicated to developing and implementing innovative strategies to enhance the customer experience and achieve organizational success.
Core Skills
Retail store management
Merchandising
Customer service
Team- building
Problem- solving
Maximizing staff performance
Sales and profit objectives
Innovative strategies
Developing and implementing strategies
Analytical decision- making
Report writing
Conflict resolution
Responsibilities
Develop and implement strategies to drive sales and increase customer service levels.
Monitor store operations, ensuring that all policies and procedures are followed.
Manage staff scheduling and payroll, ensuring that all tasks and deadlines are met.
Maintain positive customer relations and ensure that customer service goals are met.
Develop and implement merchandising and promotional strategies to increase sales and profit margins.
Monitor store inventory levels and place orders as necessary.
Train and mentor new staff members and provide ongoing feedback and support.
Analyze sales reports and make recommendations for improvements.
Resolve customer complaints in a timely and effective manner.
Prepare reports on store performance and make recommendations for improvement.
Create and maintain a safe and secure work environment for staff and customers.
In addition to this, be sure to check out our resume templates, resume formats, cover letter examples, job description, and career advice pages for more helpful tips and advice.
What should be included in a Shop Manager resume?
A Shop Manager resume should be tailored to the position you are applying for and emphasize the accomplishments and qualifications that are relevant to the job. It is important to include the following items in a Shop Manager resume:
Professional Summary: A brief summary that outlines your professional experience and qualifications.
Education: List any relevant educational qualifications, such as degrees, certifications, and specialized training.
Professional Experience: Outline your professional experience, such as positions held, duties performed, and accomplishments achieved.
Skills and Competencies: Showcase your skills and qualifications related to shop management, such as knowledge of inventory management, customer service, and financial management.
Achievements: List any awards or other accomplishments related to the job.
References: Provide contact information for at least two references.
By including these items in a Shop Manager resume, you can demonstrate to potential employers that you are the best candidate for the position.
What is a good summary for a Shop Manager resume?
A Shop Manager resume summary should highlight the applicant's experience in retail management, emphasizing their successes in leading and motivating teams, analyzing customer data and trends, increasing sales and profitability, and developing relationships with key stakeholders. It should also emphasize the applicant's knowledge of relevant software, such as point of sale systems and inventory management, as well as their ability to accurately forecast sales and plan promotional campaigns. The summary should demonstrate how the applicant's leadership, knowledge, and skills can be used to benefit the potential employer.
What is a good objective for a Shop Manager resume?
A shop manager is a professional responsible for the day-to-day operations of one or more physical retail stores. With such a vital role in the success of a store, a shop manager's resume needs to showcase a wide range of skills and accomplishments.
When crafting an objective for a shop manager resume, it's important to emphasize the candidate's ability to lead a team, develop strategies, and maximize sales and profits. Here are some examples of objectives for a shop manager resume:
To leverage expertise in retail management, customer service, and team leadership to improve store performance and profitability.
To utilize effective merchandising and promotional strategies to increase customer loyalty and boost sales.
To foster a positive, collaborative working environment that encourages professional growth and customer satisfaction.
To utilize strong problem solving, organizational, and communication skills to drive efficient operations and streamline processes.
To develop and implement innovative strategies to enhance customer experience and maximize sales.
Overall, the goal of an objective for a shop manager resume is to demonstrate the candidate's enthusiasm, leadership abilities, and commitment to excellence. By highlighting these key skills, a shop manager can show potential employers that they are a valuable asset and can contribute to the success of any retail store.
How do you list Shop Manager skills on a resume?
When writing a resume, it is important to consider the skills necessary to be a successful Shop Manager. This position typically requires a mix of customer service, sales, and operational skills. To effectively emphasize your qualifications for the role, you should list the skills you have that are necessary for a successful Shop Manager.
Here is a list of essential Shop Manager skills to consider adding to your resume:
Ability to lead a team and train new staff on policies and procedures
Proficiency in managing inventory, ensuring product availability and creating sales reports
Excellent customer service skills, including the ability to handle customer complaints
Ability to multi-task and prioritize tasks in a fast-paced environment
Knowledge of product lines and the ability to recommend items to customers
Proficiency in using point of sale systems and other relevant technology
Excellent communication and organizational abilities
High level of accuracy and attention to detail
Ability to identify and analyze problems and develop effective solutions
By including these skills on your resume, you can demonstrate your qualifications as a Shop Manager and set yourself up for success.
What skills should I put on my resume for Shop Manager?
When preparing your resume for a shop manager job, it's important to highlight the skills that you possess which will make you successful in the role. To properly showcase your qualifications for the job, you should include the following skills on your resume:
Leadership: As a shop manager, you will have to be able to lead the shop staff and ensure that everyone is performing their duties. You should have strong leadership skills, such as the ability to motivate and delegate tasks, as well as the capacity to solve problems and handle difficult conversations.
Customer Service: Excellent customer service is a must for any shop manager. You should be able to provide friendly, helpful service to customers and handle any customer complaints or issues.
Organization: Being organized is a key skill for a shop manager. You should be able to keep the shop running smoothly by ensuring that there is an organized system in place for stocking and selling products, and that the shop is well-maintained.
Merchandising: As a shop manager, it is important that you are knowledgeable about the products that you are selling. You should be able to set up displays and organize the shop in an attractive way that will encourage customers to buy.
Financial Management: You should have an understanding of the financial aspects of running a shop, such as bookkeeping and budgeting. You should also be able to manage the shop's finances, including ordering and inventory control.
By showcasing these skills on your resume, you will demonstrate to potential employers that you are qualified and prepared to take on the responsibilities of a shop manager.
Key takeaways for an Shop Manager resume
When you're crafting a resume for a shop manager position, it's important to highlight your experience in retail, customer service, and management. You should also showcase your ability to interact effectively with customers, leading a team of employees, and problem-solving. Here are some key takeaways for a shop manager resume:
Highlight Your Retail and Management Experience: Be sure to mention any previous positions you've held in retail or management. This will help employers know that you have the necessary skills and experience to manage a shop.
Detail Your Customer Service Abilities: As a shop manager, you'll need to be able to provide excellent customer service. Make sure to mention any customer service awards you've received or any customer service training you've completed.
Include Your Leadership Skills: Employers want to know that you have the capability to lead a team of employees. Make sure to mention any leadership roles you've held in your past positions, as well as any accomplishments from those roles.
Showcase Your Problem-Solving Skills: Shop managers often need to resolve customer issues quickly and efficiently. Make sure to include any instances in your resume where you've had to problem-solve on the job.
By including these key takeaways in your resume, you'll be able to demonstrate to potential employers that you're well-suited for the job of shop manager.
Let us help you build
your Resume!
Make your resume more organized and attractive with our Resume Builder