Writing a seller resume can be a daunting task. With so many different aspects to consider and a limited amount of space to present your skills and experience, it can be difficult to know where to start. Fortunately, creating a standout seller resume doesn't have to be a difficult process. In this guide, we'll provide tips for crafting an effective seller resume, as well as a few examples to help you get started. With a little bit of preparation, you'll be able to create a resume that highlights your skills and positions you as the perfect candidate for the job.
If you didn't find what you were looking for, be sure to check out our complete library of resume examples.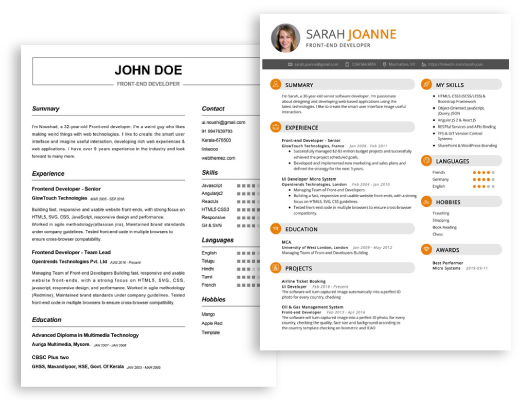 Start building your dream career today!
Create your professional resume in just 5 minutes with our easy-to-use resume builder!
Seller Resume Examples
John Doe
Seller
123 Main Street | Anytown, USA 99999 | Phone: (123) 456-7890 | Email: john.doe@email.com
I am an experienced Seller with over 8 years of experience in sales. I have a proven track record of success, with a special emphasis on customer service and customer satisfaction. My business acumen and strong interpersonal skills make me an ideal candidate for any seller position. I have expertise in sales strategies, market analysis, and customer service, as well as knowledge in areas such as product promotion and market development. I am confident that I can deliver successful results.
Core Skills:
Strong customer service skills
Excellent interpersonal communication skills
Proficient in market analysis and sales strategies
Knowledgeable in product promotion and market development
Excellent problem- solving skills
Highly motivated and results- oriented
Professional Experience:
ABC Retail Store – Senior Seller (2017- present)
Develop and execute sales strategies to maximize profits
Monitor customer needs and adjust sales approach accordingly
Provide customer service to ensure customer satisfaction
Create and maintain relationships with customers
Analyze market trends and make recommendations accordingly
Manage inventory and ensure accuracy of product information
XYZ Retail Store – Seller (2012- 2017)
Provided customer service and created customer relations
Generated sales through product promotion and market development
Analyzed market trends and customer requirements
Developed and implemented sales strategies to maximize profits
Maintained and updated inventory records
Education:
Bachelor of Science in Marketing and Business Administration – University of California, Los Angeles (2008- 2012)
Seller Resume with No Experience
Motivated and hardworking seller with excellent communication and customer service skills. A reliable team player who is always willing to go the extra mile for customer satisfaction. Have a strong drive for success and experience in customer relations, sales, and problem solving.
Skills
Outstanding customer service
Excellent communication skills
Self- motivation
Experience with customer relations
Proactive problem solving
Adept in sales techniques
Responsibilities
Greeting customers upon arrival
Providing excellent customer service
Answering customer inquiries
Advising customers on available products and services
Upselling products and services
Following up with customers to ensure satisfaction
Processing payments and completing transactions
Stocking shelves and organizing displays
Maintaining a clean and orderly work environment
Seller Resume with 2 Years of Experience
Results- driven and customer- focused professional with two years experience in sales and customer service. Developed exceptional skills in problem- solving, customer service, and communication. A team player with the ability to drive sales and increase customer loyalty while providing top- notch customer service.
Core Skills:
Excellent communication skills in both oral and written form
Self- motivated, with the ability to work independently and as part of a team
Strong organizational and problem solving skills
Positive attitude and customer service- oriented
Ability to handle emotionally charged customer situations
Proficient in Microsoft Office suite
Responsibilities:
Provided customers with product and service information
Resolved customer complaints, suggesting solutions to maximize customer satisfaction
Engaged customers in meaningful conversations regarding their needs
Assisted customers in locating merchandise and products
Promoted sales through effective relationship- building and customer service
Developed and maintained relationships with customers to ensure repeat business
Acted as a liaison between customers and upper management.
Seller Resume with 5 Years of Experience
A highly accomplished and motivated professional with 5+ years of experience in selling merchandise and services. Proven success in developing sales strategies, building relationships with customers and cultivating a loyal customer base. Possesses excellent interpersonal and communication skills, a keen eye for detail and the ability to work in a fast- paced environment.
Core Skills:
Sales Strategies Development
Relationship Building
Customer Service
Time Management
Goal Setting
Communication
Problem- Solving
Negotiation
Responsibilities:
Worked with customers to identify and suggest merchandise and services based on their needs and wants
Developed sales plans and strategies to meet sales goals
Monitored customer feedback and incorporated customer feedback into the sales process
Leveraged customer service strategies and techniques to cultivate customer loyalty
Ensured accurate and timely order processing, inventory and shipment
Negotiated pricing, delivery and payment terms with customers
Developed and maintained relationships with existing and potential customers
Seller Resume with 7 Years of Experience
Dedicated and experienced Seller with seven years of experience in a variety of sales environments. Possesses a strong understanding of the sales process, from lead generation to closing. Excellent knowledge of customer service best practices, with the ability to build strong relationships with clients. Proven track record of hitting and exceeding sales goals. Possesses strong organizational and communication skills to enable effective team work and collaboration.
Core Skills:
Excellent communication skills
In- depth knowledge of sales process
Strong customer service
Ability to build relationships
Organizational and time- management skills
Goal- oriented
Responsibilities:
Developed new sales strategies to increase customer base and maximize revenue
Generated leads and identified potential customers through market research
Cultivated relationships with existing customers to increase sales
Communicated with customers to ensure their satisfaction with products and services
Ensured that sales goals were met and exceeded
Provided customer service and resolved customer complaints in a timely manner
Analyzed market trends and competitor strategies to identify opportunities for growth
Seller Resume with 10 Years of Experience
An experienced seller with over 10 years of sales experience, I have an in- depth understanding of how to build relationships and close deals. I have a proven track record of success in developing, delivering, and managing innovative sales and marketing strategies. My skillset includes account management, market research, and customer service. I am well versed in the competitive sales environment and am passionate about exceeding customer expectations.
Core Skills:
Account Management
Sales and Marketing Strategies
Market Research
Customer Service
Closing Deals
Negotiations
Relationship Building
Product Knowledge
Strategic Planning
Responsibilities:
Develop and implement effective sales and marketing strategies
Analyze and interpret market trends and customer feedback
Build relationships with potential and existing customers
Negotiate and close deals with customers
Deliver presentations to promote products and services
Maintain accurate records of customer activities
Monitor sales performance and devise necessary strategies to increase sales
Provide customer service support and resolve customer complaints
Identify new business opportunities and develop existing clients
Utilize effective sales techniques to increase customer base.
Seller Resume with 15 Years of Experience
I am an experienced Seller with 15 years of knowledge in sales and marketing. I am a self- motivated and results- oriented individual, who is passionate about providing outstanding customer service. My expertise lies in customer relations, marketing techniques, and negotiation skills. I have a track record of developing strong relationships with customers and providing them with tailored solutions to their needs. Additionally, I have a comprehensive understanding of product lines and customer preferences, allowing me to effectively upsell and cross- sell different products.
Core Skills:
Customer service and relationship- building
Sales and marketing strategy
Product knowledge
Negotiation and interpersonal skills
Communication
Time management
Responsibilities:
Developing and maintaining relationships with customers
Interacting with customers to identify and address their needs
Demonstrating features and benefits of products to customers
Assisting customers in selecting best products according to their needs
Communicating with management to discuss sales strategies
Maximizing sales through upselling and cross- selling
Tracking customer orders and providing customer service
Ensuring customer satisfaction with products and services
In addition to this, be sure to check out our resume templates, resume formats, cover letter examples, job description, and career advice pages for more helpful tips and advice.
What should be included in a Seller resume?
A seller's resume should accurately reflect the skills and experience required to be successful in the field. Here are some things that should be included in a seller resume:
Personal Information: Name, address, contact information
Education: Degree type and major, any certifications
Sales Experience: History of sales positions held, sales performance in each role
Professional Skills: Including communication, problem-solving, customer service, and negotiation
Additional Skills: Computer proficiency, languages spoken, etc.
Awards: Any awards or honors received in a sales role
References: List of professional references who can vouch for your performance
These are the basics that should be included in a seller's resume. It's important to tailor your resume to the sales role you are applying for, including adding details that demonstrate your qualifications for the job. Additionally, make sure to check your resume for errors and update it regularly to reflect your most recent accomplishments.
What is a good summary for a Seller resume?
A Seller resume summary is a brief statement that outlines the most important skills, qualifications, and experiences of a potential applicant. It should be concise and tailored to the job role, aiming to illustrate why the individual is the best fit for the position. It should also be memorable and eye-catching, giving recruiters an insight into the most important aspects of the applicant's profile.
In particular, a Seller resume summary should highlight the individual's experience with sales and customer service, their ability to identify customer needs, and their excellent communication and interpersonal skills. It should also mention the applicant's ability to maintain relationships with key accounts and their knowledge of the industry.
An effective resume summary should be no more than four to six sentences in length, listing the most pertinent information in order to draw attention to the individual's qualifications. When writing a Seller resume summary, it is important to focus on the most important experience and skills while avoiding any irrelevant details.
What is a good objective for a Seller resume?
A seller resume should clearly communicate the qualifications, skills and experience that makes you the best candidate for the job. When crafting an objective for a seller resume, it is important to emphasize the traits that make you an asset to the organization. Here are some ideas for crafting an effective objective for a seller resume:
To utilize my strong interpersonal and customer service skills to effectively engage with customers, build relationships, and increase customer satisfaction
To leverage my sales, marketing and customer service experience to exceed sales goals and build a loyal customer base
To use my problem-solving and organizational skills to ensure customer satisfaction and maximize sales
To apply my experience in building relationships, customer service and sales to develop successful sales strategies
To use my communication and interpersonal skills to build strong customer relationships and exceed sales expectations
How do you list Seller skills on a resume?
When creating a resume, it is important to make sure your skills as a seller are clearly articulated. A well-crafted list of seller skills can help you stand out from the competition and give prospective employers a better understanding of your qualifications.
Below are some tips for listing seller skills on a resume:
Include details about any sales training or certifications you have received.
List any award or recognition you have received for your sales skills and accomplishments.
Describe any successful sales initiatives you have launched or been a part of.
Provide examples of your ability to successfully leverage customer relationships to close sales.
Highlight any customer service experience you have that is relevant to your sales skills.
Detail any experience you have with sales forecasting and budgeting.
Describe any sales process improvement initiatives you have been involved in.
Demonstrate your communication skills by providing examples of how you have successfully communicated the value of products and services to prospects.
By highlighting your sales skills on your resume, you can give potential employers a better understanding of your qualifications for the role. With the right combination of skills and qualifications, you can set yourself apart from other job seekers and increase your chances of getting the job.
What skills should I put on my resume for Seller?
A seller's job is to demonstrate expertise in sales and customer service, so it is important to showcase these skills on your resume. Your resume should also demonstrate your ability to think strategically, negotiate effectively, and work as part of a team. Here are some skills you should consider including on your resume:
Selling Strategies: Demonstrate that you are knowledgeable of techniques and strategies used to effectively sell products and services.
Customer Service: Showcase your ability to provide excellent service to customers and build relationships.
Negotiating: Demonstrate your ability to negotiate prices and discounts.
Market Knowledge: Show off your knowledge of the market, competitors, and customer needs.
Teamwork: Highlight your ability to work effectively as part of a team and collaborate with other team members.
Communication: Show that you have excellent verbal and written communication skills.
Time Management: Demonstrate your ability to manage your time and prioritize tasks appropriately.
Analytical Thinking: Show that you are able to analyze data and develop creative solutions to problems.
By including these skills on your resume, you will demonstrate that you have the qualifications to be a successful seller.
Key takeaways for an Seller resume
When you're looking for a job as a seller, it's important to have a well-crafted resume that shows your potential employers why you are the best candidate for the job. To help you create an effective resume for an seller position, here are some key takeaways to keep in mind:
Include Your Professional Experience: Be sure to list any and all experience you have had in sales, including any positions you may have held as a sales associate, sales representative, or any other title related to sales.
Highlight Your Achievements: Don't forget to include any awards, certifications, or other accomplishments that you have achieved in your career. This will demonstrate to potential employers that you have the skills and experience necessary to excel in a sales-related job.
Emphasize Your Interpersonal Skills: It's important to demonstrate to potential employers that you have strong interpersonal skills, such as the ability to communicate effectively and build relationships with customers.
Demonstrate Your Knowledge of the Industry: Employers will also want to see that you have a good understanding of the industry and trends in the field, so be sure to highlight any knowledge or experience you may have in this area.
Showcase Your Computer Skills: Many seller positions require strong computer skills in order to be successful, so make sure to list any relevant experience or training you may have in this area.
By following these key takeaways, you can create an effective resume that will help you stand out from the competition and get your foot in the door for an seller position. Good luck!
Let us help you build
your Resume!
Make your resume more organized and attractive with our Resume Builder