Writing a resume for a job in retail can be daunting, but with the right guidance, you can create a winning document that will set you up for success. This retail worker resume writing guide will provide you with all the information you need to create an effective resume, such as resume format, design, and content tips, as well as examples of resumes for retail workers. By following the advice in this guide, you'll be able to write a resume that highlights your strengths and experience and is sure to impress hiring managers.
If you didn't find what you were looking for, be sure to check out our complete library of resume examples.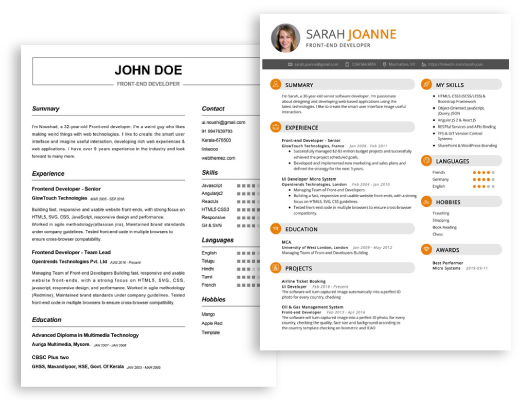 Start building your dream career today!
Create your professional resume in just 5 minutes with our easy-to-use resume builder!
Retail Worker Resume Examples
John Doe
Retail Worker
123 Main Street | Anytown, USA 99999 | Phone: (123) 456-7890 | Email: john.doe@email.com
A highly motivated and organized professional with over five years of experience in the retail industry. A proven leader with exceptional interpersonal and organizational skills, as well as a firm grasp of the customer service industry. A strong communicator and team player who excels in developing relationships with customers and staff. Possesses a passion for quality customer service, problem- solving, and the ability to work under pressure.
Core Skills:
Customer Service
Retail Sales
Team Leadership
Product Knowledge
Inventory Management
Organizational Skills
Conflict Resolution
Professional Experience:
Retail Associate, ABC Store – October 2018 – Present
Assist customers in product selection, ensuring they receive the appropriate items.
Utilize effective communication techniques to build relationships with customers.
Maintain inventory accuracy and product quality.
Provide expert advice and knowledge on products and services to customers.
Effectively manage the checkout process.
Manage team of 4- 6 associates, delegate tasks and provide feedback.
Retail Associate, XYZ Store – December 2016 – October 2018
Assisted customers with product selection and advised on product use.
Processed payments and handled money with accuracy.
Fostered and maintained strong customer relationships.
Resolved customer queries quickly and efficiently.
Ensured all merchandise was properly tagged and labeled.
Managed inventory and restocked shelves as needed.
Education:
Bachelor's Degree in Business Administration, University of California, San Diego – 2015 – 2018
Retail Worker Resume with No Experience
Highly motivated and customer- focused retail worker with no professional experience. Adept at leveraging strong interpersonal skills to cultivate positive customer relationships, suggesting product alternatives, and resolving customer complaints. Eager to join a retail team to learn and grow within the field.
Skills
Outstanding customer service skills
Strong problem- solving and communication skills
Knowledge of POS systems
Ability to maintain a neat and organized environment
Proficiency in basic math
Excellent product knowledge
Ability to stand for long periods of time
Responsibilities
Greet and assist customers with their inquiries
Receive payment from customers and accurately process transactions
Compile accurate records of customer transactions
Restock shelves with new products
Assist in unloading new inventory shipments
Ensure that the customer service desk is neat and organized
Maintain a thorough knowledge of store policies
Address customer complaints in a timely manner
Retail Worker Resume with 2 Years of Experience
A highly motivated retail worker with over two years of experience in customer service, inventory management and sales operations. Possesses excellent communication and organizational skills. A quick learner with an eye for detail and the ability to work independently and as part of a team. Skilled in building customer loyalty and meeting customer needs.
Core Skills:
Excellent customer service
Inventory management
Point of Sale (POS) systems
Cash handling
Merchandising techniques
Product knowledge
Sales operations
Computer skills
Organizational skills
Responsibilities:
Provide outstanding customer service in a fast- paced retail environment
Process customer transactions accurately and efficiently
Assist customers with product selection
Set up displays and changing billboards
Unload merchandise, stock shelves and organize backroom inventory
Maintain a clean and organized sales floor
Answer customer inquiries and resolve customer complaints
Perform daily inventory checks and restock shelves
Generate sales reports and analyze sales trends
Train new employees and provide ongoing support
Retail Worker Resume with 5 Years of Experience
A motivated and experienced retail worker with 5 years of experience in customer service and retail operations. Proven track record of ensuring customer satisfaction and streamlining operations. Expert- level knowledge of retail systems and processes, as well as excellent communication and problem- solving skills. Able to work independently and as part of a team to provide exceptional customer service and ensure smooth running retail operations.
Core Skills:
Excellent customer service
Strong communication skills
Problem solving
Retail operations
Point of sale systems
Cash register operations
Responsibilities:
Greet customers, answer questions and provide advice
Recommend products based on customer needs
Process payments and reconcile sales
Maintain and organize stockroom and retail space
Manage inventory and restock shelves
Operate cash register and handle cash transactions
Handle returns and exchanges
Manage customer complaints and inquiries
Retail Worker Resume with 7 Years of Experience
Dedicated and experienced retail worker with 7 years of experience in customer service, sales, and operations. Possesses excellent communication, multitasking, and problem- solving skills. Highly organized and detail- oriented with a proven ability to handle multiple tasks in a fast- paced environment. Enjoys working in a team- based environment and providing customers with the best shopping experience.
Core Skills:
Customer Service
Sales
Operations
Communication
Multitasking
Problem Solving
Organizational Skills
Detail- Oriented
Responsibilities:
Greet customers and ensure that they have a pleasant shopping experience
Assist customers with product selection, return policy, and store promotions
Process customer orders and payments in a timely manner
Ensure all store shelves are stocked and properly labeled
Keep track of all inventory and ensure that it is properly stocked
Assist with product displays and window dressing
Ensure that the store is kept clean and organized
Train and supervise new retail workers
Retail Worker Resume with 10 Years of Experience
Results- oriented Retail Worker with 10 years of experience in retail customer service, product marketing, and sales. Highly organized and detail- oriented, with a strong understanding of customer service and retail management principles. Possesses a proven ability to work in a fast- paced environment, lead teams and drive sales. Flexible and reliable, with excellent communication and interpersonal skills.
Core Skills:
Product marketing
Retail customer service
Retail management
Team leadership
Sales strategies
Inventory management
Merchandising
Problem solving
Time management
Data entry
Responsibilities:
Promoted products and services to customers with enthusiasm and confidence.
Assisted customers in locating desired items, answered questions, and provided product information.
Maintained stock levels and managed inventory control procedures.
Developed and implemented sales strategies, ensuring customer satisfaction.
Managed customer service and sales staff, trained new hires, and resolved customer complaints.
Organized product displays and ensured accurate pricing and promotional information.
Processed transactions and operated point- of- sale (POS) systems.
Monitored store security and investigated suspicious activities.
Conducted regular store audits to ensure policies and procedures were followed.
Retail Worker Resume with 15 Years of Experience
15 years of experience in retail sales and excellent customer service skills. Proven leadership and ability to manage multiple tasks. Experienced in inventory management, merchandising and marketing, store operations and training. Possess a positive attitude, organized, and motivated to exceed expectations.
Core Skills:
Retail sales
Customer service
Inventory management
Merchandising & Marketing
Store Operations
Training
Leadership
Multi- tasking
Positive attitude
Responsibilities:
Greet customers and assist with purchases
Keep store stocked and organized
Train new employees on company policies and procedures
Monitor and maintain inventory levels
Ensure accurate cash handling, returns and exchanges
Develop and implement marketing strategies to maximize sales
Create merchandising displays to draw customers
Provide customers with information and advice on products and services
In addition to this, be sure to check out our resume templates, resume formats, cover letter examples, job description, and career advice pages for more helpful tips and advice.
What should be included in a Retail Worker resume?
A Retail Worker resume should include the following information:
Education: List any relevant education, such as a high school diploma, college degree, or retail-related certifications
Work Experience: Include any retail-related work experience, such as customer service, cashiering, stocking, inventory management, and other relevant duties
Skills: List any retail-specific skills, such as POS systems, cash register operations, product knowledge, and customer service experience
Other Skills: List any additional skills, such as computer proficiency, language proficiency, problem-solving abilities, and communication skills
Achievements: List any awards or achievements received in retail, such as salesperson of the month or customer service excellence awards
References: List the names and contact information for at least two references
What is a good summary for a Retail Worker resume?
A good summary for a Retail Worker resume should showcase an individual's best qualities, highlight their experience and expertise in sales, customer service, and product management, and demonstrate their knowledge of retail operations. The summary should also express the candidate's commitment to providing exceptional customer service and meeting sales goals. Finally, the summary should include any relevant additional qualifications the candidate may have, such as knowledge of merchandising and inventory management, cash handling, and loss prevention. Having an effective summary for a Retail Worker resume can be an important factor in helping a potential employer decide if the candidate is the right fit for the job.
What is a good objective for a Retail Worker resume?
A retail worker position involves many duties, including greeting customers, stocking shelves, managing inventory, and providing excellent customer service. To be successful in a retail worker role, it is important to have a clear and concise resume objective. Below are a few examples of good objectives for a retail worker resume:
To utilize my customer service and sales skills to provide a positive, memorable experience to customers
To apply my organizational and time management skills to efficiently manage and restock inventory
To build strong relationships with customers and coworkers to ensure a positive work environment
To promote and increase sales by providing knowledgeable recommendations and excellent service
To utilize my communication and problem-solving skills to defuse difficult customer situations and ensure customer satisfaction
To provide an exceptional customer experience and exceed customer expectations
To leverage my strong product knowledge to provide helpful advice and support to customers
To use my retail experience to ensure a positive shopping experience for customers
To apply my interpersonal and teamwork skills to create an enjoyable, collaborative workplace
How do you list Retail Worker skills on a resume?
When applying for a job in the retail industry, it's important to highlight the skills that make you the ideal candidate. Your resume should include some of the qualities that make you a great retail worker. Here are some of the skills you may want to include on your resume:
Excellent customer service: A successful retail worker must have excellent customer service skills. This means having the ability to listen attentively to customers and respond to their needs in a timely and effective manner.
Product knowledge: It's essential for a retail worker to be knowledgeable about the products they are selling. They should be able to answer any questions a customer may have about the product and provide information about the various features and benefits.
Attention to detail: Retail workers must be able to pay attention to detail when it comes to their work. This means ensuring that all orders are accurate and that all merchandise is displayed properly.
Effective communication: Retail workers must be able to communicate effectively with customers, co-workers, and supervisors. This includes having the ability to explain products and services clearly and confidently.
Time management: Being able to manage time effectively is an important skill for retail workers. They should be able to prioritize tasks and complete them in a timely manner.
Organization: Retail workers must have strong organizational skills in order to keep track of inventory and ensure that shelves are stocked properly.
By including these skills on your resume, you can show employers that you have the qualities and abilities necessary to be a successful retail worker.
What skills should I put on my resume for Retail Worker?
When crafting a resume for a retail worker, it's important to emphasize the skills that demonstrate your knowledge of customer service, sales, and communication. Highlight the positive attributes that make you the ideal candidate for the job. Here are some key skills to include on your retail worker resume:
Customer Service: The customer is always the priority in retail. Being able to interact and assist customers in a friendly and professional manner is essential. Demonstrate customer service skills such as active listening, problem-solving, and conflict resolution.
Sales: Having an understanding of sales and merchandising principles is key in retail. Your resume should show off your ability to understand customer needs and use persuasive sales techniques to secure a sale.
Communication: Communication is an important skill in any customer-facing role. Include examples of your ability to communicate effectively and accurately in both verbal and written formats.
Product Knowledge: Retail workers should have a good knowledge of products and services. Include examples of your ability to quickly assimilate product knowledge and explain it to customers in an understandable way.
Organization: Working in retail requires a level of organization and attention to detail. Emphasize your ability to stay on top of tasks and prioritize customer service.
Time Management: Being able to manage your time effectively is essential in retail. Show off your ability to work quickly and efficiently in a fast-paced environment.
By highlighting these key skills on your resume, you can give yourself the best chance of getting the job. A well-crafted resume can make all the difference when it comes to getting your foot in the door.
Key takeaways for an Retail Worker resume
When crafting a resume for a retail position, there are a few key takeaways to keep in mind. These takeaways will help you create a resume that stands out and stands strong against other applicants for the job.
First, highlight any relevant experience that you have in the retail industry. This could mean working in a retail store, or even just participating in a retail-related activity. Make sure to include any sales or customer service experience that you may have. Also, include any relevant skills or qualifications that you have acquired in the retail industry.
Second, emphasize any special training that you may have received that is pertinent to the retail industry. This could include any certifications or classes that you've completed, as well as any individual projects that you've undertaken.
Third, make sure to provide examples of any successes that you've had in the retail industry. This could include any awards or recognitions that you've received, as well as any promotions or special assignments that you've been a part of.
Finally, highlight any volunteer opportunities or extra-curricular activities that you've participated in that are related to the retail industry. These can show potential employers that you have a passion for retail and demonstrate a commitment to the field.
By following these key takeaways, you will be able to craft a strong resume that will help you stand out in the job market. An impressive resume can help you land the perfect retail job.
Let us help you build
your Resume!
Make your resume more organized and attractive with our Resume Builder