Writing a resume for a retail team leader position can be a challenging task. As a team leader, you need to demonstrate your leadership skills in a concise and professional manner. To ensure your resume stands out from other applicants, you must include the most important elements and showcase your knowledge, experience, and accomplishments. This guide provides helpful tips for writing a successful retail team leader resume and provides numerous resume examples for your review. With these resources, you can create a compelling resume that will help you get the job you desire.
If you didn't find what you were looking for, be sure to check out our complete library of resume examples.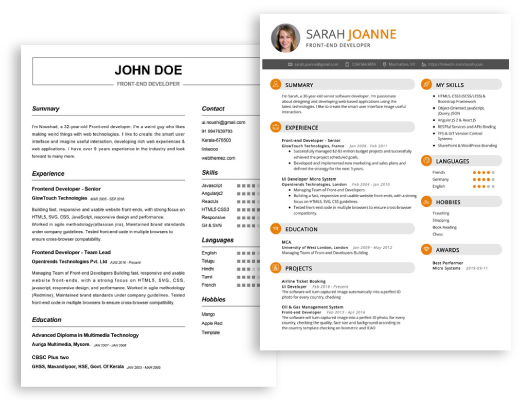 Start building your dream career today!
Create your professional resume in just 5 minutes with our easy-to-use resume builder!
Retail Team Leader Resume Examples
John Doe
Retail Team Leader
123 Main Street | Anytown, USA 99999 | Phone: (123) 456-7890 | Email: john.doe@email.com
A highly motivated and experienced Retail Team Leader with 8 years of experience in the retail industry. Possesses strong leadership, communication, and problem- solving skills. Able to multitask and manage a team of sales associates while maintaining customer service standards. Committed to providing excellent customer service while ensuring the highest level of sales and service standards are met in a fast- paced environment.
Core Skills:
Strong leadership skills
Excellent communication skills
Proficient in problem solving
Ability to multitask
Team Management
Customer Service
Sales and Service Standards
Organizational Skills
Professional Experience:
Retail Team Leader, ABC Retail, 2016 – Present
Lead and manage a team of 15 sales associates
Maintained customer service standards and ensure customer satisfaction
Provided staff support and training
Managed store operations, including scheduling and inventory control
Responsible for store's financial performance, budgeting, and record keeping
Assisted in recruitment, onboarding, and performance development for the team
Retail Sales Associate, XYZ Retail, 2011 – 2016
Provided excellent customer service and ensured customer satisfaction
Assisted customers with product selection and purchases
Assisted in store operations, including closing, opening and cleaning
Maintained store organization and cleanliness
Operated cash registers and performed cash transactions
Education:
Bachelor of Science in Business Management, ABC University, 2010 – 2014
Associate Degree in Business Administration, XYZ College, 2008 – 2010
Retail Team Leader Resume with No Experience
Motivated and organized Retail Team Leader with no experience eager to apply customer service and leadership skills in a retail environment. A dedicated team player with strong problem solving and communication skills.
Skills
Excellent customer service skills
Strong organizational and planning skills
Ability to work independently and as part of a team
Ability to handle multiple tasks and prioritize accordingly
Knowledge of relevant software programs
Strong leadership and interpersonal skills
Ability to anticipate customer needs
Knowledge of retail industry standards
Responsibilities
Ensure compliance with company policies and procedures
Lead and motivate retail staff to deliver superior customer service
Manage daily operations of the store including opening and closing procedures
Train and mentor new staff members
Develop and implement marketing strategies to increase sales
Develop and maintain relationships with customers
Monitor inventory levels and re- order as necessary
Manage sales floor and manage stock
Resolve customer complaints and inquiries in a professional and timely manner
Maintain a clean and organized work environment
Retail Team Leader Resume with 2 Years of Experience
Highly motivated Retail Team Leader with 2 years of experience in motivating retail sales teams; leading, managing and training staff to increase accuracy and efficiency; and monitoring sales activities to ensure KPIs are met. Proven ability to build and maintain relationships with customers, identify sales opportunities, use effective communication and provide excellent customer service.
Core Skills
Staff training & development
Performance Management
Leadership & Motivation
Customer Service
Sales & Marketing
Analytical Skills
KPI monitoring
Responsibilities
Developed team objectives, goals and performance criteria in cooperation with other members of the retail management team.
Provided guidance and ensured development of team members by initiating and coordinating training activities.
Ensured KPIs were met by monitoring sales activities, results, and trends; adjusting strategies and tactics accordingly.
Developed and maintained relationships with customers to ensure customer satisfaction.
Identified sales opportunities and monitored customer preferences and requirements.
Achieved sales targets by motivating and inspiring team members.
Provided excellent customer service by responding to customer inquiries, resolving complaints and following up on customer feedback.
Maintained accurate records of sales activities and results.
Retail Team Leader Resume with 5 Years of Experience
I am an experienced Retail Team Leader with over 5 years of leadership experience in the retail industry. I have a strong track record of success in motivating teams and driving sales. I am a strong communicator with excellent organizational skills and the ability to develop effective strategies to maximize efficiency and profits. I have a proven ability to build relationships with customers and colleagues as well as to develop and maintain an effective team. I am passionate about creating a positive working environment and helping team members reach their full potential.
Core Skills:
Leadership
Sales Optimization
Strategic Planning
Organizational Skills
Customer Relations
Team Building
Problem Solving
Time Management
Communication
Responsibilities:
Managing and developing team members to reach company goals.
Optimizing performance and sales through effective strategies and processes.
Ensuring customer satisfaction by developing and maintaining relationships.
Developing and implementing team training initiatives to maximize efficiency.
Analyzing and reporting on sales data and performance metrics.
Creating and maintaining a positive work environment by building and maintaining relationships.
Identifying and resolving potential customer issues.
Developing and leading team meetings and performance review processes.
Retail Team Leader Resume with 7 Years of Experience
Enthusiastic and experienced Retail Team Leader with 7 years of experience in retail operations. Having expertise in leading and managing teams to exceed their sales goals. Ability to develop strategies and drive sales initiatives that have resulted in increased revenues. Adept at providing customer service, training & coaching staff, and problem- solving. Proven ability to perform well under pressure in a fast- paced environment.
Core Skills:
Customer Service
Team Management
Sales Strategies
Training & Coaching
Staff Scheduling
Problem Solving
Proficient in MS Office Suite
Responsibilities:
Supervising and coaching team members to ensure standards of customer service are met.
Motivating and inspiring team members to improve their performance and efficiency.
Monitor and evaluate sales performance, ensuring targets are met and exceeded.
Ensuring that all retail operations are compliant with health and safety regulations.
Liaising with store management, other departments and suppliers on a regular basis.
Developing and implementing operational plans, policies, and procedures.
Evaluating staff performance, ensuring training needs are addressed and disciplinary action is taken when necessary.
Investigating customer complaints and effectively resolving complex issues.
Overseeing the maintenance and condition of the store and stock levels.
Retail Team Leader Resume with 10 Years of Experience
Accomplished Retail Team Leader with 10 years of experience in the retail industry. Demonstrated success in leading a cross- functional team to achieve their sales targets, improve customer service, and establish strong working relationships. Experienced in overseeing communication between customers and retailers, developing and executing effective marketing strategy, and providing leadership and guidance to employees. Possess strong problem- solving and analytical skills, with a proven ability to develop innovative solutions to maximize team efficiency and performance.
Core Skills:
Sales Management
Team Leadership
Staff Training & Development
Customer Service
Merchandising & Visual Merchandising
Inventory Management
Marketing & Advertising
Problem Solving & Analytical Thinking
Time Management & Organization
Responsibilities:
Developed and implemented marketing strategies to promote and increase sales
Lead and managed a team of team of sales associates in achieving sales targets
Provided guidance, support, and coaching to employees
Conducted performance assessments, managed employee relations, and resolved issues
Created and implemented effective and efficient workflow processes
Ensured compliance with company policies and procedures
Monitored and adjusted inventory levels, and maintained accurate records
Developed customer service strategies to improve customer service and satisfaction
Developed and implemented visual merchandising plans to maximize retail sales and profits
Retail Team Leader Resume with 15 Years of Experience
Dynamic Retail Team Leader with 15 years of experience in the retail industry. Expertise in sales, customer service, and staff supervision. A collaborative leader with a proven track record for driving customer satisfaction, store sales, and process improvement. Experienced in developing innovative strategies and solutions to optimize team performance and increase revenue.
Core Skills:
Team Leadership
Sales & Marketing
Inventory Management
Customer Service
Problem Solving
Conflict Resolution
Staff Training & Development
Process Improvement
Responsibilities:
Led teams of up to 20 customer service professionals in the delivery of exceptional customer service.
Monitored staff performance, sales performance, store operations, and customer service results.
Developed and executed sales and marketing strategies to increase store revenue and improve customer engagement.
Created and implemented procedures and processes to optimize staff performance and productivity.
Trained, coached, and mentored staff in customer service techniques, product knowledge, and sales processes.
Resolved customer complaints and escalated customer issues as needed.
Managed inventory and implemented stock control systems to reduce losses and optimize stock levels.
Developed and managed budgets and monitored store expenses.
Analyzed store performance data and generated reports for senior management.
In addition to this, be sure to check out our resume templates, resume formats, cover letter examples, job description, and career advice pages for more helpful tips and advice.
What should be included in a Retail Team Leader resume?
When crafting a Retail Team Leader resume, there are several key components to include in order to ensure you capture the attention of potential employers.
Education: Be sure to include any relevant education, such as a degree in business, retail or management.
Professional Experience: Include any professional experience that is related to the Retail Team Leader position, such as previous retail experience and team leader roles. Include details on your achievements in each role, such as metrics achieved or customer satisfaction ratings.
Leadership Skills: Highlight key leadership skills related to the Retail Team Leader role, such as strong communication and problem-solving skills.
Computer Skills: Include any computer skills that you have to show potential employers that you can effectively use technology in the workplace.
Certifications: If you hold any professional certifications related to retail or management, be sure to include them on your resume.
By including these components in your Retail Team Leader resume, you will be able to showcase your qualifications and increase your chances of securing the role.
What is a good summary for a Retail Team Leader resume?
A Retail Team Leader resume should showcase a candidate's strong background in sales, customer service and team leadership within a retail environment. The summary should highlight an individual's ability to motivate employees, increase sales, and ensure customer satisfaction. In addition, a Retail Team Leader should be able to direct staff, research and implement new policies and procedures, and face challenges in the workplace. An ideal Retail Team Leader would have a track record of success in sales, customer service, and team leadership. By focusing on the candidate's strengths, a Retail Team Leader resume can make a great impression on potential employers.
What is a good objective for a Retail Team Leader resume?
A Retail Team Leader resume should emphasize the successful leadership experience of the applicant, as well as their ability to motivate and manage a team. A good objective for a Retail Team Leader resume should include:
Demonstrated experience leading teams in a retail setting
Proven track record of providing excellent customer service
The ability to lead and motivate employees to achieve goals
Knowledge of retail operations, processes and procedures
Excellent organizational and communication skills
Ability to provide valuable insight and feedback on team performance
Experience in training and mentoring team members
Proficiency in using retail software and systems
Commitment to meeting deadlines and staying organized
A passion for retail and customer satisfaction.
How do you list Retail Team Leader skills on a resume?
A Retail Team Leader resume should highlight the skills and qualifications that are necessary for a successful retail team leader.
The following is a list of the essential skills and qualifications needed to list on a Retail Team Leader resume:
Leadership: Retail Team Leaders must be able to motivate and lead their team to success. They should have experience in delegating tasks, providing guidance, and troubleshooting any issues that may arise.
Organizational Skills: A Retail Team Leader must be able to stay organized, manage multiple tasks, and prioritize tasks according to importance. They should also be able to plan work schedules, coordinate and monitor inventory, and ensure customer satisfaction.
Communication: A Retail Team Leader must be able to effectively communicate with customers, employees, and other stakeholders in order to ensure a productive and successful work environment.
Problem Solving: Retail Team Leaders must be able to identify and troubleshoot issues quickly and efficiently. They should have experience in resolving customer complaints and dealing with difficult customers.
Analytical Skills: Retail Team Leaders must have the ability to analyze data and use it to make informed decisions. They should have experience in analyzing customer feedback, sales data, and trends in order to develop strategies to increase sales and customer satisfaction.
Technical Skills: A Retail Team Leader must have experience with computer systems and software, such as POS systems, inventory management software, spreadsheets, and customer relationship management systems.
These skills and qualifications should be prominently featured on a Retail Team Leader resume in order to make a strong impression on potential employers. By highlighting these skills and qualifications, a Retail Team Leader can show that they are an ideal candidate for the position.
What skills should I put on my resume for Retail Team Leader?
Retail Team Leaders are responsible for overseeing a team of retail workers, managing store operations, and maintaining customer satisfaction. It is important to highlight any skills that are relevant to the job in your resume to be successful in this role. Here are some skills to consider adding to your resume for a Retail Team Leader position:
Leadership: You need to be able to lead and motivate your team to ensure efficient operations.
Communication: Good communication and interpersonal skills are necessary when fostering team collaboration and customer relations.
Problem-solving: You should be able to proactively address customer and employee issues in a timely manner and come up with creative solutions.
Time Management: You need to be able to manage your time and that of your team to ensure deadlines are met and tasks are completed efficiently.
Organizational Skills: Being able to stay organized and keep your store in order is essential in managing store operations.
Experience in Retail: Previous retail experience can be beneficial in understanding the customer's needs, as well as store operations.
Computer Skills: Knowledge of computer programs and software used in retail is important for managing data and tracking sales.
Having these skills added to your resume can demonstrate to potential employers that you are the right fit for a Retail Team Leader position.
Key takeaways for an Retail Team Leader resume
If you're a Retail Team Leader, your resume needs to be a powerful and persuasive document that communicates your abilities and accomplishments. Here are some key takeaways to keep in mind when crafting the perfect Retail Team Leader resume:
Highlight Your Leadership Skills: Your resume should emphasize your leadership skills, such as mentoring, coaching and problem solving. Showcase your ability to lead teams and motivate employees to reach their goals.
Showcase Your Retail Experience: Your resume should clearly highlight your experience working in a retail setting. Showcase your ability to manage customer relations, create sales strategies, monitor inventory, and oversee store operations.
Demonstrate Your Communication Skills: As a Retail Team Leader, your ability to effectively communicate with team members, customers, and vendors is a critical skill. Make sure to showcase your ability to communicate and resolve conflicts.
Detail Your Accomplishments: Make sure to include quantifiable evidence of the success you've achieved in your retail roles. Highlight any awards or recognition you've received for your efforts.
Include Your Technical Skills: Showcase your knowledge of retail technology, such as POS systems and inventory management software.
By keeping these key takeaways in mind, you'll be able to create an effective Retail Team Leader resume that will help you stand out and get the job you've been looking for.
Let us help you build
your Resume!
Make your resume more organized and attractive with our Resume Builder