Writing an effective resume as a retail store supervisor can be a challenge. Your resume should be tailored specifically to the job you are applying for and should highlight your experience in the retail industry. It should also showcase your skills in managing and motivating teams, as well as your ability to ensure the store runs efficiently. This guide will provide you with tips on how to write an effective resume for retail store supervisor positions, as well as examples of successful resumes.
If you didn't find what you were looking for, be sure to check out our complete library of resume examples.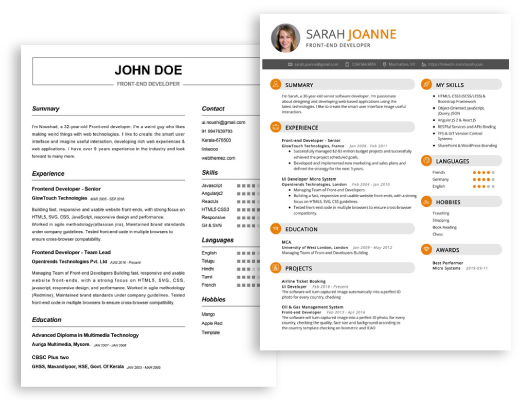 Start building your dream career today!
Create your professional resume in just 5 minutes with our easy-to-use resume builder!
Retail Store Supervisor Resume Examples
John Doe
Retail Store Supervisor
123 Main Street | Anytown, USA 99999 | Phone: (123) 456-7890 | Email: john.doe@email.com
I am a results- driven and motivated retail store supervisor with over 10 years of proven experience in the retail industry. I have a proven track record of successfully leading teams and driving operational excellence by leveraging my strategic thinking, problem- solving, and organizational skills. I have a strong understanding of customer service principles, business development, and team management methods. I have demonstrated success in creating and implementing effective strategies to maximize store performance.
Core Skills:
Strategic Planning
Conflict Resolution
Customer Service
Team Management
Business Development
Inventory Management
Organizational Skills
Problem- Solving
Data Analysis
Professional Experience:
Retail Store Supervisor (2008- present)
Supervise the daily operations of the retail store, ensuring that all processes are followed correctly.
Monitor and evaluate the performance of the store staff, providing feedback and coaching when necessary.
Develop and implement strategies to increase sales and customer satisfaction.
Utilize data analysis reports to track store performance and identify areas for improvement.
Ensure that inventory levels are maintained and all merchandise is accurately priced.
Manage customer service inquiries, resolving customer complaints in a timely and professional manner.
Set and maintain store standards, ensuring that the store is neat and welcoming.
Education:
Bachelor of Business Administration, University of Texas (2005)
Retail Store Supervisor Resume with No Experience
Motivated and passionate Retail Store Supervisor with no experience looking to break into the field. Proven abilities to multi- task and work well in high pressure environments while maintaining high standards of customer service.
Skills
Excellent communication, interpersonal and organizational skills
Strong problem- solving, critical thinking and decision- making capabilities
Proficiency in Microsoft Office Suite, Point of Sale (POS) systems
Knowledgeable in store stocking, operations, and product inventory
Responsibilities
Provide excellent customer service by attending to customer needs
Ensure store and staff compliance with company policies and procedures
Maintain store cleanliness and product presentation
Train and supervise staff in order to maximize performance
Assist with problem resolution for customers and staff
Address customer inquiries and complaints in a timely manner
Ensure store security by monitoring customers and staff
Complete daily reports, store audits and inventory control
Handle store cash and credit card transactions
Develop and implement effective strategies to increase store sales
Retail Store Supervisor Resume with 2 Years of Experience
I am an enthusiastic retail store supervisor with two years of experience in the retail industry. My expertise lies in assisting customers, managing staff, and increasing sales. My strengths include excellent problem solving, organizational, and customer service skills. I am confident in my ability to increase customer satisfaction, meet company goals, and ensure a positive and productive work environment.
Core Skills:
Strong leadership and interpersonal skills
Excellent customer service
Knowledge of retail operations
Ability to manage costs and maximize profits
Proficient in MS Office Applications
Fluency in English and Spanish
Ability to communicate effectively
Knowledge of retail software
Responsibilities:
Supervise sales staff and ensure customer satisfaction
Enforce store policies, procedures and quality standards
Create weekly schedules and manage staffing needs
Monitor store operations and adjust staff to meet customer needs
Handle customer complaints and address issues in a timely manner
Train, coach and evaluate staff performance
Analyze sales data and develop strategies to increase profits
Ensure compliance with safety and security regulations
Retail Store Supervisor Resume with 5 Years of Experience
Energetic and result- oriented professional with 5 years of experience in retail store management. Possesses excellent communication skills, with the ability to motivate and lead teams, as well as problem solving and strategic planning. Adept at working with vendors and customers to ensure customer satisfaction and store productivity. Skilled in developing training programs and team building strategies, and adept at using a variety of store related software.
Core Skills:
Store Administration
Team Management
Customer Service
Retail Sales
Inventory Management
Product Merchandising
Loss Prevention
Employee Scheduling
Vendor Relations
Responsibilities:
Supervised a team of 15 retail associates, providing training and guidance to ensure quality customer service and efficient store operations.
Developed and implemented training programs and team building activities to drive performance, increase engagement, and reduce turnover.
Monitored store sales, inventory levels, and stock replenishment to ensure product availability and accurate pricing.
Conducted employee performance reviews, identified areas for improvement, and provided feedback and guidance.
Implemented loss prevention strategies to reduce shrinkage and improve overall store security.
Assisted in product merchandising, purchasing, and promotions to increase store sales and customer satisfaction.
Maintained strong relationships with vendors to ensure quality products and competitive prices.
Worked closely with customers to resolve complaints and inquiries in a timely and efficient manner.
Retail Store Supervisor Resume with 7 Years of Experience
A highly- experienced Retail Store Supervisor with 7 years of experience in the retail environment. Exercising decisive leadership and providing excellent customer service, I have effectively managed and motivated teams to achieve high levels of performance. My expertise lies in managing store operations, overseeing and training staff, and delivering a high- quality customer experience. With a proven track record of success, I am confident in my ability to take on the role of Retail Store Supervisor and make an immediate, positive impact within the organization.
Core Skills:
Leadership
Teambuilding
Communication
Customer Service
Retail Management
Inventory Management
Problem- Solving
Organizational Skills
Responsibilities:
Managing and supervising store staff, delegating tasks, overseeing performance and results
Meeting and exceeding customer service standards
Processing customer purchases and returns
Developing and implementing store promotion and marketing initiatives
Maintaining accurate inventory levels and ensuring timely replenishment
Ensuring compliance with all store policies and procedures
Recruiting, hiring and training store team members
Identifying areas for improvement in store operations and taking corrective action when necessary
Participating in store meetings, conferences and training sessions
Retail Store Supervisor Resume with 10 Years of Experience
Relevant and results- oriented professional with over 10 years of experience in the Retail industry. Track record of successfully leading teams, managing daily operations, and ensuring exceptional customer experiences. Proven ability to work under pressure and meet deadlines. Adept at analyzing customer data, marketing strategies, and financial reports to inform decisions.
Core Skills:
Team Management
Customer Service
Sales and Promotions
People and Operations Management
Financial Reports
Retail Operations
Marketing Strategies
Data Analytics
Performance Analysis
Problem Solving
Responsibilities:
Supervising and managing retail store operations, staff, and customer service
Implementing policies and procedures to ensure excellent customer service and store performance
Monitoring and evaluating staff performance, providing feedback, and resolving employee disputes
Developing and executing sales strategies and promotional campaigns that increase sales
Analyzing customer data and trends to make decisions on staff scheduling and product placement
Tracking and reporting daily sales figures, budgets, and other financial reports
Investigating and resolving customer complaints and concerns
Maintaining a clean and organized store to ensure a welcoming and inviting atmosphere
Retail Store Supervisor Resume with 15 Years of Experience
An experienced Retail Store Supervisor with 15 years of experience in providing outstanding customer service, training and motivating staff, and managing the daily operations of the store. Possessing excellent interpersonal skills, a strong work ethic, and the ability to work under pressure. Strong leader with successful skills in problem solving, conflict resolution, and problem prevention.
Core Skills:
Strong customer service
Conflict resolution
Excellent problem solving
Interpersonal skills
Work under pressure
Leadership
Team building
Training and motivating staff
Responsibilities:
Ensuring excellent customer service is provided
Assisting customers with any enquiries
Managing the daily operations of the store
Setting and meeting targets
Training, motivating and supervising staff
Organizing and coordinating store staff
Maintaining a safe and secure store environment
Ensuring merchandise is displayed correctly
Ensuring stock levels are maintained
Organizing promotional activities
Monitoring and controlling store expenses
Identifying and resolving problems
Ensuring compliance with company policies and procedures
Preparing and reviewing reports.
In addition to this, be sure to check out our resume templates, resume formats, cover letter examples, job description, and career advice pages for more helpful tips and advice.
What should be included in a Retail Store Supervisor resume?
Are you a Retail Store Supervisor looking for a new job opportunity? An effective resume is key to landing the job you want. It's important to include all the relevant skills and experiences you have to set yourself apart from the competition. Here is a list of what should be included to help you make the most of your Retail Store Supervisor resume:
Contact information: Include your name, address, phone number, and email address in the contact section of your resume.
Summary: Summarize your work experience, skills, and qualifications in a few sentences.
Work experience: List all the jobs you've held in a retail store setting and any additional relevant professional experience.
Skills: Highlight the skills that you possess that make you a great Retail Store Supervisor. These can include problem-solving, communication, and organization.
Education: List your educational background, including the schools you attended, degrees earned, and any special courses you may have taken.
Certifications: If you have any certifications related to retail store supervision, be sure to include them on your resume.
References: Include a few references who can speak to your professional qualifications as a Retail Store Supervisor.
By including all the important information on your resume, you can create a strong document that will help you stand out from the crowd and land the job you want as a Retail Store Supervisor.
What is a good summary for a Retail Store Supervisor resume?
A retail store supervisor is responsible for the daily operations of a retail store, from sales and customer service to inventory management and staff oversight. A good summary for a retail store supervisor resume should highlight experience in, and knowledge of, customer service, store operations, inventory management, and sales. It should also emphasize any success in developing and leading teams, as well as any accomplishments in customer service and sales. In addition, the summary should showcase any unique skills or qualifications, such as problem-solving or people management, that may be relevant to the position. Finally, it should demonstrate the applicant's enthusiasm for customer service and commitment to helping the retail store reach its goals.
What is a good objective for a Retail Store Supervisor resume?
The role of a Retail Store Supervisor is to oversee store operations, manage customer service, and drive sales. As such, a good objective statement for a Retail Store Supervisor resume should illustrate the candidate's ability to perform these responsibilities. The following are some examples of objectives:
To leverage my 5+ years of retail experience to effectively oversee and manage the store's day-to-day operations and ensure customer satisfaction.
Seeking a Retail Store Supervisor role to utilize my strong customer service skills and track record of success in retail sales.
Driven and organized individual with a passion for leading teams in a fast-paced retail environment.
Dedicated Retail Store Supervisor eager to maximize customer experience and drive store sales.
Looking to apply my retail expertise and interpersonal skills to ensure store operations run smoothly and customer needs are met.
How do you list Retail Store Supervisor skills on a resume?
Retail Store Supervisor skills are integral to the success of any retail operation. A Retail Store Supervisor must be adept in customer service, inventory management, and employee management. When creating a resume for this position, it is important to highlight these key skills in order to demonstrate your suitability for the role.
Customer Service: Retail Store Supervisors need to ensure that customers have an excellent experience in the store. This means providing friendly and knowledgeable assistance, processing purchases, and resolving any customer issues.
Inventory Management: Supervisors must be able to oversee inventory, ensuring that the store always has enough stock to meet customer demand. This includes being able to accurately read stock levels and reorder when necessary.
Employee Management: Retail Store Supervisors are responsible for managing store staff, from scheduling to training. They should be able to motivate and lead the team in order to ensure the store's success.
Merchandising: Supervisors are responsible for ensuring that the store looks its best, with the right products in the right places. This includes arranging displays, replenishing stock, and creating an inviting atmosphere.
Problem Solving: Retail Store Supervisors need to be able to troubleshoot any issues that arise in the store and come up with creative solutions. This can include resolving customer complaints or identifying operational inefficiencies.
By showcasing these skills on a resume, Retail Store Supervisors can demonstrate that they are well-suited to the role and can provide the experience necessary to succeed.
What skills should I put on my resume for Retail Store Supervisor?
When applying for a Retail Store Supervisor position, you will want to make sure your resume stands out from the competition. Including the right skills on your resume can help you show potential employers that you have the know-how to fill the role.
Here are some of the top skills employers look for on a Retail Store Supervisor resume:
Leadership: As a Retail Store Supervisor, you must be able to lead your team and provide clear direction. Demonstrate your leadership skills by providing examples of how you successfully managed projects or initiatives.
Problem Solving: Retail Store Supervisors must be able to think on their feet and solve problems quickly and effectively. Showcase how you identified a challenge and resolved it in an efficient manner.
Customer Service: It is essential that Retail Store Supervisors have excellent customer service skills. Provide examples of how you went above and beyond to provide exceptional service to customers.
Inventory Management: Retail Store Supervisors are responsible for managing store inventories and making sure merchandise is stocked and presented in a timely manner. Discuss any relevant experience you have with managing inventory.
Interpersonal Skills: As a supervisor, it is important to have strong interpersonal skills as you will be communicating with customers, coworkers, and managers on a regular basis. Demonstrate your people skills by highlighting any successful collaborations or team projects.
By including the right skills on your resume, you can help show potential employers that you have the expertise and qualifications to be successful in your role as a Retail Store Supervisor.
Key takeaways for an Retail Store Supervisor resume
An effective Retail Store Supervisor resume lays out key qualifications and experience that make the job applicant stand out from the competition. As a supervisor, you will be responsible for overseeing a team of employees, ensuring that they adhere to company policies and procedures, staying on top of customer service standards, and achieving store goals. Therefore, your resume should include information that demonstrates your ability to lead and manage a team, handle customer service issues, and track store performance metrics.
When writing your Retail Store Supervisor resume, here are some key takeaways to consider:
Experience: Include any prior retail experience, whether in a supervisory position or not. Be sure to emphasize any accomplishments or successes you achieved while working in the retail space.
Leadership Skills: You must demonstrate your ability to lead and manage a team. Be sure to highlight any successful projects or initiatives you implemented, as well as any awards you may have received for your leadership skills.
Customer Service: Every store supervisor must be proficient in customer service. Be sure to include any customer service trainings you've completed or customer service metrics you've achieved.
Metrics: Your resume should highlight any metrics you have achieved in your previous roles. This could include store sales, inventory management, staff efficiency, etc.
By emphasizing these key takeaways on your Retail Store Supervisor resume, you will be sure to stand out amongst the competition.
Let us help you build
your Resume!
Make your resume more organized and attractive with our Resume Builder