A successful store general manager is an individual who is able to combine business operations and customer service to successfully manage a retail business. In order to be considered for a general manager role, you must have a well-written resume that accurately and objectively outlines your qualifications, skills, and experience. This guide will provide you with the tips and advice you need to create a strong resume that will get you noticed by prospective employers. Additionally, the guide will provide you with examples of successful resumes that other retail general managers have used in the past to further guide you in the right direction.
If you didn't find what you were looking for, be sure to check out our complete library of resume examples.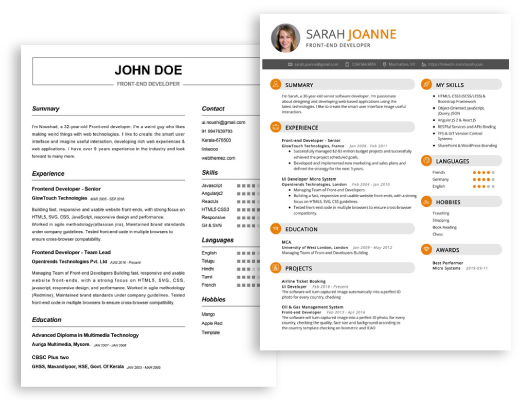 Start building your dream career today!
Create your professional resume in just 5 minutes with our easy-to-use resume builder!
Retail General Manager Resume Examples
John Doe
Retail General Manager
123 Main Street | Anytown, USA 99999 | Phone: (123) 456-7890 | Email: john.doe@email.com
I am an experienced Retail General Manager with over 15 years of managerial experience in the retail industry. I possess a deep understanding of the most efficient and effective ways to lead and manage teams, as well as the ability to quickly identify and address complaints and other customer- related issues. My knowledge of retail operations, analytics, and general management give me the tools to optimally manage multi- faceted store operations. I am confident that I can bring my vast experience and skills to any organization and contribute to the growth and success of the company.
Core Skills:
Strong leadership and people management
Excellent problem solving and decision making skills
Proficient in retail operations, analytics, and general management
Proactive team building
In- depth knowledge of customer service
Ability to identify and solve customer complaints
Professional Experience:
Retail General Manager – Company X (2018 – Present)
Manage store operations and day- to- day activities
Analyze financial statements, inventory reports, and other metrics to identify and address challenges
Supervise a team of 20+ workers; delegate tasks, provide feedback and training
Ensure compliance with all laws, regulations and safety standards
Introduce new strategies and methods to improve customer service and store performance
Retail Store Manager – Company Y (2013 – 2018)
Developed and implemented effective staff schedules to ensure coverage at all times
Monitored and evaluated store performance to identify areas of improvement
Designed and implemented customer service initiatives to improve customer satisfaction
Handled customer inquiries and complaints in a timely and professional manner
Trained and mentored new staff members
Education:
Bachelor of Business Administration – University of XYZ (2010)
Retail General Manager Resume with No Experience
Results- oriented retail professional with extensive experience in all aspects of business operations, including inventory management, customer relations and staff training. Proven ability to lead teams to success, build relationships and meet key objectives. Driven to help increase efficiency and profitability in any role.
Skills
Strategic Planning
Budget Development
Staff Training
Customer Service
Inventory Control
Negotiation
Financial Analysis
Problem Solving
Project Management
Responsibilities
Developing and implementing policies and procedures to ensure efficient operations
Regularly evaluating staff performance and providing feedback
Investigating and resolving customer complaints in a timely manner
Collaborating with vendors to source new products and negotiate pricing
Monitoring and managing inventory levels to ensure accurate stocking
Establishing sales and budget goals and tracking progress
Analyzing financial data to identify opportunities for revenue growth and cost savings
Developing and maintaining strong relationships with customers and staff
Maintaining a safe, clean and organized shopping environment
Training, motivating and leading teams to achieve maximum performance
Retail General Manager Resume with 2 Years of Experience
Dynamic and motivated Retail General Manager with 2 years of experience in overseeing day- to- day operations, maintaining high standards of customer service, and driving sales. Proven ability to recruit and lead successful teams, develop store strategies, and maximize store profitability. Strong analytical and problem- solving skills.
Core Skills:
Customer Service
Leadership
Sales Management
Team Building
Strategic Planning
Inventory Management
Problem Solving
Store Operations
Responsibilities:
Managed all store operations including personnel management, recruiting, training, scheduling and payroll.
Developed and implemented customer service policies and procedures that improved customer service rating.
Executed store strategies that increased sales and improved store profitability.
Developed and maintained relationships with customers and vendors to ensure customer satisfaction.
Successfully managed and minimized shrinkage, monitored inventory levels and ensured accuracy of store records.
Analyzed financial data to identify trends and opportunities for improvement.
Coached and trained staff to ensure customer service standards were met.
Resolved customer complaints in a professional manner.
Developed and tracked performance goals and objectives for team members.
Retail General Manager Resume with 5 Years of Experience
A highly skilled and dedicated Retail General Manager with five years of extensive experience in overseeing the daily operations in a retail setting. Possesses excellent communication and customer service skills, with experience in providing support, guidance and motivation to staff. Proven ability to analyze business needs and develop successful strategies to meet organizational objectives and increase profitability and customer service.
Core Skills:
Analytical Problem Solving
Client Relationship Management
Product Merchandising
Staff Supervision and Training
Business Analysis and Planning
Retail Operations Management
Budgeting and Forecasting
Team Building and Leadership
Sales and Marketing
Inventory Control
Responsibilities:
Managing, motivating and leading a team of retail staff to deliver excellent customer service.
Driving sales and profitability to reach organisational goals.
Developing and implementing effective strategies to increase customer loyalty and retention.
Ensuring store compliance with safety regulations and maintaining a safe working environment.
Analyzing sales, profit and stock figures and providing regular reports to senior management.
Organizing promotional campaigns, offers and special events to increase store sales.
Controlling stock levels and ordering new stock when necessary.
Developing and delivering staff training and coaching, and performance reviews.
Managing all aspects of store operations, including opening and closing procedures.
Developing and managing budgets, and monitoring financial performance.
Retail General Manager Resume with 7 Years of Experience
Dynamic and results- oriented Retail General Manager with seven years of experience providing efficient operational and customer service leadership within high- volume retail settings. Proven track record of driving sales growth, improving operational efficiency, and cultivating positive customer and employee relationships. Skilled at leading teams to accomplish key goals, developing and executing innovative strategies, and creating an inviting shopping experience.
Core Skills:
Team Building & Leadership
Sales & Operational Strategies
Organizational & Analytical Skills
Customer Relationship Management
Problem Solving & Decision Making
Cost Reduction & Budget Management
Responsibilities:
Developed, implemented, and managed operational strategies and processes to maximize sales and operational efficiency.
Managed recruitment processes, onboarding and training of new staff, and created training plans to ensure the highest standards of customer relations.
Created, monitored, and adjusted budgets to maximize profits and ensure objectives were met.
Directed, supervised and evaluated performance of store staff to ensure targets were met.
Developed marketing plans and promotions to increase sales and customer loyalty.
Analyzed market trends and customer preferences to develop strategies that increased sales.
Provided sales and customer service guidance to ensure sales staff meet customer needs.
Created an inviting store atmosphere through merchandising and store displays.
Retail General Manager Resume with 10 Years of Experience
I am an experienced retail general manager with 10+ years of success in driving sales, providing superior customer service, and developing effective strategies to maximize profits. I am organized, detail- oriented and highly adept in leading teams across multiple departments. I have a proven track record in management, team leadership and process improvement, and am able to analyze complex data to make informed decisions that improve operational efficiency. I am a motivated, results- oriented professional with an ability to think strategically and develop innovative solutions to optimize business performance.
Core Skills:
Strategic Planning
Leadership
Data Analysis
Process Improvement
Customer Service
Team Building
Budget Management
Profit Maximization
Communication
Problem Solving
Responsibilities:
Plan and implement strategies to achieve store objectives and sales goals
Monitor and manage store operations, staff performance, and customer service
Analyze financial data to identify and implement cost- saving measures
Implement and manage sales and promotional activities
Perform market research and competitor analysis to identify industry trends and develop new strategies
Develop and implement training programs for store personnel
Manage budgets and expenditures to ensure efficient use of resources
Recruit, train, and mentor store staff to ensure high- quality customer service
Troubleshoot customer complaints and resolve any issues promptly
Monitor and analyze store performance data to identify areas of potential improvement
Retail General Manager Resume with 15 Years of Experience
I am an experienced and dedicated Retail General Manager with over 15 years of experience in the retail industry. I have a proven track record of success in driving and improving sales, building strong teams, and overseeing daily store operations. I am a creative problem solver and have a knack for finding solutions that benefit both customers and the business. I am knowledgeable in developing and implementing successful strategies, policies, and procedures to ensure efficient operations. My core skills include team management, customer service, budgeting and forecasting, merchandising, and store promotion.
Core Skills:
Team Management
Customer Service
Budgeting and Forecasting
Merchandising
Store Promotion
Responsibilities:
Supervise, train and develop retail staff
Monitor sales performance, identify opportunities to drive sales
Ensure the delivery of exceptional customer service and quality products
Develop and implement successful strategies and procedures to ensure efficient operations
Analyze store data and identify trends
Create promotional campaigns to drive sales
Manage store budget and forecast sales
Plan and execute product displays and merchandising strategies
In addition to this, be sure to check out our resume templates, resume formats, cover letter examples, job description, and career advice pages for more helpful tips and advice.
What should be included in a Retail General Manager resume?
Having the right resume is key when applying for a Retail General Manager position. Crafting an effective resume can be challenging, so it is important to include the right information. Here is what should be included in a Retail General Manager resume:
Professional summary: The professional summary should be a one to two-sentence overview of your experience and skills as they relate to the position. It should bring attention to your most impressive accomplishments and qualifications.
Education: Include all of your relevant educational qualifications, such as a Bachelor's Degree in Business Administration or a Master's Degree in Business Leadership.
Work experience: List all of the relevant positions you have held in the past, such as Store Manager, District Manager, and Regional Manager. Include the company name and the dates of your employment.
Skills: This section should highlight your technical skills and expertise, such as experience with POS software, merchandising, and budgeting.
Professional development: Include any professional development courses you have taken, such as leadership training programs or customer service certifications.
Leadership experience: Any previous experience with leading a team or managing personnel should be included.
Achievements: Include any awards or accolades you have won in your previous positions.
By including the above information in your resume, you will create a strong impression and demonstrate your qualifications for the Retail General Manager position.
What is a good summary for a Retail General Manager resume?
As a Retail General Manager, you are responsible for leading a store in many aspects. To capture the attention of employers, you must create an effective resume summary that highlights your experience in retail management and leadership.
A strong resume summary for a Retail General Manager should emphasize your skills in customer service, operations, finance, merchandise planning, and team building. You should also include any relevant experience you've had in developing and implementing customer loyalty programs, launching new products, and motivating teams to achieve goals. Additionally, you should include any successful efforts in streamlining processes and improving efficiency.
By utilizing an engaging summary section on your resume, you'll be able to showcase your experience, accomplishments, and value you can bring to potential employers. Doing so will help you stand out from the competition and ensure that you're considered as a top candidate.
What is a good objective for a Retail General Manager resume?
A Retail General Manager is an executive-level position responsible for overseeing the day-to-day operations of a retail store or business. As such, a good objective for a Retail General Manager resume should emphasize the candidate's ability to lead and manage staff, provide excellent customer service, and ensure the financial success of the store.
Demonstrate leadership abilities by directing and motivating staff to meet customer service, sales, and financial objectives.
Utilize strong organizational and problem-solving skills to ensure the store runs smoothly and meets customer satisfaction.
Develop and implement strategies to optimize store performance, improve customer service, and increase profits.
Monitor and analyze store performance to identify areas for improvement and potential cost savings.
Create and manage schedules to ensure adequate staff coverage and efficient operation of the store.
Oversee and maintain store displays, inventory control, and store policies.
Ensure compliance with all applicable laws and regulations.
How do you list Retail General Manager skills on a resume?
When applying for a Retail General Manager position, having a resume that quickly and succinctly outlines your skills is essential. Here are some key skills to consider when writing or updating your resume.
Lead teams: Demonstrate the ability to lead a team to achieve goals, increase customer satisfaction, and maximize sales.
Strategic planning: Have the ability to develop and implement effective strategies to meet business objectives.
Merchandising: Understand merchandising techniques, display practices, and pricing strategies to maximize sales.
Communication: Possess excellent communication and interpersonal skills to communicate effectively with customers, colleagues, and vendors.
Analytical skills: Possess the ability to analyze data and identify trends to develop strategies.
Problem-solving: Have the capability to quickly resolve customer issues and ensure customer satisfaction.
Budgeting: Have experience in financial planning and budget management.
Team building: Demonstrate the ability to build a positive team environment and motivate employees.
Customer service: Have a thorough understanding of customer service principles and the ability to provide exceptional service.
Technology: Be comfortable and knowledgeable with the use of computer programs such as Microsoft Office and point of sale systems.
What skills should I put on my resume for Retail General Manager?
When applying for a position as a Retail General Manager, it is important to highlight the skills you possess that are essential for success in the role. A typical Retail General Manager requires a variety of skills, including:
Leadership: Retail General Managers must possess excellent leadership skills and be comfortable directing and motivating a team. This includes the ability to communicate effectively, delegate tasks, and problem-solve.
Business Acumen: Solid business acumen is essential for Retail General Managers; they need to have an understanding of the industry, the competition, and the different aspects of running a retail business.
Financial Knowledge: Knowing how to read and analyze financial statements, budgets and create financial plans is important for Retail General Managers. This includes the ability to develop strategies to maximize sales and minimize costs.
Customer Service: As a Retail General Manager, you need to ensure your team provides excellent customer service. This includes the ability to handle customer complaints, manage customer expectations, and ensure customer satisfaction.
Organization: Retail General Managers must have superior organizational skills to ensure that operations run smoothly and efficiently. This includes the ability to multitask, prioritize tasks, and manage a team.
Market Knowledge: Understanding the retail market is crucial for any Retail General Manager. This includes the ability to monitor trends, understand consumer behavior, and identify potential opportunities.
By showcasing these skills on your resume, you will be able to demonstrate to potential employers that you have the abilities necessary to succeed as a Retail General Manager.
Key takeaways for an Retail General Manager resume
When you are applying for a position as a retail general manager, you should make sure your resume reflects your qualifications as well as your skills and experiences. Here are some key takeaways you should consider when creating your resume:
Highlight your management experience: It is important to showcase any prior management experience you may have had in the retail industry. This could include managing a team, budgeting, and scheduling. Your resume should also include any special achievements or accolades that you may have received while managing a retail store.
Demonstrate your customer service skills: Be sure to highlight any customer service skills you have. This could include being able to handle customer complaints, providing excellent customer service, and creating a welcoming and friendly atmosphere in the store.
Showcase your organizational skills: As a retail general manager, you need to be able to stay organized and on top of tasks. Make sure to list any organizational or time management skills you have.
Detail your knowledge of the retail industry: You should be able to speak to your knowledge of the retail industry and all of the trends and strategies involved. Make sure to include any industry-specific knowledge you have on your resume.
Explain any technological know-how: In the retail industry, being able to utilize technology is essential. You should show that you are proficient in different technologies and systems used in the retail industry.
By following these key takeaways and applying them to your resume, you will be able to create a resume that stands out and showcases your qualifications as a retail general manager. This can help you land the job you want and get your career in the retail industry off to a great start.
Let us help you build
your Resume!
Make your resume more organized and attractive with our Resume Builder