Writing a retail analyst resume can be one of the most challenging tasks for job seekers. If you are looking to break into the retail analytics sector, having a well-written, comprehensive resume that reflects your skills and experience is a must. A good resume will help you stand out from the competition, so it is important to craft a resume that is tailored to the specific job you are applying to. This guide will provide you with tips and insights on how to write a retail analyst resume that will help you land your dream job. With specific examples and advice, you will be well on your way to getting noticed by potential employers.
If you didn't find what you were looking for, be sure to check out our complete library of resume examples.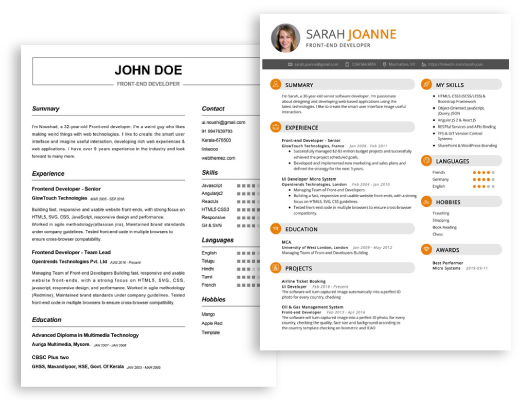 Start building your dream career today!
Create your professional resume in just 5 minutes with our easy-to-use resume builder!
Retail Analyst Resume Examples
John Doe
Retail Analyst
123 Main Street | Anytown, USA 99999 | Phone: (123) 456-7890 | Email: john.doe@email.com
I am a Retail Analyst with over 10 years of experience in the field of market research and data analysis. I am passionate about leveraging my knowledge and skill to provide actionable insight and strategic direction to help businesses maximize their success. I have a strong background in quantitative analysis, data mining, financial modeling, and forecasting. I have the skills and knowledge to develop and implement effective strategies to identify opportunities, assess risk, and drive growth.
Core Skills:
Strong quantitative analysis skills including data mining and financial modeling
Expertise in forecasting and trend analysis
Excellent project management skills
Proficient in Excel, SPSS, Tableau, and other related software
Ability to analyze large datasets
Ability to generate and present insights clearly and concisely
Strong organizational and problem- solving skills
Professional Experience:
Retail Analyst, XYZ Retail Company (2012 – Present)
Responsible for providing data- driven insights to support internal decision making
Developed and implemented effective strategies to identify opportunities and assess risk
Conducted market research and collected data from various sources
Analyzed customer data and identified trends and insights to drive growth
Conducted forecasting and created financial models
Provided data- driven decision support to executives and other stakeholders
Education:
Bachelor of Science in Marketing, XYZ University (2007 – 2011)
Certified Retail Analyst, ABC Institute (2015)
Retail Analyst Resume with No Experience
Recent college graduate with a Bachelor's degree in Retail Management, specializing in merchandising, product development and sales analysis. Possesses strong analytical, communication, and problem- solving skills, as well as an in- depth understanding of the retail landscape. Seeking to leverage skills and knowledge to become a successful Retail Analyst.
Skills
Strong Analytical Skills
Excellent Communication Skills
Highly Organized and Efficient
Proficient in Microsoft Office Suite
Knowledge of Retail Landscape
In- Depth Understanding of Merchandising and Product Development
Responsibilities
Analyze retail sales data and develop strategies to increase profitability
Monitor and analyze competitor activities, market trends, and customer data
Identify areas of improvement and suggest solutions to optimize sales and customer experience
Collaborate with cross- functional teams to develop and implement retail strategies
Provide timely and accurate reporting of retail performance metrics to senior management
Contribute to the development of annual and long- term sales plans and budgets to ensure achievement of goals
Create promotional materials and campaigns to effectively market products and services
Identify potential growth opportunities and develop strategies to capitalize on them
Retail Analyst Resume with 2 Years of Experience
A highly motivated and detail- oriented retail analyst with 2 years of experience working with a variety of retail companies. Experienced in developing strategies to analyze sales, inventory, and customer data in order to identify business opportunities and provide recommendations to improve operations. Possesses excellent problem- solving and communication skills. Proven track record of creating insightful reports and developing strategies to increase sales and customer engagement.
Core Skills:
Strong analytical and problem- solving skills
Excellent communication and interpersonal skills
In- depth knowledge of retail trends and practices
Proficient in Microsoft Office and various software programs
Proficient in data analysis and report generation
Able to manage multiple projects simultaneously
Responsibilities:
Developed and implemented strategies to analyze sales, customer, and inventory data
Developed reports to evaluate customer trends, inventory levels, and product performance
Conducted market research to determine customer preferences and identify new business opportunities
Developed recommendations for improving retail operations and customer service
Assisted in the planning and execution of promotional campaigns
Identified potential areas of improvement in the retail operations
Provided support to store management and staff in integrating new technologies and processes
Retail Analyst Resume with 5 Years of Experience
A Retail Analyst with 5+ years of experience in the industry, adept at utilizing market and customer data to drive sales and improve customer satisfaction. Highly skilled in using data analysis to identify customer trends and preferences. Possesses a strong business acumen and ability to develop strategies that maximize returns and improve customer experience. Proven ability to quickly assess a situation and develop effective solutions to complex problems.
Core Skills:
Data Analysis
Strategic Planning
Business Development
Report Generation
Customer Satisfaction
Sales Strategies
Problem- solving
Responsibilities:
Analyzed customer data to identify trends and preferences
Developed strategies that increased sales and improved customer experience
Generated reports to track customer sales and satisfaction
Researched and implemented new business development strategies
Provided insight and assessments on potential sales and marketing strategies
Leveraged market data to identify business opportunities
Conducted in- depth analysis to identify key problem areas and develop solutions
Developed customer loyalty programs to improve customer satisfaction
Created and monitored KPI's to assess customer service performance.
Retail Analyst Resume with 7 Years of Experience
I am an experienced Retail Analyst with 7 years of professional experience in the retail industry. My expertise lies in sales analysis, market research, and planning. I am adept at identifying consumer trends, utilizing customer feedback to increase customer satisfaction, and developing strategies to increase customer loyalty and retention. I have a proven track record of success in both analyzing customer data and providing in- depth market research. I am capable of creating detailed reports on customer behavior and providing actionable insights.
Core Skills:
Sales Analysis
Market Research
Data Analysis
Customer Feedback
Customer Satisfaction
Customer Loyalty
Customer Retention
Report Generation
Actionable Insights
Responsibilities:
Analyze customer data to identify trends and develop customer insights
Monitor customer satisfaction and loyalty to identify potential areas of improvement
Research customer feedback to determine customer preferences
Design and implement customer retention strategies
Generate detailed reports on customer behavior and performance
Develop strategies to increase customer loyalty and retention
Utilize customer feedback to improve customer satisfaction and experience
Retail Analyst Resume with 10 Years of Experience
Highly motivated and results- focused professional with extensive experience in retail analysis. Proven track record of success in developing innovative strategies, improving processes, and driving sales. Adept in gathering and analyzing data to identify trends and develop solutions to increase profitability. Possess strong problem- solving abilities and creative thinking to identify and implement solutions to meet customer needs.
Core Skills:
Data Analysis
Customer Insights
Problem Solving
Business Strategy
Project Management
Retail Analysis
Process Improvement
Sales Promotion
Inventory Management
Financial Management
Responsibilities:
Conducted market research and gathered data from customer surveys to identify customer needs and preferences.
Analyzed data to identify trends and opportunities for improvement.
Developed strategies to drive sales and increase customer loyalty.
Developed and implemented effective marketing campaigns to introduce new products and services.
Worked closely with various departments to ensure product availability.
Implemented process improvement initiatives to reduce costs and improve efficiency.
Monitored inventory levels to ensure sufficient stock levels.
Managed financial data and prepared reports for management.
Developed and maintained relationships with vendors and suppliers.
Analyzed customer feedback to improve customer satisfaction.
Retail Analyst Resume with 15 Years of Experience
A highly experienced and motivated Retail Analyst with 15 years of experience developing, maintaining and analyzing retail business processes and providing key financial insights. Adept at understanding complex data and using insights to develop effective strategies, actions and solutions to enhance business performance. Skilled in utilizing data and analytics to measure, assess and improve overall operational efficiency. Experienced in forecasting, budgeting and financial modeling.
Core Skills:
Strong analytical and problem- solving skills
Advanced knowledge of retail operations and processes
Excellent communication and interpersonal skills
Proficient in data analysis and financial modeling
Proficient in forecasting, budgeting and trend analysis
Proficient in Microsoft Office Suite
Highly organized, detail- oriented and able to multi- task
Responsibilities:
Developing, analyzing and maintaining retail business processes
Conducting in- depth analysis of data and financial reports
Developing and managing strategic plans and budgets
Forecasting future sales and trends
Identifying new opportunities and strategies to improve operational efficiency
Recommending cost- effective solutions to enhance business performance
Providing key financial insights and analysis to senior management
Monitoring performance and suggesting improvements as needed
In addition to this, be sure to check out our resume templates, resume formats, cover letter examples, job description, and career advice pages for more helpful tips and advice.
What should be included in a Retail Analyst resume?
A Retail Analyst resume should emphasize the applicant's understanding of retail business operations, analytical skills, and ability to translate data into effective business decisions. A successful resume should highlight the following qualifications:
Demonstrated ability to identify and analyze data to solve complex business problems
Proven success in developing and implementing strategic plans that increase efficiency and profitability
Extensive experience in the retail sector with knowledge of pricing, inventory, and customer relations
Skilled in the use of statistics and statistical software such as SPSS and Excel
Excellent communication and interpersonal skills
Strong organizational and time management skills
Ability to work well independently as well as part of a team
Knowledge of software applications such as Adobe Suite and Microsoft Office
What is a good summary for a Retail Analyst resume?
A Retail Analyst Resume should convey the applicants key skills, experience and qualifications in the retail industry. It should list the applicant's experience in analyzing retail data, conducting market research and developing strategies to optimize sales. It should also include the applicant's qualifications, such as an educational background in business or mathematics, and any certifications in retail analytics. The resume should also highlight any experience the applicant has in working with databases, spreadsheets and analytics tools. Finally, the resume should demonstrate the applicant's ability to work independently and collaboratively, as well as the applicant's enthusiasm for the retail industry.
What is a good objective for a Retail Analyst resume?
A Retail Analyst resume should include a clear career objective that outlines the applicant's professional goals. This objective should be tailored to the specific position for which the applicant is applying. Here are some examples of potential objectives for a Retail Analyst resume:
To use my expertise in data analysis, problem solving, and customer service to drive sales, increase productivity, and improve overall customer experience for a leading retail company.
To leverage my strong analytical abilities and passion for sales to help a retail organization reach its financial and operational goals.
To apply my knowledge of financial forecasting and advanced analytics to provide strategic data-driven insights to a retail business.
To utilize my exceptional communication skills and knowledge of store operations to optimize retail performance and drive sales growth.
To employ my extensive experience in retail sales and marketing to identify opportunities for revenue generation and cost savings.
By including a well-crafted career objective on your resume, you can make a strong impression on prospective employers and demonstrate that you are a perfect fit for the Retail Analyst position.
How do you list Retail Analyst skills on a resume?
Creating an effective resume to showcase your Retail Analyst skills is an important step to finding a new job or landing a promotion. An ideal resume should concisely and clearly explain your qualifications and accomplishments to employers.
When highlighting your Retail Analyst skills on a resume, the following considerations are important:
Highlight applicable experience: Your resume should showcase your Retail Analyst experience and highlight any prior successes or accomplishments.
Include applicable certifications: Employers will often look for Retail Analysts with certifications or specialized training. List any applicable certifications on your resume.
Describe relevant skills: Retail Analysts should possess a wide range of skills, from data analysis and customer service to sales and marketing. Describe the skills you have acquired and how they can benefit the employer.
Quantify achievements: Whenever possible, include specific numbers and figures to your list of accomplishments. This will provide employers with concrete evidence of your success.
With a well-crafted resume showcasing your Retail Analyst skills, you will be well on your way to finding a great job or earning a promotion.
What skills should I put on my resume for Retail Analyst?
Retail Analysts are responsible for collecting and analyzing data to inform product decisions, monitor trends and inform marketing plans. To make a great impression on potential employers, it's important to have the right skills on your resume to demonstrate your abilities in this field. Here are the skills you should include in your Retail Analyst resume:
Data Analysis: Retail Analysts are expected to have strong statistical, data analysis, and forecasting skills. Demonstrate your ability to analyze and interpret data using statistics and software tools such as Excel, Access, Tableau, and Power BI.
Retail Industry Knowledge: In order to be successful as a Retail Analyst, you should have an understanding of the retail industry. Include any retail experience you have, such as working in a store, providing retail consulting services, or managing a retail operation.
Project Management: Show employers that you have the ability to manage projects from start to finish, including making sure deadlines are met and tasks are completed on time.
Business Strategy: Demonstrate your ability to evaluate business strategies and identify new opportunities for growth. You should be able to provide strategies and plans to increase profits, market share, and customer satisfaction.
Strong Communication: Retail Analysts must be able to communicate their findings and recommendations to key stakeholders. Show employers that you can effectively communicate your ideas in both written and verbal form.
Analytical Thinking: Demonstrate your ability to think analytically and solve complex problems. Show employers that you are able to identify trends and draw meaningful conclusions from data.
By showcasing the right skills on your resume, you can give potential employers a glimpse into your abilities as a Retail Analyst. Make sure to tailor your resume to the specific position and highlight your experience and qualifications to make the best impression.
Key takeaways for an Retail Analyst resume
If you're looking to make a career as a retail analyst, you need to make sure that your resume is up to date and reflects your experience in the field. To help you stand out from the competition, here are some key takeaways to keep in mind when crafting your resume.
First, focus on the skills that are needed to be a successful retail analyst. This includes problem solving, market analysis, customer service, data analysis, inventory management, and pricing strategies. Make sure to highlight any specialized training or certifications you have related to these topics.
Second, be sure to emphasize your knowledge of the retail industry. This includes understanding the current trends, being up to date on industry regulations, and being aware of changes in the market.
Third, highlight your ability to analyze data and make recommendations based on your findings. This includes your ability to interpret complex data sets and make educated decisions based on the information you have.
Fourth, highlight any additional experience you have in retail analytics, such as working with analytics tools and software.
Finally, make sure to include any relevant certifications or awards that demonstrate your commitment to the industry. This could include awards for outstanding customer service or recognition for being an analytics leader.
By making sure to highlight these key takeaways for a retail analyst resume, you can ensure that you stand out from the competition when applying for jobs. With a well-crafted resume, you can be sure to make an impact in the retail industry.
Let us help you build
your Resume!
Make your resume more organized and attractive with our Resume Builder