Are you looking for a job as a Parts Advisor? If so, it is important to have an effective resume that will set you apart from other candidates. Writing a resume can be a daunting task, especially if you have never done it before. However, a well-written resume can be the difference between getting an interview and being passed over. This guide will provide you with tips and advice on how to create a standout Parts Advisor resume, as well as provide examples of resumes that have been successful in landing interviews.
If you didn't find what you were looking for, be sure to check out our complete library of resume examples.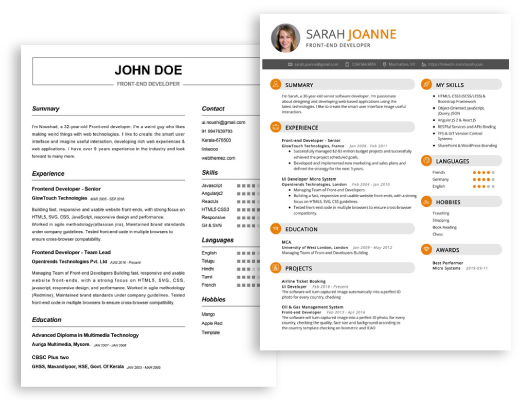 Start building your dream career today!
Create your professional resume in just 5 minutes with our easy-to-use resume builder!
Parts Advisor Resume Examples
John Doe
Parts Advisor
123 Main Street | Anytown, USA 99999 | Phone: (123) 456-7890 | Email: john.doe@email.com
I am a highly qualified and experienced Parts Advisor with a proven track record in providing excellent customer service and a wide knowledge of automotive parts and equipment. I have over 5 years of industry experience in a fast- paced, customer- centric environment. My expertise includes inventory management, parts ordering, and customer relations. I am driven and detail- oriented, and have a strong focus on achieving customer satisfaction and loyalty.
Core Skills:
Excellent customer service skills
Strong communication and interpersonal skills
Highly organized with the ability to multitask
Knowledgeable about vehicle parts and equipment
Proficient with computer software such as MS Office and inventory control systems
Experience in parts ordering and inventory management
Able to work in a fast- paced environment
Professional Experience:
Parts Advisor, ABC Auto Parts, 2019- 2020
Managed everyday activities of the parts department, including receiving, stocking, and ordering parts
Provided excellent customer service by responding to inquiries, providing advice on compatible parts, and resolving any issues
Maintained accurate inventory records and ensured parts were in compliance with safety standards
Processed customer orders and ensured timely shipment of orders
Education:
Associate Degree in Automotive Technology, ABC University, 2019
Parts Advisor Resume with No Experience
Dynamic and organized individual with a strong commitment to customer service in the automotive industry. Experienced in the role of Parts Advisor and familiar with the corporate environment. Seeking an opportunity to gain on- the- job experience in the automotive industry.
Skills
Strong organizational and multitasking skills
Proficient in computer programs, such as MS Word and Excel
Excellent customer service skills
Good communication and interpersonal skills
Knowledge of automotive parts
Responsibilities
Handle customer inquiries and provide assistance
Advise customers on available parts and features
Keep accurate records of customer orders
Maintain inventory of automotive parts
Assist with ordering of parts and supplies
Ensure customer satisfaction with product and services
Process customer payments and handle any billing inquiries
Ensure that all parts are shipped accurately and on time
Parts Advisor Resume with 2 Years of Experience
Dedicated Parts Advisor with 2 years of experience in the automotive industry. Possess a comprehensive knowledge of parts identification, inventory management, and customer service. Proficient in the use of industry software to maintain inventory and records. Skilled in building relationships with customers, assessing needs, and providing solutions. Demonstrates a strong willingness to take initiative, a positive attitude, and excellent communication skills.
Core Skills:
Parts Identification
Inventory Management
Customer Service
Industry Software
Relationship Building
Problem- Solving
Communication
Initiative
Responsibilities:
Managed inventory of parts and supplies in a manner that minimized out- of- stock situations and optimized use of space.
Assisted customers with inquiries into locations, prices, and availability of parts.
Procured, received, and processed orders from customers.
Led customers through selection, installation, and repair processes.
Executed regular maintenance of inventory records and provided accurate information to support decision making.
Assisted with loading, unloading, and stocking of parts.
Responded to customer inquiries in a timely and accurate manner.
Researched and ordered special orders for customers.
Processed customer payments and maintained accuracy of financial records.
Communicated with vendors to ensure timely and accurate delivery of parts.
Parts Advisor Resume with 5 Years of Experience
Dynamic and experienced Parts Advisor with 5+ years of experience in parts ordering, selling, returns, and inventory management. Proven ability to identify and resolve customer inquiries and escalations. Skilled in maintaining high levels of customer service and satisfaction. Knowledgeable in handling store operations, multitasking and meeting strict deadlines.
Core Skills:
Knowledge of automotive parts and terminology
Customer service and satisfaction
Inventory management
Store operations
Problem solving and troubleshooting
Multitasking
Attention to detail
Deadlines management
Responsibilities:
Greet customers and assist in parts selection
Handle customer inquiries and escalations
Responsible for parts ordering and sales
Ensure timely and accurate returns
Manage store operations daily
Maintain accurate inventory records
Track and record parts receipts
Ensure parts are correctly stored and labeled
Provide technical advice and assistance to customers
Parts Advisor Resume with 7 Years of Experience
Results- driven parts advisor with 7+ years of experience in automotive parts sales and customer service. Highly knowledgeable in parts identification, inventory control, order fulfillment, and customer relations. Experienced in providing proactive customer service and product expertise to maximize company revenue and customer satisfaction. Adept at problem solving and working under high stress levels in a fast- paced environment.
Core Skills:
Strong customer service and communication skills
In- depth knowledge of all parts and components of automotive vehicles
Extensive experience in inventory management and order fulfillment
Excellent problem- solving, organizational, and time management abilities
Proficient in using various computer programs and software
Responsibilities:
Provided outstanding customer service to internal and external customers
Identified and located needed parts from inventory and warehouse
Placed orders and tracked delivery status of requested items
Researched and identified customer specifications and requirements
Maintained accurate records of customer orders and deliveries
Verified accuracy of orders prior to shipment
Troubleshot and addressed customer complaints in a timely manner
Helped to reconcile and restock parts invoices
Assisted with cataloging and ordering of new parts
Parts Advisor Resume with 10 Years of Experience
Highly experienced Parts Advisor with 10 years of experience in the automotive parts industry. Expert in providing customer service for auto parts customers and efficiently managing part orders, stock, and inventory. Possess a strong knowledge of different types of parts and components and a proven track record of providing outstanding customer service and satisfaction.
Core Skills:
Customer service
Parts order management
Inventory management
Parts knowledge
Organizational skills
Negotiation skills
Computer literacy
Problem solving
Responsibilities:
Greeting customers and providing product knowledge and advice
Receiving and processing customer orders
Ensuring customer orders are filled accurately
Organizing and maintaining parts inventory
Inspecting and testing parts to ensure they meet quality standards
Negotiating prices with suppliers and vendors
Resolving customer complaints in a timely and professional manner
Entering data into computer systems and tracking customer orders
Assisting mechanics with any technical queries or issues
Parts Advisor Resume with 15 Years of Experience
A highly motivated and experienced Parts Advisor with 15 years of experience in the automotive industry. Proven track record of providing excellent customer service, managing parts inventory for retail, and improving sales performance. Skilled in a range of areas such as problem- solving, product knowledge, and warehouse operations. Able to work independently and as part of a team to ensure all customer needs are met. Focused on providing excellent customer service, meeting sales targets, and exceeding expectations.
Core Skills:
Inventory Management
Automotive Parts Knowledge
Customer Service
Problem Solving
Sales Targets
Warehouse Operations
Time Management
Communication
Responsibilities:
Maintained record of customer vehicle parts purchases and ensure accuracy of customer orders
Responded to customer inquiries in a timely and professional manner
Assessed customer needs and provided appropriate product information
Developed and maintained a working knowledge of all vehicle parts
Ensured compliance with automotive industry standards
Investigated customer complaints and resolved customer issues
Tracked inventory and restocked shelves as needed
Provided customer feedback and insights to management
Identified opportunities to increase customer satisfaction
Managed customer accounts and handled customer payments
In addition to this, be sure to check out our resume templates, resume formats, cover letter examples, job description, and career advice pages for more helpful tips and advice.
What should be included in a Parts Advisor resume?
A Parts Advisor resume should focus on your technical skills, customer service experience, and organizational abilities. Here are some of the most important points to include in your Parts Advisor resume:
Education: List any certifications, training, or degrees you have earned.
Work History: Outline your previous employment related to automotive parts, including any customer service and sales experience.
Technical Knowledge: Highlight any expertise you have in the specific parts you sell, such as OEM parts, aftermarket, or remanufactured parts.
Computer Skills: Include information about your proficiency with parts management software.
Customer Service: Describe your ability to provide excellent customer service and build relationships with customers.
Organizational Skills: Showcase your ability to maintain accurate inventory counts, manage stock, and keep a clean and organized workspace.
Communication Skills: Demonstrate your ability to communicate effectively with customers and colleagues alike.
What is a good summary for a Parts Advisor resume?
A Parts Advisor is a key member of an auto parts retail team, responsible for helping customers select and purchase the right parts for their vehicles. When writing a Parts Advisor resume, it is important to include a detailed summary that captures your experience and skills in the automotive industry.
A good summary for a Parts Advisor resume should draw upon your past experience, highlighting your ability to assist customers with selecting and purchasing auto parts, as well as your knowledge of automotive parts and components. Additionally, the summary should speak to your expertise in inventory management, product ordering, and customer service.
Ultimately, the summary should demonstrate your strong background in the automotive industry and your dedication to providing excellent customer service. By emphasizing your skills in locating, ordering, and selling parts, you can show employers that you are well-equipped to provide the highest quality of service to customers.
What is a good objective for a Parts Advisor resume?
A Parts Advisor is responsible for providing customer service and sales of car parts. They must be able to assess customer needs, identify the correct parts, and explain how the parts are used. A good objective for a Parts Advisor resume should indicate the applicant's qualifications and career goals.
Demonstrate strong customer service and sales skills to provide customers with the correct parts for their vehicles.
Possess effective communication and problem-solving skills to identify customer needs and provide solutions.
Utilize proficient knowledge and understanding of vehicle parts to accurately explain use and importance to customers.
Proven ability to exceed sales goals and customer satisfaction.
Seek to obtain a position as a Parts Advisor in an automotive parts store to become an integral part of the team.
How do you list Parts Advisor skills on a resume?
A Parts Advisor is an integral part of any successful automotive dealership, often being the first line of customer service and the last line of automotive support. As such, it is important to craft a resume that highlights your Parts Advisor skills. Here are some tips for what to include:
Knowledge of Automotive Parts: Be sure to include information about any experience you have in the parts industry, such as knowledge of automotive parts and components, and any relevant certifications or specializations.
Interpersonal Skills: Working with customers on a daily basis can be challenging, so it's important to emphasize your interpersonal skills, such as customer service, problem-solving and communication.
Sales and Upselling: If you have experience with sales or upselling, be sure to include this on your resume.
Time Management: Being able to manage your time effectively is an important skill for any Parts Advisor, so be sure to highlight any experience you have with this.
Computer Skills: Many dealerships use computer systems to enter and locate parts, so you should list any computer skills you may have.
Ability to Work with Minimal Supervision: A Parts Advisor must be able to work independently and take initiative.
Teamwork: As with any customer service job, teamwork is important – make sure to include any relevant experience you have in this area.
What skills should I put on my resume for Parts Advisor?
As a Parts Advisor, it is important to highlight your technical and customer service skills on your resume.
Technical Knowledge: To succeed as a Parts Advisor, it is essential to have an in-depth understanding of automotive parts, including the structure and function, as well as the ability to identify and diagnose problems.
Organizational Skills: Another important skill for a Parts Advisor is the ability to be organized and manage multiple tasks at once. This includes the ability to effectively prioritize tasks and maintain accurate records.
Communication: As a Parts Advisor, you must have excellent communication skills in order to interact with customers, identify their needs, and explain complex technical information in a clear and concise manner.
Interpersonal Skills: To be successful as a Parts Advisor, you must be able to effectively communicate with other staff members, build relationships with customers, and handle customer inquiries and complaints in a timely and professional manner.
Computer Skills: Proficiency in computer skills such as Microsoft Office Suite, web-based applications, and customer relationship management (CRM) software is essential for a Parts Advisor.
Technical Writing: Finally, it is important for a Parts Advisor to possess technical writing skills in order to create detailed reports and other documents.
Key takeaways for an Parts Advisor resume
As a Parts Advisor, your resume must reflect your knowledge of automotive parts and your ability to take customer orders and handle customer inquiries. When creating your resume, the following key takeaways should be included:
Demonstrate your knowledge of automotive parts. Include any certifications or training you have completed related to automotive parts, such as courses in inventory management or ASE certification.
Highlight your customer service skills. Include examples of how you have taken customer orders, handled customer inquiries, and provided excellent customer service.
Showcase your organizational skills. Mention how you have successfully managed an inventory of parts and constantly updated or restocked the shelves.
Include any sales experience. If you have sold parts or other products, mention this experience and how you were able to increase sales.
Demonstrate your ability to work in a team. Your resume should include any examples of how you have worked with other parts advisors, or assisted mechanics with finding the right parts.
By highlighting these key takeaways, your resume will stand out and show employers how you can be an asset to their team.
Let us help you build
your Resume!
Make your resume more organized and attractive with our Resume Builder