Are you looking for ways to stand out from the competition when applying for a merchandiser job? Creating a standout resume is a key factor in the job search process. Knowing exactly what should be included in a merchandiser resume can be tricky, but with the right guidance, you can make sure your resume is up to par. This guide will provide you with helpful tips for writing an effective merchandiser resume, as well as examples of what to include. Take the time to craft a professional document that will get you noticed by potential employers.
If you didn't find what you were looking for, be sure to check out our complete library of resume examples.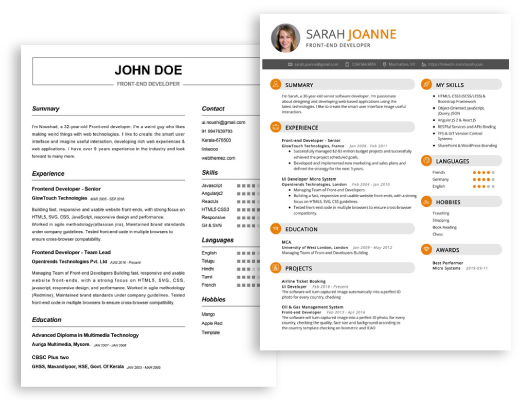 Start building your dream career today!
Create your professional resume in just 5 minutes with our easy-to-use resume builder!
Merchandiser Resume Examples
John Doe
Merchandiser
123 Main Street | Anytown, USA 99999 | Phone: (123) 456-7890 | Email: john.doe@email.com
Dynamic Merchandiser with 5+ years of experience and a passion for sales. Proven track record of exceeding sales targets and driving customer service excellence. Skilled in analyzing customer data and sales trends, while designing and executing targeted market plans. Developed and implemented successful strategies to increase customer loyalty and repeat purchases.
Core Skills:
Strong Analytical & Strategic Thinking
Customer Relations & Service Expertise
Ability to Forecast Market Trends
Effective Communication & Negotiation
Merchandising & Promotional Planning
Knowledge of Retail Operations
Professional Experience:
Senior Merchandiser, ABC Store
Managed merchandise within the store and online, including product selection, pricing, display, and inventory control
Developed and conducted customer surveys to gain insight into customer preferences
Analyzed customer data and sales patterns to identify potential opportunities for growth
Created and implemented promotional campaigns to drive sales
Maintained a high level of customer service to ensure customer satisfaction
Education:
Bachelor of Science in Business, ABC University, 20XX
Merchandiser Resume with No Experience
Recent university graduate with an interest in merchandising and a passion for fashion. Possessing an organized mindset with an eye for detail and the ability to multitask with ease. Seeking to apply these skills in the role of Merchandiser with a reputable organization.
Skills:
Familiarity with fashion trends
Strong organizational skills
Excellent communication and interpersonal skills
Proficient in Microsoft Office and POS systems
Ability to work in a fast- paced environment
Detail- oriented and analytical
Responsibilities:
Monitor and track inventory levels
Troubleshoot stock discrepancies
Organize store merchandise displays
Conduct product research
Attend fashion shows and conduct market research
Analyze sales data and create reports
Collaborate with buyers and other merchandisers to ensure product availability
Update and manage product information on POS systems and other databases
Merchandiser Resume with 2 Years of Experience
A motivated and organized Merchandiser with 2 years of retail experience in developing and executing plans to drive sales, increase profits and maximize customer satisfaction. Experienced in inventory management, product selection and placement, and store promotions. Highly organized with excellent communication skills and the ability to multitask in a fast- paced environment.
Core Skills:
Inventory Management
Product Selection & Placement
Store Promotions
Customer Service
Communication
Analytical Thinking
Visual Merchandising
Responsibilities:
Developed weekly sales and promotions to drive store revenue
Conducted regular product inventory counts and maintained accurate records
Established relationships with vendors and populated store shelves with merchandise
Planned and implemented visual merchandising strategies to increase customer engagement
Researched current fashion trends, made product recommendations and provided input on product selection
Created weekly and monthly sales reports for senior management
Provided excellent customer service and responded to customer inquiries and complaints
Merchandiser Resume with 5 Years of Experience
Motivated and experienced Merchandiser with 5 years of experience in the retail and fashion industries. Proven ability to build relationships with key retail partners and implement effective merchandising strategies. Experienced in product launches, promotions, and managing new product assortments. Adept at gathering and analyzing sales data to identify trends and opportunities for growth.
Core Skills:
Retail Management
Vendor Relationships
Visual Merchandising
Product Launches
Inventory Control
Team Management
Marketing Strategies
Pricing Strategies
Responsibilities:
Developing and executing merchandising strategies to meet sales goals
Managing product launches and promotions
Building and maintaining relationships with key retail partners
Analyzing sales data and identifying trends and opportunities for growth
Overseeing product assortment and stock levels to ensure optimal availability
Developing pricing strategies and setting prices for products
Assisting the marketing team in developing and implementing marketing plans
Managing a team of merchandisers and delegating responsibilities
Merchandiser Resume with 7 Years of Experience
Dynamic and highly organized Merchandiser with 7 years of experience in the retail and marketing industry. Proven track record in driving sales success by leveraging strategic, creative, and analytical skills. Expert in tracking trends, identifying new products, and optimizing product placement to maximize sales and profits. Experienced in managing inventory, negotiating prices with vendors, and solving customer issues. Skilled in creating detailed reports, analyzing sales data, and developing promotional strategies.
Core Skills:
Retail and marketing expertise
Negotiation and problem- solving
Inventory management
Product placement
Trend tracking
Reporting and analytics
Promotional strategy development
Responsibilities:
Developed promotional strategies to increase sales and profits of products
Created detailed reports to track sales and analyze trends
Monitored inventory of products to ensure optimal levels
Negotiated prices with vendors and suppliers to reduce expenses
Developed creative displays to optimize product placement
Resolved customer issues related to products and pricing
Developed marketing campaigns to promote products and services
Merchandiser Resume with 10 Years of Experience
Highly organized and detail- oriented Merchandiser with over 10 years of experience in the fashion industry. Expertise in product development, profitability analysis, negotiations, and customer service. Proven track record of developing relationships with global manufacturers and key stakeholders in order to increase gross margin and ROI. Experienced in creating sourcing plans, driving sales, and increasing profits.
Core Skills:
Product Development
Profitability Analysis
Negotiations
Customer Service
Global Manufacturing
Sourcing Plans
Sales
Profit Increase
Responsibilities:
Actively source and negotiate production with global manufacturers
Monitor current trends and forecast future trends; develop product ideas
Analyze profitability of product lines, determine impact on gross margin and ROI
Develop and present product strategies and plans to relevant stakeholders
Track customer satisfaction, identify customer trends and recommend customer service improvements
Monitor and track sales performance, develop and implement strategies to increase sales
Provide support to the sales and marketing teams for product development and launches
Communicate pricing and lead times with relevant parties
Merchandiser Resume with 15 Years of Experience
Merchandiser with 15 years of experience in retail and e- commerce. Skilled in brand promotion and marketing, delivering excellent customer service, and researching and procuring new products. Experienced in managing and training staff, organizing vendor relationships, and developing sales strategies. Strong business acumen and an eye for detail.
Core Skills:
Product promotion & marketing
Sales & customer service
Retail & e- commerce
Staff training & management
Vendor & supply chain relationships
Business acumen & detail- orientation
Responsibilities:
Developing and implementing effective merchandising strategies to increase sales and customer loyalty
Organizing and managing relationships between vendors, suppliers, and other stakeholders
Carrying out product research and procurement to ensure availability of new and innovative products for customers
Creating promotional campaigns and strategies to increase brand visibility and awareness
Training, motivating, and managing staff to ensure the highest level of customer service
Analyzing sales data to identify trends and implement corrective actions
In addition to this, be sure to check out our resume templates, resume formats, cover letter examples, job description, and career advice pages for more helpful tips and advice.
What should be included in a Merchandiser resume?
When job hunting, it's important to have a stand-out resume to show prospective employers your skills and qualifications. If you're looking to get a job as a merchandiser, you'll want to make sure your resume includes the right information to set you apart from the competition. Here are some key points to consider when creating your merchandiser resume:
Professional summary: Start your resume off by providing a brief overview of your experience and qualifications. This can help employers quickly see the skills and experience you bring to the table.
Relevant experience: Include any experience you have had working as a merchandiser or in a related role. This can include specific details about the tasks you were responsible for and how you contributed to the success of your employer.
Education: List any relevant education you have that is related to merchandising, such as a degree in marketing or retail management.
Technical skills: Include any technical skills you have that would be beneficial in a merchandising role, such as knowledge of the latest software or platforms used in the field.
Soft skills: Highlight any soft skills you possess that could make you a valuable addition to a merchandising team, such as excellent communication, organizational, or problem-solving skills.
Community involvement: If you have any involvement in the local community, such as volunteering or mentoring, list this on your resume. This can show employers that you are an active and engaged member of the community.
What is a good summary for a Merchandiser resume?
A Merchandiser resume should include a summary statement that accurately reflects your skills and experience. The summary should be tailored to the position you are applying for, and should highlight your ability to plan, organize, and execute product lines. It should also mention any special skills such as an understanding of retail analytics, design, marketing, and merchandising. Additionally, your summary should demonstrate that you are a motivated self-starter and team player. Finally, you should also include any aptitude for learning new technology, as well as your ability to think strategically. By presenting yourself in an organized and appealing way, you can ensure that your resume will make a lasting impression to potential employers.
What is a good objective for a Merchandiser resume?
A merchandiser is responsible for displaying and promoting products in retail stores and online. If you are applying for a merchandiser job, your resume should include an effective objective. An objective is a statement of your career goals that can show employers why you are the right fit for the job.
To write a good objective for your merchandiser resume, consider the following tips and examples:
Focus on what you can offer to the employer: Your objective should highlight your ability to analyze customer needs and create effective product displays.
Showcase your knowledge of the industry: Demonstrate your understanding of the latest trends in product merchandising and display techniques.
Show how you can add value to the company: Describe how your merchandising skills can help the company reach its sales goals.
Examples of good objectives for a merchandiser resume:
To leverage my extensive experience in product merchandising and display techniques to effectively increase sales and improve customer satisfaction for ABC Company.
Seeking a merchandising position with ABC Company to utilize my knowledge of the latest trends in product merchandising and display techniques to improve customer experience.
Looking to join ABC Company as a merchandiser and use my strong ability to analyze customer needs to increase sales and enhance customer satisfaction.
How do you list Merchandiser skills on a resume?
When applying for a Merchandiser position, it's important to highlight the skills and qualifications you possess that make you an ideal candidate. Your resume should feature a section that outlines your Merchandiser skills and abilities. Here are some tips on how to list Merchandiser skills on a resume:
Include specific merchandising qualifications such as inventory management, pricing, visual merchandising, and customer service.
Tailor your list of skills to the job description, highlighting those skills that are most applicable to the position.
Use action verbs to show that you have experience in the skills and have achieved results.
Add quantifiable results whenever possible to demonstrate the impact of your work.
Highlight any certifications or training you have received in merchandising.
Showcase relevant soft skills such as communication, problem-solving, and creativity.
Showcase any technical skills you possess, such as proficiency with point-of-sale systems or knowledge of computer programs like Excel and Word.
By following these tips, you can create a comprehensive list of Merchandiser skills that will impress hiring managers and demonstrate why you are the right fit for the job.
What skills should I put on my resume for Merchandiser?
A merchandiser plays an important role in the retail industry, as they are responsible for sourcing, selecting, and organizing product for retail outlets. When writing your resume for a job as a merchandiser, you should include the relevant skills and qualifications that make you the best candidate for the position. Here are some important skills to consider including:
Communication: As a merchandiser, you will need excellent communication skills in order to collaborate with other departments and vendors. You should be able to effectively explain your decisions and goals to those around you.
Analytical Thinking: Good analytical thinking skills are essential for a successful merchandiser. You should be able to quickly assess data and trends in order to make the best decisions for the company.
Negotiation: Merchandisers must be able to negotiate with suppliers in order to get the best prices for their products. Effective negotiation skills can help you save the company money.
Attention to Detail: Being a merchandiser requires a keen eye for detail. You should be able to recognize discrepancies between order sheets, invoices, and product displays.
Time Management: As a merchandiser, you will often work on tight timelines. You should be able to prioritize tasks in order to ensure that deadlines are met.
Computer Skills: In today's world, computer skills are essential for any job. As a merchandiser, you should be comfortable using computer programs such as Microsoft Office and inventory software.
By including these skills on your resume, you can show that you have the qualifications necessary to be a successful merchandiser. With the right skills, you can increase your chances of getting the job.
Key takeaways for an Merchandiser resume
Merchandisers have a unique and important role in the retail industry. As a merchandiser, you need to have a strong and impressive resume to make sure you stand out among the competition. Here are a few key takeaways to help you create an effective merchandiser resume:
Focus on Your Skills and Qualifications: A merchandiser resume should focus on the skills and qualifications that make you a great fit for the job. Highlight any relevant experience, education, or certifications you have that demonstrate you have the necessary skills.
Use Specific Examples: When listing your experience and qualifications, be sure to provide specific examples of how you have used these skills in the past. Show employers how you have contributed to a successful retail operation through your work as a merchandiser.
Emphasize Your Results: A successful merchandiser typically has impressive results. Make sure to showcase the results of your efforts, such as increased sales or improved customer satisfaction.
Include Your Achievements: Include awards, certifications, and other honors you have achieved throughout your career. This can help to demonstrate your commitment to the profession and your dedication to being a successful merchandiser.
Highlight Your Creativity and Problem-Solving Skills: As a merchandiser, you need to be able to think outside the box and come up with creative solutions to problems. Showcase how you have used your creativity to improve the retail environment and increase sales.
By following these tips, you can create a top-notch resume that will make you stand out among the competition. With an effective merchandiser resume, you will be well on your way to landing your dream job.
Let us help you build
your Resume!
Make your resume more organized and attractive with our Resume Builder