Writing a resume as a Merchandise Coordinator can feel overwhelming, but with the right guidance, you can feel confident that you are submitting a well-crafted resume that will gain you the attention of potential employers. This guide outlines the information that you should include in your resume to effectively represent your technical skills, knowledge, and experience as a Merchandise Coordinator. With the provided tips and examples, you can craft a resume that demonstrates your experience and qualifications for the job.
If you didn't find what you were looking for, be sure to check out our complete library of resume examples.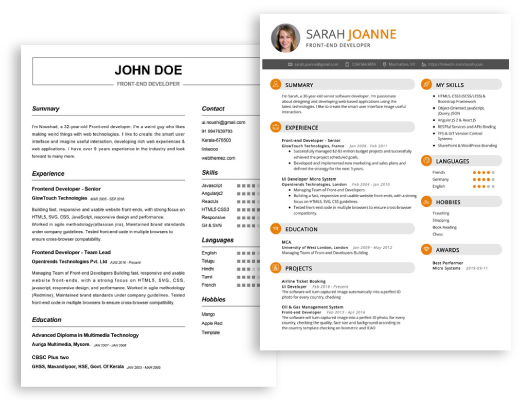 Start building your dream career today!
Create your professional resume in just 5 minutes with our easy-to-use resume builder!
Merchandise Coordinator Resume Examples
John Doe
Merchandise Coordinator
123 Main Street | Anytown, USA 99999 | Phone: (123) 456-7890 | Email: john.doe@email.com
I am a highly motivated, organized, and detail- oriented Merchandise Coordinator with over 10 years of experience in the fashion industry. I excel in the areas of product sourcing, merchandising, and inventory management. I am a critical thinker, with a passion for problem- solving and creating strategies to increase product sales. My past experience has allowed me to develop strong interpersonal skills with internal and external stakeholders. I am adept at leveraging technology to analyze data and optimize product assortment.
Core Skills:
Product Sourcing
Merchandising
Inventory Management
Data Analysis
Process Optimization
Interpersonal Communication
Technology Leveraging
Problem Solving
Professional Experience:
Merchandise Coordinator, XYZ Company – 2017 – Present
Collaborated with management to develop product assortment plans and increase sales
Monitored inventory levels and adjusted product mix to meet customer demand
Developed and maintained relationships with vendors and suppliers to ensure product availability
Negotiated pricing and terms with vendors to optimize cost savings
Implemented processes and strategies to improve inventory accuracy
Analyzed data to identify trends and make strategic recommendations
Merchandise Associate, ABC Company – 2012 – 2017
Assisted in setting up displays and maintaining merchandise
Sourced and ordered products to meet customer demand
Maintained regular communication with vendors and store staff
Analyzed sales data to identify areas of opportunity
Developed processes and procedures to improve inventory accuracy
Education:
Bachelor of Arts Degree, Fashion Merchandising
XYZ University – 2011
Merchandise Coordinator Resume with No Experience
Recent college graduate with strong organizational and communication skills looking to join a team as a Merchandise Coordinator.
Skills
Strong organizational and time- management skills
Ability to work in a fast- paced environment
Familiarity with Microsoft Office Suite
Excellent verbal and written communication
Highly detail- oriented
Data entry and analysis
Creative problem- solving
Responsibilities
Assist in the creation of merchandise displays
Conduct market research to identify trends and customer preferences
Identify and recommend new merchandise opportunities
Develop and implement promotional campaigns
Maintain accurate records of inventory and sales
Coordinate activities with vendors and suppliers
Manage and track orders and shipments
Maintain a safe and clean workspace
Merchandise Coordinator Resume with 2 Years of Experience
An experienced Merchandise Coordinator with 2 years of expertise in the retail industry. Possesses strong knowledge of product line management and product forecasting. Proficient in creating and analyzing reports, building product display plans, working collaboratively with cross- functional teams, and understanding customer trends and needs. Demonstrates effective problem- solving and organizational skills while providing comprehensive customer service.
Core Skills:
Product Line Management
Product Forecasting
Data Analysis
Display Planning
Customer Service
Problem- Solving
Organizational Skills
Cross- functional Teamwork
Responsibilities:
Develop and analyze product line reports to identify trends and make recommendations
Plan product displays to maximize sales potential
Forecast product demand and create plans for reordering and inventory control
Work with cross- functional teams to ensure successful product launches
Evaluate customer feedback and make adjustments to product line accordingly
Collaborate with marketing team to develop promotional and advertising campaigns
Provide comprehensive customer service to ensure satisfaction
Resolve customer issues and complaints in a timely manner
Maintain knowledge of product offerings to best serve customers
Merchandise Coordinator Resume with 5 Years of Experience
Motivated and customer- oriented Merchandise Coordinator with 5 years of experience in customer service, product display and merchandising. Dedicated to providing excellent customer service and meeting customer demands. Skilled in managing and displaying merchandise, as well as forecasting customer demands. Possesses strong communication, organizational and problem- solving skills.
Core Skills:
Merchandising
Customer Service
Inventory Management
Product Display
Forecasting
Organizational Skills
Problem Solving
Communication
Responsibilities:
Researched customer preferences to determine the merchandise and services most beneficial to customers.
Assisted customers by providing information about the merchandise and services.
Developed and maintained positive relationships with customers.
Collaborated with sales team to create a positive customer service experience.
Managed merchandise display and presentation.
Monitored and counted inventory to ensure accurate stock levels.
Developed forecasts for customer demands and inventory needs.
Ensured merchandise was accurately priced and labeled.
Developed promotional materials and activities to increase customer engagement and loyalty.
Merchandise Coordinator Resume with 7 Years of Experience
A highly motivated and organized Merchandise Coordinator with 7 years of professional experience in managing a wide range of product development, inventory management, and merchandising operations for leading retail stores. Proven ability to meet deadlines and manage multiple projects simultaneously. Possess strong interpersonal and communication skills with a passion for developing relationships with vendors, customers, and colleagues.
Core Skills:
Product Development
Inventory Management
Merchandising
Vendor Relationship Management
Retail Operations
Data Analysis
Problem Solving
Time Management
Organizational Skills
Responsibilities:
Develop and implement merchandising strategies to maximize sales and profitability.
Coordinate product selection, pricing, and inventory control processes.
Manage product assortment and merchandise displays.
Conduct market research and track industry trends.
Source new vendors and negotiate contracts.
Collaborate with design and marketing teams on promotional campaigns.
Analyze sales data and adjust buying plans accordingly.
Monitor stock levels and replenish inventory as needed.
Ensure compliance with company policy and industry regulations.
Merchandise Coordinator Resume with 10 Years of Experience
Innovative and hardworking Merchandise Coordinator with 10 years of experience in the fashion and retail industry. Experienced in forecasting and inventory management, product development, product launch, and merchandising initiatives. Adept at utilizing data- driven strategies to develop and implement successful marketing strategies in order to increase customer loyalty and sales. Possess excellent communication and interpersonal skills, along with the ability to collaborate with diverse teams and develop relationships with vendors.
Core Skills:
Excellent communication skills
Strong organizational skills
Proficient in data analysis
Analytical problem solving skills
Inventory management
Vendor management
Product development
Merchandising initiatives
Business development
Responsibilities:
Manage the inventory of merchandise and ensure that there is an adequate supply of products at all times
Develop strong relationships with vendors and negotiate the best prices for products
Develop and implement successful merchandising strategies that increase customer loyalty and sales
Research and analyze market trends to forecast future demand and develop product strategies
Plan and execute product launches and promotional campaigns
Collaborate with marketing, sales, and operations teams to ensure product availability, pricing, and promotions are aligned with company goals
Monitor product performance and adjust strategies accordingly
Merchandise Coordinator Resume with 15 Years of Experience
A highly experienced and self- motivated Merchandise Coordinator with 15 years of experience in executing buying, inventory management and product development activities. Proficient in working with cross- functional teams and in customer service. Ability to stay ahead of current trends and utilize analytics to execute purchasing strategies and stay competitive in the market. Expertise in retail and apparel industry and a proven track record of achieving goals.
Core Skills:
Leadership
Product Development
Buying/Purchasing
Inventory Management
Trend Analysis
Merchandising
Cross- Functional Teamwork
Retail Quality Assurance
Budget Management
Customer Service
Analytical Skills
Responsibilities:
Coordinated with cross- functional teams to develop successful merchandise strategies
Developed approaches to identify, source and select the right merchandise
Analyzed and tracked trends in the marketplace to ensure competitive pricing and product selection
Managed inventory levels and directed new product development
Implemented buying policies and procedures and adjusted strategies in response to changing market conditions
Evaluated and selected vendors based on reliability, quality, and cost- effectiveness
Monitored product performance and provided data- driven reports to senior leadership
Supervised retail quality assurance and ensured compliance with health and safety standards
Negotiated contracts, pricing, and delivery terms with vendors and suppliers
Developed budgets and managed financial responsibilities.
In addition to this, be sure to check out our resume templates, resume formats, cover letter examples, job description, and career advice pages for more helpful tips and advice.
What should be included in a Merchandise Coordinator resume?
A Merchandise Coordinator is an important role that requires the individual to be organized and detail-oriented. A strong resume will showcase the candidate's abilities and qualifications for the position. When creating a Merchandise Coordinator resume, it is important to include the following items:
Professional Summary: A brief summary of the candidate's professional experience and skills, along with the main qualities they can bring to the role.
Education: List any educational qualifications the candidate has, such as degrees and certifications.
Work Experience: Include past positions held, along with a detailed description of the duties and responsibilities associated with each role.
Skills: This should include any skills related to the position such as strong customer service abilities, effective communication, and problem-solving.
Designations: List any merchandise-related designations the candidate has, such as Certified Merchandise Coordinator.
Awards and Recognition: Include any awards or recognition received related to the merchandise industry, such as Top Salesperson of the Year.
Personal Qualities: Highlight any personal qualities that may be advantageous in the role, such as attention to detail and ability to meet deadlines.
By including these items in a Merchandise Coordinator resume, potential employers will be able to quickly assess a candidate's qualifications and capabilities.
What is a good summary for a Merchandise Coordinator resume?
A Merchandise Coordinator is responsible for managing the flow of goods from a vendor to the retail store. As Merchandise Coordinator, you are expected to have an eye for detail and an aptitude for strategic planning. A great resume for a Merchandise Coordinator position should highlight your ability to manage multiple vendors and stock inventory, as well as your organizational and communication skills. Additionally, employers will be looking for a demonstrated understanding of merchandising fundamentals, such as product trends and market potential. Your summary should express your experience and qualifications in a concise manner, while emphasizing your ability to provide excellent service to both internal and external customers. Showcase your knowledge of the industry and your ability to meet deadlines and stay organized. A Merchandise Coordinator resume should also include any certifications and special skills you possess, such as proficiency in Excel and database management. A strong resume for a Merchandise Coordinator position should clearly demonstrate the value you can bring to the position.
What is a good objective for a Merchandise Coordinator resume?
Merchandising Coordinators are an essential part of any retail organization, as they are responsible for managing the inventory and product displays in stores. As such, a strong objective on a Merchandising Coordinator resume should emphasize an applicant's ability to successfully manage merchandise, coordinate displays, and maximize sales.
Here are some of the key objectives for a Merchandise Coordinator resume:
Manage the inventory, including ordering, stocking, and tracking of products
Coordinate product displays to maximize sales
Create and maintain effective relationships with vendors and other store personnel
Ensure store shelves are adequately stocked
Provide support for sales and marketing efforts
Develop promotional strategies to generate interest in products
Measure and analyze sales data to improve merchandising efforts
Train and supervise store personnel in merchandising techniques
Ensure compliance with company policies and procedures
Develop and implement best practices in merchandising
Maximize store profitability through effective merchandising activities
By emphasizing these key objectives in a Merchandise Coordinator resume, applicants can demonstrate their commitment to developing and implementing effective merchandising strategies that increase sales and store profitability.
How do you list Merchandise Coordinator skills on a resume?
Merchandise Coordinators are responsible for managing the inventory of goods and keeping track of sales. They oversee the ordering, stocking, and pricing of products, as well as monitoring inventory levels and ensuring that products meet customer demand. In order to be successful in this role, it is essential to have the right skills. When listing your Merchandise Coordinator skills on a resume, be sure to include the following key skills:
Proficient in Inventory Management: Merchandise Coordinators must understand the principles of inventory management, including the ability to manage inventory levels, track and order stock, and ensure products are delivered and available in the correct quantities.
Knowledge of Retail Sales: A Merchandise Coordinator must have an understanding of retail sales, including being able to track and analyze sales data, identify and react to changes in the market, and use that information to make informed decisions about product ordering and stocking.
Ability to Create and Manage Budgets: An effective Merchandise Coordinator needs to be able to accurately forecast sales and create budgets in order to ensure that their store is able to meet their financial goals.
Excellent Communication Skills: Merchandise Coordinators must be able to effectively communicate with staff, vendors, and customers to ensure that all parties are aware of the latest inventory information.
Ability to Lead and Motivate Staff: Merchandise Coordinators must be able to lead and motivate staff to ensure that processes within the store are being followed and that employees are performing to the best of their ability.
Strong Attention to Detail: Merchandise Coordinators must be able to pay close attention to detail in order to ensure that products are accurately priced, stocked, and delivered.
By including these essential skills in your resume, you will be able to demonstrate to potential employers that you have the knowledge and abilities necessary to be a successful Merchandise Coordinator.
What skills should I put on my resume for Merchandise Coordinator?
When it comes to writing a resume for a Merchandise Coordinator position, you need to ensure that the skills you list are the ones that hiring managers will find most relevant to the job. To help you create an effective resume, here are some of the most important skills to include:
Analytical Thinking: As a Merchandise Coordinator, you need to be able to assess data and make decisions about how to maximize profit and grow the business.
Communication: You need to be able to effectively communicate with vendors, customers, and other personnel in order to ensure that everyone is on the same page.
Knowledge of Merchandising: You need to be well-versed in the principles of merchandising in order to effectively plan and manage the inventory and product selection.
Negotiation Skills: You need to be able to negotiate with vendors in order to get the best deals and terms.
Time Management: You need to be able to effectively prioritize tasks and manage your time so that you can meet deadlines and achieve success.
Organization: You need to be organized in order to keep track of inventory and orders, as well as coordinate with other team members.
By including these skills on your resume, you can demonstrate to hiring managers that you are the ideal candidate for the job. Make sure to back up your claims with examples from your past experiences to further impress potential employers.
Key takeaways for an Merchandise Coordinator resume
As a Merchandise Coordinator, you help to ensure that the right products are delivered to the right location at the right time. As a result, your resume needs to demonstrate your knowledge of the entire product life cycle, from sourcing to delivery. The following are some key takeaways for creating an effective Merchandise Coordinator resume:
Highlight your previous experience in supply chain management, from sourcing and procurement to logistics and distribution. Showcase how you were able to coordinate the delivery of goods and services efficiently and cost-effectively.
Demonstrate your communication skills, as you will need to be able to coordinate and collaborate with a variety of individuals, from suppliers to transport companies.
Emphasize your ability to analyze data and make informed decisions. Include any knowledge you have of tools such as inventory management systems and business intelligence.
Showcase your problem-solving abilities, as you will often be required to identify and address any issues and discrepancies in the supply chain.
Demonstrate your leadership skills and ability to manage a team. Include any training or mentoring initiatives you have implemented.
Include any knowledge or experience you have with relevant regulations and safety protocols.
These are some of the key takeaways for creating an effective Merchandise Coordinator resume. When crafting your resume, make sure to highlight all the relevant experience and skills you can bring to the table, while staying concise and organized.
Let us help you build
your Resume!
Make your resume more organized and attractive with our Resume Builder