Writing a resume as a merchandiser buyer can be a daunting task. After all, the job requires a keen eye for detail and a diverse set of skills. Knowing what to include and how to structure your resume is the key to success. With this guide, you will learn the important aspects to consider when writing a resume for a merchandise buyer, as well as some tips and tricks for giving your resume the best possible chance of being noticed. You will also find several examples of resumes that have been professionally written for merchandiser buyers, which you can use as inspiration when writing your own resume.
If you didn't find what you were looking for, be sure to check out our complete library of resume examples.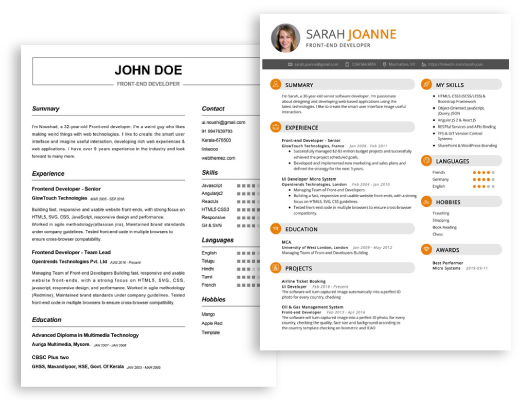 Start building your dream career today!
Create your professional resume in just 5 minutes with our easy-to-use resume builder!
Merchandise Buyer Resume Examples
John Doe
Merchandise Buyer
123 Main Street | Anytown, USA 99999 | Phone: (123) 456-7890 | Email: john.doe@email.com
A highly motivated professional with a successful track record in Merchandise Buyer roles. Demonstrated expertise in market trend analysis, product development, and report writing. An organized and results- driven individual with considerable knowledge of wholesale and retail operations.
Core Skills:
Strategic planning and implementation
Negotiation and vendor relations
Purchasing and inventory control
Data analysis and forecasting
Product sourcing and development
Store promotions and sales analysis
Cost analysis and budgeting
Professional Experience:
Merchandise Buyer, ABC Retail, 2020 – Present
Developed and implemented a successful merchandise buying strategy, resulting in a 50% increase in sales over the year
Selected and sourced apparel, accessories, and footwear for the store
Analyzed sales trends and forecasts to identify potential sales opportunities
Identified and selected vendors to meet both quality and cost requirements
Monitored the budget and negotiated prices with suppliers
Prepared reports on merchandise and store sales performance
Merchandise Planner, XYZ Wholesale, 2017 – 2020
Developed and implemented a successful merchandise planning strategy across multiple stores
Planned and monitored inventory levels to ensure adequate supply of products
Analyzed sales trends and forecasts to identify potential sales opportunities
Developed strategies to maximize profitability and reduce costs
Negotiated with suppliers to ensure competitive pricing and quality of products
Developed promotional programs and targeted marketing campaigns to drive sales
Education:
Bachelor of Commerce, University of Toronto, 2014 – 2017
Major in Business Administration
Minor in Marketing
Merchandise Buyer Resume with No Experience
Recent college graduate looking to break into the world of merchandise buying and possessing a strong passion for the fashion industry. Seeking a challenging entry- level position in the field to apply knowledge of retail business and economics.
Skills
Strong organizational and multitasking skills, punctual and detail- oriented
Analytical and problem- solving skills to anticipate customer needs and market trends
Excellent oral and written communication
Advanced knowledge of retail business and economics
Proficient in Microsoft Office Suite and other relevant software applications
Responsibilities
Develop and maintain the organization's purchasing plan
Determine the appropriate quantity and quality of merchandise to purchase
Analyze market trends, customer demands, and company objectives to determine appropriate purchases
Negotiate contracts with vendors and suppliers to obtain favorable pricing and terms
Maintain records of purchased items, costs, delivery and product availability
Ensure timely delivery of merchandise and accuracy of invoices
Merchandise Buyer Resume with 2 Years of Experience
Highly motivated and organized Merchandise Buyer with 2 years of experience in the retail sector. Professional expertise in purchasing, inventory control, and cost and profit analysis. Possesses excellent communication, organizational and relationship- building skills. Ability to ensure that all efforts are strategically aligned with the company's objectives and goals.
Core Skills:
Purchasing
Inventory Control
Cost and Profit Analysis
Strategic Planning
Merchandising
Customer Service
Retail Management
Vendor Relations
Supply Chain Management
Responsibilities:
Source, select and purchase products based on consumer trends, quality, cost and profitability
Negotiate prices with suppliers to ensure that merchandise is acquired at the best price and within budget
Maintain close contact with suppliers, evaluate and monitor their performance
Analyze sales and inventory data to identify trends and react accordingly
Develop, implement and maintain effective inventory control and cost- saving measures
Manage relationships with vendors, ensuring all commitments are met
Manage a team of buyers, providing guidance, training and development
Stay current on changing consumer trends and market conditions
Merchandise Buyer Resume with 5 Years of Experience
A results- driven and knowledgeable Merchandise Buyer with 5 years of experience in managing and executing all facets of the buying process. Proven track record of establishing relationships with customers, vendors and industry contacts. Skilled in negotiating terms and contracts, managing inventory, and analyzing customer and market needs. Experienced in developing a comprehensive range of merchandise, negotiating purchases, and creating strategic business plans.
Core Skills:
Strategic Planning
Purchasing Contract Negotiation
Product Selection and Pricing
Vendor Relations Management
Inventory Management
Customer Relationship Building
Market Research and Analysis
Responsibilities:
Developed and implemented a comprehensive buying plan to support the company's business objectives
Researched and selected the most cost effective vendors and negotiated the most favorable terms and conditions
Developed and maintained strong customer relationships to ensure customer loyalty and satisfaction
Monitored market trends and identified opportunities to increase sales and profitability
Responsible for ordering, pricing, and stocking merchandise in accordance with company policies and procedures
Analyzed customer data to identify buying trends and developed strategies to capitalize on those trends
Analyzed suppliers and negotiated cost, delivery and payment terms to ensure cost- effective procurement of merchandise
Merchandise Buyer Resume with 7 Years of Experience
Highly skilled Merchandise Buyer with 7 years of experience in the fashion industry. Proven success in selecting merchandise, analyzing sales data, and creating promotional campaigns. Demonstrated ability to build relationships with manufacturers, vendors, and suppliers. Adept at forecasting and planning product purchases, monitoring trends, and cultivating strong vendor partnerships. Excellent communication, problem- solving, and organizational skills.
Core Skills:
Merchandising
Vendor Relations
Analytics
Product Sourcing
Sales Planning
Forecasting
Promotional Planning
Responsibilities:
Analyze sales data to determine purchasing needs and make strategic decisions
Develop relationships with vendors and manufacturers to secure favorable pricing and terms
Source and select products to meet the needs of customers
Create promotional campaigns to increase sales and customer loyalty
Monitor trends in the fashion industry to keep up with customer demands
Develop and implement budgets and timelines for product launches
Forecast and plan product purchases to ensure adequate inventory
Merchandise Buyer Resume with 10 Years of Experience
Professional Merchandise Buyer with 10 years of experience in the retail industry. Experienced in assessing customer trends, analyzing financial data and managing inventory processes. Successfully negotiated contracts with vendors, developed strategies for sourcing new products, improved inventory accuracy and contributed to increased sales. Skilled in using Microsoft Office Suite to develop financial analyses, create reports, and present data to senior management.
Core Skills:
Trend Analysis
Vendor Negotiations
Inventory Management
Microsoft Office Suite
Data Analysis
Product Sourcing
Financial Analysis
Responsibilities:
Developed a comprehensive strategy for sourcing new products and negotiating contracts with vendors
Performed data analysis to understand customer trends and forecasts
Constructed financial analyses to evaluate current and prospective brands
Established inventory management protocols to ensure accurate tracking and inventory levels
Collaborated with other departments to ensure on- time product delivery
Developed reports and presentations for senior management
Provided training and support to junior buyers and staff members
Merchandise Buyer Resume with 15 Years of Experience
A highly experienced Merchandise Buyer with 15 years of experience in the retail industry. Skilled at negotiating contracts and building relationships with vendors, as well as managing all aspects of the purchase process. Proven in developing strategies and plans to increase sales, reduce costs and optimize inventory. Experienced in forecasting trends, pricing strategies, and analyzing market data.
Core Skills:
Strong negotiation and relationship building skills
Analytical and problem- solving abilities
Excellent communication and interpersonal skills
Highly organized and detail- oriented
Proficient in Microsoft Office Suite
Knowledge of procurement processes and software
Ability to identify market trends
Responsibilities:
Develop and implement purchasing strategies to meet business objectives
Negotiate contracts with vendors to ensure the best possible costs and delivery times
Analyze market trends and identify opportunities for cost savings
Identify and assess potential vendors through the use of performance reports and market research
Manage the purchase and delivery of goods, ensuring all procedures are followed
Maintain accurate records of purchases and supplier contracts
Monitor and maintain inventory levels, ensuring optimal stock levels are maintained
Develop pricing strategies to optimize profits and minimize losses
Ensure compliance with all laws and regulations related to purchasing
In addition to this, be sure to check out our resume templates, resume formats, cover letter examples, job description, and career advice pages for more helpful tips and advice.
What should be included in a Merchandise Buyer resume?
A Merchandise Buyer is responsible for selecting and purchasing new products for their organization. They have to have a keen eye for spotting trends and have a knack for negotiating deals. When writing your resume for this role, it is important to emphasize your experience in the field and any related skills that may be relevant for the job.
Here are some key elements to include in your Merchandise Buyer resume:
Professional Summary: Provide a summary of your professional background, including any significant accomplishments in your field.
Work Experience: List out your past experiences as a Merchandise Buyer, focusing on any successful projects or initiatives you were able to complete.
Skills: Highlight any skills that make you a great Merchandise Buyer, such as trend analysis, negotiation tactics, and budget management.
Education: Include any relevant educational qualifications that may be applicable to the role.
Accomplishments: List any awards or recognitions you have received in the field.
Professional Affiliations: If you have any professional memberships or designations, include them in your resume.
By including these elements in your resume, you can set yourself apart from the competition and show potential employers that you have the necessary skills and experience for the job.
What is a good summary for a Merchandise Buyer resume?
A Merchandise Buyer resume should be a concise document that summarizes your education, experience, and qualifications. It should highlight your ability to research, analyze, and select merchandise to meet budget and quality standards. Additionally, a successful Merchandise Buyer resume will demonstrate your knowledge and experience in buying and negotiating terms with suppliers, providing reports and trend analysis, and managing inventory levels to maximize sales. By emphasizing your core skills, abilities, and achievements, your Merchandise Buyer resume should demonstrate to potential employers that you have the skills and qualifications to be a successful Merchandise Buyer.
What is a good objective for a Merchandise Buyer resume?
A merchandise buyer resume should include an objective that clearly states the applicant's professional goals and how they align with the hiring company. When crafting an effective objective, job seekers should focus on highlighting their experience, qualifications and skills.
Focus on your experience: If you have prior experience in the purchasing field, highlight your successes managing supplier relationships and evaluating vendors.
Highlight qualifications: Emphasize any relevant qualifications or certifications that you possess and make sure to emphasize any specialized skills you may have such as cost analysis and forecasting.
Showcase your skills: Be sure to mention any technical skills in supply chain management, vendor management and negotiation that you possess.
Demonstrate your expertise: Showcase your ability to communicate effectively and manage budgets effectively.
By highlighting your experience, qualifications, and skills in a well-crafted objective statement, you can set yourself apart from other candidates and demonstrate to the hiring manager why you are the right choice for the job.
How do you list Merchandise Buyer skills on a resume?
When crafting a resume as a Merchandise Buyer, it is important to showcase the skills and experience you have that are relevant to the position. To make it easier for potential employers to spot your skills, it is best to list them in a clearly organized manner. Here are some skills to consider including on your resume for a Merchandise Buyer position:
Analytical Skills: An effective Merchandise Buyer is able to review data and make informed decisions about merchandise selections. Include any experience you have analyzing sales data, market trends, and customer feedback to make purchasing decisions.
Negotiation Skills: As a Merchandise Buyer, you will be responsible for negotiating with vendors to secure the best deals for the company. Include any relevant experience such as working with vendors to negotiate prices, terms of the sale, and delivery times.
Forecasting and Budgeting: An important part of the Merchandise Buyer job is forecasting and budgeting for product orders. Include any experience you have forecasting and budgeting for merchandise purchases.
Networking: Being able to build and maintain relationships with vendors is an important part of the job. Include any experience you have with networking and building relationships with vendors.
Product Knowledge: As a Merchandise Buyer, you should be knowledgeable about the products you're purchasing. Include any experience you have researching products, understanding market trends and product features to make informed decisions.
By including all of these Merchandise Buyer skills on your resume, you will be able to clearly demonstrate your qualifications and make a great impression on potential employers.
What skills should I put on my resume for Merchandise Buyer?
When applying for a job as a Merchandise Buyer, it is important to have a comprehensive and well written resume. It is important to include relevant experience and skills that demonstrate your qualifications and ability to succeed in the job. Here are some skills you should include when crafting your resume as a Merchandise Buyer:
Strategic Planning: You should be able to demonstrate strong strategic planning skills, as you will be tasked with creating plans for buying merchandise for businesses.
Analytical Skills: Being able to analyze data, trends, and forecasts is essential for a Merchandise Buyer, as this will help you make informed decisions when purchasing merchandise.
Negotiation: As a Merchandise Buyer, you will need to be able to negotiate successfully when buying merchandise. You should have the necessary skills to be able to get the best possible deals for the business.
Budgeting: You should have strong budgeting skills and be able to work within a given budget while also making sure that the purchased merchandise meets the business's needs.
Relationship Building: You should be able to build relationships with vendors and suppliers, as this will help you to get the best possible deals on merchandise.
Communication: You should be able to communicate effectively with all stakeholders, including vendors, suppliers, and business owners.
Having the right skills for the job is essential for becoming a successful Merchandise Buyer. By including these skills on your resume, you will be demonstrating to employers that you are the right candidate for the job.
Key takeaways for an Merchandise Buyer resume
When writing a resume as a Merchandise Buyer, it is important to highlight your skills, experience, and accomplishments. Here are some key takeaways you should consider when creating your resume:
Focus on the relevant: Make sure you highlight your relevant experience and skills when creating your resume. Focus on experiences that are related to the job you are applying for, such as your knowledge of inventory management, purchasing, and negotiation skills.
Showcase leadership and problem-solving: As a Merchandise Buyer, employers will be looking for someone with strong leadership and problem-solving skills. Make sure to highlight these qualities in your resume. Include examples of how you have solved problems, managed staff, and made decisions under pressure.
Demonstrate success: Make sure to include examples of successes you have achieved in your current or previous roles. This could include an increase in sales or profits, or the successful rollout of a new product.
Emphasize communication: As a Merchandise Buyer, communication is key. Make sure to emphasize your communication skills, such as your ability to negotiate and develop relationships with vendors.
By following these tips, you can create an effective Merchandise Buyer resume that will help you stand out from the competition.
Let us help you build
your Resume!
Make your resume more organized and attractive with our Resume Builder