Having a well-crafted resume is an essential part of any successful job search. As a commodity manager, it is especially important that your resume captures the attention of potential employers and highlights your strengths and experience. Writing a great resume is an art, and this guide is designed to help you put your best foot forward when creating a resume for a commodity manager position. Here, you'll find tips on what to include and some sample resumes to get you started.
If you didn't find what you were looking for, be sure to check out our complete library of resume examples.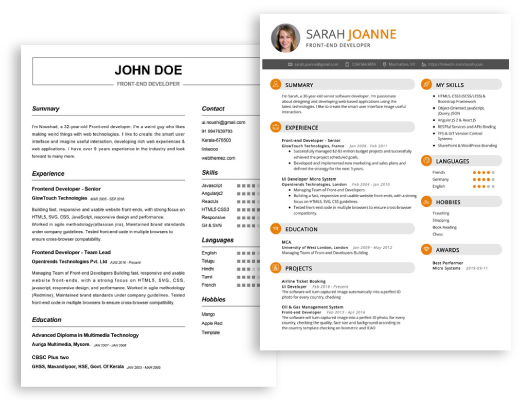 Start building your dream career today!
Create your professional resume in just 5 minutes with our easy-to-use resume builder!
Commodity Manager Resume Examples
John Doe
Commodity Manager
123 Main Street | Anytown, USA 99999 | Phone: (123) 456-7890 | Email: john.doe@email.com
I am a highly motivated and experienced Commodity Manager with expertise in supply chain management and project management. I have a proven track record of maximizing profits and minimizing costs, and I am adept at developing and maintaining relationships with vendors, suppliers, and customers. I am a strategic and analytical problem solver with keen attention to detail and a commitment to remaining up- to- date with industry trends. Through my experience, I have developed strong organizational, communication, and negotiation skills.
Core Skills:
Supply Chain Management
Project Management
Vendor/Supplier Relationships
Cost Reduction
Market Analysis
Contract Negotiation
Strategic Planning
Problem Solving
Budgeting
Data Analysis
Professional Experience:
Commodity Manager, ABC Company, 2016 – Present
Develop and implement innovative strategies to reduce costs and enhance profit margins
Establish and manage relationships with vendors, suppliers, and customers
Monitor market trends to ensure best pricing and lead times
Negotiate contracts, purchase orders, and agreements
Collaborate with internal teams to identify opportunities for cost saving
Analyze data and generate reports to monitor performance
Develop and implement strategies to streamline the supply chain process
Commodity Analyst, XYZ Company, 2014 – 2016
Analyzed data to identify trends and opportunities for cost savings
Collaborated with suppliers to improve lead times and delivery schedules
Negotiated contracts with suppliers to ensure best pricing
Developed and implemented strategies to reduce costs and maximize profits
Generated reports to monitor performance and analyze trends
Education:
Bachelor of Science in Supply Chain Management, University of ABC, 2014
Commodity Manager Resume with No Experience
Recent graduate with a degree in Business Administration and the ability to efficiently manage goods and services. Experienced in customer service relations and data analysis. Knowledgeable in cost- benefit analysis and strategic planning. Highly organized and motivated to help a business reach its goals.
Skills:
Data Management
Strategic Planning
Organizational Skills
Cost- Benefit Analysis
Customer Service
Analytical Skills
Negotiation
Product Knowledge
Responsibilities:
Monitoring commodity markets and anticipating trends to inform buyers of potential changes in prices.
Evaluating the cost of goods and services to determine the most cost- effective purchases.
Conducting research to identify potential vendors and suppliers.
Developing relationships with vendors and suppliers to ensure smooth communication and reliable delivery.
Evaluating current inventory levels to determine if additional goods or services are needed.
Negotiating with vendors and suppliers to get the best prices and terms.
Collaborating with other departments to ensure the business is getting the best value.
Identifying and resolving discrepancies between purchase orders and invoices.
Preparing reports and documents related to purchasing activities.
Commodity Manager Resume with 2 Years of Experience
A highly motivated and organized professional with 2 years of experience in Commodity Management. A passionate problem solver, able to develop and implement creative solutions that uncover hidden cost savings opportunities. Skilled in leading, inspiring and motivating teams to achieve goals. Knowledgeable in multiple areas of supply chain management, including logistics, sourcing and production planning.
Core Skills:
Supply Chain Management
Logistics
Negotiation
Sourcing
Production Planning
Cost Savings
Team Management
Responsibilities:
Collaborating with multiple stakeholders to develop cost- effective sourcing and negotiation strategies.
Analyzing data to identify cost savings opportunities.
Overseeing and managing the entire procurement process.
Developing and managing supplier relationships.
Supporting production planning processes.
Setting internal goals and objectives.
Ensuring compliance with relevant policies and regulations.
Analyzing industry trends and making recommendations.
Commodity Manager Resume with 5 Years of Experience
Dynamic and results- oriented professional with 5+ years of experience in commodity management. Adept in making crucial decisions regarding procurement, inventory management and material sourcing. Possesses excellent communication and negotiation skills, and is able to align critical supply and demand planning with business objectives. Proven ability to analyze market trends and capitalize on new opportunities.
Core Skills:
Data Analysis
Cost Analysis
Risk Management
Supplier Evaluation and Selection
Vendor Relationships Management
Inventory and Logistics Management
Negotiation and Contract Management
Supply Chain Management
Responsibilities:
Develop and implement strategies to manage commodity supply and demand
Evaluate and negotiate contracts with suppliers, vendors and other business partners
Analyze market trends and use data- driven insights to identify new opportunities
Identify, track and monitor supply and demand issues
Create, implement and monitor procurement processes and procedures
Manage inventory levels and stock levels to ensure on- time delivery
Track and report on commodity performance metrics and KPIs
Identify areas of improvement and develop strategies to optimize processes and procedures
Manage resource allocation, budgeting, forecasting and cost control
Develop and maintain relationships with suppliers and other key stakeholders
Commodity Manager Resume with 7 Years of Experience
A highly experienced and adept Commodity Manager with 7 years of experience in managing and controlling the procurement of commodities while ensuring compliance with the company's policies and procedures. Skilled in cost reduction, analysis and negotiation; adept in developing and maintaining relationships with suppliers; and experienced in risk management and inventory optimization. Possess excellent communication, problem- solving and project management skills.
Core Skills:
Cost Reduction Analysis
Supplier Relationship Management
Negotiation & Contract Management
Risk Management & Inventory Optimization
Project Management
Business Analysis & Reporting
Communication & Interpersonal Skills
Responsibilities:
Managed and controlled the purchase of commodities, and monitored the quality and quantity of deliveries
Developed and maintained strong relationships with current and prospective suppliers
Negotiated and managed contracts with suppliers
Conducted cost reduction analysis and improved supply chain processes
Analyzed and tracked the performance of suppliers
Developed and implemented strategies to improve inventory management and control
Assessed and managed risks related to commodity purchases
Prepared and presented reports on commodity management
Monitored the market for price fluctuations and provided market analysis to identify opportunities
Enforced company policies and procedures related to commodity management
Commodity Manager Resume with 10 Years of Experience
Highly experienced Commodity Manager with 10+ years of experience in managing and procuring commodities, negotiating and closing contracts, and maintaining supplier relationships. Possess excellent knowledge of the commodities market, pricing, and supplier management. Adept at developing strategies to reduce costs and increase profits. Possess outstanding analytical, organizational, and communication skills.
Core Skills:
Commodity Market Analysis
Strategy Development
Contract Negotiation
Supplier Relationship Management
Price Analysis
Risk Management
Cost Reduction
Monitoring Market Trends
Responsibilities:
Identified and evaluated potential suppliers for commodities
Negotiated contracts for the procurement of commodities
Developed strategies to reduce costs associated with the procurement of commodities
Monitored the commodities market to anticipate future trends
Developed and managed commodity pricing models
Developed and maintained effective relationships with vendors and suppliers
Analyzed current and future market trends to identify commodities with high potential value
Managed risk associated with commodity procurement contracts
Commodity Manager Resume with 15 Years of Experience
With over 15 years of experience in the commodities industry, I have developed a strong track record of driving successful business results. I have deep knowledge of global markets, commodities trading, and risk management, as well as a strong understanding of supply chain management. I am an effective communicator, with a proven ability to quickly build relationships with stakeholders and colleagues, and a passion for delivering exceptional customer service. I am highly organized and efficient, and I have a proven ability to work with minimal supervision while meeting tight deadlines.
Core Skills:
Strong knowledge of global commodities markets
Expertise in commodities trading and risk management
Extensive experience in supply chain management
Highly organized and efficient
Excellent time management
Effective communication and interpersonal skills
Outstanding customer service
Responsibilities:
Managing the day to day activities of the commodities trading desk
Monitoring global market trends and analyzing price changes
Identifying, evaluating, and mitigating risk associated with trading transactions
Educating customers on commodities buying and selling
Developing and maintaining relationships with commodities suppliers and customers
Managing inventory levels and ensuring availability of commodities
Recording and reconciling trading accounts
Providing regular updates of market trends and performance
Analyzing and interpreting market data
Designing and implementing risk management strategies
In addition to this, be sure to check out our resume templates, resume formats, cover letter examples, job description, and career advice pages for more helpful tips and advice.
What should be included in a Commodity Manager resume?
A Commodity Manager is responsible for making sure that goods and services are available on time, at competitive prices and of good quality. A well-crafted resume is essential for any professional looking to work as a Commodity Manager. Here is what you should include in your Commodity Manager resume:
Education: Include your educational background, including any degrees you have attained in the field of business, finance or purchasing.
Work Experience: Any relevant experience you have in commodity management, such as working as a buyer or sourcing specialist, should be highlighted in your resume.
Expertise and Skills: Commodity Managers must have excellent negotiation, communication and problem-solving skills. Highlight your mastery of market knowledge and ability to develop and maintain strong relationships with suppliers.
Leadership: Include any experience you have leading a team or managing the business operations of a commodity.
Computer Knowledge: Showcase your proficiency in the use of specialized software for commodity management, such as price tracking and forecasting applications.
Certifications: Any certifications or training you have obtained in the field of commodity management should also be included.
With the right combination of education, experience and qualifications, your resume as a Commodity Manager can be the key to unlocking a successful career.
What is a good summary for a Commodity Manager resume?
A Commodity Manager is responsible for developing and executing commodity strategies, overseeing the sourcing and purchasing of goods, and managing supplier and internal relationships. A good Commodity Manager resume should effectively summarize a candidate's experience in areas such as cost analysis and reduction, team management, and supply chain optimization. It should also include technical skills and expertise in the commodity being managed.
A strong Commodity Manager resume summary should include an overview of the candidate's qualifications, skill set, and relevant accomplishments. It should also highlight the candidate's ability to negotiate, develop and maintain relationships, and solve problems quickly and efficiently. Additionally, the summary should include the candidate's knowledge of the commodities, industry trends, and market forces.
When writing a Commodity Manager resume, it is important to focus on the candidate's key skills, achievements, and qualifications. This will help employers quickly identify the individual as a strong candidate for the role. A good summary can make a lasting impression, so it's important to spend time crafting a resume that accurately captures a candidate's experience and skills.
What is a good objective for a Commodity Manager resume?
A commodity manager is responsible for the procurement of goods and services for the organization they are employed with. This individual must ensure that the highest quality of materials and services are obtained in a timely fashion and at the best possible price.
A good objective for a commodity manager resume should include the following points:
To secure a role as a commodity manager where I can utilize my experience in research, negotiations and supplier management.
To lead and manage the procurement of goods and services while creating strategies that will produce cost savings and improved processes.
To identify potential suppliers and build relationships with them to ensure the best possible terms and prices.
To develop and maintain inventory control systems and policies that adhere to organizational objectives.
To ensure compliance with federal and state regulations related to purchasing activities.
To track and analyze data to identify potential cost savings opportunities and recommend operational improvements.
How do you list Commodity Manager skills on a resume?
Having great Commodity Manager skills can make you a valuable asset in any business. Companies of all sizes need skilled Commodity Managers to ensure that their supply chains remain efficient and effective. Therefore, it is important to showcase your Commodity Manager skills clearly and effectively on your resume.
Start by outlining the specifics of your experience in the field. Include any training or certifications you have received related to commodity management.
Highlight the skills and knowledge you possess that are specific to the field. This may include knowledge of supply chain software, inventory management, and negotiation.
Showcase your negotiation skills and ability to build strong relationships with suppliers.
Demonstrate your experience in vendor selection, cost analysis, and contract management.
Stress your proficiency in using analytics to measure performance and anticipate risks.
Note any successes you have had in streamlining supply chains or reducing costs.
By highlighting your Commodity Manager skills on your resume, you can make yourself stand out as an ideal candidate for the job. Showing how you can bring value to the organization is key in any job search.
What skills should I put on my resume for Commodity Manager?
As a Commodity Manager, you're expected to have the skills necessary to manage and oversee the purchase, sale, and distribution of goods and services. When creating your resume, it's important to include a section that outlines all of the relevant skills that you possess.
Here are some skills that you should include on your resume for a Commodity Manager:
Business acumen: As a Commodity Manager, you need to have a broad understanding of the business world and be able to make sound business decisions.
Strategic planning: You should be able to plan strategically in order to maximize profits and ensure that goods are bought and sold at the best prices.
Negotiation: As a Commodity Manager, you need to be able to negotiate with vendors and suppliers in order to get the best prices and terms for your goods and services.
Analytical skills: You should have the ability to analyze data and make decisions based on that data.
Attention to detail: As a Commodity Manager, you're expected to be detail-oriented and have a good eye for spotting mistakes or inconsistencies.
Time management: You should be able to manage your time effectively in order to meet deadlines and ensure that tasks are completed on schedule.
Communication: You should have excellent written and verbal communication skills in order to effectively communicate with vendors and buyers.
By including these skills on your resume, you'll be able to demonstrate that you have the qualifications necessary to be a successful Commodity Manager. Make sure to use keywords and phrases within your resume that accurately reflect the skills that you possess.
Key takeaways for an Commodity Manager resume
For a Commodity Manager to land the job, their resume needs to stand out. Here are some key takeaways to help you create a great resume for this position.
Tailor your resume to the job. Make sure your resume highlights the skills you have that are relevant to the job and the company. Showcase the value you can bring to the role.
Highlight your experience. Showcase any experience you have in managing commodities, such as negotiating prices, managing inventory, and dealing with suppliers.
Show off your knowledge. Your resume should demonstrate your knowledge of the industry, such as trends, regulations, and market conditions.
Provide evidence of success. Use metrics and data to show your success in managing commodities.
Demonstrate your communication skills. Show that you have strong communication skills, both written and verbal, to effectively negotiate with suppliers and present data to senior management.
Show your leadership skills. Show that you have the leadership skills to lead a team and drive results.
Include relevant keywords. Make sure to use the same keywords found in the job description, to ensure your resume is picked up by resume filters.
By following these key takeaways, you can create a strong Commodity Manager resume that will help you stand out from the competition.
Let us help you build
your Resume!
Make your resume more organized and attractive with our Resume Builder