Writing a resume as a commodity broker can be a challenge. It's important to highlight your skills and experience in the field, as well as your knowledge of the markets and commodities. It's also important to showcase yourself as a great candidate for the job. This guide will help you create a strong, compelling resume that will make you stand out from other applicants. We'll provide resume writing tips, as well as examples to help you create the perfect resume.
If you didn't find what you were looking for, be sure to check out our complete library of resume examples.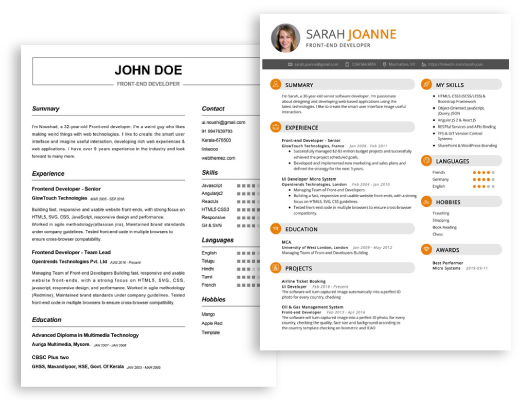 Start building your dream career today!
Create your professional resume in just 5 minutes with our easy-to-use resume builder!
Commodity Broker Resume Examples
John Doe
Commodity Broker
123 Main Street | Anytown, USA 99999 | Phone: (123) 456-7890 | Email: john.doe@email.com
I am an experienced Commodity Broker with five years of experience in the commodities industry. I have a proven track record of success in trading commodities and negotiating contracts to obtain the best possible outcome for my clients. I have strong analytical skills, a keen eye for trends, and a deep understanding of the global market. I am driven to achieve success and strive to remain up- to- date on market trends and regulations. My experience also includes developing strong relationships with suppliers, managing customer requirements, and forecasting market changes.
Core Skills:
Extensive knowledge of commodities markets
Strong negotiation and problem- solving skills
Proficiency in commodity analysis and market research
Excellent communication and customer service skills
Proficient in MS Office and CRM software
Professional Experience:
Commodity Broker, ABC Trading Company, Houston, TX (2016- 2021)
Negotiate contracts, manage customer requirements, and trade commodities to maximize profits
Analyze market trends and forecast future changes
Create and manage customer relationships
Develop and implement strategies to maximize sales
Monitor market updates and regulations to remain up- to- date
Education:
Bachelor of Science in Economics, University of Houston, Houston, TX (2016)
Commodity Broker Resume with No Experience
Organized, ambitious and detail- oriented individual with a passion for commodity trading, seeking to leverage skills gained from completing a finance degree to become a Commodity Broker.
Skills:
Comprehensive understanding of the commodities market
Strong quantitative and analytical skills
Excellent interpersonal and communication skills
Ability to multi- task and work under pressure
Familiarity with trading strategies and financial analysis tools
Ability to research and evaluate market conditions
Proficiency in Microsoft Office
Responsibilities:
Research and analyze the commodities market and identify potential investment opportunities
Execute trades on behalf of clients
Monitor and adjust existing positions in order to maximize profits
Assist clients in making informed decisions regarding their investments
Manage client relationships and provide market advice
Prepare and submit reports on market conditions and trading activity
Commodity Broker Resume with 2 Years of Experience
A highly organized and detail- oriented Commodity Broker with two years of experience in the industry. Expertise in research, analysis and negotiation to secure the best trade opportunities for clients. Proven track record of successful sales and trading strategies while developing relationships with clients. Excellent communication, problem- solving and analytical skills.
Core Skills:
Brokerage Management
Risk Management
Financial Analysis
Market Research
Negotiation
Sales
Account Management
Strategy Development
Process Improvement
Responsibilities:
Managed the daily operations of the brokerage, providing technical guidance and oversight.
Performed in- depth analyses of market data and trends.
Negotiated trade agreements between clients and trading partners.
Developed and implemented effective sales and trading strategies.
Maintained relationships with existing and prospective clients.
Created and monitored financial models to assess risk.
Translated complex financial data into easy to understand information.
Established risk management protocols and procedures.
Analyzed economic and political developments to identify potential trading opportunities.
Commodity Broker Resume with 5 Years of Experience
Seasoned and highly motivated Commodity Broker with 5 years of experience and a proven track record of success. Skilled in the evaluation and purchase of commodities, risk analysis, market forecasting, and the use of complex trading techniques. Adept at building and maintaining relationships with clients, trading partners, and other industry experts. Detail- oriented, organized and highly knowledgeable in the commodities markets.
Core Skills:
Commodities Trading
Risk Analysis
Market Forecasting
Client Relations
Trading Strategies
Negotiation
Market Research
Financial Analysis
Compliance
Portfolio Management
Responsibilities:
Negotiated and executed trades on behalf of clients
Monitored commodity and futures markets and identified profitable opportunities
Advised clients on trading and portfolio management
Developed relationships with clients and examined their financial objectives
Assessed risk levels of client portfolios
Evaluated market trends and prepared forecasts
Researched potential opportunities and provided sound advice
Ensured all transactions complied with relevant regulations and laws
Maintained client portfolios and managed positions for short and long term strategies
Commodity Broker Resume with 7 Years of Experience
Motivated and well- organized Commodity Broker with 7 years of experience in providing expert advice to buyers and sellers in the commodities market. Adept at conducting research, analyzing market data, cultivating relationships with new and existing clients, and negotiating prices. Committed to helping clients reach their desired financial goals while providing outstanding customer service.
Core Skills:
Market Research
Data Analysis
Client Relationship Management
Contract Negotiation
Customer Service
Account Management
Commodities Trading
Responsibilities:
Analyzed market data to identify the best opportunities for clients to buy and sell commodities
Provided expert advice to buyers and sellers on the current commodities market
Negotiated prices and terms of contracts between clients
Developed relationships with existing and potential clients to generate new business
Client account management, ensuring they were kept up to date on market conditions
Managed customer service inquiries and ensured clients were satisfied with services
Performed risk management and compliance work to ensure portfolio risk was managed in accordance with company regulations
Commodity Broker Resume with 10 Years of Experience
An experienced Commodity Broker with 10 years of experience in the industry. Possessing a track record of success in the commodities trading and able to manage multiple tasks and clients. Skilled in the areas of market analysis, risk management and client relations. Proven ability to develop successful trading strategies and identify profitable opportunities.
Core Skills:
Market Analysis
Risk Management
Client Relations
Trading Strategies
Profitable Opportunities
Regulatory Compliance
Trading Platforms
Portfolio Management
Risk Analysis
Analytical Thinking
Responsibilities:
Analyze market trends, identify profitable investment opportunities and create trading plans
Educate clients on market conditions and explain the risks associated with trading commodities
Analyze data, conduct research, and make informed decisions regarding buying and selling commodities
Develop risk management strategies for clients to minimize their exposure to the volatile commodity markets
Maintain client relations, ensure customer satisfaction and address any complaints or issues
Ensure compliance with regulatory standards and guidelines
Implement and monitor trading strategies using trading platforms
Oversee portfolio management and provide regular updates on performance and progress
Perform risk analysis and provide recommendations on investments to clientele
Commodity Broker Resume with 15 Years of Experience
A knowledgeable and experienced Commodity Broker with 15 years of experience, providing expert insights in the commodities market and delivering high returns on investments. Innovative, flexible and self- motivated, with a proven track record of finding profitable investment opportunities for clients. Adept in providing sound, independent recommendations for commodities investments, working closely with clients to identify their investment objectives and developing strategies to meet them.
Core Skills:
Comprehensive knowledge of the commodities market
Strong negotiation and persuasion skills
Excellent communication and presentation skills
Proven ability to identify and assess investment opportunities
Proficient in financial analysis and forecasting
Ability to manage multiple clients and portfolios
Knowledge of financial management principles
Ability to develop long- term relationships with clients
Responsibilities:
Identify potential investments and analyze their financial performance
Develop strategies to achieve clients' investment objectives
Negotiate prices and terms of transactions on behalf of clients
Ensure compliance with all applicable laws and regulations
Monitor market trends to identify investment opportunities
Develop relationships with brokers, traders, and other professionals
Maintain up- to- date records of client transactions
Provide clients with advice and guidance regarding market trends and investment opportunities
Stay abreast of changes and developments in the commodities market
In addition to this, be sure to check out our resume templates, resume formats, cover letter examples, job description, and career advice pages for more helpful tips and advice.
What should be included in a Commodity Broker resume?
Writing a resume for a commodity broker position is different from other types of resumes as its content must focus on the specific set of skills required of a successful broker. When creating your resume, it's important to make sure that you're including the most pertinent information that showcases your qualifications to potential employers.
Below is a list of essential items to include in your resume when applying for a job as a commodity broker:
Experience: Include any experience in the financial industry, such as trading, market research, or investments. Detail your roles and responsibilities at each job.
Education: List any relevant degrees and certifications that qualify you for the job. If you don't have an educational background in finance, include courses that relate to the field.
Knowledge of Commodity Markets: Demonstrate your knowledge of the various commodity markets and the regulations and legal requirements that must be followed when trading in these markets.
Analytical Skills: Highlight your ability to analyze market trends and make informed decisions based on data.
Trade Execution: Describe your experience in executing trades in a timely and accurate manner.
Risk Management: Explain how you are able to identify and manage risk.
Communication Skills: Showcase your ability to effectively communicate with clients and business partners.
By providing information on your experience and qualifications, a well-written Commodity Broker resume can help you to stand out from the competition and land the job of your dreams.
What is a good summary for a Commodity Broker resume?
A good Commodity Broker resume summary should showcase a candidate's knowledge and experience in the commodity trading industry. It should highlight the candidate's expertise in working with a variety of commodities, as well as their ability to develop and maintain strong relationships with clients. The summary should also emphasize the candidate's strong analytical, quantitative, and problem-solving skills that are essential to finding the best opportunities in the commodity market. Finally, the summary should demonstrate the candidate's commitment to staying up-to-date with the latest trends and developments in the industry, as well as their dedication to providing superior customer service. A strong summary will help a Commodity Broker stand out in a competitive job market.
What is a good objective for a Commodity Broker resume?
A commodity broker resume should provide a clear and concise account of a job seeker's professional qualifications and experience. An effective resume objective should reflect the candidate's unique skill set and accomplishments, as well as their commitment to the profession and their ability to succeed within it.
A good objective for a commodity broker resume should include the following:
Demonstrate expertise in commodities trading, including experience in developing and executing trading strategies
Utilize strong organizational skills and the ability to manage multiple projects simultaneously
Possess a comprehensive understanding of commodities markets and regulations
Ability to accurately evaluate market trends and make sound decisions
Use excellent communication and interpersonal skills to develop relationships with clients
Maintain a proactive approach to trading and risk management
Remain up-to-date with the latest industry news and trends
How do you list Commodity Broker skills on a resume?
When writing a resume, it is important to accurately list your skills and qualifications. For those working as a Commodity Broker, there are a specific set of skills that are necessary in order to effectively broker commodities. Here is a list of skills that should be included in a Commodity Broker resume:
Knowledge of commodities markets and trading: A Commodity Broker must have a thorough understanding of the commodities markets and the trading process, including knowledge of commodities prices, trends, and regulations.
Financial analysis skills: A Commodity Broker must have the ability to analyze financial statements, research economic data, and evaluate market conditions in order to make informed decisions about which commodities to buy and sell.
Strong negotiation skills: A Commodity Broker must be able to negotiate the best prices for their clients. They must be knowledgeable about the process of buying and selling commodities and be able to identify potential opportunities and risks.
Risk management skills: A Commodity Broker must be able to manage risks associated with commodities trading, such as volatility and market manipulation. They must be able to assess the potential risk and rewards of any given situation and decide whether or not to proceed with a particular trade.
Excellent communication skills: A Commodity Broker must be able to effectively communicate with their clients and other brokers in order to discuss potential trades and reach agreements. They must be able to articulate their ideas and explain complex concepts in a clear and concise manner.
By including these skills and qualifications on your resume, you can demonstrate to potential employers that you have the knowledge, skills, and experience necessary for a successful career in commodities trading.
What skills should I put on my resume for Commodity Broker?
A commodity broker is a professional who trades commodities like oil, metals, and agricultural products in order to help buyers and sellers find the best prices. If you are looking to become a commodity broker, then there are several skills you should highlight on your resume.
Analytical Thinking: Analyzing economic and market trends is a key part of a commodity broker's job. You should be able to break down complex data sets, identify patterns, and come up with strategies to maximize returns.
Negotiation Skills: As a commodity broker, you will be working with clients and helping them to negotiate the best prices for their commodities. You need to be able to negotiate effectively and get the best deal for your clients.
Market Knowledge: You should be familiar with the commodities markets, including the different types of commodities, trading practices, and the price trends of each commodity.
Risk Management: A commodity broker needs to be able to assess and manage risks in order to protect the interests of their clients. You should understand the different types of financial risks and how to manage them.
Communication Skills: A broker needs to be able to communicate with clients, colleagues, and other stakeholders in order to exchange information. You should have excellent verbal and written communication skills.
Interpersonal Skills: As a commodity broker, you will be dealing with a wide range of people from different backgrounds. You should have strong interpersonal skills, such as the ability to build relationships, resolve conflict, and work collaboratively.
Key takeaways for an Commodity Broker resume
When crafting a resume for a commodity broker role, there are certain elements that should be included to ensure your resume stands out and lands you the job.
First and foremost, highlight your experience and qualifications in the field of commodities. Emphasize any relevant knowledge and skills you possess, such as understanding of commodities markets, trading strategies, and risk management practices. If you have experience working with futures, options, and foreign exchange, be sure to mention this as well. Additionally, highlight any certifications or licenses you may have, such as a Series 3 or 7 license.
It is also important to emphasize your ability to provide exceptional customer service. Commodity brokers must be able to develop long-term relationships with clients, so be sure to include any experience you have in this area.
Furthermore, mention any relevant technical skills you possess, such as proficiency with financial modeling, analysis software, and trading platforms.
Finally, make sure to demonstrate your ability to think strategically and make informed decisions in volatile markets. Talk about any strategies you've employed in past positions and how they've resulted in successful outcomes.
By emphasizing the above-mentioned key takeaways, you'll be sure to give yourself the best chance at landing the job of your dreams.
Let us help you build
your Resume!
Make your resume more organized and attractive with our Resume Builder