Writing a resume as a Commodity Analyst can be a daunting task. After all, you are applying for a competitive position that requires a certain level of expertise and experience. However, with the right approach and the right resources, you can craft an effective and impressive resume that highlights your key strengths and qualifications. This guide will provide tips and examples to help you create a polished Commodity Analyst resume. We will cover the necessary components to include, how to structure the document, and offer tips for optimizing the content. By the end of the guide, you will have the knowledge to write a successful and attractive resume for your next job search.
If you didn't find what you were looking for, be sure to check out our complete library of resume examples.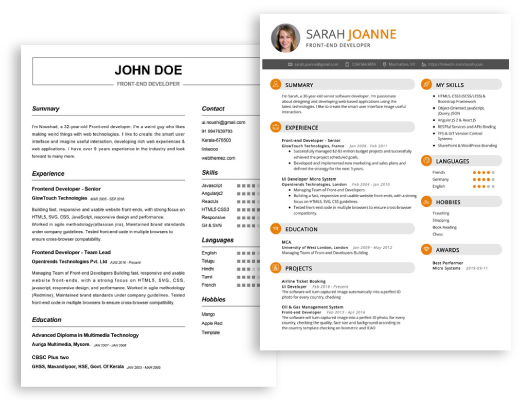 Start building your dream career today!
Create your professional resume in just 5 minutes with our easy-to-use resume builder!
Commodity Analyst Resume Examples
John Doe
Commodity Analyst
123 Main Street | Anytown, USA 99999 | Phone: (123) 456-7890 | Email: john.doe@email.com
I am an experienced Commodity Analyst with extensive experience developing and executing hedging strategies, conducting market research, and risk management. I possess a keen eye for detail and a thorough understanding of market economics and financial analysis. My expertise lies in fundamental analysis, technical analysis, and industry development. I have a proven track record of success in forecasting commodities and creating efficient hedging strategies to capitalize on market trends and potential opportunities.
Core Skills:
Fundamental and Technical Analysis
Risk Management
Hedge Strategies
Market Research
Commodity Trading
Market Economics
Financial Analysis
Industry Development
Forecasting
Advanced Excel and Data Analysis
Professional Experience:
Commodity Analyst, ABC Corporation, 2012 – Present
Developed and implemented hedging strategies to capitalize on market trends and potential opportunities
Conducted market research to identify future trends and create forecasts for commodities
Monitored commodities and conducted financial analysis for the development of risk management strategies
Participated in various industry developments and initiatives, including regulatory changes
Education:
Masters in Business Administration, University of XYZ, 2018
Bachelor of Arts in Economics, University of ABC, 2012
Commodity Analyst Resume with No Experience
Resourceful graduate in economics seeking an entry- level role as a Commodity Analyst. Demonstrated the ability to identify market trends and develop appropriate strategies to control costs and optimize purchasing. Possess excellent analytical and communication skills, an inquisitive mind, and an enthusiasm for working in a fast- paced environment.
Skills
Excellent analytical and quantitative skills
Strong problem- solving ability
Knowledge of economic principles
Proficient in Microsoft Office (Word, Excel, PowerPoint)
Ability to research and interpret market trends
Excellent communication and interpersonal skills
Responsibilities
Identifying market trends and researching potential commodities
Analyzing historical and current market data
Developing strategies for cost control and optimizing purchasing
Negotiating with suppliers to ensure the best price
Creating and maintaining reports and tracking changes in prices and trends
Monitoring the performance of commodities and making recommendations for improvement
Commodity Analyst Resume with 2 Years of Experience
Highly analytical Commodity Analyst with 2 years of experience in conducting evaluations of market conditions, researching commodities and providing guidance on commodity- related financial decisions. An outstanding communicator with excellent problem- solving and decision- making skills. Skilled in analyzing commodities, using technical data and identifying market trends.
Core Skills:
Research and analysis of commodity markets
Technical data analysis
Decision- making and problem- solving
Market forecasting
Excellent communication and interpersonal skills
Ability to interpret financial statements
Understanding of economic principles
Responsibilities:
Analyze commodities on a daily basis and monitor industry trends
Develop strategies to help mitigate risks associated with commodities
Prepare and present reports to senior management on industry trends and market conditions
Track and monitor commodities to identify potential trading opportunities
Negotiate agreements with suppliers and vendors
Develop pricing strategies for commodities
Develop and maintain relationships with key stakeholders and vendors in the industry
Commodity Analyst Resume with 5 Years of Experience
A reliable and knowledgeable Commodity Analyst with 5 years of experience in formulating and executing trading strategies to maximize profitability and mitigate risk. Experienced in researching and analyzing market trends and devising commodity trading plans. Proven success in identifying and capitalizing market opportunities, while utilizing excellent problem- solving and customer service skills.
Core Skills:
In- depth knowledge of trading strategies, market trends, and the commodities industry
Strong research, analytical, and problem solving skills
Ability to interpret data and identify market opportunities
Excellent customer service and communication skills
Proficient in Microsoft Office Suite, Bloomberg Terminal, and various trading systems
Responsibilities:
Developed trading strategies for a variety of commodities, including energy, agricultural, and metals
Researched and analyzed economic and market trends to identify areas of opportunity
Analyzed and evaluated price movements to determine the best execution of trading strategies
Monitored the performance of commodities and adjusted trading strategies accordingly
Provided customer service support to internal stakeholders and external clients
Maintained an up- to- date record of all trades in Bloomberg Terminal and other trading systems
Commodity Analyst Resume with 7 Years of Experience
A 7- year experienced Commodity Analyst with strong analytical, problem- solving and communication skills. Demonstrated ability to develop and optimize data- driven solutions for risk management and trading strategy. Adept at interpreting a wide range of economic and financial data, market indicators and financial models. Proven ability to develop and implement innovative strategies for the successful management of commodity portfolios.
Core Skills:
Portfolio Management
Market Analysis
Data Analysis
Risk Management
Financial Modeling
Strategic Planning
Decision- Making
Negotiation
Responsibilities:
Analyzed commodity markets to identify trends and opportunities for investments
Developed and implemented strategies and plans for managing commodity portfolios
Provided market analysis reports to senior management and clients
Monitored and evaluated markets to identify potential trading opportunities
Analyzed financial data and financial models to develop risk management assessments
Developed and maintained relationships with key stakeholders by providing market intelligence
Negotiated contracts with suppliers to optimize cost and pricing objectives
Coordinated with external vendors for the successful execution of commodity trades
Provided timely and accurate data- driven insights for the successful execution of trading strategies
Commodity Analyst Resume with 10 Years of Experience
A highly experienced Commodity Analyst with 10+ years' experience in commodities trading and analysis. Skilled in utilizing a variety of financial tools and software to assess market trends, evaluate portfolio performance, and develop strategies for investments. Proven ability to analyze pricing trends, identify potential investments, and develop data- driven strategies for clients.
Core Skills:
Portfolio analysis
Market trend forecasting
Risk management
Financial modeling
Investment planning
Financial software proficiency
Data analysis
Written and verbal communication
Responsibilities:
Analyzing commodities markets and helping develop trading strategies
Implementing hedging strategies to manage risks
Identifying and evaluating potential investments
Developing financial models to project portfolio performance
Utilizing financial software to track trends and performance
Creating reports and presenting investment recommendations to clients
Keeping up with developments and trends in the commodities markets
Commodity Analyst Resume with 15 Years of Experience
Seasoned Commodity Analyst with 15 years of experience in supply chain management and helping optimize businesses' commodity strategies. Well- versed in supply- demand forecasting, marketing analysis, trends, and price forecasting. Skilled in building and managing relationships with vendors, managing multiple projects, and creating innovative solutions to challenging problems. Dedicated to staying up- to- date with industry knowledge, trends, and technology.
Core Skills:
Supply Chain Management
Supply- Demand Forecasting
Market Analysis
Price Forecasting
Vendor Management
Project Management
Problem Solving
Responsibilities:
Analyzing supply and demand trends to create effective commodity strategies
Developing and managing relationships with vendors
Negotiating contracts and costs to ensure maximum efficiency
Working with management to develop effective pricing models
Assessing production and manufacturing processes to ensure cost- effectiveness
Developing strategies for minimizing risk and increasing profitability
Analyzing industry trends and forecasting prices for commodities
Preparing reports on market trends, pricing, and forecasts for management
In addition to this, be sure to check out our resume templates, resume formats, cover letter examples, job description, and career advice pages for more helpful tips and advice.
What should be included in a Commodity Analyst resume?
A commodity analyst resume should include several key elements in order to demonstrate the right qualifications for the position. Below is a list of what should be included in a commodity analyst resume:
Relevant experience: Include any experience related to commodities, such as buying and selling, market analysis, or forecasting prices.
Education: Include any college or university degrees that are relevant to the job.
Computer skills: Demonstrate any software or programming experience that could be helpful for the job.
Professional accomplishments: List any awards or achievements that are relevant to the job.
Analytical ability: Showcase any analytical skills that you have, such as problem solving or data analysis.
Communication skills: Demonstrate any writing and verbal communication skills that you have.
Interpersonal skills: Showcase any interpersonal skills that you have, such as teamwork or customer service.
Technical skills: Demonstrate any technical skills that you have, such as Excel or Bloomberg.
By including all of these elements in a commodity analyst resume, you will be able to create a resume that will be appealing to potential employers and help you stand out from the competition.
What is a good summary for a Commodity Analyst resume?
A Commodity Analyst resume should provide an overview of the professional's experience and expertise in the commodities and financial markets. The summary should include a brief overview of the individual's experience in the industry, such as any prior positions held in the commodity industry, and any technical or financial knowledge they may have. The summary should also highlight key skills and expertise the Commodity Analyst has that make them an ideal candidate for the position. These may include an understanding of financial markets, an interest in the commodities industry, and an ability to analyze data and provide predictive models. Finally, the summary should include a brief overview of the individual's educational background and any certifications or professional qualifications they may have.
What is a good objective for a Commodity Analyst resume?
A Commodity Analyst resume should demonstrate the skill set of an individual who is highly knowledgeable in the field of commodities. The objective should be crafted to reflect the candidate's ability to carry out complex analysis, create and maintain financial models, and interpret data in order to make sound decisions.
A good objective for a Commodity Analyst resume should be concise yet direct, highlighting the most important skills and qualifications. Here are some examples of objectives for a Commodity Analyst resume:
To utilize my knowledge and expertise in commodities to analyze and evaluate market data, identify potential opportunities, and accurately interpret market trends.
Seeking a position as a Commodity Analyst to leverage my experience in creating and maintaining financial models, constructing complex spreadsheets, and developing accurate forecasts.
Experienced Commodity Analyst with expertise in forecasting, modeling, and interpreting market data. Aiming to use my qualifications to drive sound investments and ensure profitability.
Committed professional with experience in commodities and a deep understanding of market trends and analysis. Seeking a Commodity Analyst role to leverage my analytical skills and contribute to positive business results.
Having an effective objective is a key component of a strong Commodity Analyst resume. Crafting the right objective can help differentiate a candidate from others and make them stand out in an increasingly competitive job market.
How do you list Commodity Analyst skills on a resume?
When crafting a resume as a Commodity Analyst, it is important to emphasize the skills and experience you possess that make you an ideal candidate for the job. Here are some example skills and experience that you might want to list on your Commodity Analyst resume:
Experienced in gathering and analyzing data related to commodity markets, such as pricing and supply chain information
Proficient in using various software and analytics tools to evaluate market trends and draw meaningful insights
Well-versed in understanding the nuances of different commodity markets as well as market drivers and trends
Skilled in developing long-term strategies for effectively managing commodity risk and optimizing returns
Demonstrated ability to effectively communicate ideas and strategies to stakeholders
Adept at working under pressure in fast-paced environments while managing multiple projects
Prepared presentations, reports, and forecasts on commodities markets and regional supply/demand trends
What skills should I put on my resume for Commodity Analyst?
When applying for a Commodity Analyst role, it's important to highlight your skills in your resume. Here are some essential skills that you should consider including:
Data Analysis: Commodity Analysts need to be able to analyze large amounts of data in order to identify trends and make predictions. Being able to work with complex datasets and interpret the data is critical to success in this role.
Market Analysis: It's important for Commodity Analysts to have a thorough understanding of the global markets and be able to identify risks and opportunities in different commodities.
Communication: The ability to effectively communicate your analysis and findings to other stakeholders is a must-have skill. Being able to explain complex concepts in an easy to understand manner is important in this role.
Risk Management: Spotting potential risks and developing strategies to mitigate them is a key part of a Commodity Analyst's job. Being able to identify, evaluate and manage risks is essential for this role.
Financial Modeling: Developing financial models to assess the performance of different investments is an important part of a Commodity Analyst's job. Being able to create accurate models and analyze the results is critical for success in this role.
Problem-Solving: Being able to identify and solve complex problems is also a key skill for Commodity Analysts. Being able to think critically and come up with creative solutions is a must-have for this role.
By including these skills on your resume, you will be able to demonstrate that you have the necessary experience and expertise to be successful in a Commodity Analyst role.
Key takeaways for an Commodity Analyst resume
As a commodity analyst, it is essential to have a resume that stands out from the crowd and showcases the skills, experience, and knowledge you can bring to the position. Here are some key takeaways to ensure you create a winning resume that will impress potential employers.
Focus on Relevant Skills and Experience: When crafting your resume, be sure to include your relevant experience and skills with commodities. Highlight any experience you have in research, financial analysis, and data analysis. Also, specify any software you are proficient in, such as Excel or Bloomberg.
Demonstrate Your Knowledge: Employers want to know that you have a solid understanding of the commodities market. Make sure to include any relevant coursework or certifications you have received in the field. If possible, include examples of research and analysis that you have done in the past.
Showcase Your Communication Skills: As a commodity analyst, you need to be able to communicate effectively with both internal and external stakeholders. Make sure to highlight any communication skills you have, such as being able to explain complex concepts to non-experts or being able to negotiate with suppliers.
Include Your Interests: Show employers that you are more than just a commodity analyst. Consider including a "Hobbies and Interests" section on your resume, where you can highlight any other interests you have outside of the job.
By following these key takeaways, you can create a successful resume that will stand out from the competition and get you the job you want. Good luck!
Let us help you build
your Resume!
Make your resume more organized and attractive with our Resume Builder