When it comes to looking for a new job, you need to have a great resume to get an interview. As a Purchasing Administrator, you have the experience and knowledge to make a big impact on any organization, but you need to make sure your resume stands out from the rest. This guide provides tips and examples to help you write a powerful Purchasing Administrator resume that will showcase your skills and accomplishments and help you get the job you want.
If you didn't find what you were looking for, be sure to check out our complete library of resume examples.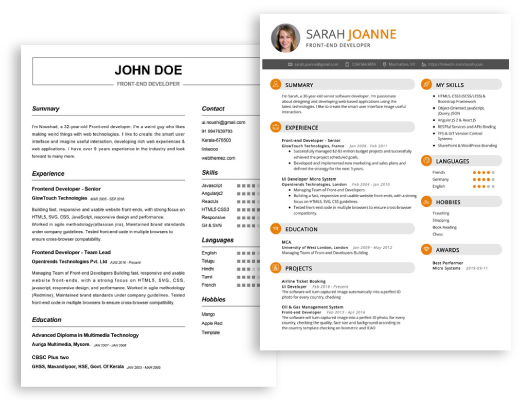 Start building your dream career today!
Create your professional resume in just 5 minutes with our easy-to-use resume builder!
Purchasing Administrator Resume Examples
John Doe
Purchasing Administrator
123 Main Street | Anytown, USA 99999 | Phone: (123) 456-7890 | Email: john.doe@email.com
I am an experienced Purchasing Administrator with an extensive background in managing supplier relationships, evaluating purchase requests, monitoring inventory levels, and overseeing purchasing strategies. Highly organized and detail- oriented, I am knowledgeable in all aspects of the purchasing process and have a successful track record of streamlining workloads. With strong communication skills, I am confident in my ability to build and maintain relationships with vendors, stakeholders, and staff members alike.
Core Skills:
Vendor Relationship Management
Purchasing Strategies
Supplier Negotiations
Inventory Management
Purchase Order Tracking
Cost Analysis
Supply Chain Management
ERP Knowledge
Professional Experience:
Purchasing Administrator, ABC Company (2019 – Present)
Developed, implemented, and managed all purchasing activities for the organization.
Evaluate supplier contracts, negotiate prices, and ensure cost- effective deals.
Maintain supplier database, track stock, and monitor inventory levels.
Directed the overall purchasing strategy and processes in line with organizational objectives.
Collaborate with other departments to identify needs and reduce cost.
Purchasing Clerk, XYZ Company (2015 – 2019)
Assisted the purchasing manager with monitoring inventory levels and stock availability.
Updated and maintained the database with inventory levels and costs.
Processed purchase orders, tracked delivery schedules, and ensured accurate invoicing.
Handled supplier negotiations, maintained vendor relationships and approved requisitions.
Performed cost analysis and created reports for management review.
Education:
Bachelor of Science in Business Administration, University of Texas (2011 – 2015)
Certified Purchasing Manager, Institute of Supply Management (2015)
Purchasing Administrator Resume with No Experience
Recent graduate with excellent organizational and research skills looking to begin a career in Purchasing Administration. A motivated and detail- oriented individual who has excellent communication and problem- solving skills.
Skills
Strong research skills
Effective communication and problem- solving abilities
Excellent organizational skills
Ability to manage multiple tasks and prioritize workload
Proficient in Microsoft Office, including Word, Excel and PowerPoint
Knowledgeable in data entry and database management
Responsibilities
Assist with the development of purchasing policies and procedures
Research potential vendors and compare prices, quality and delivery
Monitor supplier performance and negotiate prices
Maintain accurate records of all purchases and related documents
Develop strategies to reduce costs and maximize value
Manage inventory levels and ensure timely delivery of materials
Assist with the preparation of purchase orders and invoices
Ensure prompt payment of invoices and follow- up on any discrepancies
Liaise with vendors and other departments to resolve any issues.
Purchasing Administrator Resume with 2 Years of Experience
Purchasing Administrator with 2 years of experience in the retail industry, looking to bring my expertise to a new team by providing excellent customer service and cost- effective purchasing management. Proficient in working with a variety of computer software and possess strong organizational and communication skills.
Core Skills:
Proven ability to organize and manage purchasing records
Strong knowledge of supplier management and cost comparison
Excellent verbal and written communication
Proficient in Microsoft Office
Able to handle multiple tasks simultaneously
Responsibilities:
Liaised with suppliers and negotiated contracts to ensure best prices
Reviewed inventory levels and placed orders accordingly to meet customer demand
Processed invoices and reviewed orders to ensure accuracy
Provided customer service, answered inquiries and resolved any issues
Maintained up- to- date purchasing records and prepared necessary reports
Purchasing Administrator Resume with 5 Years of Experience
Purchasing Administrator with 5 years of experience in supply chain management, inventory control, and procurement. Skilled in managing and forecasting inventory needs, negotiating with vendors, and supplier management. Efficiently manage the entire purchasing process from order entry to delivery. Proven ability to troubleshoot, identify and resolve problems. Adept at developing and implementing effective procurement strategies to reduce costs, improve inventory control, and meet customer demand.
Core Skills:
Supply chain and inventory management
Negotiation and vendor management
Procurement strategies and process development
Inventory forecasting and ordering
Data entry and administrative support
Problem- solving and decision- making
Microsoft Office Suite
Responsibilities:
Develop and manage purchasing policies and procedures
Identify, analyze and evaluate suppliers and vendors to ensure best pricing and quality of goods
Evaluate current inventory levels and forecast future demand to ensure inventory is available when needed
Review and negotiate contractual agreements with suppliers and vendors
Identify cost- saving opportunities while maintaining service levels
Analyze and manage supplier performance to ensure terms and standards are met
Maintain vendor databases and files to ensure accuracy
Monitor all purchasing activities and ensure compliance with company policies and procedures
Ensure accuracy of purchase orders and invoices
Prepare and track purchase order requests and supplier invoices
Resolve discrepancies between invoices and purchase orders
Assist with contract and bid preparation and management
Provide administrative support to the purchasing team
Purchasing Administrator Resume with 7 Years of Experience
highly- organized and dependable Purchasing Administrator with 7 years of experience in coordinating, monitoring, and evaluating purchasing activities. Possess excellent communication and negotiation skills with the ability to ensure compliance with established procedures and policies. An analytical problem- solver with a commitment to accuracy and a dedication to continually improving the purchasing process.
Core Skills:
Strategic Sourcing
Purchasing Management
Logistics Operations
Inventory Management
Data Analysis
Contract Negotiations
Vendor Relations
Responsibilities:
Developed and implemented purchasing strategies to meet company goals and objectives
Evaluated and analyzed market trends and prices of commodities to ensure cost- effectiveness
Developed purchase requisitions and monitored purchasing activities, ensuring compliance with established procedures
Negotiated contracts with suppliers to secure the most favorable terms, prices, and conditions
Collaborated with internal teams to develop and execute purchasing plans, forecasts, and budget
Monitored supplier's performance to identify opportunities to improve services and reduce costs
Maintained and updated inventory records and kept track of purchasing trends
Developed and maintained relationships with vendors to ensure timely communication and fulfillment of requirements
Purchasing Administrator Resume with 10 Years of Experience
Dynamic and motivated Purchasing Administrator with 10 years of experience in the purchasing and procurement sector. Proven track record of successfully managing multiple complex projects while meeting budget and timeline goals. Experienced in developing and maintaining strong relationships with suppliers and vendors while keeping accurate records and verifying financial transactions. Possesses exceptional communication, organizational, and time management skills.
Core Skills:
Knowledge of purchasing regulations and procedures
Strong organizational, time management, and communication skills
Proficient in Microsoft Office Suite
Excellent problem- solving, decision- making, and negotiation skills
Ability to meet tight deadlines and manage multiple projects
Analytical and attentive to detail
Responsibilities:
Analyzing market and delivery systems to source/purchase materials and products in the most cost- effective manner
Developing and maintaining relationships with suppliers and vendors
Assisting in negotiations for cost savings and improved terms with suppliers
Creating and submitting purchase orders to vendors
Inspection and verification of purchased goods
Ensuring timely delivery of purchased goods
Preparing, verifying, and reconciling invoices and purchase order documents
Resolving supplier disputes and discrepancies
Monitoring and analyzing purchasing trends to identify potential opportunities
Maintaining accurate records of purchases, tracking orders, and evaluating supplier performance.
Purchasing Administrator Resume with 15 Years of Experience
Purchasing Administrator with 15 years of experience in procurement and inventory management. Highly skilled in negotiating supplier contracts and ensuring efficient operations. Proven ability to reduce cost and maintain inventory levels. Proven record of implementing and streamlining administrative processes.
Core Skills:
Strategic Sourcing
Inventory Management
Cost Reductions
Negotiating Supplier Contracts
Supply Chain Optimization
Process Improvement
Logistics Planning
Vendor Relations
Budget Administration
P&L Responsibility
Risk Management
Responsibilities:
Developed and implemented strategies to minimize operational costs while maintaining operational standards.
Negotiated contracts with suppliers to meet operational requirements while minimizing cost.
Optimized purchasing processes to reduce lead times and ensure efficient operations.
Monitored inventory levels to ensure availability of materials.
Developed and maintained relationships with suppliers to ensure long- term partnerships.
Developed and managed budgets for procurement operations.
Implemented procedures for procurement and inventory management.
Analyzed risk associated with sourcing and purchasing decisions.
Resolved discrepancies in vendor invoices and purchase orders.
Coordinated and monitored logistics activities to ensure timely delivery.
In addition to this, be sure to check out our resume templates, resume formats, cover letter examples, job description, and career advice pages for more helpful tips and advice.
What should be included in a Purchasing Administrator resume?
The Purchasing Administrator position is a critical role in any organization, as it is responsible for the efficient and effective procurement of goods and services. A good Purchasing Administrator resume should include the following:
Professional Summary: A brief summary of your background, qualifications, and overall experience as a Purchasing Administrator.
Education: List all of your educational accomplishments, including degrees, certificates, and other certifications.
Experience: Detail your job history and list any relevant responsibilities that demonstrate your ability to purchase goods and services.
Skills: List any pertinent skills that you possess, such as knowledge of the purchasing process, budgeting, negotiation skills, and any other relevant skills.
Professional Memberships: List any professional organizations that you are a part of that demonstrate your commitment to the profession.
Awards and Achievements: List any awards or accomplishments that you have achieved in your role as a Purchasing Administrator.
References: List three references who can speak to your professional competency and experience in the field.
What is a good summary for a Purchasing Administrator resume?
A Purchasing Administrator resume should highlight an individual's ability to maintain accurate records, ensure that purchasing processes are running smoothly, and develop relationships with vendors and suppliers. The summary should showcase an individual's technical knowledge and experience, as well as their problem-solving, analytical, and organizational skills. The summary should also demonstrate the individual's ability to communicate effectively and efficiently. Additionally, the summary should include any relevant certifications that the individual may hold, as well as any relevant educational background in a relevant field. An individual should demonstrate their ability to use modern technology, such as spreadsheet and database software, to efficiently manage purchasing operations. Finally, an individual should showcase any experience with inventory management, budgeting, and cost management.
What is a good objective for a Purchasing Administrator resume?
A Purchasing Administrator is a professional responsible for overseeing the procurement of materials, goods, and services for an organization. As the Purchasing Administrator, you are responsible for researching potential vendors, negotiating contracts, and managing inventory levels. A good objective for a Purchasing Administrator resume should demonstrate your proficiency in these areas and your commitment to achieving the best value for the organization.
Here are some examples of a good objective for a Purchasing Administrator resume:
To use my knowledge of procurement processes and strategic sourcing techniques to secure the best possible materials and services for the organization.
To leverage my experience in contract negotiation and supplier relationship management to reduce costs and lead a successful procurement team.
To use my strong organizational and analytical skills to develop efficient purchasing plans that meet the organization's needs.
To utilize my knowledge of vendor selection, cost analysis, and inventory control to ensure that the organization's procurement goals are met.
To utilize my ability to negotiate contracts with suppliers in order to maximize savings and ensure the best value for the organization.
How do you list Purchasing Administrator skills on a resume?
Purchasing Administrators are responsible for ensuring that businesses are provided with the necessary supplies and materials for operations. It is important for those in this role to be organized, detail-oriented, and possess excellent communication and negotiation skills. To stand out from the competition, make sure to include the following Purchasing Administrator skills on your resume:
Knowledge of purchasing principles and practices: Being familiar with the fundamentals of supply chain management, sourcing, and cost reduction strategies is essential for Purchasing Administrators.
Negotiation skills: Negotiating favorable pricing and payment terms from suppliers is a key responsibility of a Purchasing Administrator.
Analytical and problem-solving skills: Most purchasing decisions require analyzing financial data to evaluate supply options and make the most cost-effective decisions.
Attention to detail: Purchasing Administrators must ensure that orders and payments are accurate and all required documentation is in order.
Time management: With multiple tasks and deadlines, Purchasing Administrators must be able to organize and prioritize their workload.
Interpersonal skills: Working with multiple stakeholders, Purchasing Administrators must be able to communicate effectively and build relationships with suppliers.
What skills should I put on my resume for Purchasing Administrator?
Writing a resume is difficult, but one of the most important aspects of the resume is the skills section. This section is where potential employers can quickly see your strengths and what makes you uniquely qualified for the position of Purchasing Administrator. Here are some of the top skills to include on a resume for a Purchasing Administrator role:
Analytical Thinking: As a Purchasing Administrator, you will need to be able to analyze data and make informed decisions about the best vendors, products, and prices for the organization. Make sure to highlight your analytical thinking skills on your resume.
Negotiation Skills: You will need to be able to negotiate with vendors and suppliers to get the best deals for the company. Make sure to emphasize your negotiation skills in your resume.
Communication Skills: As a Purchasing Administrator, you will need to be able to communicate effectively with vendors, suppliers, and other members of the organization. Make sure to highlight your communication skills on your resume.
Organizational Skills: You will need to be able to stay organized and manage multiple tasks at once. Make sure to emphasize your organizational skills in your resume.
Computer Skills: You will need to be proficient in using computers and software in order to manage and analyze data. Make sure to emphasize your computer skills on your resume.
Research Skills: You will need to be able to research vendors and products to ensure that the organization is getting the best deal. Make sure to highlight your research skills on your resume.
By including these skills on your resume, you can show potential employers that you have the necessary qualifications for the position of Purchasing Administrator. Good luck!
Key takeaways for an Purchasing Administrator resume
As purchasing administrators, it is important to understand the key qualifications and skills that make you an attractive candidate for potential employers. Here are some key takeaways for an effective purchasing administrator resume:
Proven Track Record of Success: Showcase your previous successes in procurement, such as cost savings, improved supplier relationships and successful business deals.
Financial Acumen: Provide evidence of your ability to manage budgets, analyze numbers and make cost-effective decisions.
Product Knowledge: Demonstrate your in-depth knowledge of the products you are responsible for purchasing, including their current market value, quality standards, and pricing trends.
Negotiation Skills: Highlight your ability to negotiate mutually beneficial deals with suppliers and vendors.
Communication Skills: Show your ability to communicate effectively with colleagues and vendors by highlighting any relevant presentations or written documents you have created.
Organizational Skills: Demonstrate your ability to manage complex processes and prioritize tasks.
Problem Solving Skills: Include any instances where you have had to solve complex procurement problems or develop innovative solutions.
By understanding and highlighting these key skills and qualifications, you can create an effective purchasing administrator resume that will stand out to potential employers.
Let us help you build
your Resume!
Make your resume more organized and attractive with our Resume Builder