Are you interested in becoming a volunteer nurse? Volunteering as a nurse can be an incredibly rewarding experience, not only for those individuals seeking to help others, but also for those looking to add a unique and valuable asset to their resume. However, it can be difficult to know how to best showcase your volunteer experience on your resume. To help, this blog post provides a comprehensive guide on how to write a volunteer nurse resume and includes resume examples for reference. You will learn the best practices for optimizing your volunteer nurse resume and discover examples of how other volunteer nurses have presented their volunteer experience.
If you didn't find what you were looking for, be sure to check out our complete library of resume examples.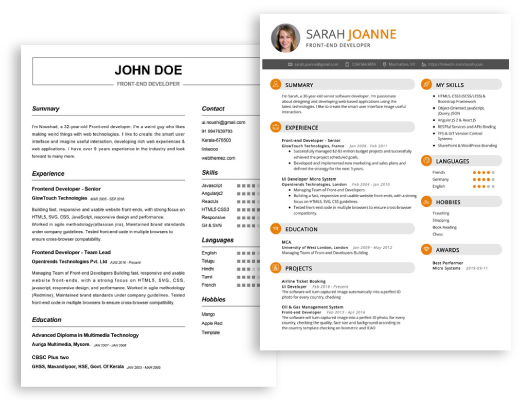 Start building your dream career today!
Create your professional resume in just 5 minutes with our easy-to-use resume builder!
Volunteer Nurse Resume Examples
John Doe
Volunteer Nurse
123 Main Street | Anytown, USA 99999 | Phone: (123) 456-7890 | Email: john.doe@email.com
A dedicated and organized professional with 5+ years of experience in healthcare and nursing, I have spent the last 3 years as a volunteer nurse at a local hospital. I have a passion for providing quality healthcare services to all individuals and a track record of establishing positive relationships with patients and families. My core skills include patient assessment, medication administration, patient education, and patient advocacy. I take great pride in my ability to provide compassionate care and am committed to providing the best care possible.
Core Skills:
Patient assessment
Medication administration
Patient education
Patient advocacy
Excellent communication skills
Organization and time management
Interpersonal skills
Professional Experience:
Volunteer Nurse, Local Hospital, 2018- Present
Administer medications and treatments
Monitor patients' vitals and progress
Provide patient education
Advocate for patient safety and provide quality healthcare services
Interact and communicate with patients and families
Maintain records of patient care
Education:
Bachelor of Science in Nursing, University of California, 2018
Associate of Science in Nursing, Community College, 2015
Registered Nurse Certification, 2015
Volunteer Nurse Resume with No Experience
Highly motivated individual with a passion for providing compassionate care to individuals in need.- Able to think on my feet and handle multiple tasks at once while staying patient, kind and professional.- Motivated to learn and grow from each new experience.
Skills
Excellent communication and interpersonal skills
Strong organizational skills
Ability to work independently and collaboratively
Commitment to providing quality patient care
Knowledge of medical terminology and procedures
Ability to handle stressful situations
Proficiency with computer and software applications
Responsibilities
Provide emotional support to patients and their families in a compassionate and caring manner.
Observe and document patient condition, treatments and responses.
Assist nurses with patient care activities such as changing bed linens, taking vital signs, and measuring height and weight.
Provide assistance in preparing, administering and documenting medications.
Perform clerical duties such as filing and document management.
Perform additional tasks as assigned by the nursing staff.
Volunteer Nurse Resume with 2 Years of Experience
Dedicated and passionate Volunteer Nurse with two years of experience in providing patient care services in a hospital setting. Thrives in a team environment and able to use initiative and professional judgement in challenging situations. Proven ability to provide evidence based care, reducing risk of errors and ensuring the highest standards of patient care. Committed to continuing professional development to ensure knowledge and skills are up to date.
Core Skills:
Excellent communication and interpersonal skills
Knowledge of patient care best practices
Ability to work in a team environment
Ability to stay calm under pressure
Proficient in Microsoft Office Suite
Responsibilities:
Providing patient care services in a hospital setting
Assisting with the nursing processes for patient assessment, planning, implementation and evaluation
Performing routine medical procedures and documenting patient care
Administering medications, treatments and other specialized care
Monitoring patient health, documenting changes and reporting to medical staff
Providing emotional and psychological support to patients and their families
Volunteer Nurse Resume with 5 Years of Experience
Highly motivated and experienced Volunteer Nurse with 5 years of experience in providing healthcare services to patients in need. Possess excellent interpersonal and communication skills, with a strong background in patient assessment, nursing treatments, and healthcare documentation. Able to work effectively in a team environment and take initiative to develop patient care plans. Committed to providing compassionate and effective care to patients with a variety of medical conditions.
Core Skills:
Excellent communication and interpersonal skills
Thorough knowledge of medical anatomy and physiology
Proficient with nursing treatments and procedures
Proficient in patient assessment and documentation
Strong organizational and problem- solving skills
Ability to work independently and as part of a team
Responsibilities:
Provide compassionate patient care within the healthcare setting
Perform patient assessments and document medical history
Provide nursing treatments such as wound care and administering medications
Educate patients and families on health maintenance, disease prevention, and treatments
Monitor patient progress and update care plans accordingly
Collaborate with other healthcare professionals to coordinate patient care
Volunteer Nurse Resume with 7 Years of Experience
Dedicated and patient- oriented Volunteer Nurse with 7+ years of experience in providing holistic nursing care in a range of healthcare settings. Proven ability to collaborate and coordinate with a multidisciplinary team of healthcare professionals to deliver quality and compassionate care. Skilled in administering medications, monitoring vital signs, and providing patient and family education. Experienced in coordinating with physicians and other healthcare professionals to facilitate efficient care delivery.
Core Skills:
Strong clinical and critical care skills
Ability to provide patient and family education
Knowledge of pharmacology principles
Excellent problem- solving and communication skills
Efficient multitasking abilities
Ability to work independently as well as in a team
Proficient in medical record keeping
Ability to maintain professionalism in challenging situations
Responsibilities:
Assessed patient's needs and responded appropriately to physical and emotional needs
Provided nursing care and treatments appropriate to the patient's condition
Monitored and recorded patient's vital signs and symptoms to identify any changes
Maintained accurate patient records and assisted in other administrative tasks
Provided patient and family education on medications, treatments, and lifestyle modifications
Assisted physicians in coordinating care and treatments, and administering medications
Provided patient support and comfort in all healthcare settings
Assisted in the development and implementation of nursing care plans
Performed basic medical procedures such as wound care, blood draws, and catheterizations
Ensured compliance with patient safety protocols and guidelines
Volunteer Nurse Resume with 10 Years of Experience
A highly dedicated and compassionate certified nurse with over 10 years of experience providing medical care to patients in a variety of volunteer settings. Skilled at administering treatments, anticipating patient needs, and managing medical emergencies. Possesses a Bachelor's degree in Nursing and is CPR certified. Has a successful track record of developing strong relationships and providing comfort to patients and their families in difficult times.
Core Skills:
Patient Care – Clinical Skills – Health Education
Medical Documentation – Treatment Administration – Crisis Management
Communication & Interpersonal Skills – Diagnostic Testing – Emergency Response
Responsibilities:
Provide specialized care to patients with chronic and acute conditions
Manage health monitoring activities such as vital signs, urine tests, blood draws, and other diagnostic tests
Educate patients on preventive care and health management
Develop and implement care plans in collaboration with other health professionals
Observe and document changes in the condition of patients
Administer medications, treatments, and therapies as prescribed by physicians
Assist with patient transfers and mobility exercises
Maintain patient records, filing and retrieving them as needed
Answer patient inquiries and communicate with them regarding their care
Conduct emergency response procedures when necessary
Volunteer Nurse Resume with 15 Years of Experience
Dynamic and highly motivated volunteer nurse with 15 years of experience in providing healthcare services to individuals and families. Proven ability to counsel, educate and provide support to patients in a range of settings. Highly skilled in medical procedures, first aid and CPR. Possesses strong interpersonal and communication skills and the ability to work with a diverse patient population.
Core Skills:
Exceptional clinical skills with the ability to provide direct patient care
Proven experience in assessing and monitoring patient conditions
Highly organized and efficient in a fast- paced environment
Knowledge of federal, state and local healthcare policies and regulations
Excellent ability to handle confidential information with discretion
Ability to work with a multi- disciplinary team
Proficient in the use of medical software and healthcare IT systems
Responsibilities:
Developed individualized plans of care to meet the unique needs of each patient
Assisted in administrative duties including documenting patient medical records, filing paperwork, and scheduling appointments
Advised patients on health and wellness, provided counseling on diet, exercise, and lifestyle
Monitored vital signs and other medical indicators and alerted physicians to any changes
Administered prescribed medications and treatments, monitored for adverse reactions and reported any changes to the healthcare team
Provided emotional support to patients and family members and supported them through the healing process
Maintained a safe and clean environment for patients and staff, adhering to safety protocols
Assisted physicians in diagnostic tests, treatments and medical procedures.
In addition to this, be sure to check out our resume templates, resume formats, cover letter examples, job description, and career advice pages for more helpful tips and advice.
What should be included in a Volunteer Nurse resume?
Volunteer nurses are in high demand and they provide invaluable services to their communities. Having a strong resume that highlights your volunteer work experience and skills is essential to getting hired. Here is what you should include in your volunteer nurse resume:
Education: List all relevant educational qualifications that pertain to nursing, such as diplomas, certificates, and degrees.
Experience: Include any volunteer nursing experience you have had. Specify the hospital, clinic, or other medical facility you volunteered at along with the dates of your service.
Professional Skills: List any professional skills you possess that are relevant to the job of a volunteer nurse. Examples include advanced life support, medical terminology, first aid, and CPR.
Personal Skills: Include any personal skills that would be beneficial for the job, such as excellent communication and problem-solving abilities.
Awards & Certifications: List any awards or certifications you have received that are related to nursing.
References: Include a list of references that can speak to your skills and experience as a volunteer nurse.
Having a resume that is tailored to the position of volunteer nurse will ensure that you stand out from the competition. It is important to highlight your experience and skills to potential employers to demonstrate your passion for helping others in the medical field.
What is a good summary for a Volunteer Nurse resume?
A Volunteer Nurse resume summary should provide an overview of your experience, education, and qualifications. It should also highlight any special skills or certifications that make you an attractive candidate for the position. The summary should demonstrate the value you have to offer the organization and showcase your ability to provide quality, compassionate care to those in need. Additionally, the summary should emphasize any achievements, awards, or other recognition that you have received. A strong Volunteer Nurse resume summary should paint a picture of an individual who is committed to providing quality care and has the experience and skills to do so.
What is a good objective for a Volunteer Nurse resume?
Volunteer Nurse resumes should focus on the skills and experience a candidate can bring to a volunteer position. A good objective for a Volunteer Nurse resume should highlight the qualities that make the candidate a strong fit for the role. Here are some example objectives:
To utilize my nursing experience and patient care skills to provide quality volunteer services to those in need.
Looking to apply my medical knowledge and compassionate care as a Volunteer Nurse to help those in need.
To use my medical training to improve the lives of others through volunteer nursing services.
To contribute my passion for nursing and compassion for patients in a volunteer nursing setting.
To use my knowledge and experience as a Nurse to make a positive impact on the lives of patients volunteering.
By emphasizing the qualities and experience the candidate can bring to the position, the objective should give a clear indication of why the candidate is the ideal fit for the role. The objective should be tailored to the specific volunteer position the candidate is applying for.
How do you list Volunteer Nurse skills on a resume?
Volunteer nurses play an essential role in providing healthcare services to underserved populations and can be an impressive addition to any nursing resume. If you are a volunteer nurse, listing your skills on your resume can help you stand out to potential employers.
When listing your volunteer nurse skills, focus on the areas of expertise and knowledge you have acquired from the various positions you have held. Be sure to include relevant information such as the organization you volunteered for and the duties you performed. Here are a few tips to help you list your volunteer nurse skills on your resume:
Include a dedicated section on your resume for volunteer experience.
Use a bullet point format to list your skills and accomplishments.
Highlight your volunteer work experience, and explain how it has helped you become a better nurse.
Describe the types of patients you had experience with and the services you provided.
Demonstrate your knowledge of medical terminology and patient care processes.
Showcase your ability to communicate effectively with patients, families, and medical staff.
Detail your experience with medical equipment, instruments, and procedures.
List any special certifications or awards you have earned related to volunteer nursing.
By listing your volunteer nurse skills on your resume, you can show potential employers how you are prepared to be an effective and compassionate nurse. With your volunteer experience, you will be able to showcase your ability to provide high-quality care and make a difference in the lives of those you serve.
What skills should I put on my resume for Volunteer Nurse?
Volunteer nurses play an integral role in providing needed medical services to underserved communities. When creating your resume, it's important to highlight the skills that make you an ideal candidate for a volunteer nursing position. Here are some skills you should consider including on your resume for a volunteer nurse position:
Medical Knowledge: Volunteer nurses should have a comprehensive knowledge of medical terminology, treatments, procedures and protocols.
Patient Care: Volunteer nurses should have experience in providing excellent patient care, including the ability to effectively communicate with patients, provide emotional support, assess vital signs and administer medications.
Teamwork: Volunteer nurses should be capable of working collaboratively with other medical professionals to provide the best possible care to patients.
Problem-Solving: Volunteer nurses should be able to think quickly and make decisions in high-pressure situations.
Time Management: Volunteer nurses should be able to prioritize tasks and manage their time effectively.
Flexibility: Volunteer nurses should be willing and able to adjust to different roles and responsibilities as needed.
Empathy: Volunteer nurses should be compassionate and able to show empathy to patients in difficult situations.
Key takeaways for an Volunteer Nurse resume
When applying for a job as a volunteer nurse, it is important to make sure your resume is as comprehensive and effective as possible. This means highlighting your experience, qualifications, and skills, as well as providing a clear and concise description of the projects or tasks you have completed. The following are some key takeaways for creating an effective volunteer nurse resume.
First and foremost, be sure to include any relevant educational qualifications or certifications you may have. If you are a current volunteer nurse, list the years and types of volunteer experiences you have had. Include the name of the organization, your responsibilities and any accomplishments or awards you may have received.
Also, make sure to list any organizations you have been involved in, such as professional associations, or any special volunteer programs or committees you may have been part of. All of these experiences can show potential employers that you have a dedication to the field and a willingness to be an active contributor.
Finally, in your resume, be sure to include details of any special skills you may have. This could include anything from understanding medical office protocols to being able to make effective presentations. These skills can be particularly important when applying for a volunteer nurse position, as they indicate a commitment to the field and the potential to excel in it.
By including these key takeaways, you can help ensure that your volunteer nurse resume has the best chance of making a positive impression. Remember to tailor the content of your resume to the position you are applying for, and make sure to highlight any relevant experience and qualifications that can enhance your application.
Let us help you build
your Resume!
Make your resume more organized and attractive with our Resume Builder