Writing a resume for a Trauma Nurse position can be a daunting task, especially when you are trying to stand out from the crowd and show potential employers why you are the best candidate for the job. It can be difficult to decide which of your accomplishments, qualifications, and experiences to include and how to format them to best showcase your talents. This guide will provide you with tips on how to tailor your resume for a Trauma Nurse position, provide resume examples and templates, and help you understand what employers are looking for in a successful Trauma Nurse. With this guide, you can craft a resume that will set you apart from other applicants and help you land your dream job.
If you didn't find what you were looking for, be sure to check out our complete library of resume examples.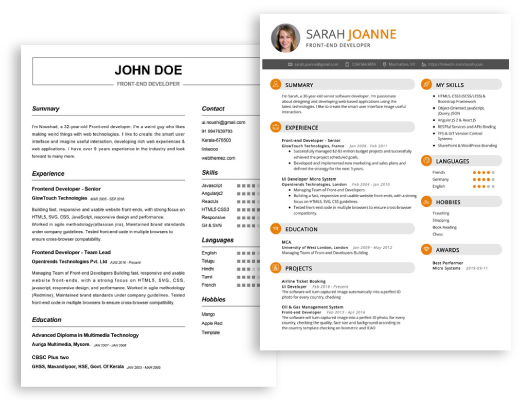 Start building your dream career today!
Create your professional resume in just 5 minutes with our easy-to-use resume builder!
Trauma Nurse Resume Examples
John Doe
Trauma Nurse
123 Main Street | Anytown, USA 99999 | Phone: (123) 456-7890 | Email: john.doe@email.com
A highly experienced and compassionate Trauma Nurse, with 8+ years of experience providing critical care to trauma patients. Experienced in administering post- operative care for trauma patients, providing preventive and emergency medical care, and providing psychological and emotional support to patients and their families. Possess excellent communication and patient care skills, and expertise in the assessment, diagnosis and treatment of trauma- related medical conditions.
Core Skills:
Advanced trauma life support certification
Broad knowledge of trauma and injury management
Ability to effectively manage complex trauma cases
Excellent clinical judgment and critical thinking
Proficient in administering intravenous medications
Skilled in wound care and management
Highly experienced in handling medical emergencies
Detailed- oriented and organized
Professional Experience:
Trauma Nurse, St. Mary's Hospital, 2014- Present
Provided patient care to trauma victims, including assessment and treatment of physical and psychological injuries.
Performed physical examinations and developed and implemented treatment plans.
Assisted physicians in diagnostic tests and surgical procedures.
Provided education to patients and their families regarding injury prevention and health promotion.
Monitored and documented patient progress, including treatment plans and clinical outcomes.
Effectively communicated with patients and their families to ensure optimal care.
Education:
Bachelor of Science in Nursing, University of Texas, 2010
Associate Degree in Nursing, Austin Community College, 2008
Trauma Nurse Resume with No Experience
Compassionate and patient- focused trauma nurse with a strong interest in providing high quality care and support to trauma patients. Knowledgeable in the latest evidence- based practices and procedures for the care of trauma patients. Possess excellent communication, problem- solving and time management skills.
Skills:
Knowledgeable in the latest evidence- based practices and procedures for the care of trauma patients
Excellent communication and interpersonal skills
Highly organized and detail- oriented
Ability to multi- task and work in a fast- paced environment
Proficient in using electronic medical records (EMR)
Knowledge of infection control procedures
Responsibilities:
Provide direct patient care to trauma patients
Assess patient condition and develop treatment plans
Monitor and document patient progress
Administer medications, treatments and other care as needed
Educate and counsel patients and their families on issues related to their care
Collaborate with other members of the healthcare team to ensure the best possible patient outcomes
Trauma Nurse Resume with 2 Years of Experience
Highly- dedicated and experienced trauma nurse, with over 2 years of experience in providing care and support to patients with traumatic injuries. Demonstrated expertise in life- saving interventions and emergency treatments, as well as providing patient education and support. Exceptional leadership skills, with a track record of providing compassionate care and patient advocacy.
Core Skills:
Emergency Nursing
Trauma Assessment and Treatment
Patient Education
Patient Advocacy
Leadership and Management
Observation and Reporting
Team Working
Responsibilities:
Performed rapid assessments of injured patients to determine the severity and type of trauma
Provided comprehensive care and management of severely injured patients, including emergency treatments and life- saving interventions
Instructed patients and their families about care requirements, medications, and follow- up treatments
Collaborated with physicians and other healthcare professionals to implement patient care plans
Assessed and monitored patient vital signs and physical condition and reported findings to medical staff
Ensured patient safety by monitoring the environment and handling medical emergencies
Provided emotional support and patient advocacy to enhance the healing process and improve patient outcomes
Directed and supervised a team of nurses and support staff.
Trauma Nurse Resume with 5 Years of Experience
A highly qualified Trauma Nurse with 5 years of experience in providing care to critically ill or injured patients in a fast- paced emergency room setting. Possess strong clinical knowledge and experience in trauma nursing and emergency medicine. Skilled in providing care and comfort to patients during traumatic events, assessing and performing proper medical interventions, and providing up- to- date education and support to patients and their families. Possesses excellent communication and interpersonal skills, coupled with a compassionate and patient- centered approach.
Core Skills:
Emergency Trauma Nursing
Patient Assessment and Detection of Acute Changes in Condition
Emergency Room Procedures and Interventions
Controlling Bleeding, Splinting and Initial Treatment
Effective Communication and Interpersonal Skills
EMR Systems and Documentation
Doctor- Patient Relations
Patient Education and Support
Responsibilities:
Assessing and stabilizing critically ill or injured trauma patients
Completing initial patient assessments, including history and physicals, labs, and diagnostic tests
Providing patient comfort and care during times of crisis
Performing emergency medical interventions and treatments, such as intubations, IVs, and wound care
Maintaining and updating patient medical records and documentation
Educating patients and families about medical treatments and procedures
Collaborating with other healthcare professionals to ensure optimal patient care
Monitoring patients and detecting changes in condition, such as medication reactions or deteriorations in health
Trauma Nurse Resume with 7 Years of Experience
I am a highly experienced trauma nurse with seven years of experience in a variety of settings. I excel in providing high- quality and compassionate patient care both in the pre- hospital and hospital setting. I am experienced in providing both pediatric and adult trauma patients with the highest level of care and always remain up- to- date on the latest evidence- based practice. I am highly organized and am capable of working independently, efficiently, and in a team environment.
Core Skills:
Knowledge of patient assessment, evaluation, and treatment of injuries
Understanding of the principles of emergency care, including trauma and hemorrhage control
Experience in providing pediatric and adult trauma care
Excellent communication, organizational, and time management skills
Ability to remain calm and composed during stressful and high- pressure situations
Responsibilities:
Evaluate trauma patients and assess the severity of their injuries
Provide timely and efficient patient care
Administer oxygen, medication, and any other necessary treatments
Monitor and record vital signs and patient status
Perform diagnostic tests and interpret results
Collaborate with doctors and other healthcare professionals to ensure quality care
Document patient care and progress in medical records
Respond in emergency situations and provide life- saving care in an efficient manner
Trauma Nurse Resume with 10 Years of Experience
An experienced Trauma Nurse with 10 years of providing exceptional care to patients in high- acuity settings. Adept in building rapport and providing compassionate care to patients suffering from injuries due to accidents or other medical conditions. Proven ability to manage a variety of tasks, collaborate with other medical professionals, and provide a safe and caring environment to patients. A committed professional with a strong work ethic and expertise in trauma care.
Core Skills:
Outstanding experience in providing trauma care
Thorough knowledge of the principles and practices of nursing
Excellent communication and interpersonal skills
Ability to provide a safe, compassionate environment
Strong critical thinking and problem- solving skills
Proficient in using EHR and other medical software.
Responsibilities:
Assess and evaluate the needs of trauma patients
Provide appropriate treatment to patients according to protocols
Monitor patient's vital signs, administer medications, and document patient care
Collaborate with other medical professionals to develop treatment plans for trauma patients
Educate patients and families about treatments, medications, and lifestyle changes
Coordinate with emergency services personnel when necessary to ensure a smooth patient transition
Maintain patient records according to established standards and policies
Trauma Nurse Resume with 15 Years of Experience
Highly experienced Trauma Nurse with 15 years of experience providing excellent, compassionate care for trauma patients. Adept in organizing patient care, accurately and quickly diagnosing medical conditions, effectively treating injuries, and educating patients and their families on health matters. Committed to providing compassionate and comprehensive care to ensure the best outcomes for patients.
Core Skills:
Patient Assessment
Emergency Care
Medication Administration
Advanced Life Support
Patient Education
Records Maintenance
Critical Thinking
Team Collaboration
Suturing & Wound Care
Infection Control
Responsibilities:
Perform initial patient assessment and determine appropriate treatment
Provide emergency care and life support to patients with serious or life- threatening injuries
Administer medications and treatments according to physicians' orders
Monitor patients' vital signs and respond to changes as needed
Educate patients and their family members on health care matters, such as wound care, nutrition, and disease prevention
Maintain accurate and comprehensive patient records
Collaborate with physicians, nurses, and other health care professionals to ensure high quality care
Utilize critical thinking skills to assess, diagnose, and treat patient conditions
Perform suturing and wound care when necessary
Implement infection control protocols to ensure patient safety
In addition to this, be sure to check out our resume templates, resume formats, cover letter examples, job description, and career advice pages for more helpful tips and advice.
What should be included in a Trauma Nurse resume?
A trauma nurse resume should include all the experience and certifications required to care for critically injured patients. Here's a checklist of what should be included:
Education & Certifications: Include the educational background and any additional certifications such as ACLS, TNCC, and CEN.
Professional Experience: Detail the years of experience in trauma nursing, including any specialty areas. List any notable awards or achievements.
Technical Skills: Highlight any technical skills needed for the role such as data entry and charting.
Professional Associations: Outline any professional associations or memberships that demonstrate commitment to the field.
Leadership & Management: Note any previous positions of leadership or management that demonstrate the ability to take initiative and lead.
Interpersonal & Communication: Describe any experience with patient communication or working through difficult situations.
Special Interests: List any special interests or volunteer work to showcase a commitment to the field and a dedication to helping others.
By including these elements in a trauma nurse resume, it will demonstrate the skills, knowledge, and experience necessary to work as a trauma nurse.
What is a good summary for a Trauma Nurse resume?
A trauma nurse resume should summarize an individual's specialized experience and training in the fields of emergency and trauma care. It should focus on any certifications or other qualifications the applicant has earned relevant to their role. Additionally, the summary should emphasize the individual's ability to provide effective care to patients under the most stressful of circumstances, often in urgent situations. It should highlight the ability to work with a broad range of medical professionals in order to coordinate patient care. Lastly, the summary should reflect the applicant's compassion and commitment to providing the best possible care to those in need.
What is a good objective for a Trauma Nurse resume?
A trauma nurse is an essential part of a healthcare team, providing emergency care and clinical support to patients who experience physical and/or emotional trauma. When crafting a resume for a trauma nurse position, it is important to include an objective statement that accurately reflects your qualifications and career goals.
Here are some ideas for crafting a good objective statement for a trauma nurse resume:
To leverage my extensive experience in trauma nursing to provide comprehensive, quality-focused care for patients in a healthcare setting.
To bring my expertise in emergency and critical care to a trauma nursing role at a leading hospital or healthcare organization.
To apply my knowledge of trauma nursing protocols and procedures to improve patient outcomes and safety.
To utilize my training and experience in trauma nursing to promote efficient and effective patient care.
To use my expertise in trauma nursing to support a team of healthcare professionals in providing quality, compassionate care to trauma patients.
How do you list Trauma Nurse skills on a resume?
When it comes to highlighting Trauma Nurse skills on a resume, it's important to make sure that the skills you list are relevant to the position you're applying for. Trauma Nurses provide specialized care for patients who have suffered physical trauma due to an accident or incident. They must be able to handle fast-paced and unpredictable situations with poise and confidence.
The following are some of the most important skills to list on a Trauma Nurse resume:
Thorough knowledge of trauma care procedures and protocols
Ability to work quickly and accurately in crisis situations
Ability to recognize signs and symptoms of trauma-related injuries
Ability to stay calm and professional in emergency situations
Excellent communication and interpersonal skills
Ability to work independently and as part of a team
Ability to assess patient condition and administer appropriate treatments
Knowledge of basic life support techniques
Ability to document patient care accurately and legibly
Ability to maintain a safe and sterile environment
Ability to prioritize care based on patient's needs
Proficiency in modern medical technology and equipment
Commitment to patient safety, comfort, and well-being.
What skills should I put on my resume for Trauma Nurse ?
Trauma nurses must possess a wide range of skills in order to provide the best care for their patients. To ensure you stand out from other applicants, here are the essential skills you should include on your resume:
Excellent Interpersonal Skills: Trauma nurses must be able to communicate effectively with their patients and their families, as well as other medical staff.
Comprehensive Knowledge of Medical Procedures: Trauma nurses should have a deep understanding of medical procedures and protocols related to trauma cases, so that they can provide the best care.
Ability to Remain Calm in Stressful Situations: Trauma nurses must be able to remain calm in high-pressure situations and focus on providing the best care for their patients.
Attention to Detail: Trauma nurses should have a keen eye for detail in order to identify any potential problems or risks.
Compassionate Personality: Trauma nurses should have a compassionate and empathetic personality in order to make their patients feel comfortable and supported.
Physical Strength and Stamina: Trauma nurses need to have the physical strength and stamina to complete their duties, which can involve lifting and moving patients.
These are the essential skills that should be included on your resume when applying for a trauma nurse position. By demonstrating your knowledge and ability in these areas, you will be able to stand out from other applicants and increase your chances of landing the job.
Key takeaways for an Trauma Nurse resume
Writing an effective resume is the first step in landing yourself a job as a trauma nurse. A trauma nurse is a highly specialized position and requires a resume that can stand out from the competition. Here are some key takeaways for your trauma nurse resume.
Highlight Your Education: Trauma nurses must have a high level of education in order to be considered for the position. Make sure to list any degrees and certifications relating to nursing and trauma care that you have obtained. It is also important to include any specialized courses in trauma nursing and emergency care that you have taken.
Showcase Your Clinical Experience: It is essential that you demonstrate your experience providing trauma care. Be sure to list any experience you have working with trauma patients that is relevant to the job. This could include working in the emergency department, operating room, or intensive care unit.
List Relevant Skills: Trauma nurses must be able to handle a wide variety of tasks and responsibilities. Be sure to list any skills related to trauma care that you possess, such as patient assessment, crisis management, and emergency response.
Include Extracurricular Activities: Employers look for candidates who have a commitment to their profession beyond the clinical setting. Mention any extracurricular activities or volunteering that demonstrates your dedication to trauma care.
By following these key takeaways, you can create an effective resume that will help you stand out from the competition and get you noticed by employers. Good luck in your job search!
Let us help you build
your Resume!
Make your resume more organized and attractive with our Resume Builder